Al-Jazeerah History

Archives

Mission & Name

Conflict Terminology

Editorials

Gaza Holocaust

Gulf War

Isdood

Islam

News

News Photos

Opinion Editorials

US Foreign Policy (Dr. El-Najjar's Articles)

www.aljazeerah.info





Standing on Mount Arafat: A Very Pious Islamic Haj Day



By Tariq A. Al-Maeena


Al-Jazeerah, CCUN, September 24, 2015



| | |
| --- | --- |
| | |
| Muslim pilgrims in Muzdalifa, near Makkah, on Wednesday, 9th of Dhl Hijja, 1436, September 23, 2015 | |
On Wednesday, 9th of Dhul Hijja, 1436 (September 23, 2015), some two million worshippers gather in Arafat to perform one of the five obligatory tenets of Islam. Since dawn, nearly 2 million Muslim pilgrims will have made their way from Makkah to a nearby hillside and plain called Mount Arafat and the Plain of Arafat.

Haj in its most basic meaning translates as an act "to continuously strive to reach one's goal." It is the last of the five pillars of Islam. The other four are a declaration of faith in one God and in Prophet Muhammad (pbuh), the five daily prayers, offering regular charity, and fasting during the month of Ramadan.

The most demanding of all Islamic rituals, Haj is an once-in-a-lifetime obligation for those who have the physical and financial ability to undertake such an arduous journey.

The Prophet (pbuh) said: "Whoever performs Haj to this house — Kaaba — and does not commit any obscenity and wrongdoing, he, or she, will come out as the day he, or she, was born — pure and free from sins."

Another hadith reported that the Prophet (pbuh) said: "The performance of 'Umrah is expiation for the sins committed between it and the previous ones. And the reward for Haj Mabrur (pilgrimage accepted by Allah) is nothing but Paradise." (Sahih Al-Bukhari, Vol. 3, Book 27, hadith No. 1)

Today a collection of millions of Muslims rising above geographical, linguistic, level of practice, cultural, ethnic, color, economic, and social barriers have converged in unison in Makkah, which is a tribute to the universality of the Haj.

It is their time to reflect on their behavior and to sincerely atone for their worldly sins and make up for any shortcomings or wrongdoings of their past. Many others around the world who could not make it to Haj are using this day to fast and pray.

The rituals and experiences of Haj can be overwhelming. Imagine yourself stepping on the same land where Prophet Muhammad (pbuh) used to step and going through valleys and mountains wherein he used to receive the divine revelation. It gives one a perspective of how much he and his Companions suffered to get this message communicated to us in its most perfect and purest form.

A visit to the mountain of Heraa' marks the significance of where the Prophet used to seclude himself in isolation for one month every year. It is the place that witnessed the revelation of the first words of the Qur'an and the appearance of the arch-angel Gabriel.

When pilgrims move in the Grand Mosque in Makkah and walk between Safa and Marwah on the footsteps of Prophet Ibrahim, they can perhaps sense the true meanings of sacrifice and how a father left his newborn with his fragile mother in that barren piece of land.

The rigors that pilgrims will complete are not mindless exercises prescribed in textbooks for them to blindly follow, and then carry home as a trophy of 'being there'.

The gathering of such a large and diverse group of Muslims is also to strengthen and renew bonds across many borders and their diverse inhabitants.

Standing on Arafat, in his last Haj sermon, the Prophet (pbuh) advised those present to convey the meaning and message of the rituals they had just performed to those who were absent from this great assembly.

Thus a pilgrim's journey does not end simply with the termination of the rituals he or she had just completed. Pilgrims now carry the responsibility of conveying the message of peace back to their homelands irrespective of faith.

For those who will have journeyed this demanding road, it is their moment to devote themselves to the true meaning of Islam. Islam has not taught us to react violently to those of other faiths. Nor does it condone the murder of the innocent or the destruction of property.

Islam is about tolerance. Hopefully, the pilgrims will have been reinforced with the sanctity of this religion of peace.

The message of peace and goodwill must be carried back with positive energy to their people across the globe. It is like being born again with a clean slate.

— The author can be reached at talmaeena@aol.com. Follow him on Twitter @talmaeena

http://www.saudigazette.com.sa/index.cfm?method=home.regcon&contentid=20150923257474
***
Pilgrims throng Arafat for peak of Haj
Pilgrims climb Mount Mercy on the plains of Arafat in Makkah during the annual Haj pilgrimage on Wednesday. (REUTERS)
Lynne Al-Nahhas | AFP
Arab News — Wednesday 23 September 2015
MOUNT ARAFAT:
Around two million white-clad Muslims on Wednesday poured into the vast Saudi plain where Prophet Muhammad had given his final sermon, for the peak of the Haj pilgrimage.
Many of the faithful from around the globe camped at the foot of Mount Arafat where they slept, exhausted from their journey, and prayed despite the scorching sun.
Carrying colorful umbrellas, they walked from dawn in massive crowds toward the slippery, rocky hill which is also known as Mount Mercy.
It was here that the Prophet gave his final sermon 14 centuries ago after leading his followers on Haj.
To organize the flow of pilgrims, security forces formed human chains along the roads of the vast Arafat plain.
Along the way, volunteers handed out boxes of food and cold water bottles.
For many pilgrims, Haj is the spiritual highlight of their lives.
"We feel blessed. I got goosebumps, a feeling that cannot be explained, when reaching the top of the mountain," said Ruhaima Emma, a 26-year-old Filipino pilgrim, who said she has been "praying for a good life for everyone."

For Akram Ghannam, 45, from war-torn Syria, being in Arafat is a "feeling that cannot be described. I pray to God for the victory of all those who are oppressed."
Many reached Arafat by bus while some walked from the holy city of Makkah about 15 kilometers (nine miles) away.
Other pilgrims arrived from nearby Mina using the elevated Mashair Railway linking the holy sites of Arafat, Muzdalifah and Mina, a tent city where many pilgrims spent Tuesday night.
After sunset on Wednesday they will move to Muzdalifah. There they will gather pebbles for a symbolic stoning of the devil ritual on Thursday, which is also the Eid Al-Adha feast of sacrifice marked by the world's more than 1.5 billion Muslims.

Undeterred by crane accident
This year's gathering is about the same size as last year's, with 1.4 million foreign pilgrims joining hundreds of thousands of Saudis and residents of the kingdom.
They are undeterred by a construction crane collapse at the Grand Mosque earlier this month that killed 111 people, including foreign pilgrims.
About 400 people were injured by the crane which was working on an expansion of Islam's holiest
site.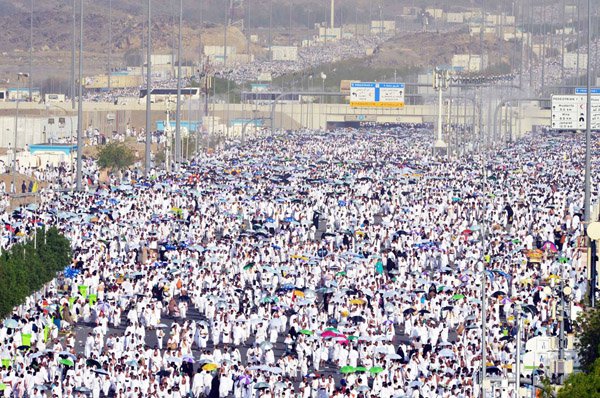 Previously marred by stampedes and fires that killed hundreds, the pilgrimage had been largely incident-free for the past nine years after safety improvements.
The Haj is among the five pillars of Islam and every capable Muslim must perform it at least once in a lifetime.
This year's gathering takes place against a backdrop of increased extremist violence in some Muslim countries, a surge of the potentially deadly MERS virus and the war in Yemen.

About 100,000 police have been deployed to secure pilgrimage sites and manage the crowds.
Authorities say they are on alert for possible attacks by extremists, after Daesh terrorists bombed security forces and Shiite mosques in the kingdom in recent months.
Among other challenges facing Saudi authorities is potential transmission of the deadly Middle East Respiratory Syndrome coronavirus (MERS-CoV).
Riyadh saw a jump in infections last month, but health officials say there has never been a case of MERS infection among pilgrims.
The health ministry has mobilized thousands of medical workers to help ensure a virus-free pilgrimage and to care for routine ailments.

Pilgrims began the Haj on Tuesday by entering ihram, a state of purity in which they must not quarrel, wear perfume, or cut their nails or hair.
During ihram, men wear a seamless two-piece shroud-like white garment, while women must wear loose dresses, generally also white, exposing only their faces and hands.
The clothing emphasizes their unity, regardless of whether they spend the Haj in Makkah's five-star hotels or in shabby highrise hostels.
"I'm hoping for mercy and that Allah accepts our prayers," said Pakistani pilgrim Abdeghafour Abu Bakr, 38, who came with friends.


***

Share this article with your facebook friends