(WASHINGTON, D.C., 4/30/15) - The Council on American-Islamic Relations (CAIR), the nation's largest Muslim civil rights and advocacy organization, questioned infamous Dutch Islamophobe and far-right politician Geert Wilders and his hosts Rep. Steve King (R-IA) and Rep. Louie Gohmert (R-TX) at a Capitol Hill news conference this week.
WATCH the Video: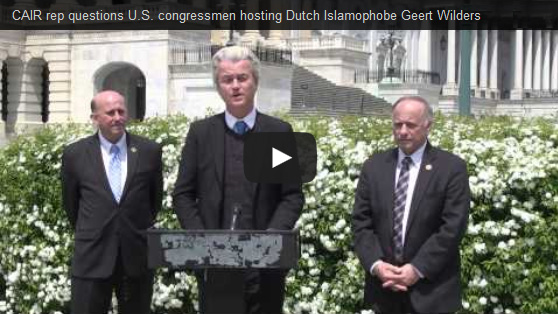 CAIR Government Affairs Manager Robert McCaw asked Rep. Gohmert whether he stood by Wilders' statement that "Islam is an ideology of a retarded culture." Congressman Gohmert stated that he "proudly stands by Wilders" and that he may not always agree with him but will defend his right to make such comments.
McCaw also pressed Wilders on whether or not the Republican Party should adopt his Dutch Freedom Party's proposal of "banning the Quran and the building of new mosques." Wilders sidestepped the question by stating that he is "not trying to unify the two parties" and comparing the Quran to Hitler's Mein Kampf.
"By endorsing and promoting Geert Wilders' anti-Muslim hate, these elected officials tarnish the Republican Party's reputation and harm our nation's international image," said McCaw.
In the past, Wilders has stated "I hate Islam," called the Quran a "fascist book" that should be banned, referred to the Prophet Mohammed as "the devil," and proposed putting a tax on Islamic head scarves (hijab) worn by Muslim women.
In April, CAIR called on Republican Party leaders to disinvited Wilders from two speaking events in Washington, D.C., hosted by GOP Congressmen King and Gohmert.
SEE: CAIR Asks GOP to Disinvite Dutch Islamophobe Geert Wilders from DC Events
After the news conference, Muslim Congressmen Keith Ellison (D-MN) and Andrea Carson (D-IN) were joined by Congressman Joseph Crowley (D-NY) in a counter press conference that rejected Wilder's anti-Muslim bigotry and promoted interfaith unity and respect.