Islamophobia in the U.S. CAIR Report, February 13, 2014




Al-Jazeerah, CCUN, February 13, 2014

CAIR-MI:
Pro-Israel Bill Threatens Academic Freedom (Detroit News)
In effect, any institution which votes to divest its holdings in Israel based upon objection to illegal Israeli occupation of the Palestinian land, would have its funding cut. Even if a university allows a forum to have a discourse on the merits and drawbacks for boycotting Israeli made products would qualify. This is outrageous.
'Religious Freedom' Rep Funded by Same Group that Backs Islamophobes
(WASHINGTON, D.C., 2/11/14) --
The Council on American-Islamic Relations (CAIR), the nation's largest Muslim civil rights and advocacy organization, today repeated its request to the United States Commission on International Religious Freedom (USCIRF) to investigate one of its own members, this time for being funded by the same group that backs a number of notorious Islamophobes.
<![if !vml]>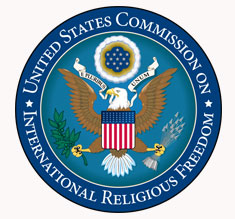 <![endif]>Earlier this year, CAIR asked for an investigation of USCIRF Vice Chair Zuhdi Jasser for apparently seeking to deny religious rights to Muslim military personnel.

In a letter sent today to USCIRF Chairman Dr. Robert P. George, Corey Saylor, director of CAIR's Department to Monitor and Combat Islamophobia, wrote in part:

"We are writing today to expand upon the concerns regarding Dr. Zuhdi Jasser that were expressed on our letter to you dated January 24, 2014. Additional information has come to light regarding the financial dependence of Dr. Jasser's American Islamic Forum for Democracy (AIFD) on groups known for promoting Islamophobia in the United States.

"Tax filings for the New York-based Abstraction Fund reveal that between 2010 and 2012, Jasser's organization accepted $45,000 in grants and contributions. In 2012, 82 percent of the Fund's total $1,982,930 contributions and grants went to groups known for their active role in spreading anti-Islam prejudice."

Saylor's letter cited funding of anti-Islam groups such as the Center for Security Policy, the head of which was a key witness for the plaintiffs in a controversial lawsuit against a mosque being built in Tennessee, where he promoted the notion that mosques want to "destroy western civilization from within."

Another group funded by the Abstraction Fund and cited in the letter is Steven Emerson's Investigative Project on Terrorism, which recently published an Islamophobic article stating: "Europe is still ... captivated by the specious charms of the Arabs and Islam" and " ... pitiful Arab, whose inherent culture left him no shred of sincerity, creativity or courage."

Other Abstraction Fund-backed groups include Jihad Watch, an anti-Muslim blog published by Robert Spencer. The Boston Globe has described Spencer as a man who "depicts Islam as an inherently violent religion." Spencer has referred to Islam's Prophet Muhammad as a "con man. Someone who is knowing [sic] that what he is saying is false, but is fooling his followers."

In June 2013, the Catholic Diocese of Sacramento requested that the Kolbe Academy, a Catholic school, rescind a speaking invitation they extended to Spencer. The diocese referred to Spencer as a "key leader in the anti-Islam hate movement in the United States."

Spencer is a co-founder of Stop Islamization of America (SIOA), which has been designated as a hate group by the Southern Poverty Law Center (SPLC). Spencer's Jihad Watch blog is also designated as a hate group by the SPLC, which named Spencer as part of the nation's "Anti-Muslim Inner Circle."

The Middle East Forum (MEF), headed by Islamophobe Daniel Pipes, also received funds from the Abstraction Fund. Pipes is infamous for quotes such as: "Western European societies are unprepared for the massive immigration of brown-skinned peoples cooking strange foods and maintaining different standards of hygiene. All immigrants bring exotic customs and attitudes, but Muslim customs are more troublesome than most." [NOTE: Jasser has accepted donations from Middle East Forum.]

In concluding his letter to USCIRF, Saylor wrote:

"CAIR values, advocates for and has pursued legal action to protect free speech and freedom of expression. Dr. Jasser has every right to advocate for the causes and organizations with which he chooses to align AIFD. At issue here is the reasonable concern that arises regarding Dr. Jasser accepting financial support from anti-Muslim groups while he is serving on a commission advocating for religious freedom.

"Given the expanding evidence of AFID's financial dependency on groups funding anti-Muslim prejudice in the United States, we do not believe Dr. Jasser can act as an honest voice regarding religious freedom domestically or internationally."

In 2013, CAIR published a major report, "Legislating Fear: Islamophobia and its Impact in the United States," which identifies 37 organizations dedicated to promoting the type of anti-Islam prejudice that can lead to bias-motivated incidents targeting American Muslims. The Islamophobia report is available on Kindle.

Jasser was featured in that report as an enabler of anti-Muslim bigotry. The report noted that Jasser heads a group that "applauded" an amendment to Oklahoma's state Constitution that would have implemented state-sponsored discrimination against Islam.

Jasser also narrated "The Third Jihad," a propaganda film created by the Clarion Fund, which depicts Muslims as inherently violent and seeking world domination. Following revelations that the film was shown as part of training at the New York Police Department, Police Commissioner Ray Kelly called it "wacky" and "objectionable."

In 2012, a broad national coalition of 64 organizations and individuals sent a letter to Senators Inouye, McConnell and Durbin expressing "deep concern" at the appointment of Zuhdi Jasser to USCIRF.

SEE: Muslims Call New Religious Freedom Appointee a 'Puppet' for Islam Foes (Religion News Service)
Zuhdi Jasser to NYPD: Thanks for Spying on Us (Mother Jones)

In that letter, the coalition asked that Jasser's appointment be rescinded and noted that Jasser believes "operationally, Islam is not peaceful," supports measures that threaten and diminish religious freedoms within the United States, "applauded" the anti-Islam amendment to Oklahoma's constitution, opposed the constitutionally-protected construction of a Muslim community center in lower Manhattan, supported the New York Police Department's blanket surveillance of Muslims based on religion rather than evidence or suspicion of wrongdoing, and that he has extensive ties to virulently anti-Muslim groups and individual Islamophobes.

CAIR is America's largest Muslim civil liberties and advocacy organization. Its mission is to enhance the understanding of Islam, encourage dialogue, protect civil liberties, empower American Muslims, and build coalitions that promote justice and mutual understanding.

CONTACT:

CAIR Department to Monitor and Combat Islamophobia Director Corey Saylor, 202-384-8857, csaylor@cair.com;

CAIR National Communications Director Ibrahim Hooper, 202-744-7726, ihooper@cair.com;

CAIR Communications Manager Amina Rubin, 202-341-4171, arubin@cair.com



=============================================================



CAIR Director Nihad Awad Meets with Jordan's King Abdullah in D.C.

CAIR-CA: Why Are Muslim Schoolgirls Still Getting Bullied?

CAIR-NY: New York Mayor Bill de Blasio Announces Eid holidays for Muslims Students

CAIR-SV: California Mosque Open House Seeks to Open Minds After Hate Attack

CAIR-SV: California Mosque Vandalized with Bacon

The California Muslim Rain Prayer: Did it Really Work?

When the Quran Spoke English (Al Jazeera America)

How Muslims Helped Ireland During the Great Famine

The Sochi Plot: Another Non-Terrorist Non-Muslim Plane Hijacker

CAIR Action Alert 719:

Stop Maryland Legislators from Using Anti-BDS Bills to Restrict Academic Freedom

(COLUMBIA, MD, 2/10/14) --

The Maryland office of the Council on American-Islamic Relations (CAIR) today called on Muslims and other people concerned about constitutional rights in that state to contact their elected representatives to urge that they drop proposed legislation that would restrict academic freedom and free speech rights.

Two unconstitutional bills were recently introduced in Annapolis that are designed to limit First Amendment rights in Maryland universities and college campuses by targeting student groups that participate in the campaign for boycotts, divestments, and sanctions (BDS).

These identical bills - SB647 and HB998 - introduced respectively in the Senate and House by Senator Conway and Delegates Kramer - restrict activities of campus student groups which engage in peaceful boycotts against universities and colleges of other countries. They prohibit peaceful dissent by withholding state funding to Maryland's institutions of higher learning. A similar bill has also been introduced in Congress.

SEE: Protect Academic Freedom Act (H.R. 4009)

CAIR Action Alert: Tell Congress to Drop 'BDS' Bill Restricting Academic Freedom, Free Speech

Local, state, and national organizations are mobilizing to respond to this unconstitutional legislation. In Maryland, organizations defending academic freedom and the Constitution include ACLU-MD, Jewish Voice for Peace, Montgomery County Civil Rights Coalition, Jews Say No, Defending Dissent, Jewish Voice for Peace - DC, Center for Constitutional Rights, American Assoc. of University Professors, UMD Students for Justice in Palestine, and many more.

Yesterday, CAIR joined representatives of Jewish Voice for Peace-DC, the Montgomery County Civil Rights Coalition and other organizations at a legislative forum in Silver Spring, Md. The forum, sponsored by Progressive Maryland, provided an opportunity to speak with elected officials about the unconstitutional bills.

"All Americans who cherish and value our freedoms should be disturbed when elected officials sworn to uphold the Constitution seek instead to promote foreign interests over the rights of their own constituents," said CAIR's Maryland spokesperson Zainab Chaudry. "The right to boycott is a time-tested form of nonviolent resistance. It has played a key role in the Civil Rights Movement in the United States and in ending Apartheid in South Africa. Implementing laws that penalize or stifle the voices of others simply because they disagree with a foreign government engaged in an illegal occupation is unconstitutional and un-American."

CAIR has provided a "click and send" letter for all Marylanders to call on elected officials to protect the First Amendment and the right to peaceful political activism. Help us tell them that they must reject SB647 and HB998, support academic freedom; and uphold the Constitutional rights of Maryland universities and student groups that engage in non-violent, political boycotts.

CONTACT:

CAIR's Maryland Spokeswoman Zainab Chaudry, 410-971-6062, zchaudry@cair.com;

CAIR Government Affairs Manager Robert McCaw, 202-488-8787, 202-742-6448, rmccaw@cair.com

==============================

CAIR-CA: Registration Now Open for California Muslim Day at the Capitol 2014

CAIR-NY: Making Eid a School Holiday in NYC is Great, But What About Muslim Surveillance? (Guardian)

CAIR-NJ: Muslim Woman Claims Bosses Ordered Her to Remove Headscarf (Daily News)

CAIR Action Alert: Stop Congress From Restricting Academic Freedom An unconstitutional bill was recently introduced in Congress designed to limit academic freedom and the free speech rights of American universities and student groups participating in the campaign for boycotts, divestment and sanctions (BDS). Tenn. Jewish Group Apologizes for Anti-Muslim Pamphlet After students and parents complained, the Jewish Federation issued an apology saying the pamphlet should have never been made available to students.

Vandalized California Mosque to Hold Community Open House Event designed to thank those who supported mosque following apparent hate incident

(SACRAMENTO, CA, 2/8/14) –

On Sunday, February 9, the Islamic Center of Manteca in Manteca, Calif., will hold a community open house to thank all those who supported the mosque following a recent act of vandalism that is being investigated as a possible hate crime.

WHAT: Islamic Center of Manteca to Hold Community Open House WHEN: Sunday, February 9, 1 to 3 p.m. WHERE: Islamic Center of Manteca, 1058 South Union Road, Manteca, CA 95337 CONTACT: Islamic Center of Manteca Imam Mohammad ElFarra (209) 679-6311, elfarradds@yahoo.com; Masood Cajee (209) 298-1442, mcajee@yahoo.com; CAIR-SV Executive Director Basim Elkarra, (916) 289-3748, belkarra@cair.com

"We're very proud of the support we have received from the Manteca community, and hosting an open house is a way to thank our friends and neighbors for their support," said Masood Cajee, a member of the mosque's congregation.

Open house attendees will be able to tour the new facility, which opened in June 2013, and will be able to have their names written in Arabic by a calligrapher. Refreshments will be served.

The Sacramento Valley chapter of the Council on American-Islamic Relations (CAIR-SV), the nation's largest Muslim civil rights and advocacy organization, called on state and federal law enforcement authorities to investigate a bias motive for the vandalism of the mosque.

CAIR-CA: Muslims Seek Dialogue in Hate Crime Aftermath CAIR-SV: Vandalized California Mosque to Hold Open House (Video)

The vandalism included strips of raw bacon and hate graffiti found on the grounds of the Islamic Center of Manteca last week as a possible bias-motivated crime. [NOTE: Muslims are prohibited from consuming pork products and bigots often use pigs or pork to offend Muslim sensibilities.] Hate graffiti sprayed on the mosque included "F**K Islam" on the facility's sign and on the ground near the entrance. Last year, the mosque's sign was spray-painted with graffiti stating "No Allah, Only God."

In response to previous attacks on American mosques, CAIR published a booklet called "Best Practices for Mosque and Community Safety" designed to be used by mosque officials, Muslim school administrators and other community leaders and activists who seek to identify and eliminate vulnerabilities to bias-motivated attacks.

SEE: CAIR Distributes New Mosque Safety Guidelines

To request a free e-copy of CAIR's "Best Practices for Mosque and Community Safety," CLICK HERE.

FACTS ABOUT THE ISLAMIC CENTER OF MANTECA

* Completed June 2013, the Islamic Center is the first purpose-built mosque in San Joaquin County, and in the northern San Joaquin Valley.

* The mosque is situated next door to Sequoia Heights Baptist Church, with which the center shares parking lots.

* The mosque's congregation is diverse, with a membership that includes Afghans, Fijians, Yemenis, Palestinians, African Americans, Latinos, Americans of European heritage, South Asians, and Arabs.

* Friday congregational prayers usually have some 200 worshipers. Up to 1,000 turn out for holiday celebrations. A weekday afternoon school has about 90 children.

* The center was the winner of a $40,000 2013-2014 Creative Work Fund grant. Arabic calligrapher Zubair Simab and mosaic artist Pippa Murray are collaborating with the Islamic Center of Manteca to create an architectural mosaic for the Center's new facility. The artists are drawing inspiration for the work from the diverse traditions and cultures that make up the center's congregation and community.

SEE: Zubair Simab and the Islamic Cultural Center of Manteca

===========================

CAIR-LA: Why Does Coca Cola's Super Bowl Ad Matter? (Huffington Post) Once corporations make it clear that American Muslims are not to be ignored or marginalized, politicians will get the message and realize that fear-mongering and defamation of Muslims will be politically costly. Watch: CAIR-NJ Defends Muslim Woman Sent Home, Fired for Wearing Hijab

CAIR-NJ: Muslim Woman Says Managers Demanded She Remove Headscarf

CAIR Action Alert #718

Tell Congress to Drop 'BDS' Bill Restricting Academic Freedom, Free Speech

(WASHINGTON, D.C., 2/7/14) --

Yesterday, an unconstitutional bill was introduced in Congress designed to limit academic freedom and the free speech rights of American universities and student groups participating in the campaign for boycotts, divestment and sanctions (BDS).

CAIR is urging American Muslims and all others who value constitutional protections to contact their elected representatives and request that they oppose the bill.

The BDS campaign seeks an end to Israeli occupation of Palestinian land, equality and justice for the Palestinian people and the right of return guaranteed Palestinian refugees by United Nations resolutions. Illinois Representatives Dan Lipinski (D) and Peter Roskam (R) introduced the misleadingly-titled Protect Academic Freedom Act (H.R. 4009), which would unconstitutionally block any American university from receiving any federal "funds or any other form of financial assistance," if:

"[The] institution, any significant part of the institution, or any organization significantly funded by the institution adopts a policy or resolution, issues a statement, or otherwise formally establishes the restriction of discourse, cooperation, exchange, or any other involvement with academic institutions or scholars on the basis of the connection of such institutions or such scholars to the State of Israel."

SEE: Protect Academic Freedom Act (H.R. 4009) The bill is said to be a response to the American Studies Association's recent decision to participate in the international BDS movement by shunning Israeli academic institutions and scholars. Secretary of State John Kerry recently warned of more boycotts taking place if current Israeli-Palestinian peace talks fail.

SEE: ASA Members Vote To Endorse Boycott of Israeli Academic Institutions "It is clearly unconstitutional for members of Congress to attempt to legislate against political viewpoints with which they disagree," said CAIR Government Affairs Manager Robert McCaw. "The same peaceful method of political activism has been used to challenge injustice in America and worldwide, including against one of the greatest forms of injustice in our time -- Apartheid." McCaw noted that Americans have engaged in political boycotts since the nation's founding. He cited the colonial American boycott of British tea imports and the Montgomery Bus Boycott during the civil rights era. "This bill would unlawfully limit the First Amendment free speech rights of American universities and student groups that decide to participate in the BDS movement," said McCaw. Jewish groups have also gone on the record to criticize such legislation.

Major Jewish Groups Won't Back Boycott Bill IMMEDIATE ACTION REQUESTED: CAIR has provided a "click and send" letter for all Americans to call on Congress to reject the Protect Academic Freedom Act and support the academic freedom and free speech rights of American universities and student groups that engage in political boycotts of any kind.

============================================

Having trouble viewing this email? Click here

Watch: CAIR-Texas Cleanup of Burned Home Encourages Volunteerism Calif. Muslims Congregate to Istisqa Prayer for Rain (Shaykh Hamza Yusuf)

Bay Area Muslims Pray for Rain (Video) Muslims Gather to Pray for Rain to Ease Drought (Video) Bay Area Muslim Prayers for Rain (Video)

Growing Up Muslim In Massachusetts Converging Bigotry: Nativist Movement Begins to Focus on Muslim Immigration

Letter: Sharia Law Will Overtake U.S. If We're Not Vigilant Ethan Cox: More Islamophobia in Quebec

CAIR-MI: Group Hopes Billboard Helps Educate Others About Islam (Detroit News) The campaign continues as the Council on American-Islamic Relations–Michigan has in recent years logged more complaints from Muslims of workplace discrimination, harassment by officials at the U.S.-Canada border and bullying at school, said Dawud Walid, the group's executive director. NJ: Bridgewater Loses Another Court Ruling in Effort to Delay Consideration of Mosque Canada: Highly Qualified Muslim Immigrants Face Employment Discrimination Watch: CAIR-MI Rep Speaks on Crisis in Syria

***

CAIR's Maryland Spokeswoman Zainab Chaudry, 410-971-6062, zchaudry@cair.com;

CAIR Government Affairs Manager Robert McCaw, 202-488-8787, 202-742-6448, rmccaw@cair.com

Council on American-Islamic Relations 453 New Jersey Ave, S.E., Washington, D.C., 20003