El-Wad Sayid Essabahi Runs for the Muhalil Position in the Egyptian Presidential Elections


By Hassan El-Najjar
Al-Jazeerah, CCUN, April 21, 2014
In order for the coming Egyptian presidential elections to appear credible, another candidate has to run against the surely expected winner, General Sisi. Today, Hamdeen Sabahi has accepted officially to play this role.
He knows one hundred percent that Sisi will win the presidential elections, yet he has accepted to play this role in order to make the elections more credible inside and outside Egypt.
Why does he do that?
He benefits by being part of the regime, following the opportunistic slogan of "if you can't beat them, join them."
Thus doing, he plays the role of the Muhalil, which is a distortion in the application of a Verse in the Holy Quran (2: 230). This Verse discourages divorce by punishing men who abuse their marital relationship with their wives by divorcing them three times. If this happens, a husband cannot marry his ex-wife until she marries another man and gets divorced from him naturally after that.
A divorce-happy abusive husband distorts the application of this Verse by hiring another man to marry his ex-wife and to divorce her after sleeping together, in order for the abusive husband to be able to remarry his ex-wife.
So, the Muhalil is actually a hired ----- and a sexual mercenary!
The innovation here is applying this distortion to politics, and Egypt is not alone in this. It's hard to find a country on Earth without political Muhalils these days!
The Egyptian comedian Adil Imam played this role in his famous play, "El-Wad Sayid Esha
gh
al," which the campaign of Hamdeen Sabahi needs to use in their TV ads, with just a little change in the title of the farcical play, saying:
"El-Wad Sayid Essabahi."
Maskeena ya Masr!
O, Dear, Poor Egypt!
-----------------
Adil Imam's play, "El-Wad Sayid Esha
gh
al," can be viewed in full at:
http://www.youtube.com/watch?v=XtMAM5GSFFo
=====================================================
Egyptian leftist politician submits bid to run for president
CAIRO Sat Apr 19, 2014 5:27am EDT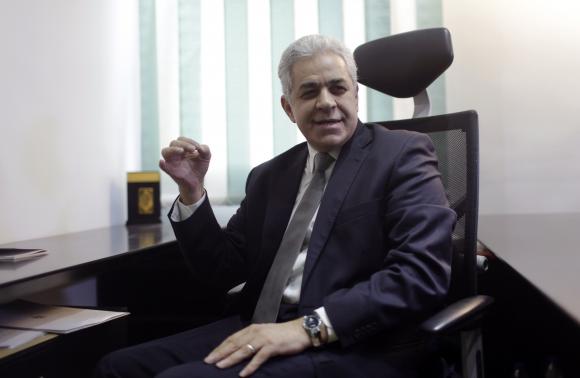 Leftist presidential candidate Hamdeen Sabahi talks during an interview with Reuters in Cairo March 12, 2014.
Credit: Reuters/Asmaa Waguih
(Reuters) -
Leftist politician Hamdeen Sabahi officially submitted his bid on Saturday to run for Egypt's presidency, making him the second candidate for next month's election alongside former army-chief Abdel Fattah al-Sisi who is widely expected to win.
The election is due to start on May 26-27.
Sabahi, who heads a political alliance called the Popular Current, was a member of parliament during ousted autocrat Hosni Mubarak's years in office and came third in the 2012 election that was won by Mohamed Mursi of the Muslim Brotherhood.
Sisi, who led the army overthrow of Mursi in July after mass protests against his rule, is widely expected to win the election as he is viewed by many in the country as the savior of the people who can bring stability to Egypt.
Sabahi submitted the required documents to the presidential election committee after gathering 31,100 endorsements. The required number of endorsements is 25,000.
Sisi submitted his documents last week after gathering 200,000 endorsements.
(Reporting by Asma Alsharif; Editing by Alison Williams)
This site contains copyrighted material the use of which has not always been specifically authorized by the copyright owner. We are making such material available in our efforts to advance understanding of environmental, political, human rights, economic, democracy, scientific, and social justice issues, etc. We believe this constitutes a 'fair use' of any such copyrighted material as provided for in section 107 of the US Copyright Law. In accordance with Title 17 U.S.C. Section 107, the material on this site is distributed without profit to those who have expressed a prior interest in receiving the included information for research and educational purposes. For more information go to: http://www.law.cornell.edu/uscode/17/107.shtml. If you wish to use copyrighted material from this site for purposes of your own that go beyond 'fair use', you must obtain permission from the copyright owner.