Greece- Champion of Palestinian rights
Turned Israel's mercenary and craven accomplice
By Latheef Farook
Jews and Christians, including a 87 year old Jewish woman , are braving Israeli barbarity to help the brutalized and starving Palestinians in Gaza. The question is Where are the Muslims worldwide?
This year's Gaza bound Freedom Flotilla 11, carrying urgently needed food, medicine and other essential items in 20 boats and with around 2000 passengers to help Palestinians fizzled out as Greece prevented it under pressure and, perhaps, blackmail from United States and Israel.
The French yacht Dignite-Al Karame set sail toward the Gaza Strip on Tuesday July 2011, after other ships were grounded in Greece. However lawless Israel , was stopped approximately 40 miles away from Gaza, very much in international waters , and was taken to the Israel port of Ashdod.
Summing up Greece's U-Turn from strong supporter of Palestinians to mercenary of Israel, author David Cronin said in his book Europe's Alliance with Israel that " Andreas Papandreou's championing of Palestinian rights might have had some moral weight in the early 1980s. However three decades on, his son, Prime Minister George Papandreou, has become a craven accomplice in maintaining the Israeli occupation".
The misery of Palestinians in Gaza started in the aftermath of the January 2006 spotless democratic elections, held under the supervision of former US President Jimmy Carter. In this free and fair election Hamas was elected .This is democracy. However for Israel and its United States and European supporters electing Hamas is a crime to be punished.
Thus they cut off the flow of all money to starve Palestinian into submission. The Arab regimes collaborated with this Zionist financial blockade knowing very well the misery they were causing. However Hamas needed this money to keep body and soul together. This was followed by Israeli economic blockade in flagrant violation of the 1949 Geneva Convention on the treatment of occupations under "effective" occupation.
While the Muslim world remained indifferent and the Arab dictators shamelessly collaborated with Israel, compassionate Christians and Jews in the West, collected food, medicine and other essential items and sailed to Gaza braving Israeli brutality to alleviate the sufferings of Palestinians. They sailed as an expression of citizen nonviolent, direct action, confronting Israel's ongoing abuses of Palestinian human and political rights.
<![if !vml]> <![endif]>
<![if !vml]>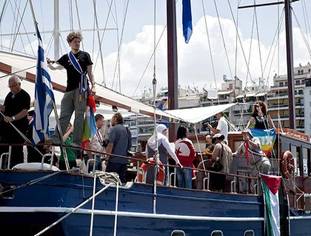 <![endif]> American activists Canadian activists
<![if !vml]>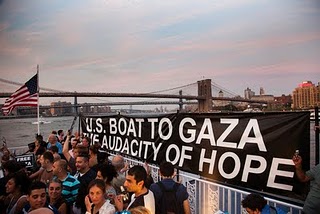 <![endif]>
US Ship Audacity of Hope French activists<![if !vml]>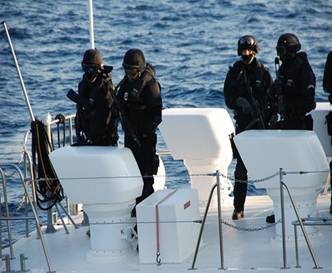 <![endif]><![if !vml]>
<![endif]>
Demonstrators beat drums and chant "thieves" outside the Parliament Athens., Greek Coast Guard
Since August 2008 these human rights groups have traveled nine times to Gaza by sea to break Israel's illegal stranglehold on Palestinian civilians. They entered Gaza successfully five times in 2008.However they were violently intercepted by the Israelis on the past four voyages, including Israel's MAY 31, 2010 lethal attack on Freedom Flotilla, when nine were killed and many more injured by Israeli commandos .Violent assault also included summary executions, torture and theft, remains the recent starkest example of Israel's tactic of deterrence towards solidarity activists.
Israel's attempts to thwart flotilla through outrageous acts of intimidation, lies, political pressure, threats of violence and sabotage, has reminded the world that the criminal blockade on the Gaza Strip is still in force, depriving Palestinians of their basic rights. It is through this use of military force that Israel maintains its occupation and colonial apartheid regime in Palestine. Further, every Israeli military operation is used as an opportunity to showcase and promote its weapons to the global arms market thus ensuring the profits needed to support its unlawful actions.
British politician George Galloway has been one of the prime movers in organising convoys .British journalist Yvonne Ridely and Lauren Booth, a British journalist and sister of law blood thirsty criminal Tony Balir, were among hundreds of activists who departed with aid convoys for the Gaza
This year's Freedom Flotilla included, among the others, activists from United States Spain , France , Australia/Belgium/Canada, Denmark and Germany jointly , Italy and Netherlands , Ireland , European Campaign to End the Siege on Gaza and Greece, Sweden and Norway .The Flotilla also had ten boats and 37 journalists.
However on 8 July 2011 Greece, a member of the EU, banned all boats participating in the Gaza flotilla from leaving its port. Many activists who had planned to fly to Israel for peaceful protests in the Occupied Territories, part of the "Welcome to Palestine" campaign – dubbed a flytilla – were banned from traveling or detained at Tel-Aviv's airport.
"Sabotaging Flotilla II is Waging War against Civil Society. "said Prof Richard Falk , former UN Special Rapporteur to Gaza, who once described economic blockade as " a prelude to genocide".
Canadians, activist Dror Feiler accused Greece of doing "dirty work" for Israel."One more time, they have shown that Europeans and other citizens are not able to move freely in the Greek peninsula," he said. David Heap, one of the Canada Boat to Gaza organizers , a professor of French at the University of Western Ontario and the son of the outspoken former NDP MP Dan Heap said "We wanted to at least show the world the Greeks are helping Israel enforce an illegal blockade of Gaza."
<![if !vml]> <![endif]>
Prof Richard Falk Ray McGovern Dr David Heap Dror Feiler
Ray McGovern, a veteran Army officer , CIA analyst and one of the passengers on the U.S. Boat to Gaza said; by putting the issue of Israel's blockade front and center, we also managed to force discomforted U.S. State Department spokespersons to dissemble about the legality of Israel's illegal blockade. They ducked declaring something so clearly illegal legal, knowing that otherwise they would have invited international ridicule. But caution. The injured-animal syndrome among the Likudniks poses distinct dangers for the people of the Middle East — the more so, as we watch President Barack Obama continue to let Netanyahu walk all over him.
<![if !vml]>

<![endif]>
Hedy Epstein in the centre demonstrating against Israeli blockade of Gaza
Among those in the US boat in the flotilla "The Audacity of Hope" is 86-year-old Jewish Holocaust survivor Hedy Epstein who said "If I can go anywhere in the world, why not to Gaza? Because the Israelis do not want me to go there? That is not a good reason for me not to go".
Two members of the Australian delegation joining the Freedom Flotilla to Gaza were Sylvia Hale 69, former Greens member of the NSW Parliament and Vivienne Porzsolt of Jews against the Occupation.
Sylvia Hale Vivienne Porzsolt Kathy Kelly Lauren Booth
"Gaza will not be free so long as the Israeli siege destroys the territory's economy," said Sylvia Hale. The Australian delegation is determined to break the siege," said Vivienne Porzsolt of Jews Against the Occupation, who pointed out that "By participating in the Flotilla, we are opposing Israel's acts of piracy in international waters and its illegal blockade of Gaza."
Among the others who participated in this year's Flotilla was Kathy Kelly, renowned American peace activist, author and founder of the Voices for Creative Nonviolence.
Despite most of the Freedom Flotilla II being unable to leave Greek ports, the flotilla was able to highlight the vicious nature of Israel's policy towards Gaza. Israeli leaders showed their willingness to use intimidation, lies, economic blackmail, threats of violence and sabotage to stop boats that Israeli military officials admitted would not be carrying weapons.
The Israeli government's continued violation of international law and the human rights of Palestinians is possible only as a result of the international community's failure to take tangible measures to uphold United Nations resolutions and Palestinian human rights. As the American passengers on The Audacity of Hope directly experienced in Greece, some major powers - including the U.S. government and the European Union - are willing to ignore international law and human rights to appease the Israeli government. International civil society has no recourse other than to take nonviolent direct action.
As long as the illegal blockade of Gaza remains in place, ships will sail to confront it; as long as Israel continues its occupation, and violent repression of Palestinians and our governments are silent about it, the global solidarity movement will mobilize to nonviolently and directly challenge it. Ends
Latheef Farook, a Sri Lankan ,worked for Ceylon Daily News and Ceylon Observer for almost a decade before leading a team of journalists to Dubai in February 1979 where he re launched Gulf News. After living and working in the Gulf for almost a quarter century he is now based in Colombo.