Al-Jazeerah History

Archives

Mission & Name

Conflict Terminology

Editorials

Gaza Holocaust

Gulf War

Isdood

Islam

News

News Photos

Opinion Editorials

US Foreign Policy (Dr. El-Najjar's Articles)

www.aljazeerah.info


Arab Voices:
What They Are Saying to Us and Why It Matters

a New Book By James Zogby

Al-Jazeerah, CCUN, September 27, 2010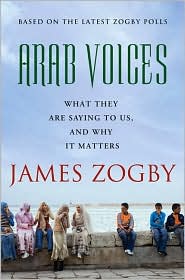 Dear Friends,

This October, Palgrave-Macmillan will publish my new book "Arab Voices: What They Are Saying to Us and Why It Matters".
In "Arab Voices" I examine: what has gone wrong with U.S. relations with the Arab World; what Americans don't know about the region (examining five dominant myths that shape the American discourse about Arabs); why Americans don't know more (from problems plaguing our deficient educational system to the biases projected by our popular culture - all of which have contributed to an environment which made it possible for ideologues to sell their agendas); and the major foreign policy blunders we have made because of our lack of knowledge about the region's history and its people (Iraq, Palestine, Lebanon, and "reform").

Relying on more than a decade of polling both in the U.S. and across the Arab World, "Arab Voices" provides readers with hard data about what Americans really think about Arabs. Our polling also allows Arabs to describe themselves - their attitudes toward their current situation, their values and aspirations, and their top political concerns. In country by country comparisons, the differences that define the unique characteristics of Arabs from Morocco to the UAE emerge, as well as the points of consensus that unify the people of this vast region.

Having examined how the West has too often "gotten it wrong" in the past, "Arab Voices" concludes by looking at government agencies and programs, corporations, media outlets, and non-governmental organizations that are "getting it right" and highlights the lessons they provide that can help show the way to a more promising future.

I am so pleased that "Arab Voices" has already received positive endorsements from: President Jimmy Carter, Ambassador Ed Djerijian, former Prime Minister John Bruton, Arianna Huffington, Chris Matthews, Ralph Nader, Queen Noor and best selling author Richard North Patterson.
I know you'll like "Arab Voices" and hope you'll want to share it with friends and associates. You can purchase it from Barnes & Nobles now.
Best wishes,

Dr. James J. Zogby

Founder and President
Arab American Institute
Washington, DC
202-429-9210
www.aaiusa.org
Arab Voices: What They Are Saying to Us, and Why it Matters
by James Zogby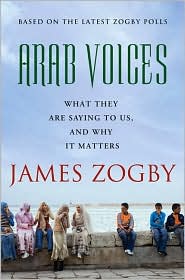 Overview - Arab Voices

Pub. Date: October 2010
Publisher: Palgrave Macmillan
Format: Hardcover, 256pp
Sales Rank: 23,292
ISBN-13: 9780230102996
ISBN: 0230102999

Synopsis

The Arab World is a region that has been vastly misunderstood in the West. Arab Voices asks the questions, collects the answers, and shares the results that will help us see Arabs clearly. The book will bring into stark relief the myths, assumptions, and biases that hold us back from understanding this important people. Here, James Zogby debuts a brand new, comprehensive poll, bringing numbers to life so that we can base policy and perception on the real world, rather than on a conjured reality.

Based on a new poll run by Zogby International exclusively for this book, some of the surprising results revealed include:
* Despite the frustration with the peace process and the number of wars of the past few years, 74% of Arabs still support a two state solution to the Palestinian-Israeli conflict. And over one-third of Lebanese, Saudis, and Jordanians think that their governments should do more to advance peace.

* Despite wars in and around their region and the worldwide economic crisis, when asked "Are you better off than you were 4 years ago?" 42% of those polled say they are better off, 19% worse off.

* Arabs like American people (59% favorable rating), values (52%) and products (69%), giving them all high ratings. And Canada gets high favorability ratings everywhere (an overall rating of 55% favorable and 32% unfavorable).

* However, Arabs overwhelmingly rate American society "more violent and war-like" (77%) or "less respectful of the rights ofothers" (78%) than their own society. Why? Because of the Iraq war and continuing fallout from Abu Ghraib,Guantanamo, and the treatment of Arab and Muslim immigrants and visitors to the United States.

* What type of TV show do Saudis and Egyptians prefer to watch? The answer is, "Movies", which draws over 50% of the first and second choice votes. In Morocco, the top rated shows are "soap operas" and music and entertainment programs, drawing almost two-thirds of the first and second choice votes. Religious programs are near the bottom of the list of viewer preferences, garnering less than 10% of votes in all three countries.

More Reviews and Recommendations

Biography

James Zogby is founder and president of the Washington, D.C.–based Arab American Institute and a senior advisor to the polling firm Zogby International. He writes a weekly column that appears in twenty Arab newspapers and hosts a weekly call-in discussion program on Abu Dhabi television. A member of the Council on Foreign Relations, Democratic National Committee, and co-chair of the DNC's Resolutions Committee, he and his wife Eileen live in Washington, D.C.