<![if !vml]>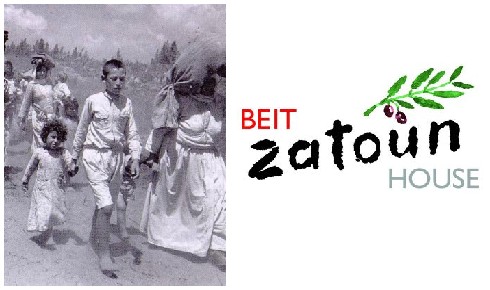 <![endif]>
Memory & Memorialization
Remembering the Nakba
Screening & Discussion with Filmmakers
Thursday, May 13 @ 7:30 pm
The narrative surrounding the Nakba in 1948 remains central to Palestinians and their supporters. Despite criminalization inside Israel's borders by the Nakba Draft Law (February 2010), the commemoration of the Nakba is a reality independent of laws and media.
The screening of two short videos and a moderated discussion explores the basis of memory and the human need to memorialize. For many the Nakba references a specific history, for others it provokes questions of memory and personal loss, of collective loss and finally, the loss of truth or recorded reality. The filmmakers will be in attendance.
Program
In the short video, Deir Yassin Remembered, b.h. Yael considers the pivotal repercussions of the massacre at Deir Yassin in 1948 resulting in Palestinian dispossession. Though Deir Yassin has been only partially acknowledged by Israel, many other massacres of the time have not. The video gives an account of what happened at Deir Yassin, and argues for the need for acknowledgment and commemoration. Deir Yassin Remembered is part of Palestine Trilogy.
Remembering the Dismembered by Vicky Moufawad-Paul weaves family interviews, poetry and song with archival footage and the filmmaker's return to her grandmother's village, Al-Bassa, in the north of Palestine. Ultimately about memorialization, loss and salvage, the filmmaker uses the technique and the concept of the fragment as the emblem of diasporic identity.
The videos will be followed by a moderated discussion and an open conversation with the audience exploring the evening's themes and questions.
Filmmakers
b.h. Yael is a Toronto based filmmaker, video and installation artist. She is Professor of Integrated Media at the Ontario College of Art and Design. Yael_s work has exhibited nationally and internationally. Other works on Israel/Palestine include: Even in the Desert and a hot sandfilled wind (also part of Palestine Trilogy), In the Middle of the Street, and pacts (The Olive Project).
Vicky Moufawad-Paul is a video artist and the Programme Coordinator at A Space Gallery. She earned an MFA in 2005 and is the former curator and executive director of the Toronto Arab Film Festival. She is a member of the Visual and Media Arts Committee at the Toronto Arts Council and sits on the board of directors at Trinity Square Video. Moufawad-Paul's video work has exhibited nationally and internationally.
Space is limited, to register online please visit.
Need to know:
- Admission by donation - $10 suggested
- Doors open at 7:15 pm
- Sorry, not wheelchair accessible
For more information on the talk or to reserve online, please visit.

Meet you at Beit Zatoun!
~
647.726.9500
612 Markham St.,
Toronto, ON M6G 2L8 TTC:
Bathurst subway stop on Bloor line
email: info@beitzatoun.org
Visit for News and Events: www.beitzatoun.org; www.facebook.com/beitzatoun