Millions of Syrians Evicted from their Homeland, Part of Destroying the Middle East for Israel
January 19, 2016
For an explanation about eviction of Syrians from their homeland and the destruction of the Middle East, read:
Creative Destruction: The Name of the Game in the Middle East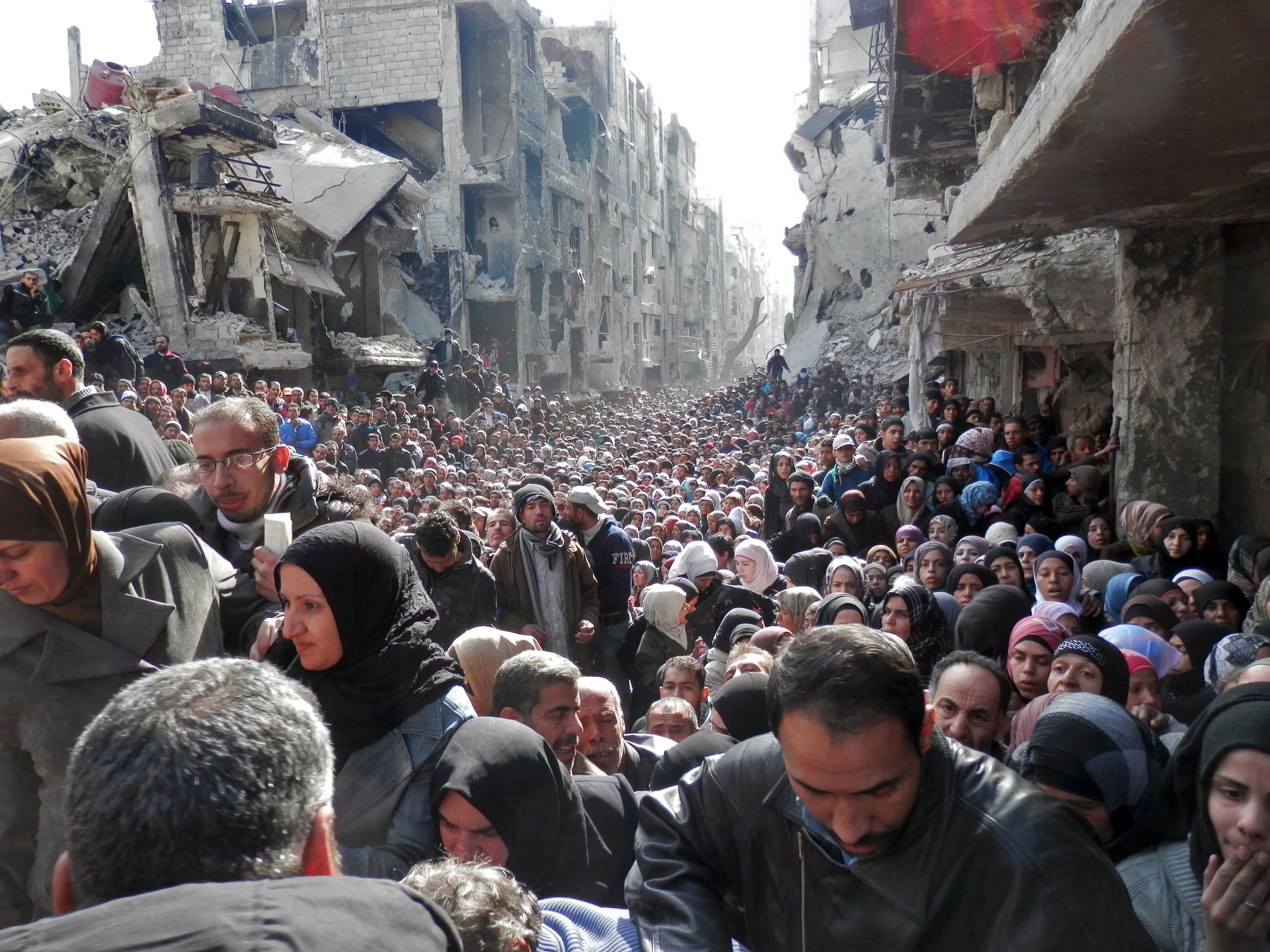 Syrian Refugees: A snapshot of the crisis in the Middle East and Europe
Migration and refugee movements in the Mediterranean countries have gained unprecedented momentum in recent months. The situation along migratory routes to Europe and within Europe itself is changing faster than ever before. Opinions of all kinds flourish, often without the necessary base of accurate, up-to-date information.
MPC website on the migrant crisis is aimed at providing a mixed audience comprised of the media, policy-makers and politicians, migration stakeholders, and the academic community, with the facts needed to understand the course of events and make informed judgments. The website will be enriched and updated on a weekly basis. It will offer in one single place comprehensive, detailed, multidimensional and multi-sited information gathered from a wide variety of sources either opened or not to public access. It aims at providing the facts with a level of details that no other single source offers.
The website will gather all the relevant data (statistics, graphs, maps, legislations, documents from governments and other stakeholders, etc.), accompanied by analytical notes and policy briefs. It will cover all the countries on the main migration routes to the EU, allowing comparison between EU and non-EU countries.
­ Syrian Refugees
An estimated 9 million Syrians have fled their homes since the outbreak of civil war in March 2011, taking refuge in neighbouring countries or within Syria itself. According to the United Nations High Commissioner for Refugees (UNHCR), over 3 million have fled to Syria's immediate neighbours Turkey, Lebanon, Jordan and Iraq. 6.5 million are internally displaced within Syria. Meanwhile, under 150,000 Syrians have declared asylum in the European Union, while member states have pledged to resettle a further 33,000 Syrians. The vast majority of these resettlement spots – 28,500 or 85% – are pledged by Germany.

This website offers a snapshot of the repercussions of this refugee crisis for both Syria's neighbours and the European Union. It is a project of the Migration Policy Centre at the European University Institute, based on a series of studies conducted by local researchers on behalf of the MPC at the end of 2012 and an update carried out in 2014. This website is the result of close collaboration between a team of journalists and these local researchers, under the auspices of the MPC, to paint a broad picture of the worst refugee crisis to affect the region in years.

This website also examines the role played by the European Union, both as a provider of humanitarian aid and as a home for refugees. While it is true that the EU is a leading contributor of humanitarian aid to the region, the amount donated by each of its 28 member states has varied greatly. Furthermore, while the EU has accepted the vast majority of Syrians who have applied for asylum, it has to date received relatively few requests. Its response to a UNHCR call for more than 130,000 resettlement spots for Syrian refugees between 2013-2016 has also been tepid.

In contrast, absorbing the influx of refugees has been an enormous challenge for Syria's neighbours, with strong implications for the stability of the entire region. We hope this website is an accessible way to better understand the crisis .

***
Syria conflict: 'Fairer resettlement plan needed' for refugees - BBC News
The world should find fairer ways of resettling Syrian refugees fleeing the war in their country, the new UN refugee agency chief has said.
Speaking during a visit to a refugee camp in Jordan, Filippo Grandi said the crisis "cannot only concern the countries neighbouring Syria".
Jordan is hosting 633,000 of the 4.39 million Syrians registered as refugees with the UN.
Many Syrian refugees are also sheltering in Turkey and Lebanon.
Hundreds of thousands of others have sought refuge in the European Union in recent years.
Donor conference
Syria conflict: 'Fairer resettlement plan needed' for refugees - BBC News
"I think we need to be much more ambitious'' about resettling refugees, Mr Grandi, an Italian diplomat, said at the Zaatari refugee camp.
"What is needed is a better sharing of responsibilities," he added.
His comments came as the UN refugee agency (UNHCR) said the number of Syrians stranded on the Jordanian border had risen sharply to about 17,000 people.
Mr Grandi also said the UNHCR would organise a conference in Geneva in March to find host nations for Syrian refugees, after a fund-raising event in London planned for next month.
The Syrian conflict erupted in 2011 with mass protests against President Bashar al-Assad.
More than 230,000 people are estimated to have been killed since then.
http://www.bbc.com/news/world-middle-east-35346823
***
Educating Europe's refugees as important as feeding them
By Abdul Rahman al-Rashed
SOHR, January 18, 2016 --
More than a million refugees have arrived in Europe from around the world, who may be deemed as easy prey for extremist groups.
These groups reached Europe before the influx of refugees and they enjoy greater freedom of expression. They are also more engaged in social activities. The more recent refugees, on the other hand, went to Europe in search of a new life. Yet, many of them may end up becoming the target of extremists looking to expand their presence. They are intent on producing terrorists and spreading an extremist ideology that turns these refugees into opponents of the very society they live in.
Ever since Syrians started fleeing their war-ravaged country in large numbers, they headed to Europe via Turkey. This marked the beginning of a new phase in the crisis, which will probably continue even if the Syrian conflict is resolved. A million refugees, most of whom Syrians, is not a big number in a continent inhabited by around 300 million people. The number is also not a complication for Germany, the biggest refugee hosting country, as its huge economy can sustain them. But the challenge posed by these refugees is bigger on intellectual, social and security fronts.
What is as important is educating them so that they integrate with society easily and confront attempts by extremists to radicalize them.
There are real threats facing these refugees who are victims of the repulsive war which has unjustly displaced more than 10 million Syrian people and a few million Iraqis. The refugees in Europe are vulnerable to exploitation and to being used in this game which is getting more complicated and dangerous. There are powers fighting over them in Europe such as those who oppose refugees, parties protesting over unemployment and groups supporting Syrian and Iranian regimes. Of course the most dangerous are extremists and people cooperating with terrorist groups such as ISIS and al-Nusra Front.
Challenge of radicalization
It will be in the interest of German and European authorities in general to preemptively address this problem by not letting these refugees fall prey to extremists who influence them under the pretext of humanitarian support. These refugees must be intellectually equipped to live with dignity and co-exist in the new society which has hosted them; a society which respects their rights and beliefs and expects the same from refugees. European governments and people are currently focused on helping these refugees. They are being provided food and housing while their papers are processed. However, what is as important is educating them so that they integrate with society easily and confront attempts by extremists to radicalize them.
Governments can do nothing but threaten to expel anyone who is proved to be engaging in extremist activities, as has been seen in Germany. This approach only addresses a small percentage of the 1 million refugees. The biggest challenge is to intellectually strengthen the majority from attempts being made by extremists to turn refugees from being thankful to hateful and into extremists who reject their new society and clash with it.
I am confident that it is possible to spread the culture of co-existence and tolerance, which can be derived from the refugees' Muslim and Middle Eastern culture that has collapsed in the last three decades due to extremist and hateful ideologies and ongoing wars.
This article was first published in Asharq al-Awsat on Jan. 17, 2016.
***
Share this article with your facebook friends
This site contains copyrighted material the use of which has not always been specifically authorized by the copyright owner. We are making such material available in our efforts to advance understanding of environmental, political, human rights, economic, democracy, scientific, and social justice issues, etc. We believe this constitutes a 'fair use' of any such copyrighted material as provided for in section 107 of the US Copyright Law. In accordance with Title 17 U.S.C. Section 107, the material on this site is distributed without profit to those who have expressed a prior interest in receiving the included information for research and educational purposes. For more information go to: http://www.law.cornell.edu/uscode/17/107.shtml. If you wish to use copyrighted material from this site for purposes of your own that go beyond 'fair use', you must obtain permission from the copyright owner.