Shooter Kills 4 of his Family Members and himself, in Belfair, Washington State
February 27, 2016
| | |
| --- | --- |
| | |
| Police officers during the stand off at the Belfair, Washington, crime scene, in which five people from one family were killed, February 26, 2016 | |
Washington state officials seek to pin down identities in slaying of four
Reuters, Saturday, Feb 27, 2016, 6:46am EST

Washington state authorities on Saturday were seeking to confirm the relationship between a man who fatally shot four people at a rural home west of Seattle then turned the gun on himself following a tense standoff with law enforcement.
Details of the slayings in Belfair, about 25 miles (40 km) west of Seattle, remained under investigation, including when the victims were killed and why the gunman might have targeted them.
The violence appeared to be a "family-domestic situation," a Mason County Sheriff's official said.
"As far as I know, this is one family, the shooter was the father and the victims were his family," Chief Deputy Russell Osterhout told Reuters.
The medical examiner would determine the identities and cause of death of those involved.
Osterhout said the lone survivor, a 12-year-old girl, escaped or was released by the gunman before the suspect emerged from the house after hours of negotiations with law enforcement and a police SWAT team and shot himself in front of sheriff's deputies.
A neighbor, Jack Pigott, 79, who lives across the road from the crime scene, told Reuters by telephone he heard several bursts of gunfire coming from the wooded property Thursday night, and assumed it was target shooting.
Police arrived at the home after the suspect himself called a sheriff's sergeant on the officer's work cell phone to say that he "did something" and asked that authorities be sent to the residence, Osterhout said.
It was not explained how the suspect knew the sergeant's phone number, but sheriff's Deputy Chief Ryan Spurling said "the gunman did have a previous contact with the sergeant".
The latest round of deadly U.S. gun violence came a day after a man near Wichita, Kansas, fatally shot three people to death and wounded 14 before he was slain by police at a Kansas lawnmower factory where he worked.
(Reporting by Victoria Cavaliere; Editing by Catherine Evans)
***
Surviving child may hold a key to unraveling deadly shooting in Mason County
February 27, 2016 at 1:39 am
By Joseph O'Sullivan, Evan Bush Jessica Lee Seattle Times staff reporters
BELFAIR, Mason County —
Authorities on Saturday likely will release the identities of four people found dead on a rural property near Belfair, along with the name of the man believed to have shot them before shooting himself in front of deputies Friday afternoon.
Investigators will be conducting interviews and reviewing evidence into the weekend to piece together what happened, Mason County sheriff's Chief Deputy Ryan Spurling said.
Authorities learned of the deaths Friday morning when a man called to say that he had shot two children, a woman and another person.
A SWAT team, deputies and police responded to the property, which is on Northeast Horseshoe Drive, a dirt- and stone-packed road in a rural, wooded area northwest of Belfair, southwest of Bremerton.
Police surrounded the residence, though they didn't immediately enter because the man had a handgun, Spurling said. Authorities negotiated with him for at least two hours.
Later, as deputies who were gathered outside looked on, the man "apparently came outside the home and shot himself," Mason County Sheriff Casey Salisbury said. "It's a terrible tragedy."
The man did not fire at law-enforcement officers, according to Salisbury. Spurling said late Friday that deputies believe the man fatally shot the four victims.
Authorities found the bodies of the four in a different structure from where the gunman was during negotiations, the sheriff said. Police searched 11 structures on the property.
The Mason County coroner will rule on the manner and cause of the deaths. Authorities from the coroner's office removed the bodies around 6 p.m., he said. The coroner's information will be released after relatives are notified of the deaths.
During the negotiations, medics took a 12-year-old girl from the scene, Spurling said. The girl was not shot, but it was unknown if she had other injuries. She is a relative of the gunman, Spurling said, but he could not confirm if she was the man's daughter.
Spurling said the girl could be key in helping investigators understand what led to the deaths.
A handful of people called authorities throughout the day, saying they had information to help investigators, or that they knew those involved, he said. But investigators needed to verify those claims.
Mason County Sheriff's Office Chief Ryan Spurling speaks Friday afternoon near the property where a man claimed to have shot four people. All five are dead
"As we investigate, and more people are in contact with us," Spurling said, "we can put it all together."
A Washington State Patrol plane mounted with a camera circled above the home, giving police a bird's-eye view during the standoff and for much of the afternoon. Investigators shuttled in and out of the property throughout the day.
Spurling said Friday evening that troopers had been making drawings of the scene, with plans to render a computerized reproduction of what happened.
An animal-control team also came to the property, where a dog had been barking continuously. Spurling said there were other animals at the residence, including at least one horse.
Jack Pigott, who lives nearby, said he heard gunshots about 8:15 p.m. Thursday. He thought it was target shooting, he said.
"The gunshots, I figured, was target practice. I never thought more about it," Pigott said.
On Friday morning, Pigott received calls from concerned neighbors.
"I'm looking at the TV and there's a picture of my road. I said, 'My God, that's my driveway. There's SWAT cars … halfway down the road,' " he said. "I'm kind of surprised this happened up here in my paradise."
Later, he learned that some of his neighbors had been killed.
"It's just a sad state of affairs, by golly. I've lost four neighbors, evidently."
Joseph O'Sullivan: 360-236-8268 or josullivan@seattletimes.com. On Twitter @OlympiaJoe
***
Teen sentenced for shooting, killing 13-year-old friend at JBLM
February 26, 2016
TACOMA, Wash. --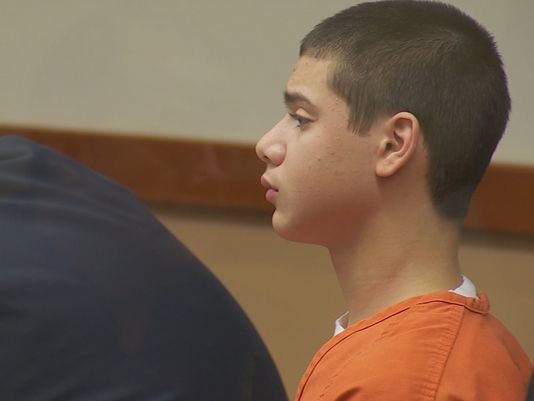 Adonis Brown
A 17-year-old will go to jail for shooting and killing his 13-year-old friend last October on the Joint Base Lewis-McChord property.
Adonis Brown will serve nearly eight years behind bars for killing his friend Alex DeMello. Brown pleaded not guilty Friday morning in Pierce County court to manslaughter in the second degree and unlawful possession of a firearm.
Last October, Brown, DeMello and DeMello's brother snuck onto the JBLM property. Brown had a gun and it accidently went off, shooting Alex DeMello in the face. Alex later died at the hospital.
"I received a bill last week for $360,000, for my son's brain surgery that his insurance won't even cover. That's for one day," said Jamie DeMello in court Friday.
DeMello briefly addressed Brown in court Friday.
"Why did you flee? Why did you run from the scene?" she asked.
In a tearful apology to the family, Brown said, "The reason why I fled the scene is because I was scared, confused and I was ashamed of myself."
For the DeMello family, the apology isn't enough.
"He was a very loved young man by his school and everyone around him and it was just sad that he's never going to have the opportunity in live to become the man he wanted," said Jamie DeMello.
http://www.king5.com/story/news/local/tacoma/2016/02/26/teen-sentenced-shooting-killing-13-year-old-friend-jblm-property/81006228/
***
Share this article with your facebook friends
This site contains copyrighted material the use of which has not always been specifically authorized by the copyright owner. We are making such material available in our efforts to advance understanding of environmental, political, human rights, economic, democracy, scientific, and social justice issues, etc. We believe this constitutes a 'fair use' of any such copyrighted material as provided for in section 107 of the US Copyright Law. In accordance with Title 17 U.S.C. Section 107, the material on this site is distributed without profit to those who have expressed a prior interest in receiving the included information for research and educational purposes. For more information go to: http://www.law.cornell.edu/uscode/17/107.shtml. If you wish to use copyrighted material from this site for purposes of your own that go beyond 'fair use', you must obtain permission from the copyright owner.