Fighting Intensifies in Yemen After the Collapse of Peace Talks
August 8, 2016
| | |
| --- | --- |
| | |
| Yemeni children killed in a Saudi air strike on Sana'a, August 7, 2016 | Yemeni government soldiers |
AGENCE FRANCE PRESSE |
Arab News, Monday 8 August 2016
ADEN:
Suspected members of Al-Qaeda shot dead an army colonel in Yemen's southern province of Abyan on Sunday, a military official said. The gunmen on a motorbike opened fire at Col. Abdullah Shamba, killing him immediately before driving off, the official said. Shamba headed a local anti-Al-Qaeda militia in Abyan, the source added.
Late on Saturday, Saudi-led coalition jets attacked Al-Qaeda positions in Abyan's provincial capital of Zinjibar and in the nearby town of Jaar, military sources said. Government forces backed by the Arab coalition began an all-out offensive in March against terrorists in south Yemen, recapturing main cities they had held.
***
Saudi launches eight raids on Jawf
Friday, 05-August-2016
The Saudi-led coalition launched on Friday eight airstrikes on al-Ghayl district of Jawf province.

A local official in Jawf said the airstrikes targeted al-Urdhi, al-Baheth, al-Athabah and al-Ghayl village, leaving considerable damage to the citizens' houses and farms.

Saudi war jets destroy mosque in Jawf
Friday, 05-August-2016
The Saudi war jets destroyed on Friday a mosque in al-Ghail district of Jawf province.

A local official said that the hostile war jets targeted the Great Mosque in al-Ghail with an airstrike, which led to the destruction of the mosque in full.

Army foils hirelings' progress in Jawf, killing dozens
Friday, 05-August-2016
The army and popular committees forces repulsed a big attempt by hirelings to advance on al-Ghail district of Jawf province, a military official said Friday.

The official explained that the hirelings tried to progress toward al-Ardhi village and al-Adhba area from three directions under intense overflights of Saudi warplanes.

Saudi war jets wages 4 airstrikes on Jizan
Friday, 05-August-2016

The Saudi war jets launched on Friday four airstrikes on areas in al-Khuba in Jizan region.

A military official in Jizan said the Saudi warplanes launched two airstrikes on Qamar
Saudi raid kills two women in Nehm
Friday, 05-August-2016
Two women were killed on Friday by a Saudi airstrike on Nehm district of Sana'a province.

According to a local official, the aggression's war jets struck a house of "Zaid Ahmed al-Faraj" in Amshitbah village.

GPC thanks Russia for its position on Yemen
Thursday, 04-August-2016
ý The General People's Congress (GPC) thanks Russia for its position taken in the Security Council on Yemen in the meeting held on Wednesday
Saudi warplanes wage 9 raids on Sa'ada
Thursday, 04-August-2016
The Saudi fighter jets launched on Thursday eleven air raids on Sa'ada province, a local official said.

In Sa'ada, the fighter jets targeted Kutaf district with five air raids, Kahlan area with three raids and Shada Najm district with an air raid causing the complete destruction of a house, the official added.

Saudi jets launch raids on Serwah
Thursday, 04-August-2016
The Saudi warplanes waged on Thursday three air raids on Serwah district of Mareb province, a local official said.

The hostile raids targeted Hailan Mount with two raids and an air raid on Wadi al-Rabe'ah in Serwah.

Saudi jets wage raids on Mareb
Thursday, 04-August-2016
The Saudi war jets waged on Wednesday two air raids on Serwah district of Mareb province, a local official said.

The raids targeted Hailan area in Serwah district, causing serious damage to the citizens' houses and properties.

EU to reopen office in Yemen soon
Thursday, 04-August-2016
The European Union (EU) intends to reopen its office in Yemen.

Head of the EU Delegation to Yemen Bettina Muscheidt made a telephone call with the SRC, accenting the delegation's intention to re-open its office in Yemen soon.
Muscheidt expressed her appreciation of the efforts made by the SRC President in supporting and facilitating the humanitarian activities of the international organizations working in Yemen, she said.
***
Yemen peace talks collapse as rebels name members to their own governing council
DW, August 6, 2016
The UN envoy to Yemen has slammed the rebel's governing council but also insisted the talks had not failed and would resume. Rebels rejected a UN-backed peace plan because it didn't meet their main goal - power sharing.
UN Special Envoy to Yemen Ismail Ould Cheikh Ahmed Peace talks aimed at ending Yemen's civil have collapsed as rebel forces rejected a UN-backed peace plan opting, instead, naming members to their own governing council.
The UN envoy to Yemen Ismail Ould Cheikh Ahmed closed the talks on Saturday but announced a new round of negotiations would begin in one month.
"We will be leaving Kuwait today but the Yemeni peace talks are continuing," Ould Cheikh Ahmed told journalists.
Hopes for peace in Yemen
In the interim he said bilateral talks with the two sides would take place in an effort to work out details for a peace plan.
"We have guarantees and commitments from the two sides that they are ready to return to the negotiating table," he said.
Talks between Iranian-backed Houthi rebels and Yemeni government representatives began April 21 in Kuwait City and ended without any discernible progress, but Ould Cheikh Ahmed refused to call the negotiations a failure.
"In fact, we have not failed. We believe the Kuwait talks made great progress," he said without elaborating.
A short time earlier he slammed the rebels announced governing council, saying it gravely violated UN Security Council resolutions on how to solve the conflict and warned the warring parties against "unilateral actions."
"We condemn any unilateral steps," he said. "These do not serve the Yemeni people or the peace process."
Salah al-Sammad, head of the Yemen's Houthi political wing Ansarullah, and Sadek Abu Ras, deputy head of Saleh's General People's Congress Party
Loyal to former president
Shiite Houthi rebels and fighters loyal to their ally, former president Ali Abdullah Saleh, appointed a council to govern Yemen last week. The 10 member council includes Salah al-Sammad, head of the Houthis' political wing Ansarullah, and Sadek Abu Ras, deputy head of Saleh's party, the General People's Congress.
That condition is tantamount to an explicit call for the removal of the internationally recognized president, Abedrabbo Mansour Hadi. He is demanding implementation of a UN Security Council resolution mandating the withdrawal of the Shiite Houthi rebels from all cities.
The Houthi rebels overran Sanaa, the capital, in late 2014 before capturing other parts of Yemen. Saudi Arabia responded by forming a Sunni coalition that launched a fierce air campaign against the rebels in March 2015.
Watch video 08:53
Morning Q & A: Conflict in Yemen
Despite that effort the rebels maintain control of the capital and have ceded little territory elsewhere.
The UN says more than 6,400 people have been killed in the small Arabian Peninsula country since fighting broke out - many of them civilians.
Another 2.8 million people have been driven from their homes, and more than 80 percent of the population is in need of humanitarian aid.
bik/bw (AP, Reuters, AFP, dpa)
http://www.dw.com/en/yemen-peace-talks-collapse-as-rebels-name-members-to-their-own-governing-council/a-19453617
***
The suffering in Yemen
Author Kersten Knipp / js
DW, August 5, 2016
For almost 18 months, Houthi rebels and government troops backed by an international coalition have been warring in Yemen. Al Qaeda is also on the ground. Civilians are suffering most.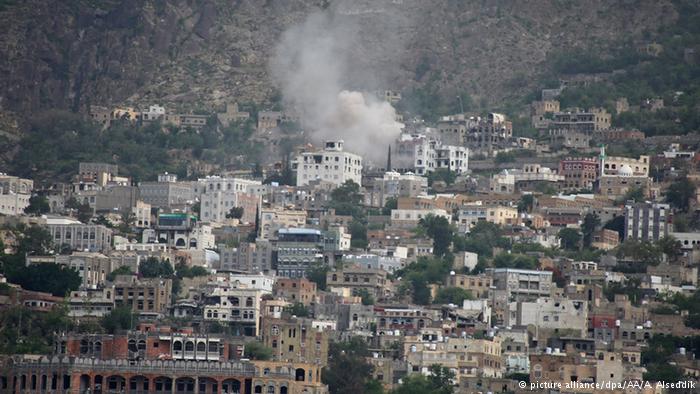 It borders one of the busiest waterways in the world - yet it is a country that rarely makes its way into the headlines. Parties involved in the ongoing conflict in Yemen are using that fact to their advantage, finds a confidential United Nations report that has recently become public.
Fighter jets from the Saudi-led military coalition, for instance, intentionally bombarded a house in the south of the country in late May. Six people were killed in the attack, among them, four children. The house was not believed to be a military target. The UN is currently investigating three further incidents in which civilians were killed in attacks carried out by coalition jets.
The UN has leveled serious allegations against the Houthis as well. The Shiite rebels are accused of intentionally positioning their fighters and military hardware in the vicinity of civilian facilities, and of using them as human shields. In doing so they have willingly placed civilians in harm's way. The UN estimates that around 6,400 people have been killed since the conflict began in March 2015, many of them civilians.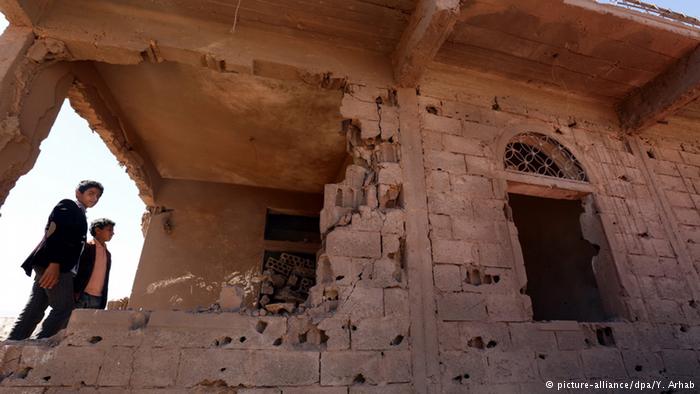 A house in Sanaa is left heavily damanged after a Saudi-led airstrike
No desire for peace
The warring parties themselves are wholly unimpressed by all of this. A week ago the government of Yemen, which is supported by the Saudi-led coalition, broke off peace talks with the Houthis. Beforehand, the rebels had announced the creation of a "Supreme Council" - a de facto counter-government that would have openly called into question the legitimacy of Yemen's elected governmental representation, led by President Abed Rabbo Mansour Hadi. Around the same time, the Houthis also turned their backs on the negotiations, calling the UN organized agreement nothing more than a "media spectacle."
The talks, which are being held in Kuwait, are scheduled to resume this weekend, though it remains unclear what they will achieve.
Terror and ideological hardening
Meanwhile the country is suffering from continued violence. Wednesday, two car bombs exploded almost simultaneously near an army barracks, killing six soldiers and injuring 12 more. The government suspects "Al Qaeda in the Arabian Peninsula" (AQAP) of being behind the attacks. Two days earlier, a sixteenth-century mosque was blown up in the northern city of Taiz. Radical Salafists are suspected of having carried out the attack. It is as yet unclear to which group they are affiliated.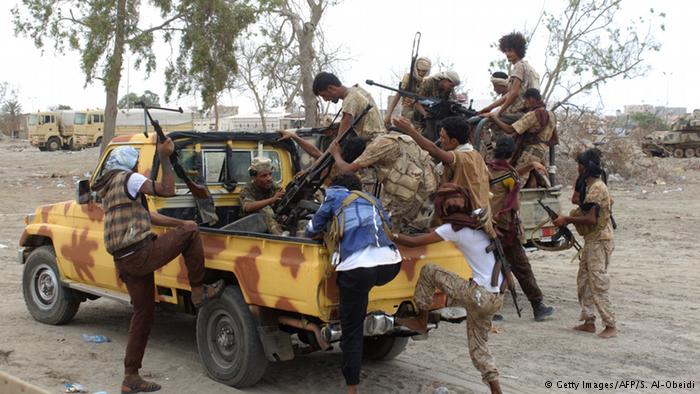 Government troops secure a military base after twin car bombings
After roughly 18 months of war the country has, in part, also become ideologically stratified. For a time, residents in the northeastern region of Hadramawt joined ranks with AQAP fighters. Their movement became known under the name "Sons of Hadramawt" - a term that made it easier for regional leaders to ally with the jihadis. They were not solely motivated by religious affinities, but also by the aid that the terrorists sent to their region. Recently the alliance fell apart after AQAP fighters refused to share power with regional leaders.
A humanitarian catastrophe
The three-front war not only makes it difficult to attain political agreements, it also makes it unlikely that one party will emerge victorious militarily. "It is becoming ever clearer that none of the warring parties will be able to achieve total military victory," writes Amal Nasser, political analyst for "Al-Monitor," an online magazine. "The only losers in this war are the Yemeni people themselves.
A humanitarian catastrophe is indeed threatening Yemen. The World Bank warned of this in the spring. Imports and exports have essentially stopped. Gross domestic product has shrunk by a third, and inflation is around 30 percent. These developments are further crippling a country that is already one of the most impoverished in the Arab world. Some 40 percent of the population live below the poverty line, and 60 percent of children under five suffer from malnutrition; a third are underweight.
The already dramatic situation has only become worse with the war: More than 21 million Yemenis - about a fifth of the country's population - are dependent upon humanitarian aid. Fourteen million people live with no guarantee that they will receive supplies, and over 19 million people have no access to clean drinking water or sanitation.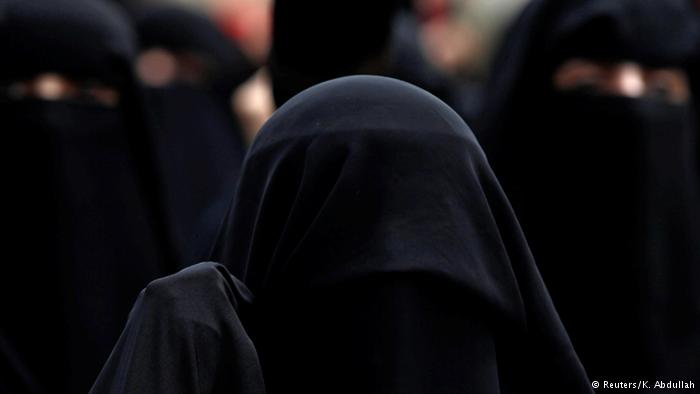 Houthi women demonstrate in Sanaa
Attacks with 'shortcomings'
All the while, a fight drags on over the interpretation of air assaults carried out last summer by the Arab coalition on a civilian neighborhood in the city of Mocha, on the Red Sea. The organization Human Rights Watch has called the attack an "obvious war crime." The coalition replied by assembling an investigative team, consisting mainly of representatives from coalition member states.
On Thursday, the commission declared that most attacks were conducted in accordance with international humanitarian law. Two of the eight attacks in question, however, were based on "imprecise information." Therefore, they concluded, there had been "shortcomings" in the operations.
***
***
Share this article with your facebook friends
This site contains copyrighted material the use of which has not always been specifically authorized by the copyright owner. We are making such material available in our efforts to advance understanding of environmental, political, human rights, economic, democracy, scientific, and social justice issues, etc. We believe this constitutes a 'fair use' of any such copyrighted material as provided for in section 107 of the US Copyright Law. In accordance with Title 17 U.S.C. Section 107, the material on this site is distributed without profit to those who have expressed a prior interest in receiving the included information for research and educational purposes. For more information go to: http://www.law.cornell.edu/uscode/17/107.shtml. If you wish to use copyrighted material from this site for purposes of your own that go beyond 'fair use', you must obtain permission from the copyright owner.