5 Palestinian Teenagers Killed, Scores Kidnapped, Fishermen and Protesters Attacked by Israeli Occupation Forces
November 24, 2015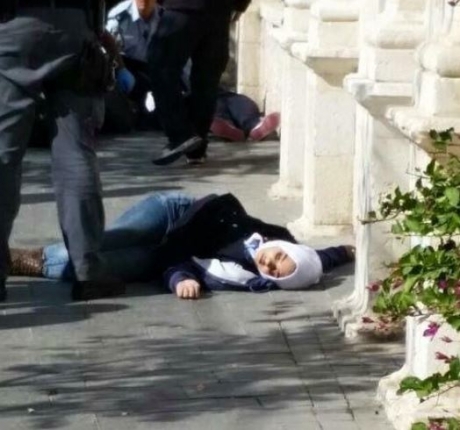 Palestinian teenager, Hadeel Wajeeh 'Awwad, 16, from the Qalandia refugee camp, north of occupied Jerusalem, was killed on November 23, 2015 by Israeli occupation soldiers, who also killed her brother, Mahmoud Awwad, before, on November 28, 2013.
| | |
| --- | --- |
| | |
| Israeli air raid on Gaza | Israeli occupation soldiers raid Qalqilia, clash with protesters |
| | |
| --- | --- |
| | |
| Israeli gunboats attack fishermen in Gaza waters | Israeli occupation soldiers at Qalandiya checkpoint |
Child Killed, Her Friend Seriously Injured by Israeli occupation soldiers, in Jerusalem
Monday November 23, 2015 14:38 by IMEMC & Agencies
Israeli occupation soldiers shot and killed, Monday, a Palestinian child, and seriously wounded her friend, allegedly after "carrying out a stabbing attack," in Jerusalem, wounding two persons.

The slain Palestinian child has been identified as Hadeel Wajeeh 'Awwad, 16, from the Qalandia refugee camp, north of occupied Jerusalem. The seriously wounded child is 14 years of age.

Hadeel is the sister of Mahmoud Awwad, who died on November 28, 2013, of wounds suffered five months earlier after an Israeli soldier shot and seriously injured him with a live round in the head.

He was moved to Hadassah Israeli Hospital in Jerusalem, where he remained in a coma until his death.

According to Israeli daily Haaretz, the two girls reportedly "stabbed and mildly injured an elderly Palestinian man, in his seventies, apparently after mistaken him for an Israeli," near Mahne Yehuda outdoor market in Jerusalem, and that another man was wounded while trying to stop them.

Israeli Ynet News said the wounded elderly man suffered a light injury in his upper body, and that he is from the West Bank city of Bethlehem, in the occupied West Bank.

Also, an Israeli man, 27 years of age, was injured by a ricochet from a bullet fired by an Israeli soldier.

In related news, soldiers invaded Beit Fajjar town, south of Bethlehem, and clashed with dozens of local youths.

The army fired gas bombs and rubber-coated steel bullets; no injuries were reported.

Clashes also took place in the 'Aida refugee camp, north of Bethlehem, after the soldiers invaded it; one Palestinian was shot with a rubber-coated steel bullet.

The clashes started after the soldiers invaded a building in the refugee camp, and used it as a military post and a motoring tower.

Related:

3 Palestinians & 1 Israeli Killed Sunday; 94 Palestinians Killed since 10/1 (List)

Soldiers Kidnap 37 Palestinians In The West Bank

3 More Palestinian Teens Dead after Alleged Stabbing Incidents
Monday November 23, 2015 18:52 by IMEMC News & Agencies
Israeli occupation soldiers shot and killed a Palestinian teenager on Monday afternoon after he allegedly attempted to stab an Israeli soldier at the Huwwara checkpoint south of Nablus, Israel's army said.

An Israeli army spokesperson said that as the Palestinian approached the checkpoint, he "drew a knife and attempted to attack a soldier."

She said that the soldier "responded to the immediate danger" and opened fire on the Palestinian, "resulting in his death."

The Palestinian Ministry of Health identified the alleged attacker to Ma'an News Agency as Alaa Khalil Sabah Hashah, 16.

A Palestinian woman identified as Samah Abd al-Mumen Ahmad from Ammuriya village was shot in the head in the crossfire, witnesses said.

A bus driver, Adham al-Sharfa, stated: "I saw what happened with my own eyes as Israeli soldiers opened fire at a youth for attempting to stab an Israeli soldier and then several Israeli soldiers arrived and shot the youth more than 10 times and he fell to the ground."

Palestinian security sources said Samah was shot in the head while sitting inside her car near where the incident occurred.

Her injuries were reported as critical. No Israelis were reported injured during the incident.

Huwwara checkpoint lies just south of Nablus on a major thoroughfare for both Palestinians as well as Israelis living in illegal settlements in the northern occupied West Bank.

On Sunday, an Israeli settler ran over a 16-year-old girl at Huwwara checkpoint before getting out of his car and shooting her dead, saying that he believed she was about to carry out a stabbing attack at the checkpoint.

The settler was later identified by Israeli media as Gershon Mesika, the former head of the Samaria Regional Council, which represents Israel's illegal settlements in the northern West Bank.

Later on Sunday, Israeli forces imposed a curfew on Huwwara village after a Palestinian threw a Molotov cocktail at a settler's vehicle passing through the village, Israel's army said.

***

Also on Monday, Palestinian man was shot dead after stabbing and killing an Israeli settler on Route 443 west of Ramallah, Israel's army said.

An Israeli occupation army spokesperson said that a "Palestinian murdered an Israeli and wounded another in a stabbing attack" with the injured victim evacuated for treatment.

Israeli occupation forces responded on site to the incident and shot dead the Palestinian attacker, the spokesperson added.

The Palestinian Ministry of Health identified the suspect as Ahmad Jamal Taha, 16, from the Qutna village near Ramallah.

The attack took place at a gas station along Route 443 west of Ramallah, with the Magen David Adom ambulance service treating the wounded at the scene.

The latest incident brings the total death toll on Monday to three Palestinians and one Israeli after a 16-year-old Palestinian girl was shot dead in Jerusalem earlier in the day, after allegedly carrying out a stabbing attack near the Mahane Yehuda market.

Israeli media initially reported that two Israelis were wounded in the alleged attack, although a spokesperson for Hadassah hospital later confirmed that one of those injured was a 70-year-old Palestinian resident of Bethlehem, who had a light stabbing wound in his back.

The other was a 27-year-old Israeli security guard who was shot in the hand by friendly fire. An Israeli security guard, who had been driving near the Mahane Yehuda market on Jaffa Street, got out of his car when he saw the two girls and quickly shot dead 16-year-old Hadeel Wajih Awwad and severely wounded her cousin, 14-year-old Norhan Awwad.

Video footage showed both girls running at the security officer, apparently waving scissors, before the security guard and another Israeli managed to knock the girls to the ground. Once on the ground, the security guard ran forward and shot each of them several times.

Editor's note: In recent months, a bizarre number of such incidents have been documented. Although many reports would seem genuine at first glance, discrepancies in details and outright admission of mistaken intent has caused many to question their authenticity.

See: Israeli Forces Continue to Kill Palestinians on Grounds of Alleged Stabbing Attempts

Videos contradict Israeli police account of their killing of Fadi Alloun

Israel Admits Wounded Young Palestinian Woman In Affoula Did Not Attempt A Stabbing Attack

Resistance attacks Israeli occupation soldiers at Qalandiya checkpoint
November 24, 2015, OCCUPIED JERUSALEM, (PIC)--
A Palestinian resistance fighter on Monday night opened fire at Qalandiya military checkpoint, north of Occupied Jerusalem.

The Hebrew news website 0404 said that at least one Palestinian armed man traded fire with Israeli occupation soldiers at Qalandiya checkpoint and fled the scene.

Eyewitnesses said that large military reinforcements arrived at the checkpoint and launched a manhunt for the attacker in nearby areas.

The Palestinian resistance in the West Bank also carried out earlier on the same day a similar gunfire attack on Har Adar settlement in Qatna village, northwest of Jerusalem.

The Hebrew radio said that Palestinian gunmen opened fire at the settlement and withdrew from the area, which prompted the Israeli army to invade nearby areas in search for the attackers.

In another incident, the Israeli occupation forces (IOF) on the same day intensified their presence near Azzeituna checkpoint between Attur neighborhood and al-Eizariya town, east of Jerusalem, after Palestinian young men threw an explosive device and Molotov cocktails at them.
Israeli airstrike targets Palestinian resistance site in Gaza
November 24, 2015, GAZA, (PIC)--
Israeli occupation government warplanes carried out overnight an airstrike targeting a Palestinian resistance site in al-Maghazi refugee camp in central Gaza Strip.

At least one Israeli missile was fired at a military site for Hamas's armed wing, the Ezzedine al-Qassam Brigades, the PIC reporter affirmed.

No casualties were reported during the Israeli airstrike, the sources added.

The Israeli occupation army has said that "the airstrike came after a rocket was fired from the Gaza Strip into an uninhabited area in Negev south of Israeli…without causing any injuries."

However, no resistance group has claimed responsibility for the alleged rocket attack.
4 Israeli occupation soldiers injured in car-ramming attack
November 24, 2015, NABLUS, (PIC)--
Four Israeli occupation soldiers were injured in a car-ramming attack at Zatara roadblock near Nablus on Tuesday morning.

Hebrew media sources said that all injuries were minor, adding that other soldiers manning the road barrier fired at the vehicle and wounded the Palestinian driver.

Two of the injured were senior officers in the Israeli occupation forces, the sources added.

Haaretz newspaper said that four were injured in the vehicular attack while the Israeli ambulance crews said they extended assistance to three soldiers.

The attack falls in line with the Palestinian ongoing uprising against the Israeli occupation and its violations in the West Bank and Jerusalem especially the declared intention to divide the Aqsa Mosque, the third holiest shrine in Islam, between Muslims and Jews.
Israeli gunboats attack fishermen in Gaza waters
November 24, 2015, GAZA, (PIC)--
The Israeli occupation navy on Monday evening opened machinegun fire intensively at Palestinian fishing boats off the northern coast of the Gaza Strip.

Eyewitnesses said the fishermen were working within the permitted fishing zone when Israeli gunboats attacked them.

Luckily, none of the fishermen suffered injuries during the gunfire attack
IOF storms Bethlehem, summonses two youngsters
November 23, 2015, BETHLEHEM, (PIC)--
Israeli Occupation Forces (IOF) at dawn Monday stormed Beit Fujjar town near Bethlehem and summoned two Palestinian youngsters to be questioned by Israeli intelligence in Gosh Etzion settlement.

Israeli storming of Beit Fujjar followed clashes that erupted in the town in the wake of the martyrdom of the Palestinian youth Isam Thawabteh.

The IOF Sunday morning broke into Aida refugee camp in Bethlehem and occupied the rooftop of a building. The forces also established a makeshift checkpoint near Dar Salah village in the province and stopped and searched Palestinian cars.
Clashes reported in Qalqilia
November 23, 2015, QALQILIA, (PIC)--
Violent clashes broke out Monday evening in Jayyos town in Qalqilia after Israeli occupation forces raided the village anew.

Local sources told a PIC reporter that local youths stoned Israeli soldiers at a military checkpoint near the separation wall.

IOF soldiers responded by firing tear gas canisters and rubber bullets at the protesters.

Citizens suffered from the effects of tear gas inhalation during the clashes, the sources added.
Israeli occupation soldiers Kidnap Nineteen Palestinians In The West Bank
Tuesday November 24, 2015 11:16 by IMEMC & Agencies
Israeli occupation soldiers invaded, on Tuesday at dawn, several Palestinian communities, in different parts of the occupied West Bank, broke into and searched dozens of homes, and kidnapped nineteen Palestinians.

In the southern West Bank district of Hebron, the soldiers kidnapped nine Palestinians, including one child.

The Popular Committee in Hebron said the soldiers kidnapped Saif Salim Roshdi, 15 years of age, and Ezzeddin Mahmoud Abu Rayya, 21, from their homes in the al-'Arroub refugee camp.

It added that the soldiers also invaded the al-Fawwar refugee camp, and kidnapped three Palestinians identified as Bilal Talal M'eiwy, 20, Mohammad Yousef ad-Dirbashi, 22, and Ibrahim Majed at-Teety, 20.

In Doura town, the soldiers kidnapped two Palestinians identified as Ali al-'Amayra, 38, and Ayyoub Odeh Rajoub.

In addition, the soldiers invaded the Sammoa' town, and kidnapped Ahmad Abdullah Salameen, 51, and his son, Abdullah, 24 years of age.

Coordinator of the Popular Committee Rateb Jabour, said the soldiers installed a roadblock on the eastern road of the al-Karmel village, leading to Masafer Yatta, and searched dozens of cars.

He added that, several days ago, the soldiers blockaded all roads leading to Masafer Yatta with sand barriers, except for its main entrance.

The soldiers also searched and ransacked many homes in Surif town, northwest of Hebron, in addition to Ethna town, the al-Fawwar refugee camp and Hebron city, before stopping and searching dozens of cars while investigating the ID cards of the Palestinians.

Furthermore, the soldiers kidnapped four Palestinians in the northern West Bank city of Nablus, and one in the Balata refugee camp.

The soldiers searched many homes and kidnapped Emad Amer, Abdul-Hakim Qadah, Ismael Esteitiyya, and Rami Nasser, all from Nablus city, in addition to Zohdi Srouji, from his home in the Balata refugee camp.

They also searched many homes, including the home of a political prisoner, identified as Amjad 'Oleywi, from Nablus city.

Five more Palestinians were taken prisoner on a sudden roadblock the soldiers installed near Deir Ballout town, west of the Central West Bank district of Salfit.
Israeli occupation soldiers Injure Five Palestinians With Live Fire In Tulkarem
Tuesday November 24, 2015 04:08 by IMEMC & Agencies
Medical sources have reported that five Palestinians were shot with live Israeli occupation soldiers' fire, on Monday evening, and four others suffered the effects of tear gas inhalation, after the soldiers invaded the Palestine Technical University, in the northern West Bank city of Tulkarem.

Medical sources said five students were shot with live Israeli army fire, and were moved to Dr. Thabet Thabet Hospital, in Tulkarem, while many suffered the effects of tear gas inhalation, including one who was also hospitalized.

The soldiers invaded the University campus while firing live rounds and gas bombs, causing damage to several windows, and property in the educational facility.

The university has been subject to frequent Israeli military invasions, and clashes, especially since the army has a military base installed on its, and the soldiers repeatedly harass and assault the students, and even teachers and workers.

The army has also frequently invades various buildings and facilities in the university, while many students have been shot and injured, and many others were assaulted and beaten up by the soldiers.
Israeli occupation soldiers' Night Raids Continue in Al Khalil (Hebron)
Monday November 23, 2015 20:04 by International Solidarity Movement (ISM)
On Tuesday, 17th November, several groups of Israeli occupation soldiers raided houses in the Wadi al-Hurriya neighborhood of al-Khalil, an H1 district legally outside of Israeli control.

From 7.30pm, Israeli forces were present in the area, divided into groups of 7-12 soldiers and entering every house and business on designated streets. At some of the residences they entered by force, violently smashing through doors.

They checked every I.D card of the residents and also, according to soldiers who confronted the ISM volunteers, searched for weapons. Later in the night they informed the volunteers that they were looking for weapons and collecting data in order to prevent potential stabbings: "yes, some people are scared. But some people have reason to be scared."

Each group of soldiers patrolled different streets and dark alleys, checking each house and entering with backpacks, mapping equipment, bullet-proof vests, and cocked machine guns. On entering houses, 2-3 soldiers remained outside to "secure" the entrance, periodically pointing guns at passers-by and preventing vehicle and pedestrian passage through the streets.

The raids lasted until at least 12.30am, after which one unit was witnessed occupying the second floor of a Palestinian house – the other half of which was inhabited by a Palestinian family – and could be heard setting up sleeping equipment. According to the soldiers questioned on site: "no, we are not inside a Palestinian house, they are not living in this house."

The residence is located within 500 meters of an army base and checkpoint bordering the H2 restricted area of al-Khalil. It was reported later from residents who were in contact with ISM that furniture and property was damaged on the night. This is typical of night raids on Palestinian houses, and in other incidences money and other property has also been stolen. While these raids have been used extensively in the al-Khalil district in recent weeks as part of a tactic of intimidation, it is unclear as to whether the policy of raiding the H1 district and squatting family homes will continue.
***
Share this article with your facebook friends
This site contains copyrighted material the use of which has not always been specifically authorized by the copyright owner. We are making such material available in our efforts to advance understanding of environmental, political, human rights, economic, democracy, scientific, and social justice issues, etc. We believe this constitutes a 'fair use' of any such copyrighted material as provided for in section 107 of the US Copyright Law. In accordance with Title 17 U.S.C. Section 107, the material on this site is distributed without profit to those who have expressed a prior interest in receiving the included information for research and educational purposes. For more information go to: http://www.law.cornell.edu/uscode/17/107.shtml. If you wish to use copyrighted material from this site for purposes of your own that go beyond 'fair use', you must obtain permission from the copyright owner.