US Investigating Civilian Casualty Claims in Iraq and Syria, as a Result of US Air Strikes
January 7, 2015
| | |
| --- | --- |
| | |
| US-led air strike on the Syrian city of Ayn Al-Arab (Kobani) 2014 | |
U.S. investigating civilian casualty claims in Iraq, Syria
WASHINGTON Tue Jan 6, 2015 7:18pm EST
(Reuters) -
The U.S. military said on Tuesday it had received 18 complaints of civilian casualties in air strikes against Islamic State militants in Iraq and Syria, but concluded that 13 of the cases were not credible and was still reviewing the other five.
The Pentagon has said it takes allegations of civilian casualties seriously and investigates them, but in the past military officials had played down such reports.
"We ... apply very rigorous standards in our targeting process to prevent civilian casualties in the first place," said Sergeant First Class Sheryl Lawry, a spokeswoman for Central Command, which oversees U.S. military forces in the Middle East.
Lawry said nine reports of possible civilian casualties took place in Syria and nine in Iraq. Thirteen of the cases were found to be baseless while five are under further review, including two involving fewer than five deaths that are being investigated more deeply.
She said the two cases under closer investigation were the result of the U.S. military's own internal review process and were not based on allegations from outside the Department.
The United States had carried out 1,350 air strikes against Islamic State militants as of Monday night, 687 in Iraq and 663 in Syria. U.S. coalition partners have carried out 309 attacks, of which 237 were in Iraq, a Pentagon spokeswoman said.
Pentagon spokesman Rear Admiral John Kirby said the Pentagon believed the strikes had killed several hundred militants, but he said it could not track all of the casualties and killing was not the aim.
The strikes began in August after Islamic State militants seized part of northwestern Iraq and Baghdad and asked for U.S. help.
President Barack Obama has authorized more than 3,000 U.S. troops to advise Iraqi forces and train 12 brigades of Iraqi troops, including three from Kurdish peshmerga forces.
He also approved a mission for the U.S. military to train and equip a moderate force of Syrian rebels to counter Islamic State militants in Syria, where President Bashar al-Assad is locked in fighting with his opponents.
Kirby said the military had made progress toward identifying suitable rebels and a training mission could begin this spring. The Pentagon intends to train about 5,000 rebels a year for three years at sites in Turkey, Saudi Arabia and Qatar.
(Reporting by David Alexander; Editing by David Storey, Tom Brown and Gunna Dickson)
***
76,000 Iraqis Killed in 2014, Including 33,278 Civilians, as a Result of US-Led Attacks on the Islamic State
January 3, 2015
Editor's Note:
The Sunni Muslim uprising against the two sectarian regimes in Iraq and Syria led to the emergence of the Islamic State (IS). The US has been leading a world-wide alliance against IS ever since. The conflict resulted in enormous number of Iraqi and Syrian deaths, as it is documented in this news story. What's amazing is that the media in the countries participating in the alliance ignore the responsibility of the alliance to these deaths.
Islamic State border bridge, top left, Jordanian jetfighter downed by IS fighters, top right, Iraqi soldiers, bottom left, British soldiers, bottom right
U.S., partners continue airstrikes on IS targets in Syria, Iraq
WASHINGTON, Jan. 2, 2015 (Xinhua) --
U.S. and partner-nation military forces on Thursday continued to attack Islamic State (IS) forces in Syria using fighter, bomber, and attack aircraft to conduct 12 airstrikes, the U.S. Defense Department said on Friday.
Separately, U.S. and partner-nation military forces conducted 11 airstrikes on Thursday against IS terrorists in Iraq using fighter, attack, and remotely piloted aircraft, according to a DOD statement.
In Syria, the airstrikes destroyed a total of 21 IS armored vehicles, 11 IS fighting position, four IS buildings, a large IS unit and an IS tank.
Meanwhile, airstrikes in Iraq destroyed six IS tactical unit, a large IS unit, two IS building, an IS fighting position and an IS shipping container.
Coalition nations conducting airstrikes in Iraq include the U.S. , Australia, Belgium, Canada, Denmark, France, Netherlands and the United Kingdom. Coalition nations conducting airstrikes in Syria include the U.S., Bahrain, Jordan, Saudi Arabia, and the United Arab Emirates.
Editor: Tang Danlu
Civilian death toll in Iraq doubles to 17,000 in 2014 'due to rise of ISIS'
Russia TV, January 01, 2015
The number of civilians killed in Iraq in 2014 doubled from 9,743 in 2013, while compared to 2012, the number has grown nearly four times, Iraq Body Count reports.
"These numbers do not include combatant deaths, which even by the most cautious tallies have also seen a sharp rise in 2014," the group said in its report.
Last year's is the highest death toll since 2006-07, and IBC links it to the rise of Islamic State (also known as ISIS, or ISIL) as a major force in the conflict, the Iraqi military response and the bombing campaign by US and coalition air forces.
Baghdad has become the deadliest Iraqi city for civilians, where 4,767 civilians have been killed in violence. In Anbar province the death toll reached 3,600 with half of them - 1,748 people – being victims of the Iraqi military daily air strikes, the report says.
A number of those killed by the Islamic State in provinces of Salah al-Din and Ninewa have also "contributed significantly" to the Iraq Body Count's statistics.
In the meantime, the Iraqi government has also issued its numbers of people killed during 2014. Official death toll, however, is lower – 15,000 deaths. The government has called 2014 the deadliest year since 2007.
The monitoring group estimates that 4,325 were killed by the IS across the reviewed area while 1,748 civilians were reported killed by Iraqi airstrikes.
For the first time since 2011, the US coalition's actions have been directly linked to deaths among civilians. The group said 118 civilians were reported killed by Western airstrikes.
Mourners bury the bodies of victims, who were killed in Tuz Khurmato, during a funeral in Kirkuk, June 23, 2014. (Reuters/Ako Rasheed)
A further 10,858 civilians were reported killed by unidentified actors, IBC concluded.
However, this death toll does not include combatant deaths, meaning that the combined number could be as high as 47, 000 people.
The IBC says that combatant deaths range from 4,000 to 30,000 people, which suggests that the total deaths from war-related violence in 2014 is between 21,000 and 47,000 people, "making it one of the three worst years of the conflict that began nearly 12 years ago."
Another monitoring group, the Britain-based the Syrian Observatory for Human Rights, has also released its figures from Iraq's neighboring state, where civil war started in 2011. Last year saw an intensification of the fighting amid the Islamic State offensive.
According to the group's data, 33,278 civilians, including 3,501 children and 1,987 women, were killed in 2014, while the combined death toll for 2014 is 76,000 people.
Syria and Iraq suffer record death tolls in 2014

FRANCE 24 with AFP, 2015-01-01
The rise of the Islamic State militant group, which took over large swaths of Syria and Iraq in 2014, has contributed to an alarming explosion in violence in the region, governments and activists have announced.
More than 76,000 people were killed in Syria's brutal civil conflict in 2014, making it the bloodiest year since the country's war erupted almost four years ago, a monitoring group said Thursday.
The London-based Syrian Observatory for Human Rights recorded 76,021 deaths in Syria last year.
The group said it had documented the deaths of nearly 18,000 civilians in 2014, among them 3,501 children.
The multi-front conflict pitting forces loyal to President Bashar al-Assad against several militias, including the Islamic State jihadist group, shows no signs of abating despite widespread destruction and a spiraling death toll.
Assad made a rare public appearance on a front line on New Year's Eve to bolster the morale of soldiers and pro-government fighters, media reported on Thursday.
The majority of the deaths were combatants, including nearly 17,000 jihadists, 15,747 rebel forces and 22,627 regime troops and militiamen, according to the Observatory. Iraq violence 'worst in seven years'
Meanwhile, violence in Iraq killed more than 15,000 civilians and security personnel in 2014, government figures showed Thursday, making it one of the deadliest years since the 2003 US-led invasion.
Figures compiled by the health, interior and defence ministries put the death toll at 15,538, compared with 17,956 killed in 2007 during the height of Sunni-Shiite sectarian killings.
The toll for 2014 was also more than double the 6,522 people killed in 2013.
"Yet again, the Iraqi ordinary citizen continues to suffer from violence and terrorism. 2014 has seen the highest number of causalities since the violence in 2006-2007. This is a very sad state of affairs," UN Iraq envoy Nickolay Mladenov said in a statement.
The UN put the number of civilians killed in Iraq during 2014 at 12,282.
Iraq Body Count, a Britain-based NGO that tracks violence in Iraq, gave an even higher toll, saying that 17,073 civilians were killed, which would make it the third deadliest year since 2003.
The year got off to a bloody start, with the government losing control of parts of Anbar provincial capital Ramadi and all of Fallujah – just a short drive from Baghdad – to anti-government fighters.
The violence was sparked by the demolition of the country's main Sunni Arab anti-government protest camp near Ramadi in late 2013.
It spread to Fallujah, and security forces later withdrew from areas of both cities, leaving them open for capture.
That was a harbinger of events in June, when the Islamic State group spearheaded a major militant offensive that swept security forces aside.
Int'l anti-ISIS brigade: Westerners flock to fight for Kurds
Russia TV, November 24, 2014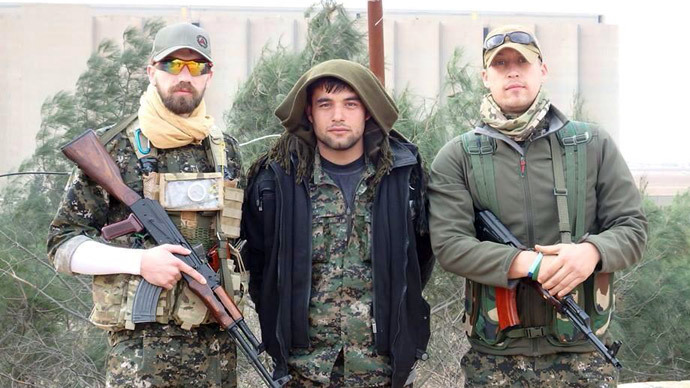 Briton Jamie Read (left) reportedly fighting with Kurdish militia in Syria against the Islamic State. Photo from facebook.com
People from the US, Canada, the UK, Germany and other western nations are fighting in Syria and Iraq, where Islamic State militants want to create a state of their own. But they're not jihadists – they're going into battle on the side of the Kurds.
The latest report about western volunteers, many of them with military backgrounds, comes from the UK. James Hughes, a former British infantryman with three tours in Afghanistan, has joined the Kurdish People's Protection Units, the YPG, to fight against the Islamists. His friend Jamie Read, a French army-trained soldier, is with Hughes, according to a report in the UK's Observer newspaper. Both were apparently recruited by an American called Jordan Matson on behalf of the "Lions of Rojava", an YPG media outlet. Hughes and Read are among many westerners, who have gone to the turbulent Middle East region to join the fight against the IS, formerly known as ISIS, and Kurdish militias. There are Americans Jordan Matson, an early US Army discharge, and Jeremy Woodard, an Army veteran with tours to Afghanistan and Iraq. A group of six unidentified Canadian special forces veterans reportedly fighting for Iraqi Kurds Peshmerga. And Gill Rosenberg, a Canadian-Israeli woman credited to be the first westerner to join YPG's female squads.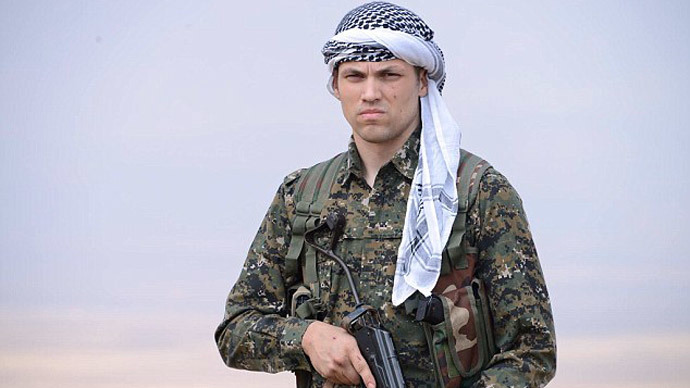 Wisconsin high school graduate Jordan Matson reportedly went to Syria to join the Kurds. Photo from facebook.com/jordan.matson.3
There are two biker gangs, one from the Netherlands and another one from Germany, which sent some of their members to join Kurds, An Qassim Shesho, a German of Kurdish dissent who took his son Yassir Qassim Khalaf and left peaceful Europe to help his fellow Kurds in Syria, and many others. Flashpoints across the globe tend to lure foreign fighters, and the Iraqi-Syrian turmoil is no different. Motivations for making a war in a foreign land your own may vary greatly. Some feel it their duty to risk their lives for a just cause. Some feel the conflict is not foreign to them at all, as is the case for Kurds from Turkey or Europe or America going to Syria. There are also thrill seekers going into the fray for the adrenaline rush and a chance to kill or be killed without a jail term as a consequence. There are also professional wild geese, taking pay checks for "wet work." Unlike hundreds of people from western countries who are taking part in the conflict on the side of the IS, westerners allied with Kurds are not risking repercussions at home. Western governments discourage their citizens from joining the fight, but indicate that they would avoid prosecuting them for fighting against ISIS. UK PM David Cameron, whose government has inked new anti-terrorist laws that would allow the revocation of citizenship from British jihadists returning from Syria, said there was a "fundamental difference" between them and those fighting for the Kurds, and pledged that the British border staff would be able to tell one from the other.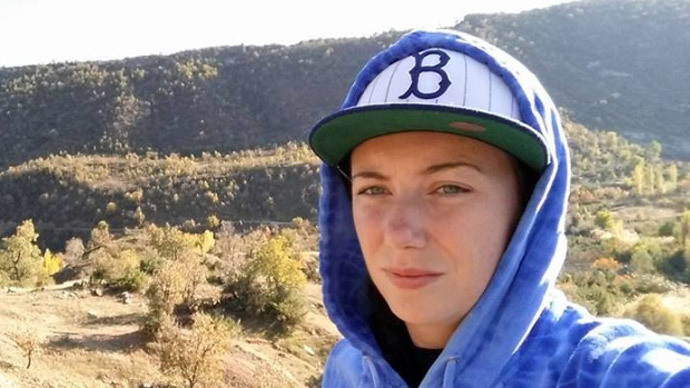 Canadian-Israeli Gill Rosenberg is reportedly the first westerner to join Kurdish female-only militia units. Photo from facebook.com
"UK law makes provisions to deal with different conflicts in different ways – fighting in a foreign war is not automatically an offence but will depend on the nature of the conflict and the individual's own activities," the Home Office said in a statement. Dutch prosecutors warned their fellow citizens, including the biker gang, that "'Joining a foreign armed force was previously punishable, now it's no longer forbidden. You just can't join a fight against the Netherlands." The latter may be somewhat tricky, since the Kurdistan Workers' Party, the PKK, which is involved in fighting against ISIS in Syria, is considered a terrorist organization in Turkey, where it has been fighting for independence of Kurds for decades, and some western nations, including the Netherlands. Apparently, when it comes to foreign fighters in various conflicts, these governments prefer a realpolitik approach. For instance, Russian volunteers going to Ukraine to assist the local militias in battles against Kiev's troops shelling Donetsk and Lugansk are considered a form of a military invasion on the orders of the Russian government. But Americans and Britons fighting in Syria against the enemy of their governments are not.
The US-led coalition maintains that it would not have boots on the ground in Syria or Iraq doing combat missions. At least not officially. According to a Daily Mail report, British SAS have been ambushing IS fighters in Iraq for at least a month – killing as many as 200 in the operations.
British elite unit carrying out secret missions in Iraq, hundreds of ISIS militants killed
Russia TV, November 25, 2014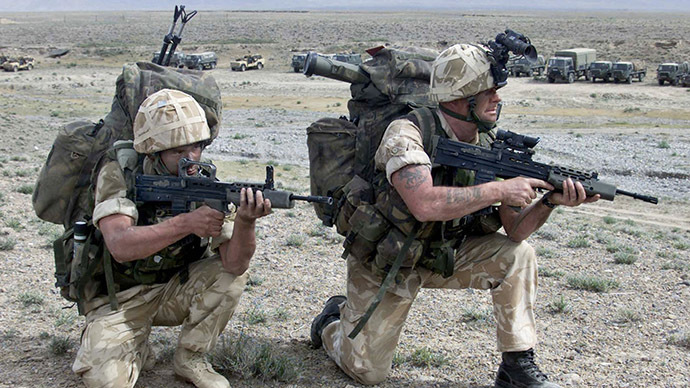 British SAS troops have been conducting secret missions that have killed hundreds of Islamic State militants. Using quad bikes and 4x4's in Iraq, they have been seeking out enemy forces usually at night, killing up to eight terrorists a day.
Sources from the Ministry of Defense had previously stated that the Special Air Service (SAS), which is an elite unit of the British Army, had only been involved in non-combat missions. However, aside from operating in a reconnaissance role in Iraq, they have also been taking part in eliminating IS militants, a special report by the Mail on Sunday found.
The SAS has been making good use of intelligence to identify potential targets, mainly through the use of drones. Once an objective has been identified, the troops are dropped in IS territory by Royal Air Force Chinook helicopters, sometimes 50 miles (80 kilometers) from their intended target, as the engines of the helicopters are so loud.
The British publication learned that these missions have been taking place on a near daily basis for the last four weeks and are often undertaken at night, in order to take the IS fighters by surprise. Quad bikes and all-terrain vehicles are the preferred modes of transport, giving the SAS much greater mobility to engage in their guerilla-style tactics, which are mainly carried out using sniper rifles. The surprise factor has been crucial to the SAS's success. During bombing raids, IS forces have more time to move to safer areas,
Reuters/Cathal McNaughton
A source for the SAS says the tactics are working and the group formally known as ISIS/ISIL is struggling to cope with the surprise factor. "Our tactics are putting the fear of God into IS as they don't know where we're going to strike next and there's frankly nothing they can do to stop us," the Mail on Sunday reports.
"We're degrading their morale. They can run and hide if they see planes in the sky but they can't see or hear us. Using so many snipers takes the fear factor to another level too; the terrorists don't know what's happening. They just see their colleagues lying dead in the sand," the source added.
Aside from trying to dent the moral of IS militants; the SAS missions are also trying to undermine the terrorist group's supply lines in the west of Iraq. The daring raids have been so successful that the SAS is in need of extra ammunition as their supplies are running low.
A spring offensive is expected to take place in 2015, which will be led by US and British commanders. This could see 300 UK trainers leading a program to train Iraqi and Kurdish forces in combat missions and how to defuse explosive devices. However, despite the success of the SAS missions, no British forces are expected to take part in the offensive on the ground.
***
Share this article with your facebook friends
This site contains copyrighted material the use of which has not always been specifically authorized by the copyright owner. We are making such material available in our efforts to advance understanding of environmental, political, human rights, economic, democracy, scientific, and social justice issues, etc. We believe this constitutes a 'fair use' of any such copyrighted material as provided for in section 107 of the US Copyright Law. In accordance with Title 17 U.S.C. Section 107, the material on this site is distributed without profit to those who have expressed a prior interest in receiving the included information for research and educational purposes. For more information go to: http://www.law.cornell.edu/uscode/17/107.shtml. If you wish to use copyrighted material from this site for purposes of your own that go beyond 'fair use', you must obtain permission from the copyright owner.