Palestinian Protesters Throw Shoes and Eggs at Vehicle of Israeli Puppet, Canadian FM John Baird, for his Rude and Hostile Positions
January 18, 2015
Editor's Note:
It's amazing how the Canadian foreign minister, John Baird, had the audacity to visit the Palestinian city of Ramallah and meet with his Palestinian counterpart after all his hostile positions and statements against the Palestinian people.
He opposed the Palestinian statehood in the UN, attacked the Palestinian membership in the International Criminal Court, and did not miss any opportunity to defend his Israeli-Zionist masters in their occupation and subjugation of the Palestinian people.
John Baird, you should be ashamed of yourself!
Consider this incident as an opportunity for you to think about your disgraceful and hostile stance against the Palestinian people who did not do any harm to your country!
Stand with the Palestinian people in their struggle for freedom from the Zionist-Israeli bodage!
Stand with those who work for peace, dignity, and human rights, not with the Zionist-Israeli oppressors.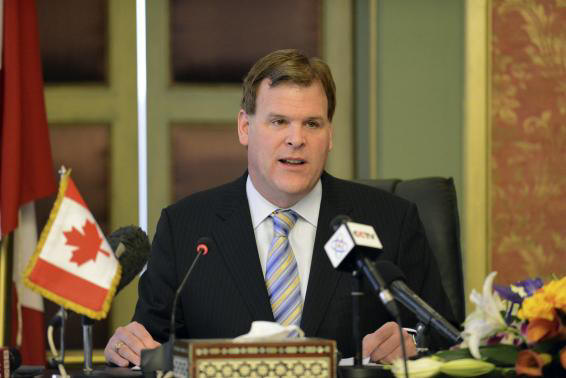 Canadian foreign minister and Israeli puppet, John Baird speaking in Cairo, January 15, 2015
Palestinians hurl eggs at Canadian FM for pro-Israel stance
January 18, 2015,
RAMALLAH, (PIC)--
Scores of Palestinian protesters Sunday hurled eggs at the Canadian Foreign Minister John Baird during a visit to the West Bank city of Ramallah in protest at Canada's diplomatic pro-Israel stances.

Dozens of Palestinians heckled and threw eggs at Canada's Foreign Minister following a meeting with his Palestinian counterpart in the headquarters of the Ramallah-based Foreign Ministry.

The demonstrators denounced Canada's diplomatic support for the Israeli occupation and yelled such slogans as "Shame on you Baird" and "Canada is promoting terrorism."

Baird arrived in Ramallah from Occupied Jerusalem on Sunday morning and was expected to leave after his meeting with Riad al-Maliki.

On Saturday, Palestinian student movements called for protesting against the top Canadian diplomat's visit.

"We're here today to say that Baird's visit in not welcome and we call on him to leave Ramallah immediately," Essam Abu Bakr, one of the rally-goers said.

"We condemn Canada's support for Israel's terrorism and its support for the Israeli occupation in the United Nations," he added, urging the Canadian government to side rather with the Palestinian people who have been subjected to Israeli state terrorism.
Demonstrators throw shoes, eggs at Canadian FM in Ramallah
18/01/2015 12:02 (MaanImages)
RAMALLAH (Ma'an) --
Protestors threw shoes and eggs at Canadian Foreign Minister John Baird outside the Palestinian Foreign Ministry on Sunday, amid a growing war of words between him and top PLO official Saeb Erekat.

Dozens of Palestinians attacked the foreign minister's vehicle as it exited the foreign ministry, located in al-Bireh near Ramallah, after he finished a meeting with his Palestinian counterpart Riyad al-Maliki.

The protest was organized by the youth department of the Fat'h movement to express opposition to the pro-Israeli political positions expressed by successive Canadian governments in recent years.

The most recent action taken by the Canadian government that has outraged the Palestinian public was a vote against a bid at the United Nations Security Council seeking to end the Israeli occupation of the Palestinian territories by 2017.

In recent weeks, foreign minister Baird has also demanded top PLO official Erekat apologize for likening Israel to the Islamic State group in statements made in early January.

"There is no difference between the terrorism practiced by the group led by (IS leader) Abu Bakr al-Baghdadi and Israel's terrorism," he said at the time. "Ending settlement activities is a prerequisite for eliminating terrorism."

Baird condemned the statements, saying that they undermined efforts to fight the IS group that has spread through Iraq and Syria in recent years.

Erekat, however, on Friday responded to demands for the apology in a strongly-worded opinion piece entitled, "It is John Baird who needs to apologize to the Palestinian people" published in The Globe and Mail, a top Canadian newspaper.

"After spending the past few years listening to Mr. Baird going out of his way to legitimize the banality and brutality of a 50-year-old Israeli occupation, I tell Mr. Baird: enough," he said in the piece.

"If there is anyone that has to apologize, it is Mr. Baird himself. He should first apologize to his own citizenry, many of whom are God-loving Jews, Christians and Muslims who would never condone nor cheer for an Israeli government that stretches support to Israeli settlers who attack churches and mosques."

He also reiterated his perceived similarities between Israel and the IS group, based on their disregard for human life and religion.

"Those who actively burn mosques and churches in Palestine, and campaign to destroy the Al-Aqsa Mosque, are no less terrorists than those who kicked the Christians out of Mosul."

"But Canada, instead of supporting the application of international law, has decided to encourage Israel to continue with its crimes. As I stated in a letter to Mr. Baird after his meeting in Occupied East Jerusalem: 'Canada's actions are tantamount to complicity in ongoing Israeli violations of the international laws of war.'"

Palestinians throw eggs at Canadian FM, escalating diplomatic spat
RAMALLAH, West Bank, Palestine
Sun Jan 18, 2015 6:17am EST
(Reuters) -
Palestinian protesters heckled and threw eggs at Canadian Foreign Minister John Baird during a visit to the occupied West Bank on Sunday, denouncing Ottawa's diplomatic support for Israel..
Baird was not hit, but one of the eggs smacked onto the roof of his car after a meeting with his Palestinian counterpart at the Foreign Ministry in Ramallah.
Several dozen Palestinian special forces armed with machine guns and riot gear made no effort to confront the egg-throwers among a crowd of about 100 protesters.

"You're not welcome," the demonstrators shouted at Baird.
Canada was among a handful of countries that voted against Palestinians' successful bid to become a non-member state at the United Nations General Assembly in 2012. This month, Baird called a Palestinian move to join the International Criminal Court "concerning and dangerous".
Amid bouts of failed peace talks with Israel, Palestinians have opted to confront Israel in international bodies and the conservative government of Prime Minister Stephen Harper has become one of the most outspoken critics of the strategy.
In a statement on Sunday, top Palestinian peace negotiator Saeb Erekat demanded an apology from Baird for visiting Israeli officials in occupied East Jerusalem last year.
Palestinians seek East Jerusalem, which Israel captured along with the West Bank and Gaza Strip in a 1967 war, as the capital of a future state. Israel regards all of Jerusalem as its capital, a claim that has not won international recognition.
"We regret the Canadian government's decision to stand on the wrong side of history by blindly supporting the Israeli occupation and its apartheid policies," Erekat said.
Most countries deem Israeli settlements in the West Bank and East Jerusalem as illegal. Israel pulled troops and settlers out of the Gaza Strip in 2005.
(Reporting By Ali Sawafta and Noah Browning; Editing by Jeffrey Heller and Ralph Boulton)

***
Share this article with your facebook friends
This site contains copyrighted material the use of which has not always been specifically authorized by the copyright owner. We are making such material available in our efforts to advance understanding of environmental, political, human rights, economic, democracy, scientific, and social justice issues, etc. We believe this constitutes a 'fair use' of any such copyrighted material as provided for in section 107 of the US Copyright Law. In accordance with Title 17 U.S.C. Section 107, the material on this site is distributed without profit to those who have expressed a prior interest in receiving the included information for research and educational purposes. For more information go to: http://www.law.cornell.edu/uscode/17/107.shtml. If you wish to use copyrighted material from this site for purposes of your own that go beyond 'fair use', you must obtain permission from the copyright owner.