3,726 Confirmed Killed, 6,500 Injured, in the Nepal 7,9 Magnitude Earthquake
April 27, 2015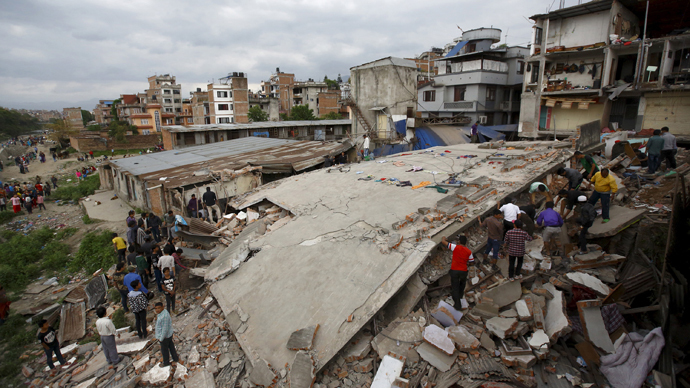 | | |
| --- | --- |
| | |
| Bodies of dead victims of the Nepal earthquake, April 27, 2015 | A survivor of the Nepal earthquake in Kathmandu, April 27, 2015 |
Deadly Nepal Quake Was Long Predicted
Russia TV, April 27, 2015 08:16
Experts had been warning for years that a serious earthquake would decimate Nepal's overpopulated capital. Specialists had been trying to work out a contingency plan for Kathmandu, in the event of an inevitable tremor however, they were not fast enough.
Saturday's devastating 7.9-magnitude earthquake, which claimed over 2,500 lives, was "sort of a nightmare waiting to happen," according to seismologist James Jackson, head of the earth sciences department at the University of Cambridge. "Physically and geologically, what happened is exactly what we thought would happen," he told AP.
Jackson was one of about 50 earthquake researchers as well as social scientists who gathered in Kathmandu just a week ago to work out a way for the area to prepare for the "big one" they believed was imminent. They just didn't know when exactly it would hit.
"Calculations show that there is sufficient accumulated energy, now to produce an 8-magnitude earthquake." Vinod Kumar Gaur, a seismologist with the Center for Mathematical Modelling and Computer Simulation, said in a 2013 interview with The Hindu. "I cannot say when. It may not happen tomorrow, but it could possibly happen sometime this century, or wait longer to produce a much larger one." It turned out it was coming much too soon, for any preparations to be put in place.
"They knew they had a problem but it was so large they didn't know where to start, [or] how to start," Hari Ghi, a Southeast Asia regional coordinator for Geohazards International, told AP. The main concern was the area's complicated geology combined with its urban area, which was growing too quickly and without earthquake safety standards.
The dangers had been felt in Kathmandu before. The previous earthquake in 1934, which was on par with Saturday's tremor, nearly levelled Kathmandu with a 8.2-magnitude force and killed up to 12,000 people.
Earthquakes of the same strength can cause widely different death tolls depending on where they happen. The US Geological Survey (USGS) calculates that a severe quake in California would kill from 10 to 30 people per million, while for countries like Nepal a tremor of the same magnitude would cause 1,000 deaths. In China, India, Iran and Pakistan the consequences would be even worse, with up to 10,000 deaths per million residents, according to USGS seismologist David Wald.
Desperate Nepalis flee capital as aftershocks spread fear
Mon Apr 27, 2015 6:57am EDT
BHAKTAPUR, Nepal | By Rupam Jain Nair and Ross Adkin
Reuters-
Thousands of Nepalis began fleeing the capital Kathmandu on Monday, terror-stricken by two days of powerful aftershocks and looming shortages of food and water after an earthquake that killed more than 3,700 people.
A senior interior ministry official said authorities had not been able to establish contact with some of the worst affected areas in the mountainous nation, and that the death toll could reach 5,000.
Roads leading out of Kathmandu were jammed with people, some with babies in their arms, trying to climb onto buses or hitch a ride aboard cars and trucks to the plains.
Huge queues had formed at the city's Tribhuvan International Airport, with tourists and residents desperate to get a flight out.
"I'm willing even to sell the gold I'm wearing to buy a ticket, but there is nothing available," said Rama Bahadur, an Indian woman who works in Nepal's capital.
Many of Kathmandu's one million residents have slept in the open since Saturday's quake, either because their homes were flattened or they were terrified that aftershocks would bring them crashing down.
"We are escaping," said Krishna Muktari, who runs a small grocery store in Kathmandu city, standing at a major road intersection. "How can you live here? I have got children, they can't be rushing out of the house all night."
Overwhelmed authorities were trying to cope with a shortage of drinking water, food and electricity, as well as the threat of disease, and the government appealed for international help.
"The big challenge is relief," said Chief Secretary Leela Mani Paudel, the country's top bureaucrat. "We urge foreign countries to give us special relief materials and medical teams. We are really desperate for more foreign expertise to pull through this crisis."
High in the Himalayas, hundreds of climbers were staying put at Mount Everest base camp, where a huge avalanche after the earthquake killed 17 people in the single worst disaster to hit the world's highest mountain.
Rescue teams, helped by clear weather, used helicopters to airlift scores of people stranded at higher altitudes, two at a time.
Sick and wounded people were lying out in the open in Kathmandu, unable to find beds in the devastated city's hospitals. Surgeons set up an operating theater inside a tent in the grounds of Kathmandu Medical College.
Across the capital and beyond, exhausted families laid mattresses out on streets and erected tents to shelter from rain. People queued for water dispensed from trucks, while the few stores still open had next to nothing on their shelves.
INSTANT NOODLES AND FRUIT
The United Nations Childrens Fund said nearly one million children in Nepal were severely affected by the quake, and warned of waterborne and infectious diseases.
In the ancient temple town of Bhaktapur, east of Kathmandu, many residents were living in tents in a school compound after centuries old buildings collapsed or developed huge cracks.
"We have become refugees," said Sarga Dhaoubadel, a management student whose ancestors had built her Bhaktapur family home over 400 years ago.
They were subsisting on instant noodles and fruit, she said.
"No one from the government has come to offer us even a glass of water," she said. "Nobody has come to even check our health. We are totally on our own here. All we can hope is that the aftershocks stop and we can try and get back home."
A total of 3,726 people were confirmed killed in the 7.9 magnitude quake, the government said on Monday, the worst in Nepal since 1934 when 8,500 died. More than 6,500 were injured.
Another 66 were killed across the border in India and at least another 20 in Tibet, China's state news agency said.
The toll is likely to rise as rescuers struggle to reach remote regions in the country of 28 million people and as bodies buried under rubble are recovered.
Several countries rushed to send aid and personnel.
India sent helicopters, medical supplies and members of its National Disaster Response Force. China sent a 60-strong emergency team. Pakistan's army said it was sending four C-130 aircraft with a 30-bed hospital, search and rescue teams and relief supplies.
A Pentagon spokesman said a U.S. military aircraft with 70 personnel left the United States on Sunday and was due in Kathmandu on Monday. Australia, Britain and New Zealand said they were sending specialist urban search-and-rescue teams to Kathmandu at Nepal's request.
Britain, which believes several hundred of its nationals are in Nepal, was also delivering supplies and medics.
However, there has been little sign of international assistance on the ground so far, with some aid flights prevented from landing by aftershocks that closed Kathmandu's airport several times on Sunday.
On Monday, an Indian air force relief plane returned to New Delhi because of congestion at the airport, Indian television reported.
The disaster has underlined the woeful state of Nepal's medical facilities.
Nepal has only 2.1 physicians and 50 hospital beds for every 10,000 people, according to a 2011 World Health Organization report.
Doctors at one Kathmandu hospital said they needed over 1,000 more beds to treat the patients that were being brought in ambulances and taxis.
(Additional reporting by Sanjeev Miglani and Gopal Sharma in Kathmandu, Frank Jack Daniel, Mayank Bhardwaj, Krista Mahr, Amit Ganguly and Nidhi Verma in New Delhi; Neha Dasgupta and Clara Ferreira-Marques in Mumbai and Norihiko Shirouzo in Beijing; Writing by Raju Gopalakrishnan; Editing by Mike Collett-White)
***
Share this article with your facebook friends
This site contains copyrighted material the use of which has not always been specifically authorized by the copyright owner. We are making such material available in our efforts to advance understanding of environmental, political, human rights, economic, democracy, scientific, and social justice issues, etc. We believe this constitutes a 'fair use' of any such copyrighted material as provided for in section 107 of the US Copyright Law. In accordance with Title 17 U.S.C. Section 107, the material on this site is distributed without profit to those who have expressed a prior interest in receiving the included information for research and educational purposes. For more information go to: http://www.law.cornell.edu/uscode/17/107.shtml. If you wish to use copyrighted material from this site for purposes of your own that go beyond 'fair use', you must obtain permission from the copyright owner.