Scores of Iraqis killed and injured in fighting between Sunni Islamic State fighters and Shi'i-Kurdish government forces
April 22, 2015
| | |
| --- | --- |
| | |
| Islamic State fighters' convoy, file, April 2015 | Displaced Sunni Iraqis, who fled the violence in the Iraqi city of Ramadi, arrive at the outskirts of Baghdad, on April 19, 2015 |
Scores of Iraqis killed and injured in fighting between Sunni Islamic State fighters and Shi'i-Kurdish government forces
April 22, 2015
السياسية
See more photos and news in Arabic below
***
Anger mounts among Anbar's displaced stalled at Baghdad's gates
FRANCE 24, 2015-04-21
Tens of thousands of people fleeing Iraq's western Anbar province have been stopped from entering Baghdad due to a security rule that has sparked frustration among the mostly Sunni displaced civilians.
Over the past few days, Anbaris fleeing the latest fighting between Iraqi security forces and Islamic State (IS) fighters have been blocked at checkpoints leading into Baghdad due to a security rule requiring them to name a relative or friend inside the capital as a guarantor.
Iraqi authorities maintain the guarantor system is necessary to ensure IS militants do not infiltrate the Iraqi capital.
But the Sunni civilians stuck at Baghdad's gates complain that they are being treated as foreign security threats in a deeply divided predominantly Shiite country.
At the Bzaibiz bridge checkpoint, weary Anbaris voiced frustration over the security rule.
"When we reached Bzaibiz bridge we found that the government had obstructed our advance in Iraq, and is discriminating between this person and that," said Ahmed Abdulrahman in an interview with Reuters.
Hameed Mehdi Abdullah, who left Ramadi with 40 relatives, did not mince his words in an interview with the Wall Street Journal. "We are the sons of this country and in moving from one province to another, we're being asked to have a guarantor…Since when?" fumed an irate Abdullah. Risk of laying down arms or joining IS ranks
Iraqi officials say Sunni tribal and community leaders are critical in the fight against the IS group in the vast, desert province. But FRANCE 24's Wassim Nasr, an expert on jihadist groups, warns that the security rule is not helping to win Sunni hearts and minds.
"This situation creates frustration among the Sunni tribes in the region whose relations with the Iraqi central government has only been deteriorating since the end of 2013," said Nasr, referring to the Iraqi government's violent December 2013 crackdown on anti-government protests in Anbar.
Nasr warned that the latest resentments over the guarantor system could have security implications in the fight against the IS group. "The situation may well get worse: seeing their mistreatment by the authorities, Sunni fighters [who have joined the fight against the IS group] feel betrayed and there's a risk of either giving up their weapons or joining IS group ranks."
More than 90,000 people have fled their homes in Anbar since April 8, when IS militants began gaining ground around Ramadi, according to UN figures.
The latest migration compounds an intensifying humanitarian crisis in Iraq, where 2.7 million people have been displaced within the country since January 2014. Anbaris account for at least 30 percent of those displaced within the country since the beginning of last year, according to data from the International Organization for Migration (IOM).
(FRANCE 24 with REUTERS)
Iran, Australia to share intelligence in fight against IS group
Friance 24, 2015-04-20
Australia and Iran have reached a tentative intelligence sharing agreement to combat Islamic State militants fighting in the Middle East, the Australian Broadcasting Corporation reported on Monday.
Australia has sent hundreds of soldiers to Iraq to help train forces fighting the Islamic State group, heightening concerns about reprisal attacks at home.
Foreign Minister Julie Bishop this week became the first top diplomat from Australia to visit Iran in a decade. She said the two countries had a common purpose in defeating Islamic State extremists.
"It was an informal arrangement whereby we'd share intelligence that would give us information on the Australians who are taking part," she said.
"I believe Iran has information that we would seek and they were very agreeable to share that information with us." Representatives from the Australian Foreign Ministry could not be reached immediately either in Canberra or Tehran.
Iraqi troops, working with Shi'ite paramilitaries allied with Iran, earlier this month secured Tikrit, the birthplace of Iraqi dictator Saddam Hussein, from Islamic state fighters.
In Australia, hundreds of police on Saturday arrested five teens planning what they said was an IS-inspired attack next week at an event to mark the centenary of the landing by Australian and New Zealand troops at Gallipoli in World War One.
More than 200 police were involved in a series of raids in the southern city of Melbourne in the early hours of Saturday, police said, following a month-long operation.
Australian police have been confronted with a number of potential IS-inspired attacks over the past year. In December, two hostages were killed when police stormed a central Sydney cafe to end a 17-hour siege by a self-styled sheik with grievances against the Australian government who also sought to align himself with the Islamic State group.
The run-up to this year's Gallipoli centenary has sparked concerns that radicals might target the celebrations for a high-profile attack.
Australia, a staunch ally of the United States and its action against the Islamic State group in Syria and Iraq, has been on heightened alert for attacks by home-grown Islamist radicals since last year.
(REUTERS)
Car bombing kills three at US consulate in Iraq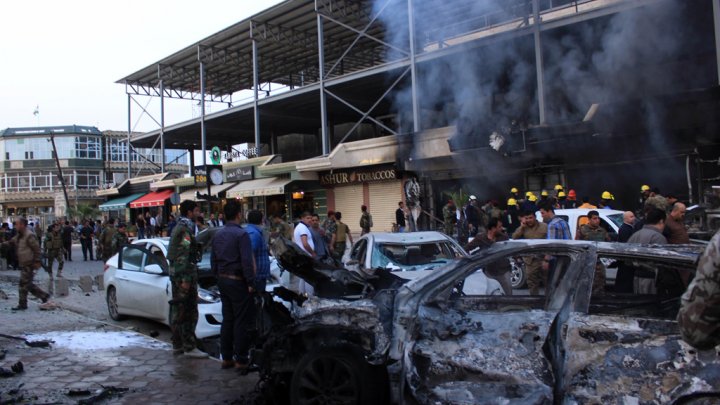 The scene outside the US conulate in Erbil after the explosion
Car bombing kills three at US consulate in Iraq
FRANCE 24, 2015-04-17
A car bomb killed three people on Friday outside the US consulate in Erbil, the capital of Iraq's Kurdistan region, a key ally of Washington in the war against the Islamic State group (IS).
The Islamist group, which is waging a war to carve out a Caliphate across northern Iraq and Syria, later claimed responsibility for the attack.
No US personnel were hurt in the blast, according to the US State Department, which said a "vehicle-borne improvised explosive device" exploded right outside the entrance to the heavily fortified compound.
Kurdistan is an important partner for the US-led coalition in its campaign to "degrade and destroy" the Islamic State group, which overran large parts of Iraq last summer and threatened to reach Erbil.
A Reuters witness heard the blast, which was followed by gunfire and a column of black smoke high above the Ankawa district, a predominantly Christian neighbourhood packed with cafes popular with foreigners.
"It seems the consulate was the target," Nihad Qoja, the mayor of Erbil's city centre, told Reuters.
Ankawa head of security Sherzad Farmand said three people were killed and 14 wounded in the attack, adding that "they (IS) want to show they are present" in the predominantly Kurdish city.
The IS group also claimed responsibility for two car bombings in Baghdad that killed at least 27 people on Friday.
"The fighters of the Islamic State detonated two car bombs in the heart of the Iraqi capital this evening and a third in Erbil," the group said via its news agency.
US officials said they found the IS claim of responsibility for the Erbil consulate attack credible.
"We have no reason to doubt their claim of responsibility," a US counterterrorism official told Reuters.
Such attacks are relatively rare in Kurdistan, which has managed to insulate itself from the worst of the violence afflicting the rest of Iraq.
The last major attack in Erbil, also claimed by the IS group, was in November, when a suicide car bomber blew himself up outside the governor's office, killing five.
(FRANCE 24 with REUTERS)
IS fighters, security forces clash in Iraq's largest refinery
France 24, 2015-04-17
Islamic State militants clashed with security forces inside Iraq's largest refinery on Thursday and held on to recent gains in the west of the country, as Prime Minister Haider al-Abadi said the extremist group remained "very, very dangerous".
The insurgents suffered a major defeat this month when Iraqi troops and Shi'ite paramilitaries routed them from the city of Tikrit, but are now striking back at Baiji refinery and in the western province of Anbar.
Baiji was attacked several days ago by the militants, who blasted their way through the perimeter and took control of several installations, including a distribution point and storage tanks. They have managed to hold those parts of Baiji.
A source in the military operations command for Salahuddin province where Baiji is located said an Iraqi army battalion had arrived to help defend the refinery on Thursday, and the militants had not been able to take any major infrastructure.
The top U.S. military officer, General Martin Dempsey, told reporters "the refinery itself is at no risk right now." But he expressed concern that the militants had penetrated the refinery's outer perimeter and were now inside.
Islamic State sympathisers circulated photographs on social media late on Thursday appearing to show the militants inside the refinery with the caption: "the soldiers of the (Islamic) State advance to cleanse what is left of Baiji refinery".
The images could not be independently verified. Speaking at the Center for International and Strategic Studies think tank in Washington, Prime Minister Haider al-Abadi said the militants wanted to send a message after losing Tikrit.
"I think it's timed to (coincide with) my visit to the U.S. I think they want to show that despite the support that Iraq is receiving, they are there to cause damage." During his visit, Abadi outlined plans to prioritise the battles in both Baiji and Anbar, where Islamic State overran an area at the eastern edge of the provincial capital Ramadi on Wednesday.
The government last week announced a new offensive to recapture Anbar, seeking to build on the recent victory in Tikrit, but have since lost ground in the vast desert terrain.
Anbar governor Sohaib al-Rawi speaking on Iraq state TV said "all sons of Iraq" were welcome to participate in liberating the province from Islamic State, indicating no objection to the involvement of Shi'ite paramilitaries.
Dempsey said Baiji was more strategic than Anbar, given Baiji's critical oil infrastructure, and did not appear to rule out the possibility Ramadi might fall, if only temporarily.
"I would much rather that Ramadi not fall, but it won't be the end of the campaign should it fall. We got to get it back," Dempsey, chairman of the Joint Chiefs of Staff, told a Pentagon news conference.
Shi'ite militia have played a leading role in driving back the insurgents after the army disintegrated last summer, but some tribes in Anbar, a Sunni province, have expressed reservations about the involvement of paramilitaries there.
A police source in Anbar said Shi'ite militias had arrived in Ramadi to take part in trying to push back Islamic State.
(REUTERS)
Scores of Iraqis killed and injured in attacks and counter-attacks between Sunni Islamic State fighters and Shi'i government forces
السياسية
***
Share this article with your facebook friends
This site contains copyrighted material the use of which has not always been specifically authorized by the copyright owner. We are making such material available in our efforts to advance understanding of environmental, political, human rights, economic, democracy, scientific, and social justice issues, etc. We believe this constitutes a 'fair use' of any such copyrighted material as provided for in section 107 of the US Copyright Law. In accordance with Title 17 U.S.C. Section 107, the material on this site is distributed without profit to those who have expressed a prior interest in receiving the included information for research and educational purposes. For more information go to: http://www.law.cornell.edu/uscode/17/107.shtml. If you wish to use copyrighted material from this site for purposes of your own that go beyond 'fair use', you must obtain permission from the copyright owner.