Putin Lays Out 7-Step Plan to Stop Hostilities in East Ukraine
September 03, 2014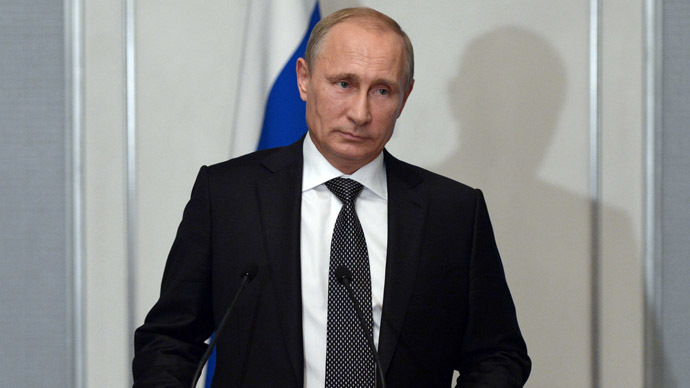 Ukraine ceasefire: Putin lays out 7-step plan to stop hostilities in East Ukraine
Russia TV, September 03, 2014, 19:19
Kiev must withdraw troops from southeastern regions of Ukraine and rebels must stop offensive to stop bloodshed, Russia's President Vladimir Putin says. He and Ukrainian leader Petro Poroshenko discussed "a ceasefire regime."
President Putin has outlined a seven-point plan to stabilize the situation in the crisis-torn east of Ukraine.
"On my way here from [the city of] Blagoveschensk to Ulan-Bator [Mongolia], I outlined some ideas and plan of actions. It's here, but in handwriting," Putin told reporters.
1. Militias should cease military advances in the Donetsk and Lugansk Regions.
2. Pro-Kiev armed forces should withdraw to a distance that excludes the possibility of shelling settlements.
3. Implement full and objective international control over ceasefire observation and monitoring.
4. Exclude the use of combat aircraft against civilians and villages.
5. Prisoner/captive-exchange via an 'all-in-all' formula, without preconditions.
6. Humanitarian corridors for refugees movement and delivery of humanitarian aid across Donetsk and Lugansk Regions.
7. Direct repair-crew access to destroyed social and transit infrastructure with supportive aid.
Putin expressed hope that final agreements between Kiev and militia in southeastern Ukraine could be reached and secured at the coming meeting of the so-called contact group on September 5.
"I hope the leaders of Ukraine will support the anticipated progress in bilateral relations," Russia's president said.
He called on Ukraine to take an active part in the work of the contact group "for a final and comprehensive settlement of the situation in the southeastern Ukraine, of course, with full and unconditional assurance of the legitimate rights of the people who live there."
Commenting on the phone call with the Ukrainian president earlier on Wednesday, Putin stressed that their "views on ways to resolve the conflict are aligned."
Later on Wednesday, the Ukrainian president expressed "great hope" that the peace process will start negotiations in Minsk on Friday.
"The first task is peace," Poroshenko said. "Today at 5am, because of the time difference, we talked with President Putin about ways we could stop this horrible process. It is impossible to deny that people should being killed," he added. The Ukrainian President stressed that all Ukrainians want peace and that is why he will strive for it.
Anti-Kiev militias say they are ready to lay down arms, but only if the same is done by all the government units fighting in the east of the country, said DPR Prime Minister Aleksandr Zakharchenko.
The political leader of the self-proclaimed republic noted that Kiev will have to obtain compliance from irregulars, such as Right Sector volunteer battalions, and mercenaries, who are also fighting on the side of the government.
"These have previously sabotaged existing deals," said Zakharchenko.
The DPR leader said that the recent upturn in the rebels' fortunes would improve the chances of striking a deal with Petro Poroshenko's government.
Germany has supported the news that the two presidents are showing willingness to resolve the conflict, saying that Germany and the International community are ready to assist measures aimed at securing the ceasefire.
"Presidents Poroshenko and Putin are bearing responsibility not only for their nations, but all Europe," German Foreign Minister Frank-Walter Steinmeier said in Hamburg. He stressed that now it is important to take decisive steps to establish a ceasefire in Ukraine.
"We are ready to assist this path via either repeating the meeting in Geneva or through other international formats," he added.
In Ukraine, meanwhile, Putin's peace plan was met with criticism from the country's prime minister, Arseniy Yatsenuk, who said that Russia's real plan is to destroy Ukraine and restore the USSR.
"We are waiting for decisions from NATO and the EU on how to stop the aggressor," he said.
In Yatsenuk's opinion, Putin's 7-point plan is "an attempt of eyewash for the International community ahead of NATO summit and an attempt to avoid inevitable decisions from the EU on the new wave of sanctions against Russia."
The "best" for Ukraine would be a one-point plan, Yatsenuk stressed, which is the withdrawal of Russian troops from Ukraine.
"And then there will be peace," the PM said.
Russia has repeatedly denied accusations of direct military involvement in the conflict.
So far, attempts at temporary ceasefires between Kiev and self-defense forces in the past months have failed to bring about any improvement in the situation in southeastern Ukraine. Each time fighting has continued, with both sides blaming each other for breaking the truce.
2,593 people have died in fighting in eastern Ukraine since mid-April, the UN reported last week.
The military conflict that started this spring has displaced over a million Ukrainians, with the majority of them finding refuge in Russia.
Putin outlines 7-point plan to settle Ukraine crisis
MOSCOW, Sept. 3, 2014 (Xinhua) --
Russian President Vladimir Putin proposed a seven-point plan on Wednesday to stop military clashes in southeast Ukraine, which have claimed over 2,600 lives since March.
The Kremlin press service, citing Putin's remarks to reporters during a visit to Mongolia, has posted the plan on its official website as follows.
The plan calls for an end to active offensive operations by armed forces and armed militia groups in southeast Ukraine in the Donetsk and Lugansk areas. It also presses for the withdrawal of Ukrainian armed forces units to a distance that would make it impossible to fire on populated areas using artillery and all types of multiple launch rocket systems.
It allows for full and objective international monitoring of compliance with the ceasefire and that of the situation in the safe zone created by the ceasefire; and excludes all use of military aircraft against civilians and populated areas in the conflict zone.
In addition, the plan includes the organizing of the exchange of individuals detained by force on an all for all basis without any preconditions, and open humanitarian corridors for refugees and for delivering humanitarian cargoes to towns and populated areas in Donbass - Donetsk and Lugansk regions.
Lastly, the plan urges to make it possible for repair brigades to come to damaged settlements in the Donbass region in order to repair and rebuild social facilities and life-supporting infrastructure and help the region to prepare for the winter.
Also on Wednesday, the Kremlin said Putin and Ukrainian President Petro Poroshenko have discussed "steps" towards a ceasefire in eastern Ukraine, denying any "permanent" ceasefire agreement as Kiev announced earlier in the day.
"It is not the question of a ceasefire agreement," Kremlin spokesman Dmitry Peskov told a Russian radio station.
"It is about the presidents discussing concrete steps to promote a ceasefire between the militia and the Ukrainian forces in the southeast of the country," he said.
Russia, he noted, is physically unable to negotiate the ceasefire as it is not one of its sides.
Meanwhile, Peskov said the leaders' views on possible ways to overcome the grave and critical situation "coincide to a considerable degree."
The Ukrainian government has not yet commented on the Putin plan.
Editor: yan
***
Share this article with your facebook friends
This site contains copyrighted material the use of which has not always been specifically authorized by the copyright owner. We are making such material available in our efforts to advance understanding of environmental, political, human rights, economic, democracy, scientific, and social justice issues, etc. We believe this constitutes a 'fair use' of any such copyrighted material as provided for in section 107 of the US Copyright Law. In accordance with Title 17 U.S.C. Section 107, the material on this site is distributed without profit to those who have expressed a prior interest in receiving the included information for research and educational purposes. For more information go to: http://www.law.cornell.edu/uscode/17/107.shtml. If you wish to use copyrighted material from this site for purposes of your own that go beyond 'fair use', you must obtain permission from the copyright owner.