Oil Fields Wars Continue in Iraq, as Kurdish Forces Backed by US Air Strikes Capture Ain Zala Oil Field from ISIS
September 3, 2014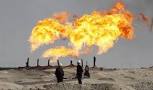 Kurds Recapture Iraq Oil Fields, Advance on Rebel-Held Towns
By Khalid Al-Ansary and Zainab Abdul Fattah
Bloomberg, Aug 28, 2014 10:35 AM ET
Kurdish and Iraqi forces recaptured two oil fields and mounted an offensive to retake the town of Zummar, part of a broader bid to recover areas of the country's north lost to Islamic State fighters.
Kurdish fighters, known as Peshmerga, retook Ain Zala and Batma oil fields in northern Iraq, Hisham al-Brefkani, head of the energy committee of Nineveh provincial council, said by phone today. Islamic State militants set fire to a crude oil storage tank as they tried to halt the advance, al-Brefkani said, denying earlier reports that two oil wells were set on fire. Kurdish forces also took control of several villages around Zummar, he said.
Kurdish forces, which recaptured Iraq's largest dam earlier this month with the help of U.S. airstrikes, are fighting to reassert control over territory lost to the al-Qaeda breakaway group in the past two months. They're using weapons provided by Iran and the U.S., and expect to receive arms from Italy, too. Germany, meanwhile, has cleared the way to supply weapons to Iraqi troops.
Obama authorizes 350 more military personnel to Iraq
WASHINGTON, Sept. 2, 2014 (Xinhua) --
U.S. President Barack Obama on Tuesday authorized sending some 350 additional military personnel to Iraq, hours after the Islamic State militant group released a video showing the beheading of a second American journalist.
White House spokesman Josh Earnest said the move was taken at the request of the State Department and meant to protect American diplomatic facilities and personnel in Baghdad, the capital of Iraq.
"These additional forces will not serve in a combat role," Earnest said in a statement, adding the reinforcement will allow some military personnel already deployed in Iraq to leave.
Hours earlier, the Islamic State released a video online that appears to show the beheading of Steven Sotloff. The group had threatened to kill the American freelance journalist in a video posted online on Aug. 19, in which another American journalist James Foley was beheaded to avenge U.S. airstrikes on the group's targets in northern Iraq.
Following Foley's death, Obama denounced the Islamic State as a "cancer" that must be "extracted" from the Middle East. One week later, he approved surveillance flights over war-torn Syria and has been considering expanded operations since to target the Islamic State inside the country, including potential air raids.
Some Republican lawmakers have criticized Obama for his handling of the Islamic State, whose fighters have seized vast swaths of territory in northern Iraq since June and announced the establishment of a caliphate in areas under its control in Syria and Iraq.
"The president has made clear his commitment to doing whatever is required to provide the necessary security for U.S. personnel and facilities around the world," Earnest said.
He said Obama will consult with other NATO leaders this week in Wales over "additional actions" and a "broad-based" coalition to implement "a comprehensive strategy" to combat the Islamic State.
American warplanes have conducted airstrikes on the group since Aug. 8 and Obama had sent some 1,000 military personnel to Iraq.
U.S. says to continue humanitarian efforts, airstrikes against ISIL forces in Iraq
WASHINGTON, Sept. 2, 2014 (Xinhua) --
U.S. will keep air operations in Iraq with the aim to support Iraqi and Kurdish forces in their fight against terrorists from the Islamic State of Iraq and the Levant and will continue to provide humanitarian assistance to Iraqi civilians, said the Pentagon.
While addressing a news briefing held Tuesday, Pentagon Press Secretary John Kirby said aircraft from U.S. Central Command, Australia, France and the United Kingdom delivered humanitarian aid over the weekend to thousands of Shia Turkomen living in the Iraqi village of Amirli. The village was besieged by ISIL forces two months ago and has been cut off from food, water and medical supplies since then.
"In conjunction with this airdrop, U.S. aircraft conducted coordinated airstrikes against nearby ISIL forces in order to support this humanitarian assistance operation and thereby helped facilitate the actual delivery of the aid," said Kirby. "So far, we believe the mission has succeeded ...because we're able to get needed provisions to the people there." "And we know that it got into the right hands and that they've been able to sustain themselves with the food and water that's been provided."
"One of our core military objectives in Iraq is to join with international partners to address humanitarian crises, and when and where we have the ability to do that, we're going to do it, " said Kirby, who added further missions remain a possibility.
U.S. forces also conducted additional airstrikes over the weekend against ISIL forces in the vicinity of the Mosul Dam. The strikes serve two purposes: to prevent a humanitarian catastrophe if the dam were to be breached and to protect U.S. personnel and facilities, according to Kirby.
Since the dam was recaptured by Iraqi and Kurdish security forces, ISIL forces have continued to try to retake the dam, the press secretary said. "And so as long as ISIL continues to threaten the facility, we'll continue to strike them," Kirby added.
The press secretary stressed, however, the solution in Iraq will not be a U.S. military one.
Editor: Luan
Obama says will 'degrade and destroy' Islamic State
By Balazs Koranyi and David Mardiste
TALLINN Wed Sep 3, 2014, 1:16pm EDT
(Reuters) -
The United States plans to fight Islamic State until it is no longer a force in the Middle East and will seek justice for the killing of American journalist Steven Sotloff, President Barack Obama said on Wednesday.
He added that destroying the militant group will take time because of the power vacuum in Syria, the abundance of battle-hardened fighters that grew out of al Qaeda during the Iraq war, and the need to build coalitions, including with local Sunni communities.
The United States resumed air strikes in Iraq in August for the first time since the pullout of U.S. troops in 2011, and Obama said the strikes are already proving effective.
"Those that make the mistake of harming Americans will learn that we will not forget and that our reach is long and that justice will be served," said Obama, who authorized the strike in Pakistan that killed al Qaeda leader Osama bin Laden 10 years after the Sept. 11, 2001, attacks on the United States.
At home, top Obama administration officials punctuated Obama's warnings to the Islamic State.
"They should know we will follow them to the gates of hell until they are brought to justice. Because hell is where they will reside, hell is where they will reside," Vice President Joe Biden said during an appearance in New Hampshire.
Obama is sending Kerry, Defense Secretary Chuck Hagel and counterterrorism adviser Lisa Monaco to the Middle East to work with regional partners on ways to battle Islamic State.
"This is not going to be a one-week or one-month or six-month proposition because of what's happened in the vacuum of Syria," Obama said. "It's going to take time for us to be able to roll them back."
(Additional reporting and writing by Lesley Wroughton and Doina Chiacu in Washington; Editing by Jeremy Gaunt and Jonathan Oatis)
***
Share this article with your facebook friends
This site contains copyrighted material the use of which has not always been specifically authorized by the copyright owner. We are making such material available in our efforts to advance understanding of environmental, political, human rights, economic, democracy, scientific, and social justice issues, etc. We believe this constitutes a 'fair use' of any such copyrighted material as provided for in section 107 of the US Copyright Law. In accordance with Title 17 U.S.C. Section 107, the material on this site is distributed without profit to those who have expressed a prior interest in receiving the included information for research and educational purposes. For more information go to: http://www.law.cornell.edu/uscode/17/107.shtml. If you wish to use copyrighted material from this site for purposes of your own that go beyond 'fair use', you must obtain permission from the copyright owner.