Obama Pledges to Defend Baltic Allies Against Russia, With 'Boots on the Ground',
September 3, 2014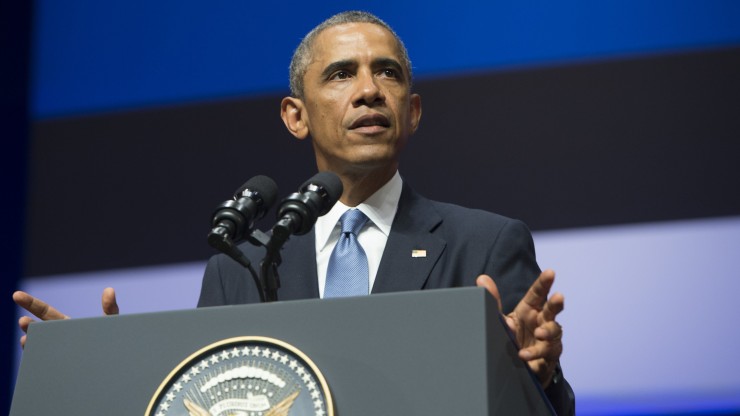 Obama Wants 'Boots on the Ground' in Baltics in Response to Russia
National Journal, Sept 3, 2014
By Marina Koren
The president delivered a speech Wednesday in Estonia about the Ukraine conflict and what it means for the Baltic region.
President Obama on Wednesday reaffirmed his support for Ukraine in its standoff with Russia, following mixed reports of a cease-fire between both sides.
Speaking in Estonia ahead of a NATO summit, the president outlined future U.S. actions in Eastern Europe, specifically in the Baltic region.
"Here in the Baltics, it would mean positioning more American equipment so it's ready, if needed," Obama said. "It would mean more training and exercises between our militaries. And it would mean more U.S. forces, including American boots on the ground, continuously rotating through Estonia and Latvia and Lithuania."
Obama said NATO member states will provide support to Estonia in the face of increased Russian aggression. In April, Russia "signaled concern" about Estonia's large ethnic Russian minority, prompting wary Estonia leaders to call for military assistance from NATO.
"You lost your independence once before," he said, alluding to German and Soviet occupations of the Baltic region during World War II and the Cold War. "With NATO, you will never lose it again."
Obama did not mention reports of a possible cease-fire between Russia and Ukraine. The office of Ukrainian President Petro Poroshenko said Wednesday morning that Poroshenko and Russian President Vladimir Putin had agreed on temporary peace terms in southeastern Ukraine, but then retracted the statement.
Obama called Russia's actions over the last several months "a brazen assault on the territorial integrity of Ukraine, a sovereign and independent European nation."
"It was not the government of Kiev that destabilized eastern Ukraine," he said. "It's been the pro-Russian separatists who are encouraged by Russia, financed by Russia, trained by Russia, supplied by Russia, and armed by Russia," Obama said.
Ukrainian leaders said last week that the country is seeking to gain NATO membership.
The president compared Russia's current actions to the country's imperialist past. "As a result of state-run propaganda, many Russians have been convinced that the actions taken by their government is strengthening Russia, but reaching back to the days of the czars, trying to reclaim lands lost in the 19th century, is surely not the way to secure Russia's greatness in the 21st century."
The defense against Russian intervention "of Tallinn and Riga and Vilnius is just as important as the defense of Berlin and Paris and London," he said.
Last week, more than 1,000 Russian soldiers crossed over the border into Ukraine to join pro-Russia separatists' fight against the Ukrainian military, NATO said. Separatists and the Ukrainian military have been locked in battle since April, after Russia annexed Crimea, a Ukrainian peninsula, in March. Putin on Wednesday told the president of the European Commission that he could "take Kiev in two weeks" if he wanted.
Matt Berman contributed to this article.
Obama hints at NATO membership for Ukraine, urges military support
Russia TV, September 03, 2014 18:57
Barack Obama says the "door to NATO membership will remain open" for new members, while also urging the organization to help strengthen Ukraine's military. Germany has promised to send non-lethal aid, such as bullet proof vests and medical supplies.
Speaking in Estonia, Obama did not explicitly point to Ukraine when referring to expanding NATO membership to other nations. However, the underlying message was clear for all to see, as he accused Russia of a "brazen assault" on Ukraine.
"And we must reaffirm the principle that has always guided our alliance, for countries that meet our standards and that can make meaningful contributions to allied security, the door to NATO membership will remain open," the US President said, after meeting the leaders of Estonia, Latvia and Lithuania, who are all NATO members, Reuters reported.
Obama's comments came after Ukrainian Prime Minister Arseny Yatsenyuk said he wanted his country to join the North Atlantic Treaty Organization saying, "Russia is a terrorist state, it is an aggressor state and will bear responsibility under international law."
"Concerning NATO, I consider the most correct decision would be to accept Ukraine as a member of NATO," Ukraine's prime minister added.
Under the NATO treaty, an attack on any individual NATO state would be treated as an attack on all alliance members.
In a reference that is likely to stoke tensions further with Russia, Obama said that NATO needs to give Ukraine, as well as other former Soviet states as much support as possible.
"NATO must make concrete commitments to help Ukraine modernize and strengthen its security forces. We must do more to help other NATO partners, including Georgia and Moldova, strengthen their defenses as well," he said in a speech to a packed concert hall in the Estonian capital.
On Monday NATO Secretary-General Anders Fogh Rasmussen said he expects Ukraine to abandon its non-aligned status following elections on October 26, which would leave it free to join the organization.
"I understand that the current political leadership in Kiev envisages that the new parliament after the parliamentary election in Ukraine will change the legislation on non-alliance status," Rasmussen told a press conference in Brussels.
Full NATO membership for Ukraine akin to lunacy –expert
However, not everyone believes that Ukraine's desire to join NATO is a sound one. William Engdahl, a geopolitical expert who spoke to RT, said there is a difference of interests between President Petro Poroshenko, who has business interests in the east of Ukraine and Yatsenyuk, who has close links with Washington and the Ukrainian nationalists.
In Engdahl's view, Yatsenyuk's talk of full NATO membership for Ukraine is "akin to lunacy."
His thoughts were shared by the Czech Republic Prime Minister Bohuslav Sobotka, who said at the weekend, "Ukraine is not ready for EU membership, not ready for NATO membership… Both organizations should be giving realistic hopes to Ukraine," the politician told Czech broadcasters.
"If the Ukrainian side sees President Petro Poroshenko's peace settlement plan as a path to successful solution to the crisis, then it cannot accompany it with ideas of Ukraine's membership in NATO and the EU," Sobotka added, according to RIA Novosti.
Chancellor Merkel to "personally oversee" transfer of non-lethal aid to Ukraine
Meanwhile, Germany says it will send protective equipment and medical aid to the Ukrainian army, according to a government spokeswoman. She added that Chancellor Angela Merkel will "personally oversee" the transfer of 20,000 bullet-proof vests, mobile hospitals and medical supplies, according to the German news agency, DPA
"The German government has several requests to export protective gear for Ukrainian armed forces. Departments have already concluded the assessment with a positive outcome," said the spokeswoman, according to Reuters.
However, the country has ruled out sending any arms to Ukraine, with Chancellor Merkel adding there will be no military solution to the crisis.
Obama pledges to defend Baltic allies against Russia
USA Today, Sept 3, 2014
President Obama reassured Baltic nations Wednesday that the United States and other NATO allies will defend them from the kind of Russian aggression on exhibit in nearby Ukraine.
"In this (NATO) alliance, there are no old members or new members, no junior partners or senior partners — there are just allies, pure and simple," Obama told an audience in Tallinn, Estonia.
He added, "We will defend the territorial integrity of every single ally."
Obama used the speech to denounce Russian aggression in eastern Ukraine, calling it a "brazen assault" on the territory of "a sovereign and independent European nation."
The incursion into Ukraine "challenges that most basic of principles of our international system," Obama said: "That borders cannot be redrawn at the barrel of a gun."
Ukraine is not a NATO member, and the U.S. and European allies are not obligated to defend it.
Three nations that border the Baltic Sea — Latvia and Lithuania as well as Estonia — have expressed concern about Russian aggression, and they have been NATO members for a decade.
Obama stressed the common defense requirements of the NATO alliance in a speech he delivered after meeting with the leaders of all three Baltic states.
Referring to the capital cities of the Baltic nations, Obama said that "the defense of Tallinn and Riga and Vilnius is just as important as the defense of Berlin and Paris and London."
Obama spoke shortly after a proposed cease-fire between Ukraine, Russia and pro-Russian separatists fell apart.
The speech capped a brief presidential visit to Estonia en route to a NATO summit in Wales, where Russia's incursion into Ukraine — and its impact throughout Eastern Europe — will be major topics.
NATO allies also plan to discuss the threat of the Islamic State in Iraq and Syria. The United States is conducting air strikes against IS in Iraq and considering possible action in Syria.
During his speech in Tallinn, Obama combined criticism of Russian President Vladimir Putin along with praise for how the Baltic nations broke away from the communist rule of the Soviet Union a quarter-century ago.
Democratic gains throughout Eastern Europe are threatened by Russia's aggression in Ukraine, Obama said, and the world must confront.
At one point, Obama said: "We'll be here for Estonia. We will be here for Latvia. We will be here for Lithuania. You lost your independence once before. With NATO, you will never lose it again."
***
Share this article with your facebook friends
This site contains copyrighted material the use of which has not always been specifically authorized by the copyright owner. We are making such material available in our efforts to advance understanding of environmental, political, human rights, economic, democracy, scientific, and social justice issues, etc. We believe this constitutes a 'fair use' of any such copyrighted material as provided for in section 107 of the US Copyright Law. In accordance with Title 17 U.S.C. Section 107, the material on this site is distributed without profit to those who have expressed a prior interest in receiving the included information for research and educational purposes. For more information go to: http://www.law.cornell.edu/uscode/17/107.shtml. If you wish to use copyrighted material from this site for purposes of your own that go beyond 'fair use', you must obtain permission from the copyright owner.