18 Syrians Killed in Hama Car Bombings, Ceasefire Goes Into Effect in Old Homs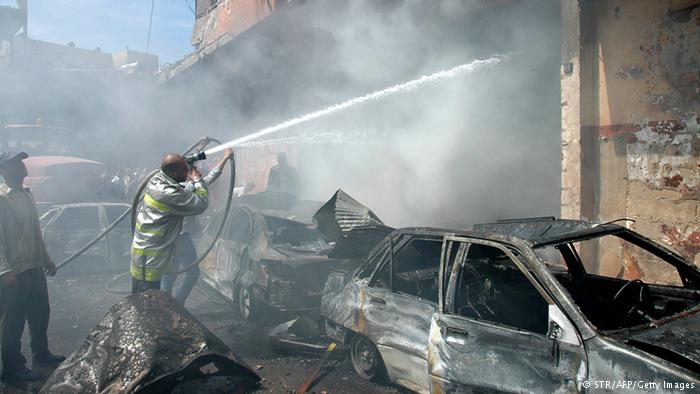 Ceasefire goes into effect in Syria's old Homs
DAMASCUS, May 2, 2014 (Xinhua) --
A ceasefire reportedly went into effect on Friday between the Syrian government troops and the armed rebels in the contested old quarter of the central city of Homs, Arab TV stations and activists said.
The ceasefire is part of a deal between the rebels and the government troops, under which the rebels would be allowed to leave their positions to areas in the northern countryside of Homs with their light weapons only within 24 hours.
The rebels have agreed upon the ceasefire following two weeks of heavy shelling by the government troops on the rebel-held districts in old Homs, which has been besieged by the latter since two years ago.
The Syrian army started a wide-scale offensive to wrest back control over the few remaining rebel-held districts in old Homs two weeks ago.
The ceasefire and the rebels' evacuation would be considered the latest victory of the Syrian army in Homs, allowing the Syrian troops to fully secure the city. Reports said that between 700 and 900 armed rebels, mostly Syrians, are stationing in old Homs.
Homs, Syria's third largest province, was one of the first provinces to sympathize with anti-government movement in Syria. The rebels there have taken considerable swathes of land, but the government troops have stripped them of their territory over the past year.
The country's three-year crisis started in mid-March 2011, when anti-government protesters took to the street calling for reforms, but rapidly evolved into a civil war. So far more than 150,000 people have been killed and about one third of Syria's population forced to leave their homes.
18 killed in Syria car bombings
DAMASCUS, May 2, 2014 (Xinhua) --
A total of 18 people, including 11 children, were killed and over 50 others wounded on Friday when two explosive-packed vehicles exploded in the country's central province of Hama, according to the official SANA news agency.
The deadly explosions rocked the towns of Jibrin and Humairi in the southwestern countryside of Hama, said SANA, adding that the first booby-trapped car was detonated in the heart of Jibrin, killing 17, including 11 kids, and injuring 50 others, while the second one exploded in Humairi, killing one person and injuring some others.
The explosions have also left huge property losses.
Friday's attack came just one day after opposition activists claimed that 44 people were killed by an airstrike in Aleppo.
Last week, the al-Qaida-linked Nusra Front claimed responsibility for a deadly twin explosions that killed 100 people in a government-controlled district in the central province of Homs.
The tit-for-tat attacks have added to the misery of people who have greatly suffered during the country's three-year crisis that has killed more than 150,000 people and forced one third of the population leaving their homes.
Editor: Fu Peng
Reports: Syrian government, rebels negotiate ceasefire in Homs
DW.DE, May 2, 2014
Rebel and Syrian government forces have reportedly reached a ceasefire deal for Homs. It would allow rebel fighters to escape the city's embattled old quarters, weeks before President Bashar al-Assad seeks re-election.
Syrian opposition activists said on Friday that a ceasefire had been agreed for Homs. There was no immediate comment by Syria's government whose forces began an assault of remaining rebel areas in the city last month.
The central city - Syria's third largest - was once the seat of anti-Assad protest that erupted three years ago. The deal would put all but one neighborhood of Homs back in government control, two months after inconclusive talks in Geneva.
Truce, then withdrawal
The Associated Press news agency quoted several opposition activists as saying the deal first called for a 48-hour truce in rebel-held parts of Homs. After that, hundreds of fighters would withdraw to opposition-held areas north of the city.
The deal was also mentioned by Al-Manar television, a channel run by the Lebanese Shiite group Hezbollah allied with Assad.
The Britain-based Syrian Observatory for Human Rights said the deal stipulated a "withdrawal of the rebels in the Old City, which has been under siege for two years, to the north of the Homs province."
"As a result of the deal, the army will retake control of these areas," the observatory said.
Face-saving deal
The apparent face-saving deal for the rebels comes weeks after pro-government forces began bombarding Homs.
A previous blockade had already caused widespread food shortages.
In February, an operation by the UN and Red Crescent evacuated around half of the 3,000 residents still trapped in Homs.
Several hundred more subsequently left, leaving a hardcore group of around 1,000 rebel fighters. They allegedly continued to stage car bombings in government-controlled areas.
At least 150,000 people have been killed in the Syrian civil war, which started with peaceful demonstrations, according to opposition activists.
More bombings
Syrian state media said on Friday that suicide bombers using two vehicles had killed at least 18 people, including 11 children, in the towns of Jibrin and Al-Humeiri in the central Syrian province of Hama.
The observatory said the towns targeted were mainly Alawite, the religious community of which Assad is a member.
On Thursday, a government airstrike killed at least 33 people at a busy marketplace in a rebel-held district of the main northern city of Aleppo.
ipj/slk (AP, AFP)
DW.DE
***
Syria activists say evacuations from Homs delayed
By DIAA HADID
Associated Press, May 2, 2014
BEIRUT --
The planned evacuation of fighters from rebel-held parts of the Syrian city of Homs was delayed Saturday, activists said, though a cease-fire still was holding in the country's third-largest city.
Rebels in the city agreed Friday surrender territory in exchange for safe passage to other opposition-held areas. The agreement came after a blockade by Syrian President Bashar Assad's forces caused widespread hunger in rebel-held parts of the city, which have been hit relentlessly by government artillery and airstrikes.
Local activist Samer al-Homsi and other three activists said it wasn't clear why Syrian forces weren't allowing the first phase of several hundred rebel fighters to leave.
One Homs-based activist said rebels were gathering wounded fighters, so they could be taken out as a first priority, beginning Sunday. Other Homs-based activists said they believed the delays were over a plan to allow food and aid into two blockaded areas — one blockaded by rebels in the northern province of Aleppo, and another blockaded by pro-government forces near Homs.
Activists also said a prisoner exchange deal between rebels and Assad's forces in central and northern Syria also could be delaying the move.
Homs was once known as the capital of the Syrian revolution for its fierce opposition to Assad's rule.
Assad's forces have been taking back rebel-held areas throughout Syria with a mix of blockades, deals with rebels and relentlessly pounding of opposition-held areas.
On Saturday, Assad's forces entered in the rural town of Mleeha near the capital, Damascus, state-run television and the Britain-based Syrian Observatory for Human Rights reported. The town was one of the last near the capital held by rebels. State television also said government fighters advanced into rebel-held parts of Aleppo.
As pro-government forces have advanced, rebels have responded by firing mortar shells and detonating car bombs in residential areas, often killing civilians.
On Saturday, as Assad forces advanced into Mleeha, a suicide bomber detonated a car bomb at a checkpoint, causing casualties, state-run television said, without elaborating.
Rebels also fired mortars into a government-held neighborhood in Aleppo, killing at least 12 people.
Activists also said that the death toll from two car bombs that struck two small villages in the central Syrian province of Hama has risen to 23 people, including 14 children.
Rami Abdurrahman of The Observatory said Saturday that the figure was likely to rise further. The bombs exploded Friday in the villages of Jadreen and Humayri, some 19 kilometers (11 miles) apart. It wasn't clear if the two attacks were coordinated. The Observatory obtains its information from a network of activists on the ground.
State-run Syrian television also reported the bombings Friday.
Syria's 3-year-old conflict has killed more than 150,000 people, activists say. More than 2.5 million people have fled the violence to find shelter in neighboring countries, while millions more are displaced within the country.
This site contains copyrighted material the use of which has not always been specifically authorized by the copyright owner. We are making such material available in our efforts to advance understanding of environmental, political, human rights, economic, democracy, scientific, and social justice issues, etc. We believe this constitutes a 'fair use' of any such copyrighted material as provided for in section 107 of the US Copyright Law. In accordance with Title 17 U.S.C. Section 107, the material on this site is distributed without profit to those who have expressed a prior interest in receiving the included information for research and educational purposes. For more information go to: http://www.law.cornell.edu/uscode/17/107.shtml. If you wish to use copyrighted material from this site for purposes of your own that go beyond 'fair use', you must obtain permission from the copyright owner.