French Invading Forces Fight Muslims After Deposing them from Power in the Central African Republic
May 24, 2014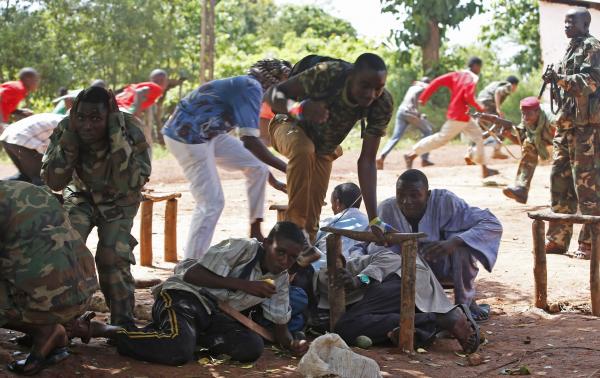 Muslim civilians exposed to fire from French soldiers in the Central African republic city of Bambari
French troops battle Muslim rebels in Central African Republic town
BAMBARI, Central African Republic
Sat May 24, 2014 11:03am EDT
(Reuters) -
French (invading) troops in Central African Republic used helicopter gunships and mortars on Saturday to fight Muslim (fighters) at a bridge in the town of Bambari, northeast of the capital Bangui, a Reuters witness said.
The clash is the latest between fighters from the mostly Muslim Seleka coalition and (foreign forces who forced Muslims out of power), and could deepen antagonism in the north of the country towards French forces.
At least five people were injured, four of them Seleka fighters who have been resisting attempts to disarm them by French forces deployed in their former colony as part of the Sangaris peacekeeping operation.
The soldiers used stun grenades to try to disperse civilians wielding machetes who blocked the bridge, but then came under fire from automatic weapons and rocket-propelled grenades. They brought in at least two helicopter gunships and fired mortars.
"We were confronted by individuals who fired at the Sangaris forces and we immediately responded," said Colonel Gilles Jaron, spokesman for the French army.
French forces fired a mortar as a warning shot and then followed up with anti-tank missiles, which destroyed a pick-up truck and likely caused casualties, a French army source said.
The Reuters witness said that the 10-15 rebels on the bridge did not have a pick-up truck.
DIVIDING LINE
Residents say Christians and Muslims live in harmony in Bambari, a market town of 65,000 people. Though its mud-brick houses attest to its poverty, the town is a crossroads for traders and a starting point for journeys to Chad and Cameroon.
The town's strategic value, however, lies in its position at what could be regarded as the dividing line between the largely Christian south and the Muslim-dominated north.
On Thursday, French forces in Bambari came under fire after they tried to disarm Seleka rebels, who have their headquarters at the town and still control the northeast of the country after being driven from Bangui. At least one person was killed.
Following a meeting on Wednesday, the peacekeeping troops demanded that members of the Seleka hand over weapons.
Crowds of civilians carrying machetes and hunting rifles took to the streets early on Thursday in protest and blocked roads in the center of Bambari with market stalls and furniture.
Muslims in Bambari are unwilling to give up their weapons after similar moves in Bangui led to attacks on Muslims there.
Central African Republic descended into chaos after Seleka rebels seized power in March last year and their attacks on the majority Christian population set off a wave of reprisals.
The Seleka coalition was forced to relinquish power under international pressure in January. Since then, Christian militias known as "anti-balaka" have mounted widespread attacks on Muslims.
More than 2,000 people have been killed in the violence and a million (mostly Muslims) of the country's 4.5 million people have been forced from their homes despite the presence of several thousand African peacekeepers and European Union and French troops.
(Additional reporting by Leila Abboud, John Irish and Gregory Blachier in Paris; Writing by Pascal Fletcher; Editing by Matthew Mpoke Bigg and Lynne O'Donnell)
This site contains copyrighted material the use of which has not always been specifically authorized by the copyright owner. We are making such material available in our efforts to advance understanding of environmental, political, human rights, economic, democracy, scientific, and social justice issues, etc. We believe this constitutes a 'fair use' of any such copyrighted material as provided for in section 107 of the US Copyright Law. In accordance with Title 17 U.S.C. Section 107, the material on this site is distributed without profit to those who have expressed a prior interest in receiving the included information for research and educational purposes. For more information go to: http://www.law.cornell.edu/uscode/17/107.shtml. If you wish to use copyrighted material from this site for purposes of your own that go beyond 'fair use', you must obtain permission from the copyright owner.