Video Exposure of Two Palestinian Teenagers Killed with Cold Blood by Israeli Occupation Soldiers
May 15, 2014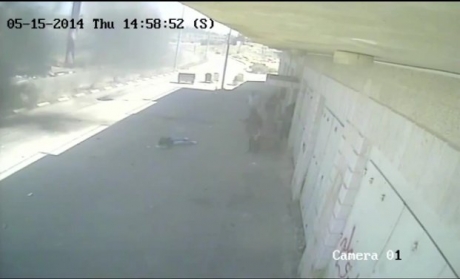 Image from video showing killing of two youth (image from DCI-Palestine)
New Video Shows Israeli Soldiers Killing Two Teens in Unprovoked Attack Last Thursday
Tuesday May 20, 2014 10:36 by Saed Bannoura - IMEMC News
A newly-released surveillance video showing the killing of two teenage boys, age 16 and 17, by Israeli troops during a demonstration last week contradicts Israeli accounts of the incident.

While the Israeli government claimed that the boys were throwing stones, the video clearly shows that neither they nor any other youth were throwing stones at the time the shots were fired. They were in the same area where a protest had been taking place, outside of Ofer Prison, to mark the occasion of the Nakba, or Catastrophe, on May 15th (the day the state of Israel declared independence and established itself as a state on what had been Palestine). But, at the time of the shooting of the two boys, the protest was in a lull.

The video shows one boy walking slowly, by himself, with no one around him and no protesters nearby and, then, falling to the ground from a fatal gunshot wound. A few minutes later, the second child is walking slowly, in nearly the same spot, when he, too, falls to the ground from a gunshot wound.

The victims of the shooting were identified as 17-year-old Nadim Siam Nuwara, and 16-year-old Muhammad Mahmoud Odeh Abu al-Thahir.

According to Defence for Children International, which obtained and released the video footage, the CCTV footage was captured by cameras mounted on the building where the incident took place, which is owned by Fakher Zayed.

"The images captured on video show unlawful killings where neither child presented a direct and immediate threat to life at the time of their shooting," said Rifat Kassis, executive director of DCI-Palestine. "These acts by Israeli soldiers may amount to war crimes, and the Israeli authorities must conduct serious, impartial, and thorough investigations to hold the perpetrators accountable for their crimes."

Israeli officials made no comment on the new video footage.
Thousands Attend Funeral for Two Boys Killed During Nakba Protests
Saturday May 17, 2014 17:08 by Chris Carlson - 1 of International Middle East Media Center Editorial Group
Palestinians attended, on Friday, the funerals of Nadeem Siyam Nuwara, age 15, and Mohammad Odeh Abu al-Thahir, 17, who were shot dead by Israeli forces during a demonstration in commemoration of the Nakba (Catastrophe) of 1948, in which an estimated 700,000 Palestinians fled or were expelled from their homelands by Israeli colonizers, and have since become the largest refugee group in the world.

At approximately 11 am, according to the PNN, a crowd gathered near the Palestine Medical Complex, where the bodies of the two boys lay, and began a funeral march towards Birzeit.

Numerous cars and hundreds of people took part in the procession, carrying flags from all different political parties, and ending with a public prayer.

Once finished, the PNN reports, the boys were taken to their respective villages, Abu Shukheidim and al-Mazraa al-Qibliya, where they were buried.

Several called for revenge, with others stressing that the blood of the two youngsters should not be wasted.

They condemned Israel for its crimes against the Palestinian people and called for the unity of all political factions to fight the illegal Israeli occupation of their lands.

Although the majority of Palestinians were expelled from their homes during the 1948 conflict which led to the creation of the state of Israel, some managed to remain and their descendants, today, make up around 20 percent of Israel's population.

As a result of the Syrian civil war, some 235,000 Palestinians have been displaced in Syria itself and 60,000, alongside 2.2 million Syrians, who fled the country, as of October 2013.

Palestinians make up the largest refugee group in the world, according to UN statistics which, by 2010, had designated nearly 5 million Palestinians with official refugee status.

UNRWA has estimated that there were more than 7.2 million Palestinian refugees and displaced persons at the end of 2005, according to The Institute for Middle East Understanding (IMEU).

See IMEMC article below: "Amnesty Condemns Israel's 'Reckless Killings'"
Amnesty Condemns Israel's "Reckless Killings"
Saturday May 17, 2014 03:08 by Chris Carlson - 1 of International Middle East Media Center Editorial Group
International human rights group Amnesty International has condemned Israel's military for the murder of two Palestinian youth during a protest on Nakba Day.

Human rights group Amnesty International has condemned Israel's military for the murder of two Palestinian youth during a protest on Nakba Day. "Israeli forces have displayed continuing recklessness in their use of force against Palestinian protesters when they killed a young man and a teenager, and injured others, during a crackdown on demonstrations to commemorate the Nakba in the occupied West Bank today," a statement from the organization said.

Amnesty continues: "Israeli forces have repeatedly resorted to extreme violence to respond to Palestinian protests against Israel's occupation, discriminatory policies, confiscation of land and construction of unlawful settlements."

Ma'an reports that the rights group has expressed that the use of "unnecessary and excessive force" against Palestinian protesters is unacceptable and must be stopped immediately.

"The Israeli authorities must ensure that their forces act in a manner that respects and upholds human rights. Amnesty International is calling for a prompt, independent, and transparent investigation into these deaths and injuries," said Director of the Middle East and North Africa Programme at Amnesty International, Philip Luther.

Furthermore, in February, Ma'an reports, Amnesty released a report entitled 'Trigger-happy', in which Israel's "callous disregard" for human life was cited, in addition to their near total impunity for the killing of Palestinian civilians in cases examined since 2011.

The report also said that some of the killings, including that of Samir Awad, age 16, in Jan. 2013, could be considered war crimes.

US, EU and UN Draw Attention to Killing of Two Teens near Offer
Thursday May 22, 2014 01:24 by Chris Carlson - 1 of International Middle East Media Center Editorial Group
Ashrawi condemns Israeli brutality
Representatives of the United States and the European Union have expressed a concern and called for investigations regarding the senseless deaths of two Palestinian teenagers on May 15 by Israeli occupation soldiers, near Ofer prison, in the West Bank, during Palestinian commemoration of the 1948 Nakba. UN representative Oscar Fernandez-Taranco has called for a probe into the matter.

"We look to the Government of Israel to conduct a prompt and transparent investigation to determine the facts surrounding this incident, including whether or not the use of force was proportional to the threat posed by the demonstrators," said State Department spokeswoman Jen Psaki to reporters.

"We express, of course, our condolences to the families of those deceased and urge all parties to exercise restraint," Psaki said during a Washington press briefing.

According to Ma'an, the comments come after video footage emerged which seemed to show the deaths of 15-year-old Muhammad Audah Abu al-Tahir and 17-year-old Nadim Siyam Nuwarah during a demonstration near Ramallah, on the anniversary of the Nakba.

WAFA reports that the EU missions in Jerusalem and Ramallah, in a statement Wednesday, expressed concern over the death of two youth, stressing that "It is important that any such incidents are investigated thoroughly."

"We reiterate the need for security forces, whether Israeli or Palestinian, to refrain from the use of lethal force, except in cases where there is a real and imminent threat to life," the statement concluded.

Oscar Fernandez-Taranco, the assistant UN secretary general for political affairs, urged Tuesday for an "independent and transparent" probe into the circumstances surrounding the killings, according to the Alternative Information Center (AIC).

"It is of serious concern that initial information appears to indicate that the two Palestinians killed were both unarmed and appeared to pose no direct threat," Fernandez-Taranco said.

Dr. Hanan Ashrawi from the Palestine Liberation Organization accused the Israeli regime of the "deliberate execution" of the two Palestinian teenagers, AIC further reports.

"In the strongest possible terms, we condemn the deliberate execution of two Palestinian teenagers who were fatally shot with live ammunition outside Ofer prison last week," Ashrawi said on Tuesday, adding that Israel's use of excessive and indiscriminate violence and live ammunition on non-violent Palestinian demonstrations "constitutes war crimes and crimes against humanity under international law."

See link below for video footage in question.
Related Link(s): http://imemc.org/article/67857
This site contains copyrighted material the use of which has not always been specifically authorized by the copyright owner. We are making such material available in our efforts to advance understanding of environmental, political, human rights, economic, democracy, scientific, and social justice issues, etc. We believe this constitutes a 'fair use' of any such copyrighted material as provided for in section 107 of the US Copyright Law. In accordance with Title 17 U.S.C. Section 107, the material on this site is distributed without profit to those who have expressed a prior interest in receiving the included information for research and educational purposes. For more information go to: http://www.law.cornell.edu/uscode/17/107.shtml. If you wish to use copyrighted material from this site for purposes of your own that go beyond 'fair use', you must obtain permission from the copyright owner.