Thai Military Coup:
Army Chief General Prayuth Chan-Ocha Dismisses Government, Declares Martial Law
May 22, 2014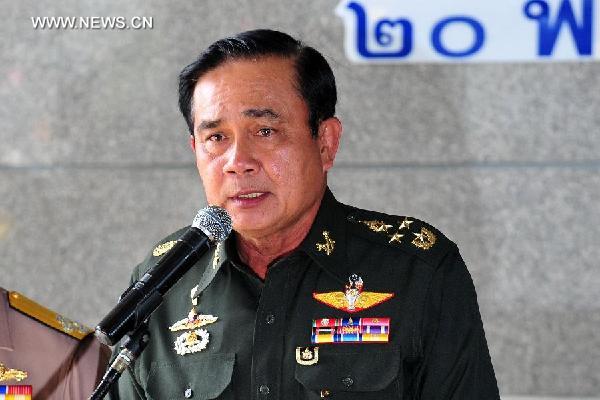 Thai military stages coup to end prolonged political conflict
BANGKOK, May 22, 2014 (Xinhua) --
The Thai military on Thursday staged a coup d'etat to overthrow an elected government and parliament and abolish the constitution following months of an unresolved political conflict.
Under the name of the National Peacekeeping Council, the military seized power and detained protest leaders, caretaker cabinet ministers and leading politicians at an army barracks after they had failed to reach agreement to end the seven-month- long political crisis.
Curfew was declared effective throughout the country from 10:00 p.m. until 05:00 a.m. while all TV news broadcasts were suspended.
In a live TV broadcast, army chief Gen Prayuth Chan-ocha who heads the National Peacekeeping Council declared the fresh coup was staged in order to prevent further unrests and violences which had intermittently occurred since last November.
That was the country's 19th military coup since 1932's change of rule from absolute monarchy to constitutional democracy.
Flanking Gen Prayuth, head of the coup makers, during a press conference at the Army club where the dialogue to end the political crisis had been held to no avail were navy chief Adm Narong Pipatanasai, air force chief ACM Prajin Juntong and police chief Pol Gen Adul Saengsingkaew.
"Innocent people were killed and injured and property damaged during sustained unrests which have continued to jeopardize public safety and national security. In order to prevent further violences and bring the situation to normal, the National Peacekeeping Council has found it necessary to stage a coup d'etat. Members of the public are suggested to remain calm and live normal life," said the army chief.
Gen Prayuth, who declared nationwide martial rule on Tuesday, assured that diplomats and foreigners currently in Thailand will be provided safety while cordial relationships between this country and varied others around the world will be maintained as usual.
Meanwhile, 35 people who had attended the second day of talk at the army club were taken to a nearby First Army Regiment base for detention. They included caretaker cabinet members, senators, prominent members of the ruling Pheu Thai (for Thais) Party and opposition Democrat Party, including former premier Abhisit Vejjajiva, and anti-government and pro-government leaders, namely Suthep Thaugsuban and Chatuporn Prompand respectively.
They had apparently failed to reach consensus about anything ranging from an election date, the sought-after naming of a non- elected prime minister to "national reforms" and prolonged street protests.
While the caretaker government, the Pheu Thai Party and Red Shirt demonstrators insisted that the only way-out from the political conflict is simply to hold a new election to pick a premier from among elected legislators in accordance with the constitution and democratic rule, the anti-government protest leaders, Democrat Party members and anti-government senators preferred the caretaker government be replaced by a non-elected premier and that no election be held until after "national reforms " have been done.
Anti-government protesters in Rajdamnern Avenue at the heart of the capital and pro-government Red Shirt protesters in Axa road in its western outskirts gradually dispersed after rifle-wielding soldiers took control of the areas.
One of the major anti-government protester leaders Luangpu Buddha Isara declared victory after the military seized power on Thursday and ordered his supporters at the Chang Wattana rally site to go home.
Luangpu said the demonstrators would start packing belongings to return home after 6 p.m., while he would remain behind to oversee the dispersing that could take about two days before he would return to his temple.
Thai army chief calls meeting of political players
BANGKOK, May 21, 2014 (Xinhua) --
Thai army chief Prayuth Chan-ocha on Wednesday called a meeting of representatives from seven political groups to discuss solutions to the country's protracted political crisis.
This was Prayuth's first attempt to broker talks after he declared martial law in the country on Tuesday, but no conclusion was reached at the two-hour meeting held at the Army Club in the capital.
The meeting was attended by representatives from the caretaker government, Pheu Thai Party, Democrat Party, the pro-government United Front of Democracy against Dictatorship (UDD), or "red shirts," the anti-government People's Democratic Reform Committee, the Senate and the Election Commission (EC).
Caretaker Prime Minister Niwutthamrong Boonsongpaisan was absent, but protest leader Suthep Thaugsuban, Democrat Party leader Abhisit Vejjajiva, UDD chairman Jatuporn Promphan, Senate Speaker-elect Surachai Liangboonlertchai and EC chairman Supachai Somcharoen were among the participants.
Prayuth asked the seven groups to review the proposals and options presented at the meeting and return with answers to a second round of talks on Thursday, deputy army spokesman Winthai Suwaree said at a press conference following the meeting.
Wednesday's discussion was conducted in a friendly atmosphere, Winthai said.
Editor: Luan
Martial rule meant to prevent further bloodsheds: Thai army chief
BANGKOK, May 20, 2014 (Xinhua) --
The martial rule currently imposed in Thailand was primarily designed to prevent street chaos and bloodsheds, said army chief Gen Prayuth Chan-ocha on Tuesday.
The martial law, declared by the army chief at 03.00 a.m. Tuesday and effective throughout the country, was basically meant to keep opposing sides of society from clashing with each other or triggering civil war, according to Gen Prayuth.
However, no curfew will be declared under the Martial Act of 1914 in any part of the capital or anywhere else for the time being, according to the army chief.
The army chief, who replaced the caretaker government's Center for the Administration of Peace and Order with an army-led peacekeeping command which he himself heads, called on Thai media to practice "self-censorship" to avoid possibilities of instigating social panic and turbulences.
A dozen TV stations, especially those known to be practically aligned with either the anti-government or pro-government side, were stopped under martial rule from airing political news reporting and commentary programs on temporary basis.
"Martial rule was meant to prevent further violence and bloodsheds among the Thais...We definitely will not allow any more bloodshed to spill on the Thai soil."
"We can no longer afford to see the political conflict going on without end."
"Given the martial law, all opposing sides will be summoned for talk and find a way to put an end to the conflict," said Gen Prayuth.
The army chief assured that he will certainly manage to bring leaders of both anti-government and pro-government demonstrators to the negotiating table in bid to end the prolonged massive protests which he said had been feared to trigger bloodsheds and street riots.
He did not say how soon the anti-government protest leaders will meet and talk with the pro-government Red Shirt leaders.
Hordes of street demonstrators of both sides have continued to gather on Rajdamnern Avenue at the heart of the capital and Axa road in its western outskirts under watchful eye of army soldiers armed with assault rifles and handguns.
Given the martial rule, they were told to not move out of the spots where they have been peacefully gathering.
"Peace and order must be maintained before all conflicting sides may come to talk with each other to end the conflict. They would not come to talk if the situation remained as it had been earlier," Gen Prayuth said.
The army chief called on all government personnel to carry out their duties as normal while martial rule remains throughout the country.
He said martial rule would not last for months ahead but declined to say exactly how long it will be effective.
According to the law in Thailand, a royal decree is needed to end martial rule, though it has been unilaterally declared by the army chief.
Acting Deputy Premier Nivatthamrong Boonsongpaisal, who is currently performing on behalf of legally deposed Premier Yingluck Shinawatra, suggested that the military maintain peace and order and provide maximum safety for people and that martial law only be imposed on temporary basis.
Editor: Luan
This site contains copyrighted material the use of which has not always been specifically authorized by the copyright owner. We are making such material available in our efforts to advance understanding of environmental, political, human rights, economic, democracy, scientific, and social justice issues, etc. We believe this constitutes a 'fair use' of any such copyrighted material as provided for in section 107 of the US Copyright Law. In accordance with Title 17 U.S.C. Section 107, the material on this site is distributed without profit to those who have expressed a prior interest in receiving the included information for research and educational purposes. For more information go to: http://www.law.cornell.edu/uscode/17/107.shtml. If you wish to use copyrighted material from this site for purposes of your own that go beyond 'fair use', you must obtain permission from the copyright owner.