Military Coup in Libya:
General Khalifa Hafter Calls for Presidential Council, to Take Power from Elected Parliament
May 22, 2014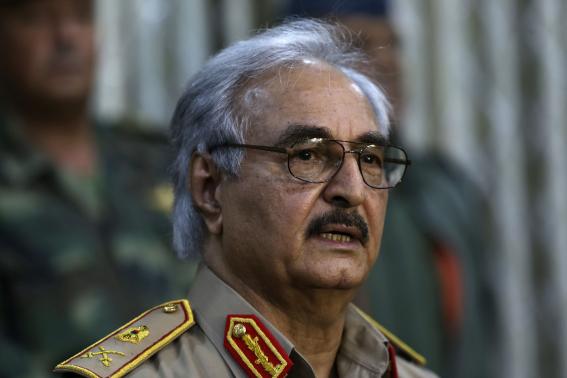 Libya's "coup" general calls for "presidential council," tensions continue
TRIPOLI, May 22, 2014 (Xinhua) --
Libya's Major General Khalifa Haftar, whose military actions have been condemned as a "coup" by parliament, urged Wednesday to form a presidential council to take over power before the June parliamentary elections.
He called in Abyar in eastern Libya on the country's top judicial authorities to form the new "presidential council" to take over power until new parliamentary elections are held.
He said a military campaign to fight Islamist militants would continue.
The government and parliament have lost legitimacy because they were unable to rid the North African country of "extremists", Haftar said.
He also said that the Supreme Military Council of the Libyan Armed Forces will be set up to secure the political transition as well as to rebuild the army.
As time went by, Haftar, who played a key role in toppling Gaddafi, has gained more allies as the biggest party in parliament. He also obtained support from the country's minister of culture, the air force chief and Libyan ambassador to the United Nations.
Meanwhile, Prime Minister Ahmed Maitiq on Wednesday called for a national dialogue to reach a peaceful solution between the "coup" general and all related groups.
Maitiq said that he welcomed all parties involved to hold a comprehensive dialogue. "Any expression conveyed through weapons was not acceptable ... It is time to understand the importance that Libyans should be together and united," Maitiq said.
On Tuesday, the Libyan electoral committee said that polls will take place on June 25 to replace its disputed interim parliament, according to the LANA state news agency.
Since the downfall of late former leader Muammar Gaddafi, Libya has been mired in political chaos. Politicians as well as lawmakers in the 200-seat parliament were divided on the legitimacy of the one-chamber legislature and whether it should be dissolved.
According to the country's political transition plan, Libyans will elect the House of Representatives later this year to substitute the current interim parliament, the General National Congress, but the schedule has been delayed several times due to political upheavals.
The United States said Wednesday that it is ready to help organize new elections in Libya in hopes of ushering in a more stable government amid growing concerns about the political turmoil.
For the past two days, clashes have sporadically erupted between pro- and anti-Hafter militias in and around Tripoli. Gunfire and explosions could be heard every several hours.
The most violent clashes erupted Sunday afternoon, when the militant group loyal to Haftar assaulted Libya's parliament building and the airport road in an attempted "coup" as accused by the General National Congress (GNC), leaving two dead and more than 60 others injured.
In Benghazi, Libya's second largest city, a Chinese engineer was confirmed killed Wednesday.
As tensions have escalated, President of Libya's interim parliament Nouri Abu Sahmain on Monday called on militias from Misrata for help, asking them to confront the "attempts to take over power" in Tripoli. But the lawmakers were holding meetings, trying to figure out a peaceful solution.
Militias loyal to parliament were deployed in key areas in Tripoli on Tuesday.
On Friday, the militants, claiming the country can't be a hotbed or an incubator of terrorism, entered Benghazi at dawn, leaving at least 79 dead and around 140 others wounded, local media reported.
Since the downfall of Gaddafi in 2011, different interest groups in Libya have struggled to fill the power vacuum in the North African Country.
Libya "coup" general proposes new council to take over parliamentary power
TRIPOLI, May 21, 2014 (Xinhua) --
Libya's "coup" general on Wednesday called for the establishment of a presidential council to take over power before the June parliamentary elections as the legislative body failed to conduct its duties.
A presidential council should be formed to supervise Libya's political transition until a new parliament is elected, as the current parliament has become a "sponsor for terrorism," retired Major General Khalifa Haftar said in a televised statement in the eastern city of Benghazi.
Since the downfall of late former leader Muammar Gaddafi, Libya has been mired in political chaos. Politicians as well as lawmakers in the 200-seat parliament divide on the legitimacy of the one-chamber legislature and whether it should be dissolved.
Haftar's statement came days after he led a series of military actions against the country's interim parliament in the name of "purging terrorists" and tried to force the parliament to abandon power.
His maneuvers have been condemned as a "coup" by the parliament, but he has gained more allies recently as some political parties, army officials and armed groups all showed their support for him.
Haftar also said that a Supreme Military Council of the Libyan Armed Forces will be set up to secure the political transition as well as to rearrange and rebuild the army.
Haftar, who was once one of Gaddafi's top generals before falling from grace and going into U.S. exile, returned to his country to support the rebellion in 2011.
Libyan renegade general challenges government as clashes rock Tripoli
By Ayman al-Warfalli and Ahmed Elumami
ABYAR/TRIPOLI, Libya
Wed May 21, 2014, 8:26pm EDT
(Reuters) - A Libyan renegade general called on the government to hand over power to the country's top judges, mounting a challenge against Tripoli as heavy fighting erupted in the capital on Wednesday.
Western powers fear a call by General Khalifa Haftar for army units to join his campaign will split the nascent military and trigger more turmoil in the oil producing country which is struggling to restore order three years after the fall of strongman Muammar Gaddafi.
The government is unable to control the militias who helped oust Muammar Gaddafi in a NATO-backed 2011 uprising but are now defindefyingg authority.
"I call on the top judicial council to form a crisis government to oversee the next elections," said the retired general, dressed in uniform and surrounded by senior officers.
The council is independent and is one of the few state bodies respected by normal Libyans tired of anarchy and militias.
Haftar said government and parliament had lost any legitimacy because they were unable to purge the OPEC producer of extremists roaming around unchallenged.
His campaign got a boost after Libya's top air defense commander declared support for his campaign which kicked off on Friday with a strike against Ansar Sharia and other militant groups in the eastern city of Benghazi.
Culture Minister Habib Amin also announced his backing, the first government minister to join Haftar's forces. He said parliament had failed to fight "terrorists", echoing Haftar's rhetoric.
"I don't recognize the (General National) Congress (assembly) anymore," Amin told Reuters.
Tripoli residents reported several loud explosions early on Wednesday near the al-Yarmouk air defense barracks after air defense top commander Juma al-Abani released a video message saying he was joining "Operation Dignity", Haftar's campaign against Islamists.
Heavy fighting involving anti-aircraft machine guns mounted on trucks also broke out overnight near an army camp in Tajoura, an eastern suburb, witnesses said. The city was quiet by dawn.
At least two people from Mali died in the fighting, a health ministry source said.
Compounding the political chaos, state news agency LANA said on Wednesday the interior ministry had also joined Haftar's campaign, a report that was dismissed minutes later by the acting interior minister.
POLITICAL BATTLE
Libya has been plunged into turmoil since its 2011 uprising ended Muammar Gaddafi's one-man rule.
Many Libyans have grown frustrated with the government and parliament's failure to contain Islamist fighters and other militias who took part in rebellion and who have since openly defied the authorities to demand more oil wealth and power.
Haftar, a former Gaddafi ally who split with the autocrat in the 1980s, is the latest player to emerge in Libya's network of former fighters vying for control over parts of the country.
Culture Minister Habib Lamin, who has acted as cabinet spokesman, told Reuters some deputies had asked the government to arm the Islamist militant group Ansar Sharia to confront Haftar.
"The government rejected this," he said and, underlining tensions between government and parliament, accused deputies of having contributed to the chaos by approving militia funding in the past.
The parliament is split between Islamist parties loosely allied to the Muslim Brotherhood, the anti-Islamist National Forces Alliance, and scores of independents and tribal leaders of varying allegiances.
Western governments are concerned Libya's instability may worsen and spill over into its North African neighbors, who are still emerging from the political unrest following the 2011 "Arab Spring" revolts.
Libya's new Prime Minister Ahmed Maiteeq on Wednesday called for negotiations to end Libya's crisis and said he wanted to form a new cabinet open to all political factions which reject violence.
"I personally promise to hold negotiations with all sides," said Maiteeq, without mentioning Haftar by name, in his first press conference since he was elected this month in a chaotic parliamentary vote disputed by some lawmakers.
Militiamen, who Haftar later said were loyal to him, stormed the General National Congress (GNC), Libya's parliament, and fought for six hours with other armed groups on the airport road on Sunday.
Two days earlier, Haftar's troops had attacked Islamist militants in Benghazi in the worst clashes in the eastern city for months, killing more than 70 people.
In a further sign of unrest, gunmen abducted three Chinese engineers from their construction site in the eastern city of Benghazi on Tuesday, according to China's official press agency, Xinhua.
One was later found shot and died in hospital while his two colleagues were released, Xinhua reported.
(Reporting by Ahmed Elumami, Feras Bosalum and Ulf Laessing; Writing by Ulf Laessing; Editing by Patrick Markey, Andrew Heavens)
This site contains copyrighted material the use of which has not always been specifically authorized by the copyright owner. We are making such material available in our efforts to advance understanding of environmental, political, human rights, economic, democracy, scientific, and social justice issues, etc. We believe this constitutes a 'fair use' of any such copyrighted material as provided for in section 107 of the US Copyright Law. In accordance with Title 17 U.S.C. Section 107, the material on this site is distributed without profit to those who have expressed a prior interest in receiving the included information for research and educational purposes. For more information go to: http://www.law.cornell.edu/uscode/17/107.shtml. If you wish to use copyrighted material from this site for purposes of your own that go beyond 'fair use', you must obtain permission from the copyright owner.