China to Start Security Vetting IT Products, Following Charges of Cyber Attacks with US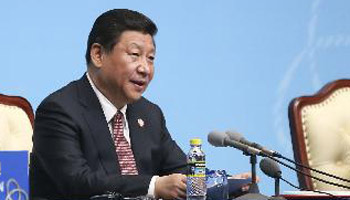 Chinese President Xi Jinping
China to start security vetting IT products
BEIJING, May 22 (Xinhua) --
The Chinese government is to start cyber security vetting major IT products and services for use by national security and public interests, the State Internet Information Office announced on Thursday.
The vetting is aimed at preventing suppliers from taking advantage of their products to illegally control, disrupt or shut down their clients' systems, or to gather, store, process or use their clients' information, according to a statement from the office.
Companies that fail the vetting will be stopped from supplying products and services in China, the statement said.
Ensuring that IT technologies and cyberspace are "safe and under control" is vital to China's national security, economic and social development as well as people's legitimate rights and interests, said Jiang Jun, the office's spokesman.
"For a long time, governments and enterprises of a few countries have gathered sensitive information on a large scale, taking the advantage of their monopoly in the market and technological edge," he said. "They not only seriously undermine interests of their clients but also threaten cyber security of other countries."
China's government departments, public institutions, enterprises, universities and backbone networks of its telecom firms have suffered extensive invasion and wiretapping, according to Jiang.
Documents leaked by former Central Intelligence Agency contractor Edward Snowden last June rang alarm bells over the cyber security of many countries, the spokesman said, adding that the affair reminded people how crucial cyber security is to national security.
"It shows that without cyber security, there's no national security," he said.
Having the world's biggest number of Internet users, China is duty bound to tighten cyber security measures and make sure security vetting of major IT products is effective, Jiang said.
IT products and services from both domestic and foreign providers will be vetted, said Li Jingchun, chief engineer with National Research Center for Information Technology Security.
"The vetting will focus on IT products and services used in communications, finance, energy and other key industries that concern national security and public interests," Li said, adding that existing products will also be vetted.
A State Internet Information Office official who did not wish to be named said China has been considering this vetting system for years, in which third-party assessors will now be involved.
"Personnel are technologically prepared to carry out the vetting," Li said.
China is not the first country to adopt such security vetting. In 2012, the U.S. House Permanent Select Committee on Intelligence conducted security investigation on Chinese IT firms.
The U.S. administration also asks federal agencies to choose cloud computing services from service providers that have passed its security vetting.
Editor: Yang Yi
China on frontlines of cyber security threat
BEIJING, April 19, 2014 (Xinhua) --
Twenty years after it embraced the Internet, China has become a cyber giant, but a weak one vulnerable to a skyrocketing number of threats.
Since China formally became a member of the global Internet club on April 20, 1994, Internet users had grown to 618 million at the end of last year, the largest number in the world.
However, due to the lack of technologies, experience and strong teams to counter online crime, China finds itself embroiled in cyber security threats from both within and outside the country, especially from the West.
A sign of China's weakness in cyberspace is the fact that China annually imports CMOS chips worth more than 200 billion U.S. dollars, which far exceeds its crude oil imports, according to Deng Zhonghan, a member of the Chinese Academy of Engineering.
Disadvantages in software and hardware for information technologies mean Chinese government and industries are unprepared for cyber-espionage. Any sabotage could pose dangers to the country's security and development as well as people's lives and work, experts say.
The situation became more urgent after Edward Snowden, a former U.S. National Security Agency (NSA) contractor, said the U.S. had been hacking into institutions based on the Chinese mainland.
The NSA has also been spying into the servers of Chinese company Huawei's sealed headquarters, according to revelations by The New York Times and Der Spiegel, which the U.S. has not denied.
The spread of online crimes, including the dissemination of rumors and pornography, are also threatening social stability, forcing authorities to enhance campaigns to clean up cyberspace.
To better coordinate Internet security and informatization work among different sectors, China has set up a central Internet security and informatization leading group led by President Xi Jinping to turn the nation into an "Internet power."
"Without cyber security, there is no national security," Xi warned.
NO BUSINESS IS IMMUNE
China's National Computer Network Emergency Response Technical Team Coordination Center said in its latest annual report that nearly 11 million Chinese PCs were infected last year. Of these, 30 percent of the attacks stemmed from U.S. sources.
About 15,000 computers were hit by Trojan Horse malware and 61,000 websites were targeted with backdoor attacks that originated overseas.
Wang Minghua, the center's operation department director, said threats to China's economic information security are rising as the center settled more than 10,000 cases of phishing websites targeting Chinese banks, a 55 percent increase compared with that of 2012.
Safety risks could affect Internet trade platforms and mobile payment applications and relevant industries as well as consumers' privacy, he said.
Government websites also frequently fall victim to hacker attacks, with more than 600 targeted in 2013.
The official site of the People's Bank of China was hacked on Dec. 19 last year after it curbed bitcoin transactions in China, the center said.
Officials said the fundamental reason for China's exposure to the cyber threat is the lack of key technologies, including CPUs, operating systems, databases, high-end servers and telecommunications facilities.
All these core technologies and products have long been monopolized by developed countries, so that the systems of China's government and military departments face severe potential threats of intrusion, said Qiu Shanqin, director in charge of software and integrated circuit sector under the Ministry of Industry and Information Technology.
China's IT market has been dominated by Western giants, including Microsoft, Cisco, IBM, Intel and Apple, while Chinese telecommunications equipment server Huawei has been denied access to the U.S. market for years.
Ironically, while China itself is a victim of cyber crimes, the country has recently come under frequent criticism from other countries, including the United States, which claimed the Chinese government was behind hacking activities targeting their countries.
Cyber attacks from the United States have been as serious as the accusations from Washington, said CNCERT director Huang Chengqing.
China's Ministry of Foreign Affairs and Ministry of National Defense have refuted the accusations, reiterating China's resolve in combating cyber crimes and calling for the international community to fight hacking.
"CYBER ARMY"
President Xi has called for fostering a "politically firm, professionally competent and morally upright" team to build an "Internet power."
Experts say teams must be good at developing key technologies, including CPU and cloud computing, countering online crimes, and international cooperation.
Huai Jinpeng, an academician of the Chinese Academy of Sciences, said talents in the government, the military and critical IT companies must unite to promote research and bolster information sharing.
Inspiring innovation under favorable government policies is the key to casting off China's excessive dependence on overseas equipment and information systems, he said.
China will also make a law on cyber security this year, according to a legislation plan released by the Standing Committee of the National People's Congress, China's top legislature.
The legislative efforts will help coordinate major sectors to better manage information online, protect key infrastructure facilities and clean up cyberspace, Huai said.
Editor: Shen Qing
USA's spy charges are absurd
BEIJING, May 20, 2014 (Xinhua) --
As the most notorious surveillance country, the U.S. indictment of Chinese military officers seems almost insolent in a world still reeling at the scope of the U.S. spy network.
The Chinese military has never engaged in cyber theft of trade secrets, nonetheless, Washington has charged five members of the People's Liberation Army with hacking U.S. companies.
Everyone knows that the U.S. itself is the biggest cyber bully, conducting sweeping surveillance around the world. Documents leaked by former Central Intelligence Agency contractor Edward Snowden detailed the National Security Agency's (NSA) surveillance activities around the globe, from foreign leaders to ordinary citizens.
Intelligence from Snowden showed that about 70 million French phone calls were collected by the NSA from December 2012 to January 2013. More than 120 world leaders have been under U.S. surveillance since 2009.
China is one of Big Brother's victims. The U.S. routinely attacks, infiltrates and taps Chinese networks belonging to governments, institutions, enterprises, universities and major telecom backbone networks.
Latest data from the National Computer Network Emergency Response Technical Team Coordination Center of China showed that 135 host computers in the U.S. carried 563 phishing pages targeting Chinese websites that led to 14,000 phishing operations from March 19 to May 18.
The center found 2,016 IP addresses in the U.S. had implanted backdoors in 1,754 Chinese websites, involving 57,000 backdoor attacks in the same period.
The indictment is based on fabricated facts, grossly violates the basic norms governing international relations and has harmed China-U.S. ties.
In 2013 China sought talks with the U.S. on policing cyber space through a bilateral working group, despite the shadow cast over relations by Snowden's disclosures of U.S. electronic surveillance in China.
The U.S. intentionally jeopardized the trust between the world's two biggest economies and China on Monday announced the suspension of the China-U.S. Cyber Working Group which was scheduled to met in July in Beijing.
The U.S. should clean its own house before pointing fingers at others.
China publishes latest data of U.S. cyber attack
BEIJING, May 19, 2014 (Xinhua) --
A spokesperson for China's State Internet Information Office on Monday published the latest data of U.S. cyber attack, saying that China is a solid defender of cyber security.
The U.S. is the biggest attacker of China's cyber space, the spokesperson said, adding that the U.S. charges of hacking against five Chinese military officers on Monday are "groundless".
Latest data from the National Computer Network Emergency Response Technical Team Coordination Center of China (NCNERTTCC) showed that from March 19 to May 18, a total of 2,077 Trojan horse networks or botnet servers in the U.S. directly controlled 1.18 million host computers in China.
The NCNERTTCC found 135 host computers in the U.S. carrying 563 phishing pages targeting Chinese websites that led to 14,000 phishing operations. In the same period, the center found 2,016 IP addresses in the U.S. had implanted backdoors in 1,754 Chinese websites, involving 57,000 backdoor attacks.
The U.S. attacks, infiltrates and taps Chinese networks belonging to governments, institutions, enterprises, universities and major communication backbone networks. Those activities target Chinese leaders, ordinary citizens and anyone with a mobile phone. In the meantime, the U.S. repeatedly accuses China of spying and hacking.
China has repeatedly asked the U.S. to stop, but it never makes any statement on its wiretaps, nor does it desist, not to mention make apology to the Chinese people.
After the Prism program leaked by Edward Snowden, the United States was accused by the whole world. However, it has never made retrospection, instead, it accuses others.
The spokesperson said the Chinese government opposes any kinds of cyber crimes, and any groundless accusations against the country.
If the United States goes its own way, China will take countermeasures, the spokesperson said.
This site contains copyrighted material the use of which has not always been specifically authorized by the copyright owner. We are making such material available in our efforts to advance understanding of environmental, political, human rights, economic, democracy, scientific, and social justice issues, etc. We believe this constitutes a 'fair use' of any such copyrighted material as provided for in section 107 of the US Copyright Law. In accordance with Title 17 U.S.C. Section 107, the material on this site is distributed without profit to those who have expressed a prior interest in receiving the included information for research and educational purposes. For more information go to: http://www.law.cornell.edu/uscode/17/107.shtml. If you wish to use copyrighted material from this site for purposes of your own that go beyond 'fair use', you must obtain permission from the copyright owner.