Violence Abates in Vietnam, US Warns China for Provocation, Offers Vietnam Naval Ship Visitation


May 17, 2014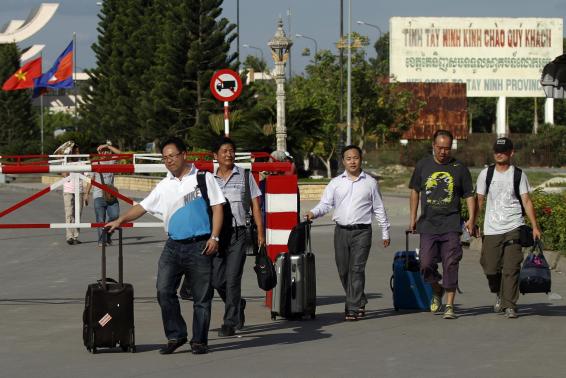 Chinese nationals cross the border to Cambodia from Vietnam, May 15, 2014
Violence abates in Vietnam as U.S. warns China for 'provocation'
By Nguyen Phuong Linh and Matt Spetalnick
HANOI / WASHINGTON, Fri May 16, 2014 1:46pm EDT
(Reuters) - Anti-China violence subsided in Vietnam on Friday after the prime minister called for calm, but the United States said China's "provocative" actions in maritime disputes were dangerous and had to stop.
Thousands of people attacked businesses and factories in Vietnam's industrial parks earlier in the week, targeting Chinese workers and Chinese-owned businesses after Beijing parked an oil rig in a part of the South China Sea claimed by Hanoi. Many Taiwanese-owned firms bore the brunt because the crowds believed they were owned by mainland Chinese.
The riots risk derailing a major driver of the country's economic growth - industrial parks account for more than 30 percent of Vietnam's exports and have attracted around $110 billion in foreign direct investment.
The Vietnamese government has said one person was killed in the rioting on Tuesday and Wednesday night, but a doctor at a hospital near one area of clashes said he had seen 21 dead bodies and that at least 100 people were wounded.
An eyewitness to fighting between Chinese and Vietnamese workers in an industrial zone in the same area said she had seen at least 13 bodies.
There were no reports of fresh violence on Friday.
Vietnamese Prime Minister Nguyen Tan Dung has called on police and state and local authorities to restore order and ensure the safety of people and property in the affected areas.
"Prime Minister asked and called every Vietnam citizen to promote patriotism and protect the fatherland's sacred sovereignty by practical activities following the law," said a text message sent to mobile phone subscribers.
"Don't allow bad people to instigate extremist actions that damage the country's interest and image."
STRAINING TIES
It is the worst breakdown in ties between China and Vietnam since the two Communist neighbors fought a brief but bloody border war in 1979.
In Washington, a senior U.S. official said China's relations with its neighbors were straining ties with the United States, raising questions over how the world's two biggest economies can work together.
"This is raising some fundamental questions for us about China's long-term strategic intentions," the U.S. official told Reuters, speaking on condition of anonymity. He said Beijing's moves appeared to fit a "pattern" of advancing territorial claims through coercion and intimidation.
"China's activities are straining the U.S.-China relationship because it raises questions about our ability to partner together in Asia or even bilaterally."
The Philippines, one of Washington's closest allies in Asia, has said China is reclaiming land on a reef in the oil- and gas-rich South China Sea that both countries claim, and is building what appears to be an airstrip on it. It has offered the United States the use of an underdeveloped naval base on a nearby island to ensure U.S. warships can enter the vicinity.
Vice President Joe Biden and other top U.S. officials told visiting General Fang Fenghui, chief of general staff in China's army, that Beijing's behavior in the maritime disputes was "dangerous and provocative" and must stop, the official said.
OBAMA'S CHALLENGE
"A series of mistaken American statements have emboldened some countries' dangerous and provocative actions," China's foreign ministry spokeswoman Hua Chunying told a regular briefing in Beijing, urging Washington to be more responsible with its words and actions.
The renewed tensions in the South China Sea underscore one of the biggest challenges in Asia facing President Barack Obama, who is under pressure by America's allies to accelerate a "pivot" of military assets to the region to counter China's rising influence.
The crisis has erupted after a week-long visit to Asia by Obama in late April in which he pledged that Washington would live up to its obligation to defend its allies in the region.
China has said Obama's strategic shift toward Asia had encouraged countries such as Vietnam, Japan and the Philippines to make trouble with Beijing. Washington insists its Asia-Pacific re-engagement is not meant to contain China's rise but that Beijing must conduct itself according to international norms.
"We're concerned that China has learned the wrong lessons from Russia and Ukraine and has decided that unilateral assertion is the way to advance China's interests," the U.S. official said.
Russia's annexation of Ukraine's Crimea peninsula - and perceptions of limited U.S. options to get Moscow to back down - have heightened unease in parts of Asia over whether Beijing will be emboldened to use force to pursue its territorial claims in the East and South China Seas.
CAMBODIA CROSSING
Authorities in Cambodia, which borders Vietnam, said about 1,000 Chinese had crossed into the country through the frontier since the violence began earlier in the week.
Foreign Ministry spokesman Le Hai Binh confirmed one death in the clashes, and described media reports and accounts on social networking sites of higher casualties as "groundless".
China's state news agency Xinhua reported that at least two Chinese nationals had died and more than 100 were hospitalized.
The worst violence appears to have taken place in an industrial zone in the central province of Ha Tinh.
Journalists' movements are restricted in tightly controlled Vietnam, where the government maintains an iron grip on law and order, and it was not possible to get independent confirmation of the death toll.
The doctor at the Ha Tinh hospital who had seen 21 dead bodies and the witness who saw the fighting in the industrial zone did not want to be identified by name.
A steel plant being built in the province by Formosa Plastics Group, Taiwan's biggest investor in Vietnam, was set on fire after fighting between Vietnamese and Chinese workers, the company said, prompting Taipei to demand compensation.
(Additional reporting by Nguyen Phuong Linh, Martin Petty and Michael Gold; Writing by Raju Gopalakrishnan; Editing by Paul Tait and Ian Geoghegan)
U.S. navy renews call for ship visits to Vietnam as tensions worsen
By Greg Torode
Hong Kong Thu May 15, 2014 3:48am EDT
(Reuters) -
The U.S. navy renewed calls on Thursday for more ship visits to Vietnam against the backdrop of a dramatic breakdown in relations between Vietnam and its giant neighbor, China.
The Seventh Fleet, which guards U.S. interests in the Pacific, restated its desire for stronger naval ties with Vietnam in a statement sent to Reuters, just as Hanoi looked to be running out of options in its territorial row with Beijing.
Anti-China riots broke out this week in Vietnam, killing more than 20 people and setting fire to factories perceived to have been Chinese-owned, after China towed a giant oil rig into waters claimed by both nations in the South China Sea.
"We are interested in engaging with all our partners in the South China Sea and would welcome increased port visits with Vietnam," fleet spokesman Commander William Marks said in an emailed response to questions about U.S. naval relations with Vietnam.
The United States and Vietnam have been gradually deepening military ties in the face of what they perceive as Chinese expansion in the South China Sea, but Hanoi has so far limited U.S. port calls to one visit of up to three ships each year.
Vietnamese military officials say they are intensifying talks with U.S. counterparts over deeper naval engagement, but are sensitive to China's reaction to this development.
"We're talking to U.S. but it is too early to say how the tensions now will change our approach," one Vietnamese military source said. "We have a lot to consider."
Alarmed at China's military rise and territorial assertiveness, Vietnam has broadened a host of military relationships in recent years, most notably with its Cold War-era patron, Russia, and India.
Vietnamese military officials also keep close ties with the Philippines, which is also locked in a worsening territorial dispute with China in the South China Sea.
China and Vietnam fought a brief but bloody border war in 1979, and clashed at sea in 1988, when China occupied its first holdings in the strategic Spratly islands.
The U.S. navy is also keen for more extensive exercises with Vietnam's expanding navy, which now includes state-of-the-art Russian-built ships and Kilo-class submarines.
A search-and-rescue exercise off Vietnam's central coast last year marked the first time ships from the two navies had maneuvered together.
"Any time we can increase the complexity of an exercise, it improves the communication and interoperability between our navies," Marks said.
"The overall goal is improved security and stability in the region, and working together is a big part of that."
U.S. military officials said the U.S. navy had not changed deployments due to the Sino-Vietnamese crisis but was conducting daily surveillance flights over the South China Sea.
The Seventh Fleet's command ship, the USS Blue Ridge, and a destroyer are also currently in the South China Sea.
Carl Thayer, an expert on the Vietnamese military at the Australian Defence Force Academy in Canberra, said he believed Hanoi should seize any opportunity to expand military engagement with the United States, including intelligence sharing.
"At this point, kissing up to the U.S. has got to be in Vietnam's long-term interests, as well as being a vital tactic in the short-term," he said.
"It is one of the only options Vietnam's got right now."
(Reporting By Greg Torode; Editing by Mark Bendeich)
This site contains copyrighted material the use of which has not always been specifically authorized by the copyright owner. We are making such material available in our efforts to advance understanding of environmental, political, human rights, economic, democracy, scientific, and social justice issues, etc. We believe this constitutes a 'fair use' of any such copyrighted material as provided for in section 107 of the US Copyright Law. In accordance with Title 17 U.S.C. Section 107, the material on this site is distributed without profit to those who have expressed a prior interest in receiving the included information for research and educational purposes. For more information go to: http://www.law.cornell.edu/uscode/17/107.shtml. If you wish to use copyrighted material from this site for purposes of your own that go beyond 'fair use', you must obtain permission from the copyright owner.