201 Turkish Workers Killed in a Coal Mine Explosion in Manisa
May 14, 2014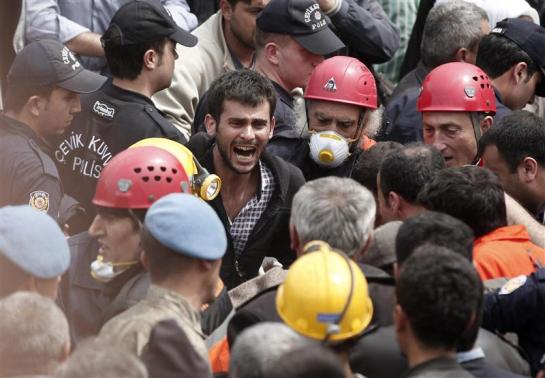 A relative of a miner who was killed or injured in a mine explosion reacts as rescuers work in Soma, a district in Turkey's western province of Manisa May 14, 2014
Turkish mine explosion death toll reaches 201
ISTANBUL, May 14, 2014 (Xinhua) --
The Turkish government announced early Wednesday that so far, 201 miners are known to have lost their lives and at least 80 have been injured in a coal mine explosion and fire in Turkey's western Manisa province on Tuesday.
Energy Minister Taner Yildiz said that 363 miners of the 787 who were working underground have been accounted for, including the deceased and the 80 people rescued with injuries. Four of the injured are in critical condition. Yildiz said the deaths were due to carbon monoxide poisoning.
The explosion and fire occurred in the privately-owned mine in the district of Soma following an electrical fault during a shift changeover. The fire broke out 150 meters underground, Yildiz said.
The trapped workers are thought to be 3.5 km away from the entrance to the mine.
President Abdullah Gul has ordered the Manisa Governor's Office to use all means available to help state officials with the rescue operation.
Prime Minister Recep Tayyip Erdogan, who has canceled a trip to Albania to pay a visit to the province, has offered condolences to the families of those killed.
The latest incident is one of the numerous mining accidents that Turkey has had in recent years. Accidents, cave-ins, and explosions have claimed the lives of dozens of mine workers yearly.
The worst mining tragedy in Turkey occurred in 1992, when a fire and explosion killed 263 people. The second and third worst took place in 1983 and 1990, leaving 103 and 68 dead respectively in methane gas explosions.
Mines and stone quarries are the most dangerous places for Turkish workers. According to data, more than 10 percent of work-related accidents in 2013 were in the mining sector.
Turkey declares 3 days of mourning over mine disaster
ANKARA/ISTANBUL, May 14, 2014 (Xinhua) --
Turkey has declared three days of national mourning for victims of a coal mine explosion on Tuesday that killed at least 205 people and left hundreds more trapped underground, the prime minister's office said Wednesday.
The accident happened in a mine in the western province of Manisa, where a fire broke out following an explosion in a power distribution unit. Most of the victims died of carbon monoxide poisoning, said Minister of Energy Taner Yildiz.
The disaster occurred in the privately-owned mine in the district of Soma during a shift changeover. The fire broke out 150 meters underground, Yildiz said.
He said the accident could become "the worst disaster" in Turkish history, since hundreds more remain trapped underground.
Turkish President Abdullah Gul has cancelled an official visit to China, scheduled for May 15-21, over the disaster. Prime Minister Recep Tayyip Erdogan has also called off a trip to Albania.
Yildiz, the energy minister, said that 363 miners of the 787 who were working underground at the time of accident have been accounted for, including the deceased.
Rescue efforts continued throughout the night, but hopes of finding more survivors are diminishing.
The accident has sparked widespread anger as many denounced poor safety measures, accusing the government and mine companies of "negligence."
Mining accidents kill dozens of miners each year in Turkey.
The last major mining tragedy in Turkey occurred in 1992, when a fire and explosion killed 263 people. Two other mining accidents took place in 1983 and 1990, leaving 103 and 68 dead respectively.
Editor: Tang Danlu
Death toll in Turkish mine blast exceeds 200, many still trapped
By Yesim Dikmen
SOMA, Turkey Wed May 14, 2014, 8:37am EDT
(Reuters) -
Rescuers pulled more dead and injured from a coal mine in western Turkey on Wednesday more than 19 hours after an explosion, bringing the death toll to 205 in what could become the nation's worst ever mining disaster.
Hundreds more were still believed to be trapped in the mine in Soma, about 480 kilometers (298 miles) southwest of Istanbul. The explosion, which triggered a fire, occurred shortly after 3 pm (1200 GMT) on Tuesday.
"We are heading towards this accident likely being the deadliest ever in Turkey," Energy Minister Taner Yildiz told reporters at the scene.
Prime Minister Tayyip Erdogan declared three days of national mourning.
The disaster highlighted Turkey's poor record on worker safety and drew renewed opposition calls for an inquiry into a drop in safety standards at previously state-run mines. The International Labour Organization ranked the EU candidate nation third worst in the world for worker deaths in 2012.
Yildiz said the fire was still burning underground, which miners said was hampering the rescue operation and denting hopes of finding more survivors. A pall of smoke hung above the area.
The blast happened during a shift change, leading to uncertainty over the exact numbers of miners trapped inside. Yildiz earlier said 787 workers were in the mine at the time and that the death toll may rise further.
"I have to say that our hopes are dimming in terms of the rescue efforts," he said.
Rescue workers pumped oxygen into the mine to try to keep those trapped by the blaze alive, as thousands of family members and co-workers gathered outside the town's hospital. Many of the dead had suffered carbon monoxide poisoning, Yildiz said.
Some 93 people were rescued, including several rescuers, and 85 of them were being treated for their injuries, the Disaster and Emergency Management Presidency said in an email.
One relative told broadcaster CNN Turk that his 15-year-old nephew was among workers still trapped inside the shaft.
PROTESTS
A cold storage warehouse, usually used for food, and freezer trucks served as makeshift morgues as hospital facilities overflowed. Medical staff intermittently emerged from the hospital to read the names of survivors being treated inside, with families and fellow workers clamoring for information.
Teams of psychiatrists were being pulled together to help counsel the families of victims. Paramilitary police guarded the entrance to the mine to keep distressed relatives at a safe distance from the rescue effort.
There were calls on social media for protests in front of the Istanbul headquarters of Soma Komur Isletmeleri, the operator of the mine. The company said in a brief statement late on Tuesday that there had been "a grave accident" caused by an explosion in a substation but gave few other details.
Erdogan cancelled a visit to Albania, scheduled for Wednesday, and is instead going to the site of the disaster, his office said. President Abdullah Gul also cancelled a trip to China scheduled for Thursday in order to travel to Soma.
At Istanbul's Taksim Square, two left-wing opposition newspaper vendors read out headlines to silent morning commuters. "Turkey is a graveyard for workers", and "This wasn't an accident, this was negligence."
POOR RECORD
Turkey's rapid growth over the past decade has seen a construction boom and a scramble to meet soaring energy demands, with worker safety standards often failing to keep pace.
Its safety record in coal mining has been poor for decades, with its deadliest accident to date in 1992, when a gas blast killed 263 workers in the Black Sea province of Zonguldak.
The Labour Ministry said late on Tuesday its officials had carried out regular inspections at the Soma mine, most recently in March, and that no irregularities had been detected.
But Hursit Gunes, a deputy from the main opposition Republican People's Party, said a previous request for a parliamentary inquiry into safety and working conditions at mines around Soma had been rejected by the ruling AK Party.
"I'm going to renew that parliamentary investigation demand today. If (the government) has been warned about this and they did nothing, then people will be angry, naturally. The opposition warned them. But there's unbelievable lethargy on this issue," Gunes told Reuters.
The ILO in 2012 said Turkey had the highest rate of worker deaths in Europe and the world's third-highest. In the mining sector, 61 people died in 2012, according to the ILO's latest statistics. Between 2002 and 2012, the death toll at Turkish mines totaled more than 1,000.
(Additional reporting by Humeyra Pamuk, Ayla Jean Yackley, Dasha Afanasieva and Nevzat Devranoglu in Istanbul; Gulsen Solaker and Jonny Hogg in Ankara, Writing by Nick Tattersall; Editing by Gareth Jones and Will Waterman)
This site contains copyrighted material the use of which has not always been specifically authorized by the copyright owner. We are making such material available in our efforts to advance understanding of environmental, political, human rights, economic, democracy, scientific, and social justice issues, etc. We believe this constitutes a 'fair use' of any such copyrighted material as provided for in section 107 of the US Copyright Law. In accordance with Title 17 U.S.C. Section 107, the material on this site is distributed without profit to those who have expressed a prior interest in receiving the included information for research and educational purposes. For more information go to: http://www.law.cornell.edu/uscode/17/107.shtml. If you wish to use copyrighted material from this site for purposes of your own that go beyond 'fair use', you must obtain permission from the copyright owner.