Israeli Ethnic Cleansing of Palestinians from Jerusalem Intensifies Together With More Violations of Human Rights
Mach 28, 2014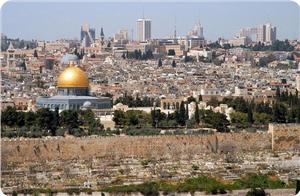 AOHR: What is happening in J'lem is ethnic cleansing
[ 27/03/2014 - 10:42 AM ]
LONDON, (PIC)--
The Arab organization for human rights (AOHR) in London called on the world's decision-makers to take action against the Israeli dangers and violations threatening the occupied city of Jerusalem and its holy sites, especially the Aqsa Mosque.
The Arab organization stated that the international silence encouraged Israel to persist in committing war crimes in Jerusalem and using all its legislative, security, military and executive tools to Judaize the holy city.
"Every day, Israeli issues tenders for the construction of settlement units and works on appropriating Palestinian homes and withdrawing IDs as part of an ethnic cleansing process that has never been seen in history," AOHR added.
During the current month of March, for example, Israel demolished four Jerusalemite homes and one store, forced Palestinians to knock down three of their homes at the pretext of unlicensed construction and threatened to destroy 13 others in the neighborhoods of Thawri and Silwan, according to the organization.
The month also saw new Israeli plans to build 2,250 housing units in seven settlements in occupied Jerusalem as well as a Jewish neighborhood on Palestinian annexed lands in Beit Hanina town, a religious school and a Jewish museum.
"The official settlement expansion in Jerusalem city goes on together with restrictions on the Arab neighborhoods, where the Palestinians are prevented from building new housing units, despite the urgent need for them, and from renovating ramshackle buildings."
"This policy has created a serious impact on the educational situation, where there are more than 15,000 [Palestinian] children deprived every year of regular school attendance as result of overcrowding and lack of adequate classrooms," the organization explained further.
AOHR pointed out that such violations are also practiced against the Palestinian Islamic and Christian holy sites, especially the Aqsa Mosque, where Israel continues digging tunnels under and around its foundations, prevents Muslims from entering it and physically assault them during daily raids in its courtyards.
It warned that Israel's escalating violations against the Palestinian natives of Jerusalem and the Aqsa Mosque do not only portend the explosion of the fragile situation in the city but also threaten the international peace and security.
Daghlas: Jewish settlers chopped down 5700 olive trees since beginning of 2014
[ 27/03/2014 - 11:14 AM ]
NABLUS, (PIC)--
Jewish settlers chopped down more than 50 olive trees in Hawara village, south of Nablus, on Thursday morning bringing the number of trees destroyed by them since the beginning of 2014 to 5,700.
Ghassan Daghlas, in charge of monitoring settlement activity north of the West Bank, said that the settlers came from Yitzhar settlement and cut down big olive trees in the village.
He said that the 50 trees belonged to two citizens and were located to the north of Hawara village.
Daghlass said that Jewish settlers chopped down more than 5,700 olive trees in the West Bank since the start of 2014.
Israel refuses to release last batch of Palestinian prisoners
[ 28/03/2014 - 01:44 PM ]
GAZA, (PIC)--
The Israeli government on Friday informed the Palestinian Authority it will not free the final batch of prisoners scheduled to be released on Saturday, senior Palestinian official Jibril Rajoub stated.
Rajoub told AFP: "The Israeli government has informed us through the American mediator that it will not abide with its commitment to release the fourth batch of Palestinian prisoners scheduled for tomorrow, Saturday 29".
He called the Israeli move a "slap in the face of the US administration and its efforts," and said the Palestinians would resume their international diplomatic offensive.
Under the deal which re-launched the talks in July, Israel said it would release 104 Palestinians held since before the 1993 Oslo peace accords. Israel has so far freed 78 prisoners in three batches but cabinet members said they will not release the final batch which includes 26 captives.
Gaza: The Israeli army makes lies to justify its attacks on fishermen
[ 28/03/2014 - 12:11 PM ]
GAZA, (PIC)--
The union of Palestinian fishermen strongly denounced the Israeli occupation army for fabricating lies against Gazan fishermen to justify its attacks on them at sea.
Union chief Nazar Ayyash stated that the Israeli army's claims that its naval forces had opened fire at Palestinian fishermen off the coast of Rafah area as they were trying to smuggle weapons from Egypt into Gaza are untrue and cannot be believed by any reasonable man.
"The occupation has pursued a new policy of dealing with Palestinian fishermen and justifying its attacks on them through fabricating unfounded accusations and using the policy of misinformation and deceiving the international public opinion," Ayyash stated.
"The union of fishermen confirms that the boat was carrying two fishermen practicing their daily fishing job and seeking to provide for their families off the coast of Rafah province when they were surprised by heavy gunfire and projectile attacks by the Israeli naval forces, which led to the burning and destruction of the boast, caused their injury," the union chief explained.
This site contains copyrighted material the use of which has not always been specifically authorized by the copyright owner. We are making such material available in our efforts to advance understanding of environmental, political, human rights, economic, democracy, scientific, and social justice issues, etc. We believe this constitutes a 'fair use' of any such copyrighted material as provided for in section 107 of the US Copyright Law. In accordance with Title 17 U.S.C. Section 107, the material on this site is distributed without profit to those who have expressed a prior interest in receiving the included information for research and educational purposes. For more information go to: http://www.law.cornell.edu/uscode/17/107.shtml. If you wish to use copyrighted material from this site for purposes of your own that go beyond 'fair use', you must obtain permission from the copyright owner.