Putin Signs Into Law Crimea Accession, Tones Down Retaliations Against United States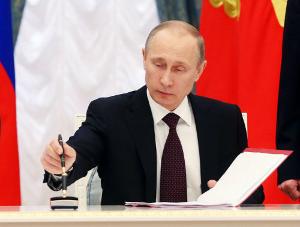 Putin signs into law Crimea accession, tones down retaliations against U.S.
English.news.cn 2014-03-22 00:11:19
MOSCOW, March 21, 2014 (Xinhua) --
Russian President Vladimir Putin on Friday signed into law legislation on the accession of Crimea while toning down possible retaliatory measures against the U.S. sanctions on Russia.
Putin signed the law after both houses of the parliament unanimously approved it.
"I signed several decrees today, including the decree on the formation of one more federal district, the Crimean federal district," Putin said following the ceremony on signing the decree on the accession.
"We have a lot of work ahead on Crimea's adaptation and on its joining Russia's legal system, the Russian economy and the social sphere," Putin added.
According to a treaty approved by the Federation Council, or the upper house of the parliament, the accession was based on "free and voluntary expression of will" of the Crimean people at an all-Crimea referendum held on March 16, during which the Crimean people decided to reunite with Russia.
Russia guarantees the Crimean people's right to preserve their native language and pledges to create conditions for the native language studies. Russian, Ukrainian and Crimean Tatar become state languages of Crimea.
Following the signing ceremony, Putin appointed Oleg Vladimirovich Bulavintsev as presidential envoy in Crimea, urging both houses of the Russian parliament to facilitate the accession of Crimea and Sevastopol to Russia.
"I request deputies of both houses to actively engage in this work and do everything that depends on you to make this process not only seamless, but also beneficial for all Russia and for Crimean residents," he said.
During a separate meeting with members of the Security Council, Putin said Russia was not going to hastily adopt sanctions against the United States or introduce visa restriction with Ukraine.
"In case we introduce visa regime with Ukraine, millions of innocent Ukrainians will suffer. We don't need to do that," Putin noted.
Speaking about current situation in Crimea, Putin demanded that Ukrainian state and military symbols in the peninsula be respected.
The president ordered Defense Minister Sergei Shoigu to take care of these symbols and the Ukrainian servicemen who would opt to stay faithful to Kiev authorities.
According to Shoigu, 72 units of Ukraine's armed forces in Crimea have voluntarily raised Russian flags on Thursday.
During the same meeting, Putin decided to transfer his salary to the Rossija (Russia) bank, which fell under U.S. sanctions because two of its shareholders appeared in Washington's blacklist.
"I'm going to open there my personal account on Monday and I've ordered that my salary will be deposited there," Interfax news agency quoted Putin as saying.
He noted that the bank and its clients had nothing to do with the events in Ukraine and ordered the Central Bank to support Rossija, "especially because it bears such a nice name."
Later in the day, Russian Foreign Ministry showed a tougher position, with its spokesperson Alexander Lukashevich warning that the country would adopt tit-for-tat measures against the U.S. sanctions.
"Washington should have no illusions: the sanctions' effectiveness from the viewpoint of American interests is equal to zero. But the irresponsible actions will inevitably harm Russian-American relations," he said.
"We are certain to respond toughly as already happened on more than one occasion earlier with respect to previous sanctions," the diplomat added.
Shots fired as Russian troops force their way into Ukrainian base in Crimea
BELBEK AIRBASE, Crimea
Sat Mar 22, 2014 12:52pm EDT
(Reuters) -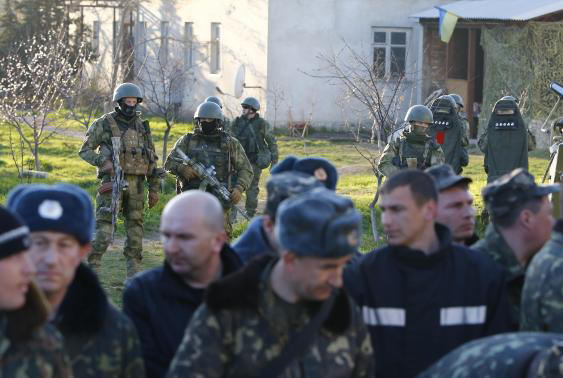 Russian troops forced their way into a Ukrainian airbase in Crimea with armored vehicles, automatic fire and stun grenades on Saturday, injuring a Ukrainian serviceman and detaining the base's commander for talks.
A Reuters reporter said armored vehicles smashed through one of walls of the compound and that he heard bursts of gunfire and grenades.
Colonel Yuliy Mamchur, the commander of the base, said a Ukrainian serviceman had been injured and that he himself he was being taken away by the Russians for talks at an unspecified location.
Asked if he thought he would return safely, he said: "That remains to be seen. For now we are placing all our weapons in the base's storage."
Belbek was one of the last military facilities in Crimea still under Ukrainian control following Russia's armed takeover and subsequent annexation of the peninsula, which has a majority ethnic Russian population and is home to one of Russia's biggest naval bases.
Earlier, the deputy commander of the base, Oleg Podovalov, said the Russian forces surrounding the base had given the Ukrainians an hour to surrender.
After the Russians entered, a Ukrainian officer who identified himself only as Vladislav said: "We did not provoke this, this was brute force. I do not know whether this base will be formally in Russian hands by the end of the day.
"Ever since World War Two, this place has been quiet, and they came in here firing, with APCs and grenades. I am very worried now."
Mamchur, the commander, told his troops he would inform the high command that they had stood their ground. The soldiers applauded, chanting "Long live Ukraine!"
Many stood to take pictures of each other in front of the Ukrainian flag, which continued to fly over the base.
The Russian takeover of Crimea has been largely bloodless, though one Ukrainian serviceman was killed and two others wounded in a shooting in Simferopol earlier this week.
Ukraine's Defence Ministry said on Friday that Crimea's bases were still formally under Ukrainian control, but most are now occupied by Russian troops and fly Russia's tricolor flag.
(Reporting by Aleksandar Vasovic, Gabriela Baczynska and Alessandra Prentice; Writing by Kevin Liffey Editing by Jeremy Gaunt)
This site contains copyrighted material the use of which has not always been specifically authorized by the copyright owner. We are making such material available in our efforts to advance understanding of environmental, political, human rights, economic, democracy, scientific, and social justice issues, etc. We believe this constitutes a 'fair use' of any such copyrighted material as provided for in section 107 of the US Copyright Law. In accordance with Title 17 U.S.C. Section 107, the material on this site is distributed without profit to those who have expressed a prior interest in receiving the included information for research and educational purposes. For more information go to: http://www.law.cornell.edu/uscode/17/107.shtml. If you wish to use copyrighted material from this site for purposes of your own that go beyond 'fair use', you must obtain permission from the copyright owner.