One-Day Mass Trial of 545 Egyptian Members of Muslim Brotherhood, Judge Gives Lawyers 24 Hours to Submit their Written Defense
March 22, 2014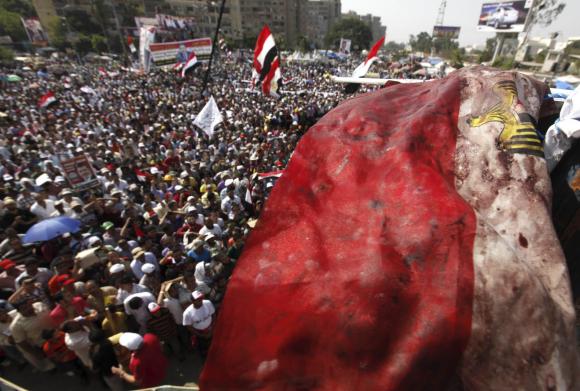 Blood-stained Egyptian flag in Rabi'a Al-Adawiya Square, Cairo, July 8, 2013
Egyptian judge cuts short mass Islamist trial over 'disruptive' lawyers: source
CAIRO Sat Mar 22, 2014 12:13pm EDT
(Reuters) -
A mass trial of members of the outlawed Muslim Brotherhood began in Egypt on Saturday, but proceedings were abruptly cut short by the judge who said defense lawyers were being disruptive and "discussing politics", a judicial source told Reuters.
Judge Saeed Youssef Mohamed would announce his ruling on Monday and requested the lawyers of the 545 defendants to submit their written defense within 24 hours, the source said, declining to be identified.
The charges against the group, on trial in the province of Southern Minya, include storming a police station, attacking persons and damaging public and private property.
Only 123 of the defendants were present, the rest being either released, out on bail or on the run. Most were arrested during clashes which erupted in Minya after the forced dispersal of two Muslim Brotherhood protest camps in Cairo on August 14.
Tarek Fouda, head of the lawyer's syndicate in Minya said that the presiding judge had "veered away from all legal norms and that he breached the rights of the defense".
Fouda said he would submit a report on what had occurred at Saturday's hearing to Egypt's Justice Minister.
Hundreds died when security forces cleared the Cairo camps, where protesters had been calling for the reinstatement of former President Mohamed Mursi, ousted by the army in July. The events sparked violent protests all over Egypt.
Shortly after the army takeover, the authorities labeled the Muslim Brotherhood a "terrorist" organization and thousands of its members have since been arrested.
Their trials have become an almost daily occurrence in Egypt, in groups of varying sizes. Mass trials are unusual, although this is the first of two scheduled in one week.
Muslim Brotherhood leader Mohamed Badie, in just one of several cases against him, will stand trial with 682 others on Tuesday, accused of incitement to kill.
The army, prompted by mass protests, overthrew Mursi after only one year in office. Army chief, Field Marshal Abdel Fattah el-Sisi announced a political roadmap that should lead to democratic transition.
Sisi is widely expected to run and win presidential elections that are due to take place this year.
(Reporting by Asma Alsharif; Additional reporting by Mahmoud Mourad; Editing by Raissa Kasolowsky)
This site contains copyrighted material the use of which has not always been specifically authorized by the copyright owner. We are making such material available in our efforts to advance understanding of environmental, political, human rights, economic, democracy, scientific, and social justice issues, etc. We believe this constitutes a 'fair use' of any such copyrighted material as provided for in section 107 of the US Copyright Law. In accordance with Title 17 U.S.C. Section 107, the material on this site is distributed without profit to those who have expressed a prior interest in receiving the included information for research and educational purposes. For more information go to: http://www.law.cornell.edu/uscode/17/107.shtml. If you wish to use copyrighted material from this site for purposes of your own that go beyond 'fair use', you must obtain permission from the copyright owner.