57 Iraqis Killed, Scores Injured in Attacks


March 21-22, 2014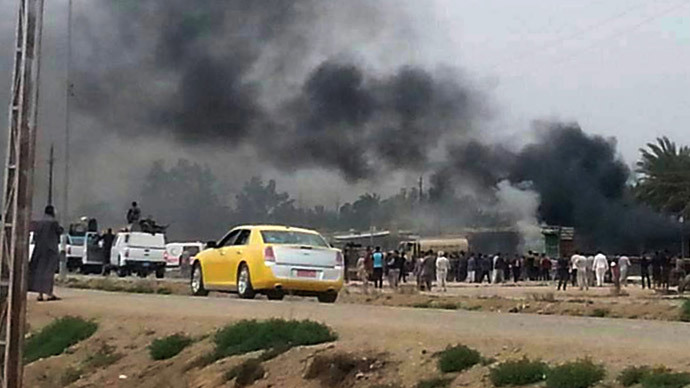 Double bombing hits Iraq after Friday wave of attacks claimed 50 lives
Russia TV, March 22, 2014 12:47
At least seven people have been killed in a double bombing in Iraq on Saturday, after the bloodshed on the previous day took the lives of at least 50 people in a string of attacks, making it one of the deadliest since the beginning of the year.
At least five policemen and two civilians have been killed and 18 people injured in a double bombing in the northern Iraqi city of Tikrit. A roadside bomb exploded in a commercial street, while a few minutes later a car bomb struck policemen who arrived to inspect the first blast.
The attacks come after the deadly Friday events, in which the crisis-torn country was hit by multiple terror attacks.
In the first suicide attack on Friday, an unidentified gunman rammed an explosives-laden tanker into police HQ in the village of Injana, in Diyala province in north-eastern Iraq, 120 km north of Baghdad. According to Al Jazeera, twelve people were killed - including the battalion commander, Brigadier Ragheb al-Omari and his assistant, and dozens were injured.
The second attack happened a few hours later. A suicide bomber set off his explosive belt in the mosque among mourners in Ramadi, the capital and largest city of Anbar Province in central Iraq. At least ten mourners were killed in this attack and 27 wounded, reported the Associated Press.
The mourners had gathered for the funeral of Nasir al-Alawan, a leader in the anti-Al-Qaeda Sunni militia known also as Sahwa, who was killed in a roadside bombing a day earlier.
The Sahwa militia or the Sons of Iraq is a movement backed by the US government, aimed to maintain security in the Iraqi communities fight against the Al-Qaeda forces and other Sunni insurgents and patrol neighborhoods. The members of the organization have become frequent targets for Sunni insurgents who consider them traitors.
The number of victims was reported by medics and Iraqi officials who spoke on condition of anonymity, as they were not authorized to talk to the media.
A further nine people were killed and 25 injured in back-to-back car bombings in a public market in the town of Dibis in Kirkuk Province in northern Iraq, said Al Jazeera.
Gunmen also peppered an army checkpoint with bullets near the city of Samarra, a large city in Saladin Province to the north of Baghdad, killing at least two soldiers. The unknown gunmen also kidnapped nine soldiers before leaving the area, according to local police. A curfew has been introduced in the city since the violence broke out.
The next hotpoint was in the Sarha region of Saladin Province where clashes broke out between anti-government fighters and police leading to waves of blasts, including one at the local army base. Twelve people were killed and 13 injured in these explosions.
Sarha is located near the town of Sulaiman Pek, which has been repeatedly targeted over the past year by militants. The militants occupied the town in February, killing at least 21 people.
A roadside bomb detonated amid the military convoy of the commander of the army's Fifth Brigade in the major industrial city of Baiji, Saladin Province, 240 km north of Baghdad, killing five officers and wounding seven more.
The attacks might be a response to upcoming campaigns for parliamentary elections scheduled for April 30.
No terrorist groups have immediately claimed responsibility for the recent attacks. However, the violence resembles multiple Al-Qaeda attacks on the Iraqi population. Al-Qaeda-linked militants frequently target Shiite dominated areas and security personnel, as the insurgents are aiming to destabilize the Shiite-led government.
Sectarian violence has spiked since April 2013, with the numbers of dead jumping to its highest levels since the worst of the country's sectarian bloodshed in 2006-2008. According to UN statistics, nearly 8,868 people were killed in 2013, and over 1,400 people died in January and February of 2014.
24 Iraqis Killed, 53 Wounded in Separate Violent Attacks
March 22, 2014
English.news.cn 2014-03-22 22:35:03
BAGHDAD, March 22, 2014 (Xinhua) --
Twenty-four people were killed and 53 others wounded in separate violent attacks in central Iraq on Saturday, police said.
In Iraq's northern central province of Salahudin, a roadside bomb went off at a thoroughfare in the provincial capital city of Tikrit, and minutes later a car bomb explosion struck a police force which arrived at the site of the first blast, a provincial police source said.
The two blasts killed a total of five people and wounded 22 others, the source said, adding that three policemen were among the killed and several others were among the wounded.
The attackers apparently followed the old tactic which depends on creating an initial explosion to attract security forces and people, then they set off another blast to get heavier casualties, he said.
Also in Tikrit, a police officer and his son were killed when a sticky bomb attached to their car detonated in the northern part of the city, which located some 170 km north of the Iraqi capital of Baghdad, the source added.
In Baghdad, Mohammed Bdiewi, a journalist heading Free Iraq Radio station, was shot dead in Baghdad's central district of Karrada after he had a dispute with an officer and soldiers guarding a presidential site belonging to Iraq's Kurdish President Jalal Talabani, a police source said.
Bdiewi, also a teacher of the media college at Baghdad's Mustansriyah University, was heading to his office when the incident occurred, the source said.
Iraqi Prime Minister Nuri al-Maliki ordered to arrest the officer who believed to shoot Bdiewi dead, local media reported.
In a statement, the Iraqi Journalists' Syndicate condemned the incident and said "this disgraceful act which was perpetrated against an Iraqi journalist by the checkpoint indicates lack of respect toward journalists as well as for all citizens."
Earlier, Muaiyad al-Lami, head of the Iraqi Journalists Syndicate, said that more than 390 journalists have been killed in Iraq since 2003, and up to 17 were killed in 2013, the highest toll since 2008.
In a separate incident, an army force clashed with militants believed to be linked to al-Qaida organization in Abu Ghraib area, some 25 km west of Baghdad, and killed seven of them at their safe house in the area, a local police source said.
In Baghdad's southern suburb of Hour Rijab, a roadside bomb went off near a checkpoint manned jointly by Iraqi soldiers and members of a government-backed Sahwa paramilitary group, killing a Sahwa member and wounding four soldiers, the source said.
Separately, a police officer and five civilians were wounded in two roadside bomb attacks in eastern and northern parts of the capital, the source added.
In Iraq's eastern province of Diyala, a suicide bomber drove his explosive-laden car into a checkpoint near Udhiem area, some 70 km north of the provincial capital city of Baquba, which is about 65 km northeast of Baghdad, a provincial police source said.
The huge blast killed a soldier and two policemen and wounded 17 people, including four policemen, the source said, adding that two military vehicles and four civilian cars were left charred at the scene.
In a separate incident, Iraqi security forces carried out an operation at Himreen mountain in the northeastern part of Diyala, and killed three gunmen said to be linked to al-Qaida militants, the source said.
Meanwhile, a helicopter gunship pounded a truck carrying heavy machinegun in Enjanah area near the town of Qara Tabba, some 175 km northeast of Baghdad, destroying the truck and killing two gunmen aboard, the source said, adding that four people were wounded in the same area when gunmen opened fire on a civilian car.
Editor: yan
This site contains copyrighted material the use of which has not always been specifically authorized by the copyright owner. We are making such material available in our efforts to advance understanding of environmental, political, human rights, economic, democracy, scientific, and social justice issues, etc. We believe this constitutes a 'fair use' of any such copyrighted material as provided for in section 107 of the US Copyright Law. In accordance with Title 17 U.S.C. Section 107, the material on this site is distributed without profit to those who have expressed a prior interest in receiving the included information for research and educational purposes. For more information go to: http://www.law.cornell.edu/uscode/17/107.shtml. If you wish to use copyrighted material from this site for purposes of your own that go beyond 'fair use', you must obtain permission from the copyright owner.