3 Palestinians Killed, Scores Injured by Israeli Occupation Soldiers, in Jenin and Other Palestinian Cities
March 22, 2014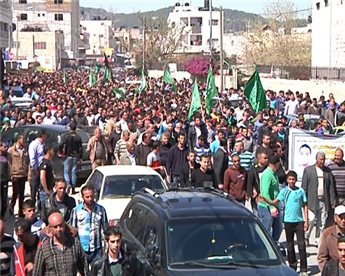 Thousands Lay Jenin Men to Rest
Saturday March 22, 2014 18:36 by Chris Carlson - 1 of International Middle East Media Center Editorial Group
Over 10,000 Palestinian mourners, on Saturday, marched behind the coffins of three militants who were shot dead by Israeli forces overnight, in Jenin refugee camp.

Palestinians marched from Jenin's public hospital to its largest mosque, carrying the bodies of Hamza Abu al-Haija, 22, Mahmoud Abu Zeina, 17, and 22-year-old Yazan Mahmoud Basim Jabarin.

After performing the funeral prayer, the mourners marched to Jenin camp's cemetery led by officials of the PLO, the Palestinian Authority, Fatah, Hamas, and Islamic Jihad, Ma'an reports.

During the procession, mourners shouted slogans urging Palestinian militants to take revenge and calling on the PA to immediately end peace negotiations with Israel and focus instead on reconciliation between Fatah and Hamas.

Masked Palestinian gunmen at the front of the crowd of thousands fired gunshots in the air, expressing rage and readiness to retaliate against the Israeli army.

In a joint statement, Hamas' military wing al-Qassam Brigades, Fatah's al-Aqsa Martyrs' Brigades, and Islamic Jihad's al-Quds Brigades threatened a "painful" retaliation against Israel. The statement also accused the Palestinian Authority of complicity in the killings.

A spokesman for Palestinian president Mahmoud Abbas denounced the killings, describing them as part of "systematic Israeli policy aimed at destroying everything."

Nabil Abu Rdeina said that Israel escalated its "attacks against citizens." He urged the US administration to take action before peace talks collapsed.

Abu al-Haija, Abu Zeina, and Jabarin were killed in clashes with Israeli soldiers who raided Jenin camp overnight.
Israeli Troops Invade Jenin Refugee Camp, Kill 3 Palestinian Fighters, Wounding 7 with Live Fire
Saturday March 22, 2014 11:30 by Saed Bannoura - IMEMC News
A large contingent of Israeli troops invaded Jenin refugee camp in a pre-dawn raid, on Saturday, surrounding a house with the apparent intention of abducting an inhabitant of the house. The soldiers, however, initiated the fire and, when inhabitants of the house returned fire, shot dozens of rounds into the house, killing 3 fighters and wounding 7 others.

Medical sources in Jenin identified the men who were killed as Hamza Abu al-Haija, 22, Mahmoud Abu Zeina, 17, and Yazan Mahmoud Basim Jabarin, 23. No Israeli troops were injured during the assault on the camp.

The injured men were identified as Mahmoud Kamil Abu Hashish, Rafat Said Ali Uweis, Muamin Abdullah Isam Nashrati, Hussein Abu Tabeikh and Qasam Mahmoud Jabarin.

Jenin refugee camp is located on the outskirts of the city of Jenin, in the northern part of the West Bank. The camp became a center of Palestinian resistance, in the West Bank, following a 2001 Israeli invasion in which hundreds of civilians were killed and a large portion of the camp was leveled with bulldozers.

In Saturday's invasion, local sources report that the Israeli troops, along with members of the Israeli Shin Bet Secret Service, moved into the camp in an attempt to either abduct or assassinate Abu al-Haija. The 22-year-old was identified by the Israelis as being a leader in the armed wing of the Hamas party, of the al-Qassam Brigades.

The other two men killed represented the other main armed resistance groups in Palestine: 17-year old Abu Zeina was affiliated with the Islamic Jihad's armed wing, the al-Quds Brigades, and the 23-year old Jabarin was identified as a member of the al-Aqsa Martyrs Brigades, the armed wing of the Fatah movement.

The Israeli military had placed Abu Zeina on a 'wanted' list, accusing him of trying to plan attacks against Israelis.

No charges were ever filed against Abu Zeina. He had received no warning of the impending assault that would end up taking his life.

The Israeli policy of extra-judicial assassination of people suspected of criminal or resistance activity has been condemned by international law and the United Nations, but Israeli troops continue to carry out such executions with impunity.
3 Palestinians killed in clash with IOF soldiers, 20 injured
[ 22/03/2014 - 07:23 AM ]
JENIN, (PIC)--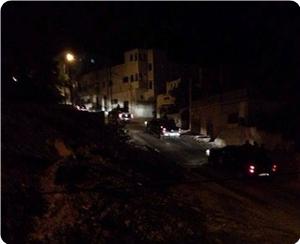 Three Palestinians were killed and 20 others were injured in pre-dawn clashes Saturday with Israeli occupation forces (IOF) in Jenin refugee camp.
Hamza Abul Haija, 22, of the Qassam Brigades the armed wing of Hamas was killed in the shoot-out along with Mahmoud Jabarin and Mahmoud Abu Zeina, local sources said.
They said that the IOF soldiers encircled a house in which Hamza was entrenched along with other fighters and asked him to surrender but he refused and exchanged fired with the soldiers.
The sources said that casualties were suffered in lines of the soldiers while the Hebrew radio said that only two Yamam squad members were slightly injured.
They said that the IOF soldiers threatened to blow up the house and bulldozed part of it before retreating from the refugee camp after killing the three fighters.
The sources pointed out that angry inhabitants attacked the soldiers with firebombs and stones in an attempt to break the siege on the house, adding that more than 20 citizens were injured in the ensuing clashes some of them in serious condition.
Hamza was wanted for both the IOF and the Palestinian Authority's security apparatuses. His mother has been in hospital for the past few days while his father and two brothers are held in Israeli prisons.
Two Palestinians wounded in IOF shooting in northern Gaza
[ 21/03/2014 - 04:25 PM ]
GAZA, (PIC)--
Two Palestinian citizens were wounded afternoon Friday in Israeli army shooting to the north of the Gaza Strip.
Dr. Ashraf Al-Qudra, the health ministry spokesman, told the PIC reporter that the two young men were hit with bullets in their limbs.
He said that both young men were taken to Kamal Odwan hospital where their condition was described as moderate.
Israeli occupation forces opened fire at a demonstration to the east f Jabaliya, north of the Strip, that was protesting the buffer zone imposed by the IOF on Gaza residents near the border fence, which prevented farmers from tending to their farmlands.
7 Palestinians injured during clashes in Silwad
[ 22/03/2014 - 08:52 AM ]
RAMALLAH, (PIC)--
Seven Palestinians were injured with live bullets on Friday in clashes that erupted between dozens of youths and Israeli occupation forces (IOF) in Silwad town east of Ramallah. They were transferred to Ramallah hospital.
An Israeli soldier was struck in the face by a stone during the clashes and was transferred to a military base near the town before being moved in an ambulance to unknown destination, eyewitnesses told the PIC reporter.
Israeli snipers opened fire at Palestinian youths who responded by re-throwing Israeli tear gas bombs at them. At least one sniper suffered from suffocation as a result.
The clashes broke out between IOF soldiers and Palestinian youths who were protesting Israeli continued and escalated violations in Al-Aqsa Mosque.
Meanwhile, one Palestinian minor was injured when Israeli soldiers suppressed a Palestinian demonstration in Bilin and Ma'asara villages in protest against Israeli settlement construction and the apartheid wall. Dozens of breathing problems were reported among the protesters after inhaling tear gas.
Local sources said that IOF soldiers fired rubber-coated metal bullets, stun grenades and tear gas bombs at the protesters.
Israeli and foreign peace activists have participated in the protest that was organized by the Popular Committee against the Wall in Bil'in.
The participants raised Palestinian flags and chanted slogans calling for national unity and liberation of all Palestinian detainees and lands.
Violent confrontation between IOF soldiers and Palestinians south of Al-Khalil
[ 22/03/2014 - 02:48 PM ]
AL-KHALIL, (PIC)--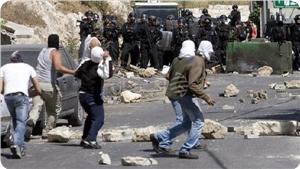 Violent confrontations erupted between Israeli occupation forces (IOF) and Palestinian citizens south of Al-Khalil on Monday night.
Eyewitnesses told the PIC reporter that dozens of young men gathered near the racist, separation well to the west of Deir Al-Asal village, south of Al-Khalil, to protest the IOF killing of the boy Yousef Shawamre.
Violent clashes ensued in which IOF soldiers fired metal bullets and teargas canisters leading to breathing difficulty among many youngsters.
Another confrontation between IOF soldiers and Palestinian citizens was reported in Tabaka village, also south of Al-Khalil, after the soldiers stormed the entrance to the village triggering clashes with inhabitants.
In another development IOF soldiers closed the main road leading to the hamlets to the west of Dura town at the pretext of providing security for Jewish settlers in the region.
IOF sets fire to a Palestinian home in Aida refugee camp
[ 22/03/2014 - 11:24 AM ]
BETHLEHEM, (PIC)--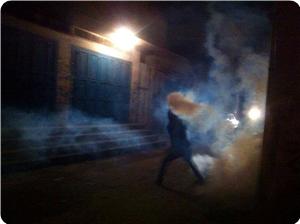 Palestinian civil defense crews have managed Friday night to extinguish the fire that started in a Palestinian home and to rescue five citizens after Israeli occupation forces fired a large barrage of tear gas bombs at Palestinian homes in Aida refugee camp in Bethlehem.
IOF soldiers stormed the camp on Friday evening and started to shoot rubber bullets and tear gas bombs randomly in the camp, which led to the outbreak of clashes with Palestinian youths, eyewitnesses said.
Two stories of Ayed Abu Aker's four-story house were burned down due to the intensive fire of gas bombs, five members of the family suffered breathing problems after inhaling the tear gas and were transferred to the hospital.
Eyewitnesses said a large force of the Israeli army amassed at the entrance to the camp, and specifically in the vicinity of Bilal bin Rabah mosque, and stormed the entrance to the camp with a large number of military vehicles.
This site contains copyrighted material the use of which has not always been specifically authorized by the copyright owner. We are making such material available in our efforts to advance understanding of environmental, political, human rights, economic, democracy, scientific, and social justice issues, etc. We believe this constitutes a 'fair use' of any such copyrighted material as provided for in section 107 of the US Copyright Law. In accordance with Title 17 U.S.C. Section 107, the material on this site is distributed without profit to those who have expressed a prior interest in receiving the included information for research and educational purposes. For more information go to: http://www.law.cornell.edu/uscode/17/107.shtml. If you wish to use copyrighted material from this site for purposes of your own that go beyond 'fair use', you must obtain permission from the copyright owner.