Venezuelan President Nicolas Maduro Proposes Dialogue With US to Restore Diplomatic Ties
| | |
| --- | --- |
| | |
| Venezuelan President Nicolas Maduro | Supporters of the government of Venezuelan President Nicolas Maduro gather at the Morelos Square, before the beginning of the Peace Conference of the student sector, in Caracas, Venezuela, on March 12, 2014 |
Venezuelan president proposes dialogue with U.S.
English.news.cn 2014-03-16 11:07:36
CARACAS, March 14, 2014 (Xinhua) --
Venezuelan President Nicolas Maduro Saturday proposed establishment of a commission for "peace and mutual respect of sovereignty" between the United States and his country to start a dialogue to re-establish diplomatic ties.
Maduro headed a rally where thousands of supporters of the Bolivarian Revolution, a leftist social movement and political process that Maduro led now, expressed their support to the Armed Forces and the National Guard after more than a month of violent protests in certain areas of the nation.
The president said he would seek to name National Assembly leader Diosdado Cabello to lead talks with the U.S. and asked for the mediation of representatives of the Union of South American Nations (UNASUR).
Over the last few weeks, both countries have traded accusations but Maduro has consistently insisted on a dialogue based on mutual respect to end years of tense links between the two countries.
Last Friday, Washington dismissed Maduro's "absurd" accusations that it was meddling in the country's internal affairs by intervening in anti-government violent protests.
Venezuelan Foreign Minister Elias Jaua had earlier called top U.S. State Secretary John Kerry a "murderer of the Venezuelan people," accusing him of encouraging the protests that have killed 28 people in five weeks.
"The people and the armed forces are on the streets defending the Bolivarian Revolution and the legacy of Hugo Chavez, the country and our constitution," Maduro told thousands of military officers.
Maduro denounced that the U.S. government pretends to execute a plan to kill him as an extreme measure to generate a political crisis in this South American nation.
The Venezuelan leader told U.S. President Barack Obama that "it would be the worst mistake of his life to order the assassination of the constitutional president of Venezuela to fill this country with violence."
Maduro said he has received information that Obama's advisers from the State Department and the Pentagon have proposed an assassination plan and a coup in this country.
"If the U.S. were to execute that plan and kill me, the people will continue in the streets with the Revolution and our armed forces united," added Maduro.
The Venezuelan president said that Latin America and the Caribbean will reject such scenario or any other economic sanctions that the U.S. pretends to impose against this nation.
At least 28 people have died and 400 others have been injured in the violent protests on Feb. 4 in San Cristobal in western Venezuela, which later spread to Caracas and several other cities.
Editor: chengyang
Venezuela's Maduro gives ultimatum to Caracas protesters
By Deisy Buitrago and Andrew Cawthorne
CARACAS Sat Mar 15, 2014, 7:35pm EDT
(Reuters) -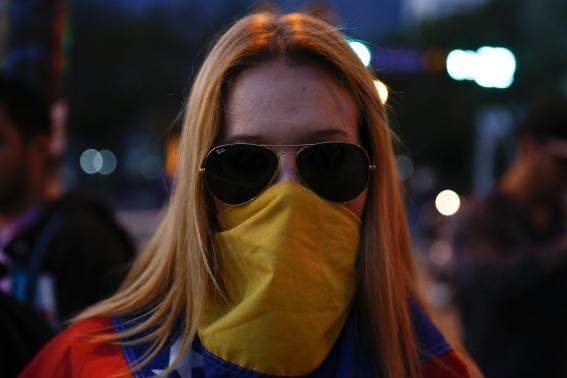 Venezuela's President Nicolas Maduro warned protesters in Caracas on Saturday to clear a square they have made their stronghold, or face eviction by security forces.
Plaza Altamira, in upscale east Caracas, has been a focus of anti-government protests and violence during six weeks of unrest around Venezuela that has killed 28 people.
"I'm giving the Chuckys, the killers, just a few hours," Maduro said, using the name of a murderous child-doll in a horror film to describe anti-government demonstrators who have made the normally genteel 1940s square a base of operations.
"If they don't retreat, I'm going to liberate those spaces with the security forces," Maduro added. "They have a few hours to go home ... Chuckys, get ready, we're coming for you."
Students and other protesters have been using the square, in the pro-opposition Chacao district of Caracas, as a rallying point since a wave of protests started to gather steam in mid-February.
Most nights around dusk, a hard core of several hundred demonstrators has been fighting police and army lines there, in an attempt to access a nearby highway and block traffic.
On Friday night, for example, security forces used water cannon and teargas in a battle against protesters using stones and petrol bombs, Reuters witnesses said.
At least a dozen people were arrested, and the noise of the fighting echoed across east Caracas for several hours.
In a speech at a military rally, Maduro also alleged that right-wingers in the State Department and Pentagon were recommending extreme measures against the Venezuela government, including economic sanctions and even his assassination.
"President (Barack) Obama, if this message reaches you, you should know that it would be the worst mistake of your life to sign the authorization of the assassination of President Nicolas Maduro," he said in a high-octane speech recalling his predecessor Hugo Chavez's spats with the United States.
The U.S. government says Maduro, like Chavez, is inventing "imperialist" threats to distract Venezuelans' attention from their domestic political divisions and economic problems.
But U.S. antipathy to the Socialist government has been in evidence since the start of Chavez's 1999-2013 rule, not least in Washington's quick recognition of a brief 2002 coup against him.
Chavez died from cancer last year, with his protege Maduro, a 51-year-old former bus driver, winning a vote to replace him.
As well as the 28 deaths, including supporters of both sides and members of the security forces, more than 300 people have been injured in Venezuela's worst unrest in a decade.
More than 1,500 people have been arrested, of whom about 100 are still in jail. They include 21 security officials accused of using excess force.
Maduro says he has seen off a "coup" attempt, and he does not look in danger of being toppled by a "Venezuelan Spring," with the military apparently still behind him.
But a radical rump of students and hardline political leaders are vowing to stay in the streets until Maduro goes. They were planning a march in Caracas on Sunday to protest the presence of Cuban advisers for Venezuela's armed forces.
As dusk fell on Saturday, there were only a handful of protesters in Altamira Square, but some demonstrators were starting to put up barricades of rubbish on other streets in the zone.
(editing by Gunna Dickson)
This site contains copyrighted material the use of which has not always been specifically authorized by the copyright owner. We are making such material available in our efforts to advance understanding of environmental, political, human rights, economic, democracy, scientific, and social justice issues, etc. We believe this constitutes a 'fair use' of any such copyrighted material as provided for in section 107 of the US Copyright Law. In accordance with Title 17 U.S.C. Section 107, the material on this site is distributed without profit to those who have expressed a prior interest in receiving the included information for research and educational purposes. For more information go to: http://www.law.cornell.edu/uscode/17/107.shtml. If you wish to use copyrighted material from this site for purposes of your own that go beyond 'fair use', you must obtain permission from the copyright owner.