Scores Killed and Scores Injured in Iraq Attacks
March 14-16, 2014
by AFP | March 16, 2014 , 4 : 04 pm GST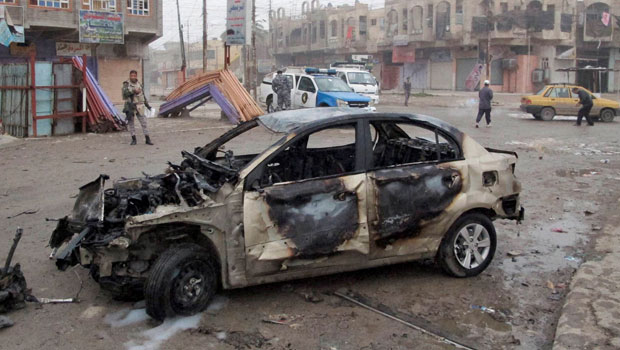 People and security forces inspect the site of a car bomb explosion at a commercial street in Al Ameen district in southeastern Baghdad. AP/PTI

Baghdad:
Heavily-armed militants attacked the home of an anti-Qaeda militiaman north of Baghdad on Sunday, killing and decapitating his wife and two sons and killing another person in a brutal pre-dawn assault.

The militia leader, Abu Salim, was not in the house at the time of the attack, which involved more than a dozen vehicles and fighters armed with heavy machine guns and other weapons and also left two of his young sons wounded.

Fighters attacked the militia leader's house in Jilam, a suburb in the city of Samarra, at around midnight on Saturday, and killed Abu Salim's wife, two sons and another woman, a police colonel and another officer said.

They then decapitated his wife and two sons, and set off explosives around the house, injuring two other sons, aged four and five.

Policemen at a nearby checkpoint attempted to repel the assault, the officers said, but were unsuccessful and fled the scene when they ran out of ammunition and reinforcements that they had radioed for failed to arrive.

Abu Salim is the leader in Jilam of the Sahwa, or Awakening, a collection of mostly-tribal militias that from late-2006 onwards sided with US forces against their co-religionists in Al-Qaeda, helping turn the tide of Iraq's insurgency.

But as a result, they are regarded as traitors, and are regularly targeted in attacks.

In the Baghdad area on Sunday, meanwhile, a bombing and two shootings killed three people, security and medical officials said.

The latest bloodshed came a day after five car bombs were set off in commercial areas of the Iraqi capital, killing 15 people and wounding more than 50 others.

No group immediately claimed responsibility for the bloodshed, but militants, including those linked to the Islamic State of Iraq and the Levant group, are often blamed for carrying out coordinated mass-casualty bombings.

Iraq is grappling with its worst prolonged period of violence since it emerged from a bloody sectarian war that left tens of thousands dead in 2006-07.

More than 250 people have been killed already this month, according to an AFP tally.

Analysts and diplomats have urged the government to reach out to the other community, who allege they are mistreated by the government and security forces.

But with elections looming on April 30, political leaders have been loath to be seen to compromise.

Violent attacks kill 13 in Iraq
Xinhua | March 16, 2014 09:13
Thirteen people were killed and eight others wounded in separate attacks across Iraq on Saturday, police and medical sources said.

In Iraq's western province of Anbar, gunmen attacked a police checkpoint in the southwestern part of the provincial capital city of Ramadi, some 110 km west of Baghdad, leaving five policemen and a shovel driver killed at the site.

In a separate incident, an army commando force clashed with gunmen, said to be linked to al-Qaida organization, in the southern city of Fallujah, some 50 km west of the Iraqi capital Baghdad, killing four gunmen and destroying a truck carrying heavy machine gun.

In the meantime, gunmen blew up bombs in two houses belonging to two police officers in the town of Garma, near Fallujah damaging the houses without casualties.

Elsewhere, a government employee was wounded when a sticky bomb attached to his car detonated in the city of al-Qaim, some 330 km northwest of Baghdad.

Also in Anbar, artillery and mortar shelling on several neighborhoods in the militant-seized city during the day left a civilian killed and seven others injured.

Anbar province has been the scene of fierce clashes that flared up after Iraqi police dismantled an anti-government protest site outside Ramadi in late December last year.

In Iraq's eastern province of Diyala, a government-backed paramilitary group member and a civilian were killed in two attacks by gunmen in the city of Maqdadiyah, some 100 km northeast of Baghdad.

The Sahwa militia, also known as the Awakening Council or the Sons of Iraq, consists of armed groups, including some powerful anti-US Sunni insurgent groups. They turned their rifles against the al-Qaida network after the latter exercised indiscriminate killings against both Shiite and Sunni Muslim communities.

Iraq is witnessing its worst violence in recent years. According to the UN Assistance Mission for Iraq, a total of 8,868 Iraqis, including 7,818 civilians and civilian police personnel, were killed in 2013, the highest annual death toll in years.
21 Killed in Iraq Attacks
March 14, 2014
Baghdad, March 14, 2014 (IANS) —
As many as 21 people were killed and seven injured in violent attacks that mainly targetted security force in different parts of Iraq Thursday, police said.
In north Iraq, a suicide bomber blew up his explosive-laden car at an army base in a village near Mosul city, some 400 km from Baghdad. A soldier was killed and three wounded, Xinhua reported.
Iraqi security forces foiled an attempt by Al Qaeda militants to storm a police base in south Mosul. The troops shot dead a suicide bomber and blew up his car bomb before he could reach his target.
In Anbar province, a battalion commander and five soldiers were killed in fierce clashes with gunmen in Albu- Bali, east of the provincial capital city Ramadi, about 110 km west of Baghdad. Three gunmen were also killed.
In a separate incident, a suicide bomber rammed his explosive- laden car into an army checkpoint and blew it up on a bridge in the city of Rawa, some 165 km west of Ramadi. The attack killed four soldiers and wounded two others, destroying parts of the bridge.
Separately, a policeman was shot dead near his house in the western part of the city of Tikrit, the capital of Salahudin province.
In the early hours of the day, gunmen broke into the house of a member of the government-backed Sahwa paramilitary group, and killed him and his wife.
In Baghdad, a car bomb was detonated outside the house of a defence ministry officer in Zaiyounah district in east-central part of the capital, causing damages to the house without human casualty.
In Diyala province, gunmen shot dead an owner of a restaurant in the city of Maqdadiyah.
In another incident, gunmen shot dead a member of the government-backed Sahwa paramilitary group in the town of Wajihiyah.
Meantime, an intelligence officer was gunned down by armed men when he was driving at a road intersection in Baquba
Also in the province, a policeman and his wife were wounded when gunmen blew up a bomb in their house in the town of Buhruz.
15 dead in Iraq car bomb attacks
Telegraph, 15 March 2014
A series of car bomb attacks targeting commercial areas and a restaurant killed at least 15 people in Iraq's capital, Baghdad.
Police officials said a car bomb went off in a commercial street in al-Ameen district in south-eastern Baghdad, killing four people and wounding 13.
Minutes later, police said another car bomb explosion near a falafel restaurant killed three people and wounded six in the capital's Qahira neighbourhood.
A third car bomb exploded in a commercial street in western Baghdad, killing four people and wounding 14 others, police said.
Later, a car bomb in a commercial area of Baghdad's northwestern neighbourhood of Shula killed four people and wounded nine, police said.
Health officials confirmed the casualty figures.
This site contains copyrighted material the use of which has not always been specifically authorized by the copyright owner. We are making such material available in our efforts to advance understanding of environmental, political, human rights, economic, democracy, scientific, and social justice issues, etc. We believe this constitutes a 'fair use' of any such copyrighted material as provided for in section 107 of the US Copyright Law. In accordance with Title 17 U.S.C. Section 107, the material on this site is distributed without profit to those who have expressed a prior interest in receiving the included information for research and educational purposes. For more information go to: http://www.law.cornell.edu/uscode/17/107.shtml. If you wish to use copyrighted material from this site for purposes of your own that go beyond 'fair use', you must obtain permission from the copyright owner.