2,081 Palestinians Killed Until Last February in Syria, an Action Group Report
March 10, 2014
DAMASCUS, (PIC)--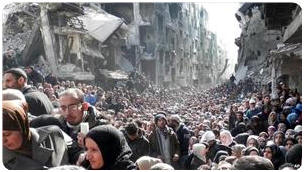 A street in Yarmouk refugee camp crammed with Palestinians seeking food aid
The action group for the Palestinians in Syria said that 2,081 Palestinian refugees had been killed until the end of last February as a result of the events in Syria, noting that most of them were killed during projectile attacks.
In a report on Sunday, the action group stated that 870 of these Palestinian refugees were killed during shelling incidents, 403 victims were killed because of armed clashes between warring parties, and 123 died of hunger, and the others lost their lives in different incidents related to the Syrian war.
In a related context, Amnesty International on Monday accused the Syrian regime of using starvation as a weapon of war against the civilians in Al-Yarmouk refugee camp.
This came in a new report released by AI entitled, "Squeezing the life out of Yarmouk: War crimes against besieged civilians."
The report highlighted that the Syrian regime forces and their allies repeatedly carried out deadly attacks, including air raids and shelling with heavy weapons, on civilian buildings such as schools, hospitals and mosques in the camp.
"Some of the areas attacked had served as shelters for people who have been internally displaced by the conflict. Doctors and medical staff have also been targeted," Amnesty said in its report.
For his part, Philip Luther, director of the Middle East and North Africa program at Amnesty International said that "Life in Yarmouk has grown increasingly unbearable for desperate civilians who find themselves starving and trapped in a downward cycle of suffering with no means of escape."
"Civilians of Yarmouk are being treated like pawns in a deadly game in which they have no control," he stated.
"The Syrian forces are committing war crimes by using starvation of civilians as a weapon of war. The harrowing accounts of families having to resort to eating cats and dogs, and civilians attacked by snipers as they forage for food, have become all too familiar details of the horror story that has materialized in Yarmouk," Luther said.
This site contains copyrighted material the use of which has not always been specifically authorized by the copyright owner. We are making such material available in our efforts to advance understanding of environmental, political, human rights, economic, democracy, scientific, and social justice issues, etc. We believe this constitutes a 'fair use' of any such copyrighted material as provided for in section 107 of the US Copyright Law. In accordance with Title 17 U.S.C. Section 107, the material on this site is distributed without profit to those who have expressed a prior interest in receiving the included information for research and educational purposes. For more information go to: http://www.law.cornell.edu/uscode/17/107.shtml. If you wish to use copyrighted material from this site for purposes of your own that go beyond 'fair use', you must obtain permission from the copyright owner.