Netanyahu Announces Disengagement Plan from the West Bank, International Calls on Israel to Try or Release Palestinian Detainees
June 7, 2014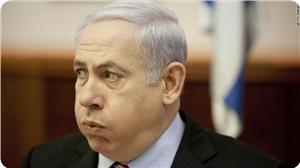 Netanyahu tables at Knesset his plan of disengagement from West Bank
[ 07/06/2014 - 07:32 AM ]
OCCUPIED JERUSALEM, (PIC)--
Israeli premier Benjamin Netanya declared a unilateral plan to separate the Jews from the Palestinians in the West Bank in order to maintain what he described as the Jewish character of Israel, according to the Israeli newspaper Makor Rishon on Friday.
The newspaper said that Netanyahu shockingly tabled his plan during a meeting last Monday with members of the Knesset foreign affairs and defense committee.
Knesset members who attended the meeting told the newspaper that Netanyahu left some of them confused without clarifying how he would carry out such a plan.
Netanyahu also told the attendees that he would not engage in any contacts or talks with a Palestinian government backed by Hamas and that it would be the right time to take such a unilateral measure.
"I don't want one state from the Jordan River to the Mediterranean Sea," the newspaper quoted Netanyahu as saying. "Even if the demographic balance does not change to our detriment and there is a Jewish majority, it is still obvious that we need to have a Jewish majority that is overwhelming and for that state to be democratic."
"And that is why we need to come to a separation," he noted.
The newspaper said that although Netanyahu did not table a clear-cut plan, it looked like the 2005 disengagement plan in Gaza, which had been executed by former premier Ariel Sharon.
Israeli Official: Netanyahu Seeking Unilateral Move to Separate from Palestinians
June 6, 2014 10:48 am
By Joshua Levitt
Israeli Prime Minister Benjamin Netanyahu on Monday told the Knesset's Foreign Affairs and Defense Committee that Israel "must separate from the Palestinians," Bloomberg News reported on Friday, citing an unnamed official source.
No further details were provided by the source, but the news agency noted that the language "was reminiscent of the term 'disengagement' that Israel used to refer to its 2005 withdrawal of settlers and soldiers from the Gaza Strip, carried out unilaterally under then-Prime Minister Ariel Sharon in the absence of peacemaking."
In the face of a unity pact reached between the Palestinian Authority's Fatah party and Gaza's rival Hamas party, which has refused to renounce violence or amend its statutes that call for the destruction of Israel, Netanyahu has said his government will consider unilateral action in response.
Netanyahu told Bloomberg View columnist Jeffrey Goldberg last month that "he noted that some Israelis favor disengaging from sections of the West Bank with large Palestinian populations, even if this would mean dismantling Jewish settlements."
In the interview, Netanyahu said, "It's true that the idea of taking unilateral steps is gaining ground, from the center-left to the center-right… Many Israelis are asking themselves if there are certain unilateral steps that could theoretically make sense."
The next day, the U.S. State Department spokeswoman declared opposition to Netanyahu's plan, saying "no one should take any steps that undermine trust, including unilateral."
On Friday, Bloomberg cited a poll by the Israel Democracy Institute-Tel Aviv University Peace Index, a monthly poll conducted by the Midgam Research Institute, that found that 60 percent of the country's Jews surveyed in late May oppose unilateral withdrawal. More than two-thirds of the country's 20-percent Arab minority support it.
The New York Times on Friday also quoted an unnamed Israeli official who pointed a finger at the U.S. for allowing the unity pact to move forward through its declaration of support for the inclusion of Hamas, which is classified by the U.S. State Department as an international terror organization.
The Times said Israeli officials were assured by the Americans "that the U.S. would take a wait-and-see attitude with the new Palestinian government." But the newspaper cited one Israeli official, who said, "Instead of taking a standoff approach, they, in effect, became the first government in the world to recognize the Palestinian government… They essentially became the first domino."
The newspaper also cited an unnamed U.S. official, who insisted that "We're not naive."
"We understand that this could be Hamas' nose under the tent, that it could lead Hamas to get a foothold in the West Bank, that terrorist cells could spring up in the West Bank again under a looser regime. So we're watching all of that very carefully to ensure that that doesn't happen," the U.S. official told The Times.
http://www.algemeiner.com/2014/06/06/israeli-official-netanyahu-seeking-unilateral-move-to-separate-from-palestinians/
Ban Ki-moon to Israel: Put the detainees on trial or release them
[ 07/06/2014 - 10:25 AM ]
NEW YORK, (PIC)--
UN Secretary General Ban Ki-moon has urged Israel to put the Palestinian administrative detainees on trial or else release them without further delay.
Ban Ki-moon expressed concern in a statement on Friday over the deterioration in the health condition of the Palestinian administrative detainees who have been on hunger strike for one and a half month.
He said that the UN was closely following up the issue of those detainees.
The Palestinian administrative detainees, held without trial or charge, have been on hunger strike for 45 days demanding their release.
Palestinian political detainee transferred to Nablus hospital
[ 07/06/2014 - 09:54 AM ]
NABLUS, (PIC)--
Palestinian political detainee Ibrahim Abul Reesh, a 25-year-old youth from Nablus, was transferred to a Nablus hospital on Friday night ten days after his detention in a PA preventive security jail.
Family members told the PIC reporter that the preventive security apparatus blocked family visits to Abul Reesh, who was reportedly transferred to hospital with internal bleeding.
They said that even his wife and mother were not allowed to visit him, adding that they heard of his condition from hospital staffers.
They said that Abul Reesh, a liberated prisoner, was arrested on 26/5 while participating in a human chain in Nablus organized in support of prisoners. The preventive security said that it was going to release him half an hour later, they added.
The family held PA chairman Mahmoud Abbas and the preventive security apparatus legally responsible for any harm done to their son.
Palestinian Detainee Atabish on 100th day of hunger strike
[ 07/06/2014 - 07:57 AM ]
RAMALLAH, (PIC)--
Palestinian administrative detainee Ayman Atabish is on his 100th day of hunger strike on Saturday demanding his immediate release.
Atabish, who is held without charge or trial, is also demanding an end to the policy of "secret files" against detainees upon which the Israeli intelligence continues to renew their incarceration.
He is serving a six-month detention period that could be renewed based on the "secret files".
The detainee's family fear for his life due to his health deterioration especially when his heart muscles are weakening because of the hunger strike.
Palestinian administrative hunger strike going on for 44 days
[ 06/06/2014 - 06:24 PM ]
RAMALLAH, (PIC)--
Friday, June 6 marks the 44th day of the hunger strike which the Palestinian administrative detainees have launched to protest their illegal detention without indictment or trial. The health status of the hunger-striking prisoners, starving for 44 days in a row, has noticebly worsened. Scores of detainees have become on the verge of death amid calls to internationalize their cause and increase the solidarity moves in order to end their agony.
An open-ended hunger strike will be launched by the Palestinian prisoners in the Gilboa military prison as a one-day act of solidarity with their administrative fellows and as a means to rally round them throughout their fair and heroic fight for freedom.
This site contains copyrighted material the use of which has not always been specifically authorized by the copyright owner. We are making such material available in our efforts to advance understanding of environmental, political, human rights, economic, democracy, scientific, and social justice issues, etc. We believe this constitutes a 'fair use' of any such copyrighted material as provided for in section 107 of the US Copyright Law. In accordance with Title 17 U.S.C. Section 107, the material on this site is distributed without profit to those who have expressed a prior interest in receiving the included information for research and educational purposes. For more information go to: http://www.law.cornell.edu/uscode/17/107.shtml. If you wish to use copyrighted material from this site for purposes of your own that go beyond 'fair use', you must obtain permission from the copyright owner.