Russia-Ukraine Ties Chillier Over Gas Cutoff, 2 Russian Journalists Killed in Ukraine Military Shelling
MOSCOW/KIEV, June 17, 2014 (Xinhua) --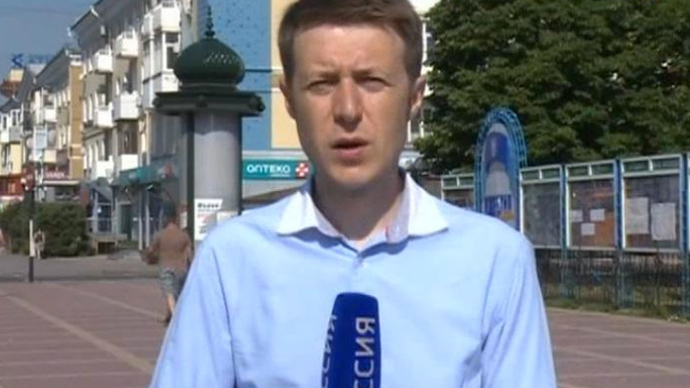 Russia cut its gas supply to Ukraine Monday after the two countries failed to reach a deal amid mounting tensions in a months-long crisis.
Russia said Kiev had missed a Monday deadline to repay 1.95 billion U.S. dollars in overdue bills and Ukraine would now only get gas it paid for in advance.
Tensions between the two former Soviet neighbors escalated over the weekend after militants in Ukraine shot down a military plane and Ukrainian President Pedro Poroshenko said Monday he had ordered troops to regain control of the frontier with Russia to pave the way for a truce and peace talks.
Former President Viktor Yanukovych's refusal to sign an economic integration agreement with the EU triggered months of street protests. The crisis led to the ouster of Yanukovych who fled to Russia in February.
Crimea in southern Ukraine then broke away to join Russia following a referendum in mid-March, and militant groups in the eastern regions of Donetsk and Lugansk have since also declared their independence from Kiev.
Kiev claimed the separatist activities in southern and eastern Ukraine are backed by Russia, a charge denied by Moscow.
Meanwhile, Gazprom, Russia's energy giant, said it would cut off gas to Ukraine and introduce a prepayment system because of the chronic non-payment by Ukraine's state gas company, Naftogaz.
The decision took effect at 10:00 a.m. Moscow time (0600 GMT) Monday, several hours after representatives of Russia, Ukraine and the European Commission concluded fruitless overnight talks on the gas dispute.
Kiev wants to pay 268.5 dollars per 1,000 cubic meters of gas -- the price it had been offered when Yanukovych was in power. Last week, it agreed to pay at 326 dollars for an interim period until a lasting deal was reached.
However, Moscow had sought to keep the price at the 2009 contract level of 485 dollars per 1,000 cubic meters, but had offered a discounted price of 385 dollars.
European Union (EU) Energy Commissioner Guenther Oettinger said Moscow had declined a compromise under which Kiev would pay 1 billion dollars immediately and then make monthly repayments to Gazprom. The proposal also included a price of 385 dollars per 1,000 cubic meters in winter and about 300 dollars in summer.
Gazprom chief executive Alexei Miller told reporters it would no longer be enough for Kiev to pay part of its debt for supply to resume. Ukraine now must pay off its entire 4.45 billion dollars in debt and pay in advance for a month's deliveries, he said.
This would appear almost impossible for Ukraine, with its economy hard hit by the long-term domestic unrest.
Ukrainian Prime Minister Arseny Yatsenyuk accused Russia of deliberately blocking a deal to cause Kiev supply problems next winter, when temperatures plunge and heating needs increase.
Yatsenyuk also linked Russia's move to its political intentions. "It is yet another step against the Ukrainian state and against Ukrainian independence," he said.
Meanwhile, Russian Prime Minister Dmitry Medvedev claimed part of the Ukrainian leadership was "losing adequacy," citing Yatsenyuk's refusal of Russia's earlier preferential gas price offer and the "paranoid behavior" of acting foreign minister Andrei Deshchytsa, who made insulting remarks about Russian President Vladimir Putin at the weekend.
Medvedev, however, said Russia was still open to dialogue.
"If our colleagues in Ukraine start to hear (our) reasoning better (and) return to a discussion of ... highly concessional and very preferential offers made by Russia, I think we will be ready to continue talks," he said. "But of course, under the condition that the debt is settled in full."
Gazprom said it had filed a lawsuit at the Stockholm arbitration court demanding Ukraine pay off the gas debt. Naftogaz, in turn, said it also brought litigation at the same court to contest Gazprom's pricing.
The Ukrainian company said it was also seeking to recover about 6 billion dollars "overpaid" to Gazprom since 2010 due to the "unfair" gas contract.
The gas cutoff will not affect Ukraine immediately as it has at least 12 billion cubic meters in storage, enough to meet its and the EU's needs over the summer.
But analysts say it could disrupt Europe's long-term energy supplies as EU consumers get about a third of their gas from Russia and around half of it through pipelines that cross Ukraine.
Gazprom promised it would continue to supply gas to consumers in other parts of Europe at full volume, but warned the European Commission of potential interruption in gas transit through Ukraine. It also urged Ukraine to abide by its obligations and ensure a smooth transit of gas to the EU.
Ukraine declares state of emergency in energy sector over gas row with Russia
KIEV, June 16, 2014 (Xinhua) --
Ukrainian Prime Minister Arseny Yatsenyuk on Monday declared a "state of emergency" in the country's energy sector after Russia reportedly suspended its natural gas supplies to Ukraine.
"I authorize the Energy Ministry and Justice Ministry to prepare a draft law on state of emergency in the energy sector," Yatsenyuk said while opening a government meeting.
Yatsenyuk asked the National Regulatory Commission to set "economically justified" tariffs for the transit of Russian gas through Ukrainian territory, saying that Kiev has no plans to "subsidize" Russia any longer.
He also instructed the Energy Ministry to prepare a bill to woo investments from the United States and the European Union to finance the modernization of Ukraine's gas transit network.
Earlier in the day, Russian energy giant Gazprom said it had filed a lawsuit at the Stockholm arbitration court demanding Ukraine pay off some 4.5 billion dollars of gas debt and decided to introduce a prepayment regime with Ukrainian gas firm Naftogaz.
In a countermeasure, Naftogaz also filed a lawsuit at the Stockholm court to contest the pricing of natural gas it imports from Gazprom, claiming that it has "overpaid" Russia by around 6 billion U.S. dollars due to an "unfair" gas contract.
"The lawsuit also contains a requirement to recover an amount of money from Gazprom, which Ukraine has overpaid since 2010," Naftogaz said in a statement.
The two sides have been locked in dispute for three years over a 2009 contract under which they agreed to tie the price of gas to the international spot price of oil.
Russia initially demanded Ukraine pay 485 dollars per 1,000 cubic meters of gas. Moscow then offered to remove an export duty, which would cut the price by 100 dollars. Ukraine had been holding out for a lower price of just over 268 dollars.
On Friday, Ukraine said it was ready to pay 326 dollars for the next 18 months while the two sides worked out a long-term price deal, but the two neighbors failed to reach a compromise during their weekend talks.
HANG ON TILL DECEMBER
Ukraine has enough gas to meet domestic demand in the next six months, Naftogaz chief executive Andriy Kobolev said Monday.
"We have time at least until December to solve the problem," he told a cabinet meeting, explaining that Ukraine has around 14 billion cubic meters of gas in its underground reservoirs and plans to import 16 billion cubic meters of fuel from the European spot market to meet domestic needs.
A German company is ready to sell gas to Ukraine at the price of 300 U.S. dollars per 1,000 cubic meters, Kobolev said, without giving the name of the firm.
He added that Naftogaz has also asked the European Commission to allow increased reverse gas flows to Ukraine through Slovakia in light of the termination of Russian supplies.
According to a deal signed by Kiev and Bratislava in April, Ukraine could annually import around 8 billion cubic meters of gas from the European market through Slovakia.
Ukrainian Energy and Coal Minister Yury Prodan, who was also attending the cabinet meeting, pledged that Russia's gas transit to Europe through Ukrainian territory would not be affected.
=====================
2 Russian journalists killed in Ukraine military shelling
Published time: June 17, 2014 11:29 Edited time: June 17, 2014 14:40
Reporter Igor Kornelyuk (Screenshot from vgtrk.com)
Two journalists for Russian TV channel Rossiya have died from wounds sustained during a Ukrainian military shelling attack near Lugansk, eastern Ukraine. Reporter Igor Kornelyuk passed away on the operating table, a doctor at the hospital confirmed to RT.
Moment Ukraine army shell hits Russian TV crew caught on tape (VIDEO)
The doctor told RT that "sadly, he has passed away."
Just minutes ago Kornelyuk, a reporter for the Russian channel Rossiya, was in critical condition and had been receiving phone calls from Moscow. The attending doctor, however, had been answering his calls.
The second alleged victim is sound engineer Anton Voloshin. According to RT's information, he died immediately at the scene.
The Rossiya channel crew consisted of three people with only one of them, Viktor Denisov, the cameraman, surviving the Ukrainian military shelling.
Denisov told LifeNews how he managed to get out of harm's way during the attack that claimed his colleague's life.
The cameraman said he was standing 100 meters from the spot where the mortar exploded. "I must say I was really lucky, I'd walked toward our cars, about 100 meters away, and that's when the shelling started. My colleagues were supposed to have been out of the range of fire, but for some reason one of the shells flew straight into them," Denisov said. When the attack began, Denisov ran toward the fleeing residents, who stood nearby. They managed to escape together.
Speaking to Vesti, Denisov recounted the events that transpired in the initial minutes of the shelling.
He recalled getting closer to shoot some footage, but was told not to go further. As soon as soldier motioned with his hand for everyone to get down, Denisov heard the pop next to the defense forces.
"This is when I ran over to our guys and to the soldiers that had been wounded in the explosion, all the while trying to get some footage and help to get the fleeing people to safety. We walked for a kilometer," he said. "Walking in the open was dangerous. The sound of exploding mines could be heard the entire time. We had shrapnel fly in our direction."
The Rossiya crew had been taken to the scene of the shelling by taxi.
They were escorted by the self-defense forces in a village near Lugansk and headed toward a local checkpoint.
Their position was then shelled and the self-defense forces told the crew to head for safety.
A taxi driver, who was giving a ride to the three journalists, said that a shell landed right at the spot where they were standing.
"Three journalists and 10-15 militias came under fire. We were standing at a traffic police post at the entrance of the town of Metallist. Journalists got out of the car to observe the fighting and shoot video of the smoke. Literally a minute later, several shells hit them right at the spot where they were standing," the taxi driver recalled.
He added that the journalists wore no bulletproof vests or helmets, but "even if they had, this would not have helped them."
A local resident who witnessed the shelling also said that a mine had apparently detonated right next to a group of journalists, of which the Rossiya crew was a part.
"Our hospital is receiving many wounded as the shelling continues," a local doctor told RT over the phone.
Igor Kornelyuk was 37-years-old. He was born in the Ukrainian city of Zaporozhie. Kornelyuk worked as a journalist outside the country, but he last returned there on June 1 to cover events in south-eastern Ukraine. Kornelyuk is survived by his wife and seven-year old daughter.
Moscow slams Kiev for unleashing 'terror' against Russian reporters
The Russian Foreign Ministry has condemned the attack and Kornelyuk killing.
"The death of the Russian journalist near Lugansk has shown in its entirety the criminal nature of the forces that launched the military operation in the country's east," said the ministry in a statement.
"We are proud of all journalists who, coming under machine-gun fire, shelling, artillery or aircraft bombs, courageously deliver the truth about what's really happening in Ukraine. It is the very truth authorities in Kiev and various militant groups are afraid of, who have organized real terror towards journalists from Russia," Russia's Foreign Ministry statement says.
The ministry said it is awaiting strong condemnation from all world media outlets. "We demand Ukrainian authorities immediately carry out an independent investigation into this tragedy and punish the culprits," the statement read.
OSCE Representative on Freedom of the Media Dunja Mijatovic condemned the killing of Russian journalists in Ukraine and called for those responsible to be brought to justice, Itar Tass reports.
This site contains copyrighted material the use of which has not always been specifically authorized by the copyright owner. We are making such material available in our efforts to advance understanding of environmental, political, human rights, economic, democracy, scientific, and social justice issues, etc. We believe this constitutes a 'fair use' of any such copyrighted material as provided for in section 107 of the US Copyright Law. In accordance with Title 17 U.S.C. Section 107, the material on this site is distributed without profit to those who have expressed a prior interest in receiving the included information for research and educational purposes. For more information go to: http://www.law.cornell.edu/uscode/17/107.shtml. If you wish to use copyrighted material from this site for purposes of your own that go beyond 'fair use', you must obtain permission from the copyright owner.