Asia stocks fall, oil up on escalating Iraq war,
June 12, 2014
By Shinichi Saoshiro
TOKYO
Thursday, June 12, 2014, 8:57pm EDT
(Reuters) -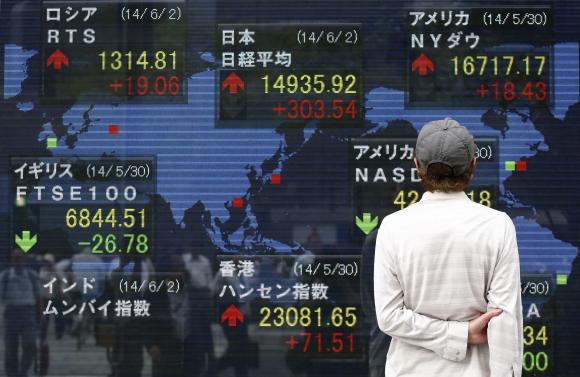 Asian equities fell and crude oil hovered near nine-month highs early on Friday as escalating civil war in Iraq hit risk appetite.
Sunni Islamist militants have extended their advance south towards Baghdad prompting President Barack Obama to warn of possible U.S. military intervention, while Iraqi Kurdish forces took control of the oil hub of Kirkuk amid the chaos.
Weaker-than-expected U.S. retail sales and jobless claims data released on Thursday further tempered economic optimism felt earlier in the week that had propelled Wall Street to record highs.
Taking its cue from an overnight slide in U.S. stocks, MSCI's broadest index of Asia-Pacific shares outside Japan shed 0.2 percent. Tokyo's Nikkei lost 0.9 percent.
U.S. crude rose $1.00 to $107.53 a barrel, highest since September. [O/R]
The yen benefited from its safe-haven status and a decline in U.S. Treasury yields following the soft U.S. data.
The Japanese currency traded little changed at 101.73 yen to the dollar, near a two-week high of 101.600 hit on Thursday. On the week, the dollar was on course to lose about 0.7 percent against the yen.
Focus in Asia was on the Bank of Japan's monetary policy decision and Chinese industrial production and retail sales data due around 0530 GMT.
With the BOJ again widely expected to stand pat on monetary policy, focus was on whether Governor Haruhiko Kuroda will maintain his confident stance on the economy.
As for the China data: "This could have some implications on risk through Asian trade, particularly given the recent improvement we've been seeing in China data," Stan Shamu, market strategist at IG in Melbourne, wrote in note to clients.
"There is a good chance there could be some upside risk."
The euro was little changed at $1.3552, poised to end the week down nearly 0.7 percent, hobbled by a widening yield gap between euro zone bonds and their peers following easing by the European Central Bank earlier this month.
The pound gained over a cent overnight to five-week highs after Bank of England Governor Mark Carney said on Thursday that British interest rates could rise sooner than financial markets expect. The pound was last up 0.1 percent to buy $1.6944.
(Additional reporting by Lisa Twaronite Editing by Eric Meijer)
This site contains copyrighted material the use of which has not always been specifically authorized by the copyright owner. We are making such material available in our efforts to advance understanding of environmental, political, human rights, economic, democracy, scientific, and social justice issues, etc. We believe this constitutes a 'fair use' of any such copyrighted material as provided for in section 107 of the US Copyright Law. In accordance with Title 17 U.S.C. Section 107, the material on this site is distributed without profit to those who have expressed a prior interest in receiving the included information for research and educational purposes. For more information go to: http://www.law.cornell.edu/uscode/17/107.shtml. If you wish to use copyrighted material from this site for purposes of your own that go beyond 'fair use', you must obtain permission from the copyright owner.