Petro Poroshenko Sworn in as Ukraine's After Coup President


June 7, 2014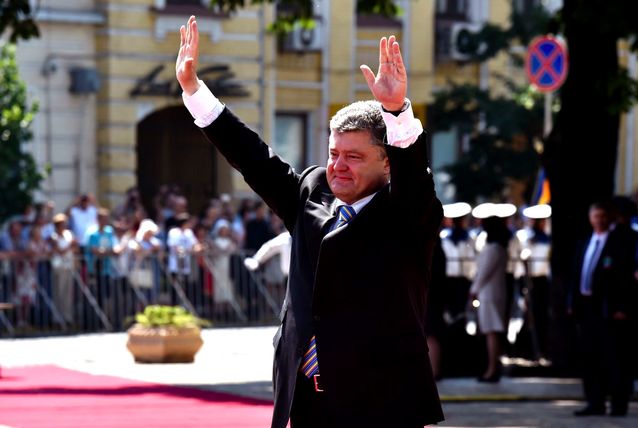 Poroshenko sworn in as Ukraine's president
Jim Heintz reported from Moscow.
KIEV, Ukraine (AP) —
Ukraine's new president on Saturday called for pro-Russian rebels in the country's east to lay down their arms and welcomed dialogue with the insurgents, but said he wouldn't negotiate with those he called "gangsters and killers" and struck a defiant tone on the Russian-annexed Crimean Peninsula.
Petro Poroshenko's inaugural address after taking the oath of office in parliament gave little sign of a quick resolution to the conflict in the east, which Ukrainian officials say has left more than 200 people dead.
He also firmly insisted that Crimea, the Black Sea peninsula annexed by Russia in March, "was, is and will be Ukrainian." He gave no indication of how Ukraine could regain control of Crimea, which Russian President Vladimir Putin has said was allotted to Ukraine unjustly under Soviet leader Nikita Khrushchev.
Hours after the speech, Putin ordered security tightened along Russia's border with Ukraine to prevent illegal crossings, Russian news agencies said. Ukraine claims that many of the insurgents in the east have come from Russia; Poroshenko on Saturday said he would offer a corridor for safe passage of "Russian militants" out of the country.
Rebel leaders in the east dismissed Poroshenko's speech.
"At the moment it's impossible for him to come (to Donetsk for talks)," said Denis Pushilin, a top figure in the self-declared Donetsk People's Republic. "Perhaps with security, a group, so people won't tear him to pieces."
Poroshenko offered amnesty to rebels who "don't have blood on their hands." But "I don't believe it," said Valery Bolotov, the insurgent leader in the Luhansk region. Rebels in both Luhansk and Donetsk have declared their regions independent.
The new president promised "I will bring you peace," but did not indicate whether Ukrainian forces would scale back their offensives against the insurgency, which Ukraine says is fomented by Russia.
Russia has insisted on Ukraine ending its military operation in the east. Ambassador Mikhail Zurabov, representing Moscow at the inauguration, said Poroshenko's statements "sound reassuring," but "for us the principal thing is to stop the military operation," adding that the insurgents should also stop fighting in order to bolster the delivery of humanitarian aid, RIA Novosti reported.
As president, the 48-year-old Poroshenko is commander-in-chief of the military and appoints the defense and foreign ministers. The prime minister is appointed by the parliament.
Poroshenko, often called "The Chocolate King" because of the fortune he made as a confectionery tycoon, was elected May 25. He replaces Oleksandr Turchynov, who served as interim president after Russia-friendly president Viktor Yanukovych fled the country in February after months of street protests against him.
The fall of Yanukovych aggravated long-brewing tensions in eastern and southern Ukraine, whose majority native Russian speakers denounced the new government as a nationalist putsch that aimed to suppress them.
Within a month, the Black Sea peninsula of Crimea was annexed by Russia after a secession referendum and an armed insurgency arose in the eastern provinces of Donetsk and Luhansk.
In his inaugural address, attended by dignitaries including U.S. Vice President Joe Biden, Sen. John McCain and Democratic Rep. Marcy Kaptur, Poroshenko promised amnesty "for those who do not have blood on their hands" and called for dialogue with "peaceful citizens" in the east.
"I am calling on everyone who has taken arms in their hands — please lay down your arms," he said, according to an interpreter. He also called for early regional elections in the east and promised to push for new powers to be allotted to regional governments, but he rejected calls for federalization of Ukraine, which Moscow has advocated. Federalization would make regions more independent of the central government.
Biden later met with Poroshenko and said "there is a window for peace and you know as well as anyone that it will not stay open indefinitely ... America is with you."
He also promised an additional $48 million in US aid to Ukraine to carry out economic and constitutional reforms and strengthen the border guard service. Washington previously announced $50 million in "crisis response" aid and $23 million for security assistance.
Poroshenko also said he would seek early parliamentary elections because "the current composition of the parliament is not consistent with the aspirations of the nation." The current parliament, elected in 2012 with a large contingent from Yanukovych's former party, is to stay in place until 2017.
Poroshenko insisted that Ukrainian would remain the sole state language of the country, but promised "the free use of the Russian language."
He assumed power a day after meeting Putin at D-Day commemoration ceremonies in France.
Putin has denied allegations by Kiev and the West that Russia has fomented the rebellion in the east, and he insisted Friday that Poroshenko needs to speak directly to representatives from the east.
After the low-key inauguration ceremony, which included a choir in traditional national costume singing the national anthem, Poroshenko went to the square outside the landmark Sophia Cathedral for a ceremonial troop inspection.
Taras Danchuk, a 37-year-old spectator at the square who was wearing a traditional embroidered tunic, said he supported Poroshenko's strategy for trying to negotiate an end the eastern conflict.
"Out of emotion I would like to say that we should destroy the terrorists, but that is not possible without sacrificing the civilians who live there, so there will have to be negotiations," he said.
The protests against Yanukovych were set off by his decision to shelve a long-anticipated agreement to deepen political and economic ties with the European Union and seek closer relations with Russia. The protests grew hugely after police violently dispersed some early gatherings.
Poroshenko said Saturday he wants to sign the economic portion of the EU "association agreement" in the near future.
No major fighting was reported on Saturday, but the Donetsk People's Republic said one of Pushilin's aides was fatally shot in Donetsk city, the region's capital.
Also Saturday, Russian officials including the ambassador and Defense Minister Sergei Shoigu complained that two journalists from a TV channel belonging to the ministry had been detained by national guard forces in Ukraine and called for their release.
=================================
Is Poroshenko Jewish?
Gregory Kolyada on Strategic Culture (a Russian geopolitical site) says this as of May 24, 2014:
Forbes lists Petro Poroshenko as the 130th richest Jew in the world, with $1.6b. The would-be President of Ukraine Poroshenko was born Waltzman. Poroshenko is his mother's name, she was also a Jew.
Here he is on Forbes' global Rich List, at #1333 with $1.3b. Forbes does offer a separate Rich Jews list, on its hebrew edition, Forbes Israel. I haven't seen it.
http://niqnaq.wordpress.com/2014/05/25/is-poroshenko-jewish-enquiring-minds-want-to-know-of-course-so-lets-get-this-straight/
=================================
Ukraine's ousted president puts blame on CIA
By Associated Press
April 13, 2014 3:21 PM
MOSCOW (AP) —
Ukraine's ousted president has accused the CIA of being behind the new Ukrainian government's decision to deploy armed forces to quash an increasingly brazen pro-Russian insurgency.
Speaking late Sunday on Russian state television, Viktor Yanukovych claimed that CIA director John Brennan had met with Ukraine's new leadership and "in fact sanctioned the use of weapons and provoked bloodshed."
There was no independent confirmation that Brennan was in Ukraine or in any way involved in the decision to send troops to eastern Ukraine, where armed pro-Russia men have seized a number of government buildings.
Yanukovych was ousted in February following months of protests in Kiev, the capital, that were ignited by his decision to back away from closer relations with the European Union and turn toward Russia. He fled to Russia, saying he feared for his life.
=================================
CIA behind Ukraine crisis, ousted Yanukovych says
Press TV, April 13, 2014
Ukrainian deposed President Viktor Yanukovych says the US Central Intelligence Agency (CIA) is provoking bloodshed in the country by sanctioning the use of weapons against pro-Russia protesters.
Speaking on a Russian television station late on Sunday, the ousted president said the United States authorized the new government in Kiev to use force to crack down on protesters in the country's east.
Yanukovych also warned that Ukraine's interim officials have taken the country to the brink of a civil war.
He noted that CIA Director John Brennan met with Kiev's new leaders in person and "in fact sanctioned the use of weapons and provoked bloodshed," in Ukraine.
Yanukovych added that in the event of any bloodshed, the new interim officials of Ukraine as well as the US administration will be held responsible.
He also urged the country's security forces not to obey orders and restrain from shooting at people.
Meanwhile, new reports say that at least three people have been killed in clashes between security forces and protesters during what Ukraine's Interior Minister Arsen Avakov calls an "anti-terrorist operation" in the eastern town of Slavyansk.
Political crisis erupted in Ukraine in November 2013, when Yanukovych refrained from signing an Association Agreement with the EU in favor of closer ties with Russia.
Tensions between the Western powers and Moscow heightened after Crimea declared independence from Ukraine and formally applied to become part of the Russian Federation following a referendum on March 16, in which nearly 97 percent of voters in Crimea chose to rejoin Russia.
On March 21, Russian President Vladimir Putin signed into law documents that officially made the Black Sea peninsula part of the Russian territory despite condemnation from the West and the new Ukrainian government.
The move sparked angry reactions from the US and the European Union, both imposing punitive measures against Russia.
NT/MAM/AS
=================================
Ukraine's parliament votes to oust president; former prime minister is freed from prison
By William Booth
Washingto Post, February 22, 2014
KIEV, Ukraine —
In a single climactic day, the political order of Ukraine was overturned, more or less peacefully, when the Ukrainian parliament voted Saturday evening to dismiss President Viktor Yanukovych from office and to free jailed opposition leader Yulia Tymoshenko, who went directly from a prison hospital bed to a stage at Independence Square to address an audience of tens of thousands.
"A day for the history books," tweeted Geoffrey Pyatt, U.S. ambassador to Ukraine.
Ukraine's legislature on Sunday voted to give interim presidential powers to the speaker of parliament, the Associated Press reports.
Still unknown is whether a defiant Yanukovych and a bitterly divided Ukraine will accept any of parliament's decrees. Leaders of the ousted government, especially those from Ukraine's east and south, said they would oppose new measures.
Just hours after parliament voted to remove the president, his arch rival Tymoshenko, a key figure in Ukraine's 2004 Orange Revolution, was released from prison after serving 30 months.
Ukraine?s Tymoshenko to run for president Back to beginning Embed: More from The Washington Post Former Ukrainian prime minister and opposition leader Yulia Tymoshenko speaks during a press conference in Kiev. Ukraine's formerly jailed divisive opposition icon Yulia Tymoshenko completed an improbable return to politics on March 27 after her release on February 22 by confirming plans to run for president in elections on May 25. Genya Savilov /AFP/Getty Images Share:
Tymoshenko, suffering from a back injury, was rolled onstage in a pink wheelchair. She gave an emotional, forceful speech, honoring the 82 Ukrainians killed in street fighting and by riot police since Tuesday.
The opposition leader, who still has her trademark blond braid, said that Ukraine would not be truly free until "everyone bears a responsibility for what they have done," a clear reference to the president and his ousted interior minister, who controlled the riot police forces that used live ammunition against protesters. "If we don't prosecute, we should be ashamed."
She told the crowd, "You changed everything — not the politicians, not the diplomats, you changed the world," and called the ousted government "a cancer."
Tymoshenko, a former prime minister, was sentenced to seven years in prison in a 2011 trial on charges of abuse of power and embezzlement over her role in a deal to purchase natural gas from Russia. Her supporters and many Western countries said the trial and conviction were politically motivated.
In an emergency session, the Ukrainian parliament voted 380 to 0 on Saturday to remove Yanukovych from office, saying he was guilty of gross human rights violations and dereliction of duty. Many of Yanukovych's allies were absent or abstained from voting.
Then the parliament, now dominated by opposition politicians, declared that early presidential elections would be held May 25.
Thousands filled Kiev's Independence Square, which is still ringed by barricades erected by protesters and members of the "self-defense" militias, whose members kept order and continued to march in military columns, brandishing homemade metal shields and carrying wooden clubs and axes on their shoulders.
Tymoshenko, who blinked back tears several times, promised: "I am coming back to work. I won't waste a minute to make sure you are happy in your own land."
She ran for president in 2010 but lost to Yanukovych, and most people here assume Tymoshenko will run in the May contest.
Yanukovych, his exact whereabouts unknown since Friday evening, appeared on television Saturday afternoon in a prerecorded interview to say: "I am not planning to leave the country. I am the legitimate president, and I am not going to resign."
He called the opposition politicians in parliament "bandits" and their actions "illegal," and described the protesters as "hooligans."
"What we witness now resembles Nazi occupation," Yanukovych said. "My car was shot at. But I am not afraid for my life, I am afraid for my country."
Yanukovych said Russian President Vladimir Putin told him that he had spoken with President Obama and promised that "we will negotiate."
But the White House released a statement that praised the "constructive work" done by the Ukrainian parliament and urged "the prompt formation of a broad, technocratic government of national unity."
The statement also applauded Tymoshenko's release from prison, saying, "We wish her a speedy recovery as she seeks the appropriate medical treatment that she has long needed and sought." It did not mention Yanukovych.
"We have been monitoring the situation very closely," said a senior State Department official who spoke on the condition of anonymity because conditions remained so fluid. "What the United States and our European partners have been advocating for consistently this week is a ­de-escalation of violence, constitutional change, a coalition government and early elections. The developments we are seeing on the ground are . . . moving us closer to those goals."
Russia's Foreign Ministry said in a statement that the opposition in Ukraine was "pushing new demands, submitting itself to armed extremists and looters whose actions pose a direct threat to the sovereignty and constitutional order of Ukraine," according to Russia's Interfax news agency.
Ukrainians awoke Saturday morning to rumors and reports that Yanukovych had fled the country, though he is now thought to have returned to his home base in the country's east.
The new speaker of parliament, Oleksandr Turchynov, told his fellow deputies Saturday that Yanukovych had attempted to flee the country.
"He tried to get on a plane that was bound for the Russian Federation but was stopped by border guards. At the moment, he's hiding somewhere in the Donetsk region," Turchynov said, according to Interfax. The Donetsk region, in eastern Ukraine, is home to Yanukovych's Russian-speaking political base.
Police surrendered the center of Kiev to protesters, who commandeered water cannon trucks and personnel carriers from retreating security forces and claimed full control of the city.
The self-defense militias, composed of hard-core protesters wearing military surplus helmets and mismatched body armor, were enlisted to guard government buildings and direct traffic. The city was peaceful.
Tens of thousands of ordinary Ukrainians poured onto the grounds of Yanukovych's abandoned presidential compound, 12 miles from downtown Kiev, to gawk at the manicured lawns, small zoo, golf course, botanical gardens and classic cars.
Museum officials were working with militias to guard the presidential mansion and inventory possessions and works of art they say were probably borrowed or stolen by Yanukovych from state museums and institutions. Journalists and others began to pore over a stack of documents left behind.
"Who knows what he has stashed in there," said Ihor Lihovy, a consultant for the Ukrainian national committee for the preservation of national treasures. "We have been told he hoarded masterpieces. It is a scandal."
Yanukovych built his mansion and its outbuildings after he was elected president in 2010. None of the Ukrainian public or media had seen the inside of the compound before Saturday. An elderly pensioner with a mouth full of metal teeth shouted, "What a thief!" as he took in the marble statuary.
The crowds were orderly and polite. There was no looting, few were allowed to enter the houses or outbuildings, and opposition protesters warned visitors to keep off the grass.
A group of young people, however, found their way into Yanukovych's clubhouse and brought out golf balls and clubs and whacked a few drives down the long fairways.
Anne Gearan in Washington contributed to this report.
===============================
This site contains copyrighted material the use of which has not always been specifically authorized by the copyright owner. We are making such material available in our efforts to advance understanding of environmental, political, human rights, economic, democracy, scientific, and social justice issues, etc. We believe this constitutes a 'fair use' of any such copyrighted material as provided for in section 107 of the US Copyright Law. In accordance with Title 17 U.S.C. Section 107, the material on this site is distributed without profit to those who have expressed a prior interest in receiving the included information for research and educational purposes. For more information go to: http://www.law.cornell.edu/uscode/17/107.shtml. If you wish to use copyrighted material from this site for purposes of your own that go beyond 'fair use', you must obtain permission from the copyright owner.