Israeli-Controlled US House of Representatives Passes Resolution Supporting Israeli Attacks on Gaza, Killing 195 Palestinians, Injuring 1385, Mostly Children and Women, July 14, 2014
These little children of Gaza were massacred because of the US blind support for the Israeli war criminals, particularly in Congress: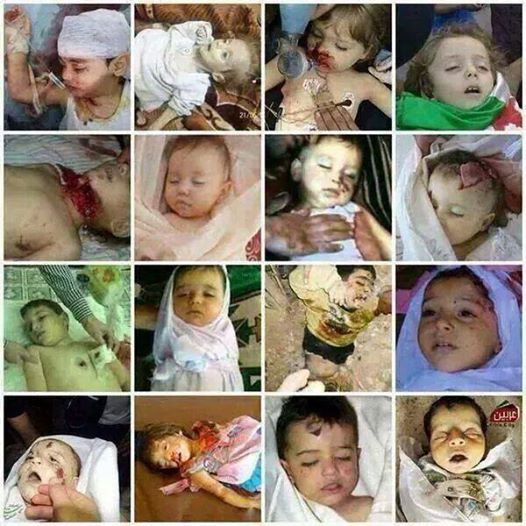 Above:





Photos of death and destruction inflicted by Israeli occupation government forces on the Palestinian people in the Gaza Strip, on July 11, 2014.



This is how the billions of dollars in military and economic aid to the Zionist, Apartheid State of Israel are spent!




World Passively Watching as Israel Perpetrates Open-Ended Massacre in Gaza

By Khalid Amayreh




The Israeli occupation army air force also fired missiles into Gaza's Ark solidarity ship, docked at the shore, destroying it completely. The Ark was a symbol of attempts to break the Israeli siege of Gaza Strip!
US House Unanimously passes resolution supporting Israeli attack on Gaza
Tuesday July 15, 2014 09:33 by Celine Hagbard - IMEMC News
The US House of Representatives voted unanimously to support a non-binding resolution to reaffirm full U.S. support for Israel's "defense of its citizens" and condemning Palestinian "unprovoked rocket fire". The resolution made no mention of the nearly 2,000 tons of bombs that had been dropped by Israel on Gaza at the time it was passed

It also did not mention the 200 Palestinians (80% of whom are civilians, according to the UN) or the multiple attempts by Hamas to negotiate a ceasefire with Israel – including on July 6th, before the Israeli attack began in earnest.

The US House of representatives is currently Republican-led, but representatives of both political parties offered full support to the Israeli military's attack, and ongoing siege of the Gaza Strip.

During the one minute speech sessions that followed the opening prayer on Friday morning, Republican Trent Franks from Arizona stated, "Last month Palestinian President Mahmoud Abbas openly united with the terrorist group Hamas and right now they are raining down rockets on the innocent people of Israel. One half of all Israelis have sought shelter in bomb shelters."

No U.S. members of Congress mentioned the Israeli attack on Gaza that began on July 8th, killing twenty civilians before Palestinian resistance fighters responded with homemade shells.

The resolution passed by the U.S. House claimed that Iran has provided material support in long-range missile production to both Hamas and Islamic Jihad, a claim that has been made by the Israeli government. But the Israeli government has not offered anything beyond infographics that show evidence of either group possessing any such weapons.

The American Israeli Public Affairs Committee, which is the wealthiest Zionist lobby in the U.S., immediately issued a statement praising the U.S. House for "passing a forceful resolution affirming Israel's right to self-defense and holding Hamas responsible for the attacks on America's democratic ally."

Resolution 657 "states support for the state of Israel as it defends itself against unprovoked rocket attacks from the Hamas terror organization."

In the seven days of Israel's "Operation Protective Edge", launched Tuesday July 8th against the people of Gaza, Israeli forces have killed 195 Palestinians, including at least 35 children. Over 1400 Palestinians have been wounded, many of them severely. Hospitals are overflowing with wounded civilians, and are facing shortages of supplies and equipment since Israel began its siege on Gaza eight years ago.

No Israelis have been killed or wounded by Palestinian shells fired in response to the Israeli attck over the past seven days. Around a dozen Israelis have reported minor injuries sustained while running to bomb shelters.
UNICEF: Gaza Violence Most Devastating for Children
Tuesday July 15, 2014 02:56 by Chris Carlson - 1 of International Middle East Media Center Editorial Group
The United Nations Children's Fund (UNICEF) has said via press statement, that the escalating violence in the Gaza Strip and Israel threatens devastating harm for children on all sides, urging restraint to protect all children.

According to the statement: "Palestinian children have been reported killed in airstrikes on Gaza and many more injured. The coastal enclave is under closure, making it difficult for civilians to flee. In Israel, rocket attacks from Gaza threaten the lives of Israeli children as well.

"Both airstrikes and rocket attacks are putting children at risk, leaving them exposed to physical harm and mental distress," said the organization, adding: "many already experienced violence and destruction during previous escalations."

"UNICEF reiterates the UN Secretary-General's call on parties to exercise maximum restraint, and reminds them of their legal and moral obligation to protect children from harm," the statement concluded, according to WAFA Palestinian News & Info Agency.

Children are indeed bearing the brunt of the worsening violence in the region, WAFA further reports, with over 30 killed in Gaza, in recent days, and hundreds more injured, according to UNICEF Executive Director, Anthony Lake, who issued a press statement Sunday.

"No child should have to suffer the terrifying impact of such violence," he said.

"The violence is taking a shocking toll on children both physically and psychologically, with alarming consequences for future chances of peace, stability and understanding. Too often children who witness such violence, and come to view it as 'normal', are likely to repeat it themselves in later life," the statement further read.

According to WAFA, on-ground UNICEF staff members have spoken with families who describe the deep emotional impact that the current violence is having on children - children who are not sleeping or who are having nightmares, children who have stopped eating, and children who are exhibiting harrowing signs of mental distress.
This site contains copyrighted material the use of which has not always been specifically authorized by the copyright owner. We are making such material available in our efforts to advance understanding of environmental, political, human rights, economic, democracy, scientific, and social justice issues, etc. We believe this constitutes a 'fair use' of any such copyrighted material as provided for in section 107 of the US Copyright Law. In accordance with Title 17 U.S.C. Section 107, the material on this site is distributed without profit to those who have expressed a prior interest in receiving the included information for research and educational purposes. For more information go to: http://www.law.cornell.edu/uscode/17/107.shtml. If you wish to use copyrighted material from this site for purposes of your own that go beyond 'fair use', you must obtain permission from the copyright owner.