101 Palestinians Killed, 676 Injured, Overwhelming Majority of them Civilians, By Israeli War-Criminal Air Strikes on Gaza, as of July 11, 2014



Above:



Photos of death and destruction inflicted on the Palestinian people in the Gaza Strip, on July 11, 2014.

This is how the billions of dollars in military and economic aid to the Zionist, Apartheid State of Israel are spent!

The Israeli occupation army also fired missiles into Gaza's Ark solidarity ship, docked at the shore, destroying it completely. The Ark was a symbol of attempts to break the Israeli siege of Gaza Strip!
Palestinian Killed In Southern Gaza
Friday July 11, 2014 12:36 by IMEMC & Agencies
Palestinian medical sources have reported, Friday, that a Palestinian man died of wounds suffered after the Israeli occupation army fired missiles into an area south of Gaza city.

The sources said Adnan Salem al-Ash-hab, 40, died while working near the Abu Jarad area, south of Gaza City.

Al-Ash-hab is from the Nusseirat refugee camp, in central Gaza, and works at a local council,

On Friday at noon, Israeli war jets fired missiles into three recently built homes in Khan Younis, in southern Gaza, Jabalia in northern Gaza, and into open areas near Gaza city, wounding at least four Palestinians.

The four-story building in Khan Younis belongs to the Abu Ghaly family; four Palestinians have been injured, one seriously.

A home was also hit with an Israeli missile, in the same neighborhood, no injuries were reported.

Many homes have been bombarded in Jabalia, northern Gaza, and in many other areas of the coastal region.

The Israeli occupation army also fired missiles into Gaza's Ark solidarity ship, docked at the shore, destroying it completely, the Free Gaza Movement has reported.


Five members of Ghannam family, including a child, massacred in an Israeli airstrike on their house in Rafah, Gaza Strip, at dawn Friday
[ 11/07/2014 - 08:33 AM ]

RAFAH,(PIC)--
In a new Israeli bloody massacre in Rafah area at dawn today, five Palestinian civilians including a 7-year-old girl and a woman were killed in an Israeli air raid on a house.

Local sources reported that the remains of five civilians from the same family have been recovered from the rubble of the house and taken to Abu Youssef Najar Hospital, adding that many others suffered different injuries in the aerial attack.

An air-to-surface missile directly targeted the house of Ghannam family and leveled it to the ground. other neighboring homes sustained damage.

According to spokesman for the health ministry Ashraf Al-Qudra, the victims were identified as Mohamed Ashour, 25, Ghalia Ghannam, 7, Wissem Ghannam, 23, Mohammed Ghannam, 23, Mohamoud Ghannam, 26, Kifah Ghannam,20.

Israel's aerial attacks on the densely-populated Strip have claimed the lives of more than 98 Palestinians, mostly civilians, and the death toll is likely to rise.

In addition to that, more than 670 others have been injured since Israel launched its aggression against Gaza five days ago.

In response, the Palestinian resistance spearheaded by Al-Qassam Brigades of Hamas fired dozens of rockets at Israeli targets including Haifa and Jerusalem, and bombed for the first time Dimona city that include Israel's nuclear facility, in addition to Ramon military airport.
Ten Palestinians Killed, Including Two Children, by Israeli airstrikes
Friday July 11, 2014 07:21 by Saed Bannoura - IMEMC & Agencies
Palestinian medical sources reported, Friday, that a Palestinian child and a young man have been killed in Rafah and in Gaza city. Dozens of Palestinians have been injured on ongoing Israeli bombardment of civilian areas, some seriously.

Medical sources said Nour Al-Najdi, 10, died of serious injuries she suffered after the Israeli occupation army bombarded her family home in Rafah, in the southern part of the Gaza Strip.

A Palestinian identified as Dr. Anas Rezeq Abu al-Kas, 30, was also killed when the army fired a missile into his home, on the fifth floor or Barcelona Residential Tower in Tal Al-Hawa, south of Gaza city; two Palestinians were injured.

A young Palestinian man, identified as Abdullah Abu Mahrooq, was killed in Israeli bombardment targeting Dair al-Balah, in Central Gaza. He was seriously injured when the army fired a missile into a motorcycle, in the center of the city.

On Thursday afternoon, three Palestinians identified Mohammad Waloud, Hazem Ba'alousha and Ala' Abdul-Nabi were killed when the army fired a missile into a Palestinian car in Beit Lahia, in the northern part of the Gaza Strip.

Resident Ahmad Zaher Hamdan, 22, was killed when the army bombarded Beit Hanoun, also in the northern part of the Gaza Strip.

Also on Thursday, resident Hussein Eid Abu Jami', 57, and his son Ismael, 19, were killed when an Israeli missile struck his home in Khan Younis.

Resident Mohammad Abu Kahlout, 38, was killed in an Israeli air strike on Ezbit Abed-Rabbo, Jabalia, in northern Gaza.

Another resident, identified as Sami Adnan Shaldan, 25, was killed, and many Palestinians were seriously injured, two seriously, when Israeli missiles struck the Zeitoun neighborhood, east of Gaza City.

Two Palestinians were injured in Israeli bombardment targeting the Shuja'iya and Tuffah neighborhoods of Gaza City.

Dozens of Palestinians have been injured in different parts of the Gaza Strip on Friday, at dawn, as the Israeli army continued to pound every part of the densely populated coastal region, while Israeli occupation tanks and heavy artillery have been seen rolling towards the border fence with Gaza.

Medical sources said a child was seriously injured when a shell hit her home in Rafah. The Israeli occupation army bombarded different homes and structures in Rafah, causing a complete power blackout in the western side, and excessive property damage.

The Israeli air force also fired missiles into homes in the Sheja'iya neighborhood, and Tal Al-Sultan in Rafah, causing damage and several injuries. Civil Defense teams managed to rescue three Palestinians buried under rubble of shelled homes.

Also in Rafah, the army fired several artillery shells into home and structures east of the city, and into a Palestinian security center close to the border with Egypt.

Six Palestinians were injured in the Saftawi area, north of Gaza, after several Israeli missiles struck their homes. Homes were also shelled in Gaza's Zaytoon neighborhood, causing three injuries.

Four more Palestinians have been injured in Sheikh Radwan, in central Gaza, also after Israeli missiles struck their homes.

Five Palestinians were injured in Dair El-Balah, in central Gaza, and were moved to local hospitals suffering moderate-to-severe injuries. The army fired missiles into several homes in the city.

Three family members were also injured, and were moved to the Algerian Hospital after Israeli shells struck their home in Khan Younis, in the southern part of the Gaza Strip.

The Palestinian Ministry of Health denounced the Israeli shelling of the Al-Wafa' Hospital, which caused injuries to two Palestinians.

A school in Dair El-Balah, in central Gaza, was hit by an Israeli missile fired by the army at a nearby home; the missile caused damage but did not detonate, and the soldiers instantly fired another missile, hitting a nearby home.

The Israeli air force fired several missiles into the Gaza Port, and Palestinian lands west of the Al-Karama towers, north of Gaza.

Also, Israeli occupation navy boats fired missiles into the Gaza Port, while the air force fired missile into various nearby areas, including farmlands.

Dr. Ashraf Al-Qodra, spokesperson of the Ministry Of Health in the Gaza Strip, stated that resident Abdullah Abu Mahrooq died of serious injuries suffered when the Israeli occupation army fired a missile at him, while he was riding his motorcycle in Dair El-Balah.
Gaza Mother Dies Shielding Her Children on Tuesday, July 8, 2014
Friday July 11, 2014 03:11 by Chris Carlson - 1 of International Middle East Media Center Editorial Group
Tuesday night, Suha Hamad, 25 years old, sacrificed her own life to save those of her four children.

Suha took her last breath saving their lives, according to Ma'an News Agency.

When the power went out at 11 pm, on Tuesday evening, Suha took three of her children to sleep the night in their grandmother's room.

Thinking it was the safest, she went back to get her four-month-old baby, when she was hit by shrapnel from an Israeli missile.

Suha's father, Mahdi Hamad, said, "Nobody called us to evacuate the house and there aren't any resistance members around it. Glass was shattered behind the children and men fell into a big pool of blood."

Her mother asks: "Who do they have to live for when they lost both their mother and father?

"What crime have these children committed to be punished like that?"

Israeli occupation forces targeted the Hamad family house killing six family members, Ibrahim Muhammad Hamad, 26, Mahdi Muhammad Hamad, 46, Fawziyeh Khalil Hamad 62, Dunia Mahdi Hamad, 16, and Suha Hamad, 25.

All of the children survived but one, a toddler, who is now in the ICU, Ma'an has reported.
Gaza death toll hits 100 as Israel continues assault
11/07/2014, 14:55
GAZA CITY (Ma'an) --
Twelve Palestinians have been killed in Israeli airstrikes since midnight Thursday, Gaza's Ministry of Health said, bringing the death toll in Israel's military assault to 101.

The latest airstrike in Jabaliya killed Muhammad Rabee Abu Hmeidan, medics said.

An airstrike in central Gaza killed Hamas municipality employees Mazen Aslan and Shahraman Abu Kas, while five Palestinians were killed and 15 injured in Rafah after the Israeli air force targeted the Ghannam family home.

Ghaliya Dheeb Jaber Ghannam, 7, Wissam Abdulraziq Hassan Ghannam, 23, Mahmoud Abdul Raziq Hassan Ghannam, 26, Kifah Shihada Dheeb Ghannam, 20, and Muhammad Munir Ashur, 25, were identified as those killed.

The home was hit without warning and the impact of the airstrike completely destroyed the building and several surrounding properties.

Toddler Nour Abu Al-Najdah was also killed in Rafah after being injured by shrapnel from an airstrike, while Raed Abu Hani, 50, was killed in eastern Rafah.

Adnan al-Ashhab, 40, died from injuries sustained in an airstrike near the al-Nuseirat refugee camp.

In Gaza City, Israeli occupation forces warplanes targeted a fifth-floor apartment building, killing Anas Abu al-Kas.

According to Gaza's Ministry of Health, 98 Palestinians have been killed and over 600 injured in Israel's assault on the besieged coastal enclave.

The latest airstrikes would mean 100 Palestinians have now been killed since late Monday.

The United Nations Office for the Coordination of Humanitarian Affairs published an emergency report documenting that 58 Palestinian civilians, including 11 women and 21 children, have been killed as of 3 p.m. Thursday during Israel's assault.

Over 300 homes have been totally destroyed or severely damaged and around 2,000 Gazans have been made homeless, OCHA added.

US President Barack Obama said he was concerned the fighting could escalate and "called for all sides to do everything they can to protect the lives of civilians", the White House said.

"The United States remains prepared to facilitate a cessation of hostilities, including a return to the November 2012 ceasefire agreement."

Appeals for an immediate truce also came from UN chief Ban Ki-moon at an emergency meeting Thursday of the Security Council, saying a ceasefire was "more urgent than ever".

Russian President Vladimir Putin issued a similar plea in a phone call to Netanyahu, urging an immediate end to the bloodshed and expressing concern over civilian casualties.

Hamas has been striking deep inside Israel over the past 48 hours, with rockets crashing down near Jerusalem and Tel Aviv and even as far away as Al-Khudaira (Hadera), 116 kilometers to the north.

Senior Hamas member and the movement's former Gaza prime minister Ismail Haniyah ruled out any backing down by the group.

"The enemy (Israel) is the one that started this aggression and it must stop, because we are defending ourselves," Haniyah said in a statement early Friday.

1090 sites bombed

Since the start of the operation, the Israeli occupation forces' biggest offensive on Gaza since November 2012, its forces have hit over 1090 sites in Gaza.

In the same period, Gaza resistance fighters fired 407 mortars and rockets that struck Israel, while another 118 rockets were intercepted, an Israeli occupation forces spokeswoman said Friday.

The Israeli occupation government has approved the call-up of 40,000 reservists.

Analysts said Hamas had a clear aim: to drag Israel into a ground war hoping to inflict heavy casualties on its troops who would likely come under fire from anti-tank missiles and explosive devices.

Palestinian resistance fighters would also be seeking to capture Israeli occupation soldiers to use as leverage.

In a news conference, Hamas's armed wing the al-Qassam Brigades issued a veiled threat to kidnap soldiers, saying a "ground war will be a chance to free Palestinian prisoners."

Hamas spokesman Sami Abu Zuhri said in a separate statement that Israel would "pay the price for its crimes," saying an Israeli ground assault would be a mistake."

AFP contributed to this report
List of the 101 Palestinians, Including Whole Families, Killed Since Tuesday
Friday July 11, 2014 13:12 by Saed Bannoura - IMEMC News
The following is a list of the 101 Palestinians killed by Israeli air bombardment since Tuesday, July 8th. These are the names that have been confirmed by medical sources in Gaza. 676 Palestinians have also been wounded, with some losing limbs and others disabled for life. All of the casualties listed below are victims of Israeli bombs dropped on Gaza since Tuesday.

Killed on Friday 7/11:

1. Wisam Abdul-Razeq Ghannam, 23, Rafah.
2. Mohammad Abdul-Razeq Ghannam, 26, Rafah.
3. Kifah Shihada Ghannam, 20, Rafah.
4. Ghalia Thieb Ghannam, 7, Rafah.
5. Mohammad Munir 'Ashour, 25, Rafah.
6. Nour an-Ajdi, 10, Rafah.
7. Anas Rezeq abu al-Kas, 30, Gaza City (doctor).
8. Abdullah abu Mahrouq, Dir al-Balah.
9. Mohammad Waloud, Beit Lahia
10. Hazem Ba'lousha, Beit Lahia.
11. Ala' Abdul Nabi, Beit Lahia
12. Ahmed Zaher Hamdan, 22, Beit Hanoun.
13. Mohammad al-Kahlout, 38, Jabalia.
14. Sami Adnan Shaldan, 25, Gaza City
15. Salem al-Ashhab,40, Gaza City.
16. Raed Abu Hani, 50, Rafah.

Killed on Thursday 7/10:

1. Mahmoud Lutfi al-Hajj, 57, Khan Younis. (father of six killed)
2. Bassema 'Abdul Qader Mohammed al-Hajj, 48, Khan Younis. (mother of six killed)
3. Asma' Mahmoud al-Hajj, 22, Khan Younis.
5. Sa'ad Mahmoud al-Hajj, 17, Khan Younis.
6. Najla' Mahmoud al-Hajj, 29, Khan Younis.
7. Tareq Sa'ad al-Hajj, 18, Khan Younis.
8. Omar al-Hajj, 20, Khan Younis.
9. Baha' Abu al-Leil, 35, Gaza City.
10. Suleiman Saleem Mousa al-Astal, 17, Khan Younis.
11. Ahmed Saleem Mousa al-Astal, 18, Khan Younis (Suleiman's brother)
12. Mousa Mohammed Taher al-Astal, 15, Khan Younis.
13. Ibrahim Khalil Qanan, 24, Khan Younis.
14. Mohammad Khalil Qanan, 26, Khan Younis (Ibrahim's brother).
15. Ibrahim Sawali, 28, Khan Younis.
16. Saleem Sawali, 23, Khan Younis.
17. Hamdi Sawali, 18, Khan Younis.
18. Mohammad al-'Aqqad, 24, Khan Younis.
19. Ismael Abu Jame', 19, Khan Younis.
20. Hussein Abu Jame', 57, Khan Younis (Ismael's father).
21. Ramadan Abu Ghazal, 5, Beit Lahia.
22. Ehsan Ferwana, 19, Khan Younis.
23. Salem Qandil, 27, Gaza City.
24. Amer al-Fayyoumi, 30, Gaza City.

Killed on Wednesday 7/9:

1. Hamed Shihab, Journalist – Gaza.
2. Salmiyya al-'Arja, 53, Rafah.
3. Miriam 'Atiya al-'Arja, 9, Rafah.
4. Rafiq al-Kafarna, 30.
5. Abdul-Nasser Abu Kweik, 60.
6. Khaled Abu Kweik, 31.
7. Eyad Salem 'Oraif, 12, Gaza City.
8. Mohammad 'Oraif, 10, Gaza City (Eyad's brother).
9. Mohammad Mustafa Malika, 18 months.
10. Hana' Mohammed Fu'ad Malaka, 28 (Mohammad's Mother), 27.
11. Hatem Abu Salem.
12. Mohammad Khaled an-Nimra, 22.
13. Sahar Hamdan (al-Masry), 40, Beit Hanoun.
14. Ibrahim al-Masry, 14, Beit Hanoun.
15. Amjad Hamdan, 23, Beit Hanoun.
16. Hani Saleh Hamad, 57, Beit Hanoun.
17. Ibrahim Hani Saleh Hamad, 20, Beit Hanoun.
18. Mohammad Khalaf Nawasra, 2, al-Maghazi.
19. Nidal Khalaf Nawasra, 4, al-Maghazi.
20. Salah Awad Nawasra, 24, al-Maghazi.
21. 'Aesha Shubib al-Nawasra, 23, who was pregnant in the fourth month, al-Maghazi.
22. Naifa Mohammed Zaher Farajallah, 82, al-Mughraqa.
23. Aisha Najm.
24. Amal Yousef Abdul-Ghafour.
25. Ranim Jouda Abdul-Ghafour.
26. Ibrahim Daoud al-Bal'aawy.
27. Abdul-Rahman Jamal az-Zamely.
28. Ibrahim Ahmad 'Abdin.
29. Mustafa Abu Murr.
30. Khaled Abu Murr.
31. Mazin Al-Jarba.
32. Marwan Eslayyem.
33. Hatem Abu Salem, Gaza City.
34. Nariman Abdul-Ghafour, Khan Younis.
35. Ra'ed Mohammed Abu Shalat, 35, al-Nussairat.
36. Yasmin al-Mautawaq, 3, Gaza City.
37. Ahmad Swali, 28, al-Nussairat.

Killed on Tuesday 7/8

1. Mohammad Sha'ban, 24, Gaza.
2. Amjad Sha'ban, 30, Gaza.
3. Khader al-Basheeleqety, 45, Gaza.
4. Rashad Yassin, 27, Nusseirat.
5. Mohammad Ayman 'Ashour, 15, Khan Younis.
6. Riyadh Mohammad Kaware', 50, Khan Younis.
7. Bakr Mohammad Joudeh, 50, Khan Younis.
8. Ammar Mohammad Joudeh, 26, Khan Younis.
9. Hussein Yousef Kaware', 13, Khan Younis.
10. Bassem Salem Kaware', 10, Khan Younis.
11. Mohammad Ibrahim Kaware', 50, Khan Younis.
12. Mohammad Habib, 22, Gaza.
13. Mousa Habib, 16, Gaza.
14. Saqr 'Aayesh al-'Ajjoury, 22, Jabalia.
15. Ahmad Nael Mahdi, 16, Gaza.
16. Hafeth Mohammad Hamad, 26, Beit Hanoun.
17. Ibrahim Mohammad Hamad, 26, Beit Hanoun.
18. Mahdi Mohammad Hamad, 46, Beit Hanoun.
19. Fawziyya Khalil Hamad, 62, Beit Hanoun.
20. Donia Mahdi Hamad, 16, Beit Hanoun.
21. Soha Hamad, 25, Beit Hanoun.
22. Suleiman Salam Abu Sawaween, 22, Khan Younis.
23. Siraj Eyad Abdul-'Aal, 8, Khan Younis.
24. Abdul-Hadi Soufi, 24, Rafah.
=============================================================
Israeli Brutality and Violations in the West Bank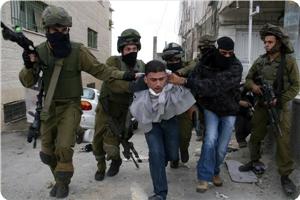 Israeli occupation soldiers kidnap a Palestinian youngman: More Than 1,000 Palestinians Kidnapped Since June 12, 2014
Ministry Of Health: "More Than 1,000 Palestinians Kidnapped Since June 12"
Friday July 11, 2014 11:52 by Saed Bannoura - IMEMC News
Head of the Censure Department at the Palestinian Ministry Of Detainees, Abdul-Nasser Ferwana, has stated that Israeli occupation soldiers kidnapped more than 1,000 Palestinians since the three Israeli settlers went missing on June 12, 2014.

Ferwana said that the latest kidnappings against Palestinians in the West Bank brought the number of Palestinians currently imprisoned by Israel to more than 6,200.

He added that Israel never stopped kidnapping Palestinians, as the Israeli occupation army has been kidnapping approximately 35 each day, and that the vast majority of arrests take place in the West Bank, while 350 Palestinians have been kidnapped in occupied Jerusalem and historic Palestine.

The Palestinian researcher also said that the Israeli occupation army kidnapped nearly 200 children, 13 democratically elected legislators, including the head of the Palestinian Legislative Council (PLC), Dr. Aziz Duwaik, as well as two former ministers, bringing the number of imprisoned legislators to 24, in addition to two ministers of former government.

The Israeli occupation army also kidnapped 60 former prisoners who were previously released under the "Shalit Prisoner Swap Agreement", bringing the number of detainees released under the deal, and then rearrested, to more than 80, in direct violation of previously signed agreements.

Israel is also threatening to re-impose their terms, in effect threatening to imprison them for life, or dozens of years, in direct violation of the prisoner-swap deal.

The Palestinian official stated that more than 180 of the recently kidnapped Palestinians have been detained under arbitrary Administrative Detention order, without charge or trial.

He called for keeping the issue of all political prisoners as a priority, and to expose Israel's violations, especially since the arrests are ongoing and even escalating, while the Israeli Prison Authority is imposing sanctions against the detainees, and continuously punishing them.
Palestinian civilians sustain severe injuries in clashes with IOF
[ 11/07/2014 - 09:37 AM ]

BETHLEHEM, (PIC)--
A wave of violent clashes broke out Thursday evening and Friday morning between the Israeli occupation forces (IOF) and a group of Palestinian youths in different areas of Bethlehem and al-Khalil.

A PIC correspondent at the scene said dozens of Palestinian youths were treated for breathing problems and other suffered injuries as the IOF targeted a rally staged in protest at the Israeli aggression against Gaza, using live ammunition, tear gas, and rubber bullets.

Tarek Jawarish sustained a bullet injury in his feet while Ahmad Awda was hit with a tear gas grenade in his face.

In another incident, other civilians suffered from tear gas inhalation during confrontations with Israeli troops in Housan village, west of Bethlehem.

Other clashes erupted on Friday in different areas of al-Khalil, including Kharsa, Tabaka, Ahnina, and Bab al-Zawia. Heavy firing of tear gas canisters and stun bombs by the IOF took place.

Injuries have been reported in the clashes that happened in Bab al-Zawia, where dozens of Israeli occupation patrols have been deployed in an attempt to launch a mass-arrest campaign against Palestinian youths.

Local sources in al-Khalil reported confrontations with the IOF in Bani Na'im to the east of al-Khalil for the second day running. Dozens of Palestinian young men suffered breathing problems due to IOF heavy firing of tear gas.

Palestinian citizen Jalal Matwer, from Bani Na'im, was rounded up by Israeli special forces in the events.

The situation has been no less tense in Beit Ummar and around al-Aroub refugee camp, north of al-Khalil, after a drove of Israeli troops aboard armored jeeps stormed the area and deployed themselves on rooftops of homes.

Palestinian citizen Muhammad Ayash was rushed to a hospital after he was shot with an IOF rubber bullet in his head, eyewitnesses in Beit Ummar told the PIC.
Violent clashes ignited by IOF in al-Khalil
[ 10/07/2014 - 10:29 AM ]
AL-KHALIL, (PIC)--
A round of violent confrontations burst out at dawn Thursday between the Israeli occupation forces (IOF) and a group of Palestinian youths across different areas of al-Khalil and in Salfit following a series of arbitrary Israeli incursions into the region.
Local sources said dozens of Palestinian civilians suffered breathing problems and other injuries after the Israeli occupation patrols stormed their homes and deployed on their rooftops using tear gas canisters and rubber bullets in the process.
The security apparatuses of the Palestinian Authority have added fuel to fire by coming down heavily on the unarmed youths and beating them up.
In a related event, Israeli armored jeeps invaded al-Aroub refugee camp and cordoned off several neighborhoods, escorted by dozens of Israeli patrols and military vehicles summoned from the nearby Israeli watchtower.
IOF targeted Palestinian youngsters in Beit Ummar, north of al-Khalil, with tear gas and live ammunition, triggering violent clashes in the town.
An Israeli watchtower, set at the expense of Palestinians' lands between Beit Awa and al-Majd village, to the west of al-Khalil, was set ablaze. No fire injuries have been reported.
In another event, the IOF rounded up Palestinian young man Hussein Yahya Nairat, from Methlon town, south of Jenin, and took him to an unidentified destination as he was trying to pass through the Zaatara military checkpoint, in the West Bank.
The situation has been no less tense in Salfit, where brutal confrontations erupted as the IOF opened fire on a group of Palestinian civilians who tried to take out some of the barbed wire surrounding the separation wall.
Eye-witnesses said the Palestinian youngsters could only respond by hurling stones.
14 Palestinians Injured By Army Fire Near Ramallah
Friday July 11, 2014 05:35 by Saed Bannoura - IMEMC & Agencies
Palestinian medical sources have reported that 14 Palestinians have been shot and wounded by Israeli occupation soldiers' fire in different villages and towns, in the central West Bank district of Ramallah, throughout the night until the early dawn hours.

Local sources in the Al-Jania village, west of Ramallah, stated that nine Palestinians have been shot by live rounds, fired by invading Israeli soldiers.

Invading soldiers also fired dozens of gas bombs, rubber-coated metal bullets and concussion grenades, while several local youth hurled stones, empty bottles and Molotov cocktails at them.

Dozens of Palestinians were treated for the effects of teargas inhalation.

Undercover soldiers also attempted to ambush the youths, but were soon exposed.

The residents said scores of Palestinians have been hurt by army fire, while ambulances could not even enter the village as the army besieged it, and declared it a closed military zone.

The village is subject not only to frequent invasions by Israeli soldiers, but also to ongoing assaults carried out by armed fanatic Israeli settlers.

Clashes also took place in Deir Mashal village, northwest of Ramallah, after dozens of soldiers invaded it, firing rounds of live ammunition in addition to gas bombs, concussion grenades, firebombs and rubber-coated metal bullets.

A number of Palestinians threw a tank of propane gas at one of the invading Israeli vehicles.

Two Palestinians have also been wounded, by rubber-coated metal bullets, in the al-Biereh nearby town, and the army also kidnapped at least four others.

Clashes also took place near the Psagot illegal Israeli settlement, in the area.

Three Palestinians have been injured in Ni'lin village, during clashes with Israeli soldiers invading it through its eastern side, close to a bypass road used by Israeli settlers illegally living in the area, as well as the soldiers.

The Israeli occupation soldiers tried to invade the village, but were met with fierce resistance from hundreds of local youth, who hurled stones, bottles and Molotov cocktails at them.
968 Palestinian civilians rounded up since launch of IOF arrest campaign
[ 10/07/2014 - 02:19 PM ]
RAMALLAH, (PIC)--
The Israeli occupation army and police forces rounded up 33 Palestinian civilians Wednesday evening and early Thursday morning following a series of incursions into the West Bank and 48 Occupied Palestine, bringing the total number of Palestinians captured since the launch of IOF mass-arrest campaign to 968 captives.
According to a statement issued by the Palestinian Prisoner Society on Thursday, the Israeli patrols apprehended 2 Palestinians from Bethlehem, 2 from Ramallah, one from Jenin, and another from Tulkarem.
12 Palestinians were arrested in Occupied Jerusalem, including 10 from Shufa'at and Ras al-Amoud and two others from the Old City, PPS lawyer reported.
Ayman al-Haj Yahya, Secretary of the Arab Association for Ex-Prisoners in 48 Occupied Palestine, further documented the arrest of 15 Palestinian youths in Negev, al-Tayba, al-Jalil, and Ara.
PPS statement further pointed out the geographical distribution of the captives detained since the launch of the Israeli military campaign across different cities and provinces.
Al-Khalil hit a record high of 243 detainees, followed by 166 from the 1948 Occupied Palestine, 136 from Occupied Jerusalem, 114 from Nablus, and 96 from Bethlehem.
72 citizens were rounded up in Ramallah and al-Bira, compared to 67 from Jenin, 31 from Tulkarem, 20 From Qalqilya, and 23 From Salfit, Tubas and Ariha.
PPS lawyer Jacqueline Frarja kept record of prisoners' sworn torture affidavits. A recent testimony delivered by Bethlehem native Suhaib Taleb Shousha, locked up in Etzion jail, unveils the heavy beatings, boot-kicking, and moral humiliation to which the prisoner has been subjected, besides of the dire detention circumstances inside of Israeli lock-ups.
Lawyer Frarja said following a visit to Etzion prison traces of severe torture and injuries appeared on Suhaib's body.
This site contains copyrighted material the use of which has not always been specifically authorized by the copyright owner. We are making such material available in our efforts to advance understanding of environmental, political, human rights, economic, democracy, scientific, and social justice issues, etc. We believe this constitutes a 'fair use' of any such copyrighted material as provided for in section 107 of the US Copyright Law. In accordance with Title 17 U.S.C. Section 107, the material on this site is distributed without profit to those who have expressed a prior interest in receiving the included information for research and educational purposes. For more information go to: http://www.law.cornell.edu/uscode/17/107.shtml. If you wish to use copyrighted material from this site for purposes of your own that go beyond 'fair use', you must obtain permission from the copyright owner.