Gaza Strip Faces Ferocious Blockade After Egyptian Closure of Rafah Border Crossing, Destruction of Tunnels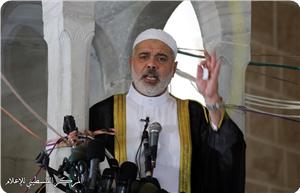 Premier Haniya: Gaza siege is more vicious than ever
[ 01/02/2014 - 10:00 AM ]
GAZA, (PIC)--
Palestinian premier Ismail Haniya said that the Gaza Strip is exposed to the most ferocious blockade after Egypt closed the Rafah border crossing and destroyed the tunnels.
In his Friday khutba (sermon), premier Haniya stated that the current blockade considerably affected every citizen in the Gaza Strip and their need for food, medicines, clothing and many vital things.
The premier expressed his belief that the blockade is aimed at subjugating the Palestinian people and forcing their legitimate national leadership to change its political positions and accept the Zionist-American solutions.
He underlined that Gaza is under three types of bombardment, "the blockade, the repeated Israeli military aggression, and the media warfare" that is waged by some Arab parties against the Palestinian resistance in Gaza.
He said that the unjust media campaigns which are launched by some Arab countries against the Palestinian people, their resistance, martyrs and prisoners are more painful than any Israeli shelling of the Gaza Strip.
The premier also condemned some Egyptian officials for making accusations against Palestinians martyrs and prisoners in Israeli jails of being involved in Egyptian events and stressed that those martyrs and prisoners are a source of pride for the Palestinian people and the Arab and Muslim nations.
His sermon also highlighted the Zionist-American plans to liquidate the Palestinian cause and prevent any reconciliation between the Palestinian rivals, and reiterated his rejection of the peace talks and the security cooperation with the occupation.
Norway boycotts Israeli firms involved in illegal settlement activities
[ 01/02/2014 - 12:40 PM ]
OSLO, (PIC)--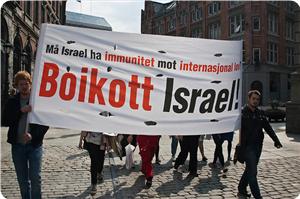 Norway's biggest pension fund has decided to stop investing in two Israeli companies because of their involvement in the illegal settlement activities in the eastern part of occupied Jerusalem.
The Norwegian foreign ministry this week blacklisted "Africa Israel Investments" and its subsidiary "Danya Cebus," on a recommendation from the fundís ethics council.
The companies were boycotted by the fund once before in 2010. The fundís ethics council says Israel's settlements represent "serious violations of the rights of individuals in the occupied territories."
Norway's government pension fund is one of the world's largest investors and its funds comes from Oslo's oil revenues. Its total value is about 820 billion dollars.
A major private Dutch pension fund had announced earlier this month that it decided to boycott five large Israeli banks because of their operations in West Bank settlements.
Other Norwegian and Swedish investors are considering to follow suit.
Resheq: Norwegian finance ministry's decision a step in the right direction
[ 01/02/2014 - 05:23 PM ]
BEIRUT, (PIC)--
Member of the political bureau of Hamas Ezzat Resheq hailed the decision of the Norwayís Government Pension Fund Global (GPFG) to exclude two Israeli firms from its investments, over their involvement in illegal construction work in the West Bank.
Resheq said on Saturday that the decision of the Norwegian Finance Ministry represents "a step in the right direction", noting that it comes in the context of the rejection of the settlement activity and the land grab in occupied Palestine.
Norway's finance ministry announced on Thursday that the country's GPFG would blacklist two Israeli companies, due to their involvement in settlement building.
The resolution stated that the Africa Israel Investments and Danya Cerbus, two Israeli companies which are involved in construction, will be banned from Norway's pension fundís investments as they contribute "to serious violations of individual rights in war or conflict through the construction of settlements in East Jerusalem."
UN concerned over displacement of Palestinians in the Jordan Valley
[ 01/02/2014 - 05:11 PM ]
RAMALLAH, (PIC)--
A senior UN official strongly criticized Israel's demolition of 36 Palestinian homes in the Jordan Valley, in one day, and urged an immediate halt to such actions that displace dozens of Palestinians.
The Humanitarian Coordinator of the United Nations in the Occupied Palestinian Territories, James Rowley, expressed in a press release his concern about the demolitions in the Jordan Valley community of Ain al-Hilweh on Thursday, which displaced 66 Palestinians, including 36 children.
"I am deeply concerned about the ongoing displacement and dispossession of Palestinians... along the Jordan Valley where the number of structures demolished more than doubled in the last year," he said.
"This activity not only deprives Palestinians of access to shelter and basic services, it also runs counter to international law."
The Humanitarian Coordinator said the destruction of Palestinian-owned property and forced eviction of Palestinians must be brought to an immediate halt until Palestinians have access to a fair planning and zoning regime that meets their needs.
He added that the humanitarian agencies are providing the necessary emergency assistance to families that are currently without shelter and suffering impaired livelihoods; however, they are facing increasing difficulties responding to emergency needs in the Jordan Valley due to Israeli restrictions.
His office said that more than 1,000 people had been displaced last year in the West Bank and annexed east Jerusalem by demolitions on the grounds that homes had been built without Israeli permits, "which are virtually impossible to obtain."
Since the beginning of 2014, over 100 Palestinian-owned structures have been demolished in these areas, forcibly displacing more than 180 Palestinians, including nearly 100 children.
Illegal Israeli settlers try to grab land lot in Bethlehem
[ 01/02/2014 - 04:35 PM ]
BETHLEHEM, (PIC)--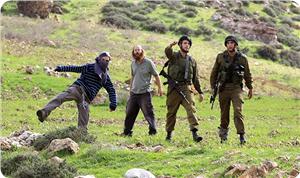 Illegal Israeli Jewish settlers at dawn Saturday tried to seize a Palestinian land lot in the village of Khader in the West Bank southern city of Bethlehem.
Eyewitnesses told PIC's reporter that a group of settlers from Sidi Boaz settlement, built on citizens' lands in the area of Ain Qasis in the town, started to plant a land owned by Ibrahim Sabih and to set up tents in it, in an attempt to seize it.
The witnesses added that the Sabih family immediately removed the plants and tents set up in their land, and clashed with the settlers and a number of Israeli soldiers, who arrived to provide protection for the settlers.
New illegal Israeli settlement schemes in WB and Jerusalem
[ 01/02/2014 - 12:39 PM ]
OCCUPIED JERUSALEM, (PIC)--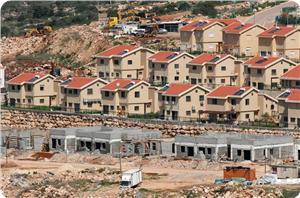 Israeli occupation government (IOG) declared the establishment of more than one hundred housing units in the illegal Givat Ze'ev settlement and 1,800 new housing units at the expense of Sur Baher lands, Hebrew media sources revealed.
Urshalim Hebrew newspaper reported that a new tender has been approved to establish 102 housing units in Givat Ze'ev settlement, north of occupied Jerusalem.
The land dedicated for project is estimated at 12 dunums, the newspaper added, noting that the company that won the tender is going to pay 41 million shekels including 8.27 million for land development costs.
Urshalim also pointed out that 1,800 new housing units have been approved to be built in Sour Bahr and Arnona neighborhood.
For its part, Kol Ha'ir Hebrew paper stated that these new settlement projects have been submitted by Israel Lands Administration and supported by Israeli local and district committees, saying that the settlement plans came in light of Jerusalem mayor Nir Barkat's efforts to expand and increase housing units in occupied Jerusalem.
The chairman of the municipality supervisory committee and member of the local committee (Meretz) said that most of the planned housing units are located in Jerusalem municipality, while the rest is located at Kibbutz Rachel and Sur Baher lands, noting that they cannot be approved unilaterally in light of the ongoing talks between Israeli and Palestinian authorities.
Israeli War Minister Moshe Yaalon decided to legalize Gilead random settlement in return for the evacuation of four buildings erected in area B.
Haaretz Newspaper said that the settlement includes 40 buildings established in 2002, and it was evacuated by force twice.
This site contains copyrighted material the use of which has not always been specifically authorized by the copyright owner. We are making such material available in our efforts to advance understanding of environmental, political, human rights, economic, democracy, scientific, and social justice issues, etc. We believe this constitutes a 'fair use' of any such copyrighted material as provided for in section 107 of the US Copyright Law. In accordance with Title 17 U.S.C. Section 107, the material on this site is distributed without profit to those who have expressed a prior interest in receiving the included information for research and educational purposes. For more information go to: http://www.law.cornell.edu/uscode/17/107.shtml. If you wish to use copyrighted material from this site for purposes of your own that go beyond 'fair use', you must obtain permission from the copyright owner.