Wall Street Rebounds on Easing Tensions in Ukraine
Wall Street Rebounds on Easing Tensions in Ukraine
NEW YORK, August 8, 2014 (Xinhua) --
U.S. stocks bounced back Friday from recent drops, on signs of declining tensions in Ukraine.
The Dow Jones Industrial Average soared 185.66 points, or 1.13 percent, to 16,553.93. The S&P 500 surged 22.02 points, or 1.15 percent, to 1,931.59. The Nasdaq Composite Index rallied 35.93 points, or 0.83 percent, to 4,370.90.
The stock market kept climbing in the afternoon session after a report came out that Russia ended military drill near the Ukrainian border, which lured investors into buying a dip.
Wall Street went up slightly higher, as the Pentagon announced on Friday that the U.S. military have launched targeted airstrikes on forces of the so-called Islamic State of Iraq and the Levant by dropping two laser-guided bombs on its mobile artillery.
Following the gains, major stock indices turned positive for the week when the market had been under downside pressure amid geopolitical turmoil, up 0.4 percent, 0.3 percent and 0.4 percent, respectively.
On the economic front, U.S. wholesale inventories advanced 0.3 percent in June on a monthly basis, falling short of market estimates, the Commerce Department reported Friday.
Meanwhile, the Labor Department said Friday that U.S. nonfarm business sector labor productivity increased at a 2.5 percent annual rate during the second quarter of 2014, beating analyst forecast. Unit labor costs in nonfarm businesses rose 0.6 percent in the quarter, shy of market expectations.
The CBOE Volatility Index, often referred to as Wall Street's fear gauge, dipped 5.34 percent to end at 15.77 Friday.
In other markets, U.S. crude price gained Friday on U.S. airstrikes against insurgents in Iraq. Light, sweet crude for September delivery moved up 31 cents to settle at 97.65 U.S. dollars a barrel on the New York Mercantile Exchange, while Brent crude for September delivery lost 42 cents to close at 105.02 dollars a barrel.
Gold futures on the COMEX division of the New York Mercantile Exchange lost ground Friday as tensions in Ukraine decelerated, with the most active gold contract for December delivery down 1.5 dollars, or 0.11 percent, to settle at 1,311 dollars per ounce.
The U.S. dollar weakened against most major currencies Friday as the United States launched airstrikes against militants in Iraq.
In late New York trading, the euro rose to 1.3410 dollars from 1.3359 dollars of the previous session, and the greenback bought 102.04 Japanese yen, lower than 102.07 yen of the previous session.
Editor: yan
Donetsk militia ready for ceasefire to prevent further humanitarian catastrophe
Published time: August 09, 2014 13:41 Edited time: August 09, 2014 15:54
Donetsk region militia says it is ready for a ceasefire to stop the humanitarian catastrophe deteriorating, the self-proclaimed Republic's prime minister said.
LIVE UPDATES:Kiev's bloody eastern Ukraine campaign
"We hope that the international community will influence the bloodthirsty Kiev government," Aleksandr Zakharchenko said as cited by RIA Novosti. "But in the case of Ukrainian army aggression continuing, our people's militia will fight with any balance of forces and in any conditions," he said.
The self-proclaimed Republic's prime minister confirmed Kiev forces surrounded Donetsk on Saturday. Briefing on the current situation there, he said "there is a humanitarian catastrophe in the city."
"People are dying in shelling. In the case of a storming of the city, the number of victims will increase. Today there are absolutely no humanitarian corridors. Medicines can't get into Donetsk and food supplies are running out. Because of the blockade and bombardment, it is impossible to repair the destroyed municipal network," Zakharchenko said. He added the city has problems with water supplies and power.
The statement comes as the UN voiced serious concerns over the situation in eastern Ukraine.
"Innocent civilians trapped in the fighting continue to lose their lives," UN Secretary General Ban Ki-moon said on Friday.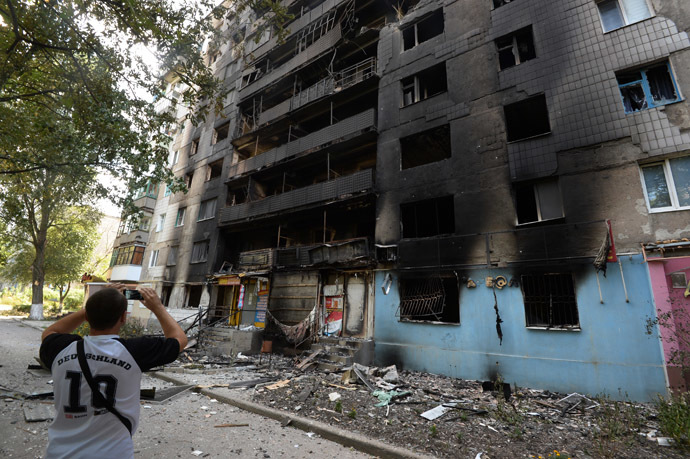 Ban promised that the UN will continue to "actively and closely" follow the situation, and if there is further deterioration of the humanitarian situation, or if nationally-led response efforts are not sufficient to meet humanitarian needs, the organization will be "ready to consider additional measures of support."
The UN chief also praised Kiev for handling the situation at this stage "appropriately."
Despite increasing numbers of refugees fleeing to Russia and the continuing fighting in eastern Ukraine, Ukrainian officials deny that the region is on verge of a humanitarian catastrophe.
The eastern Ukrainian city of Lugansk declared a state of humanitarian catastrophe on Tuesday, as there are no medical supplies, electricity, or lighting, as well as a lack of mobile and internet communication. Some 250,000 civilians are unable to leave, a statement on the city council website said.
Read more: Humanitarian catastrophe: Lugansk, E. Ukraine, left with no water, power
Russia's Ambassador to the UN, Vitaly Churkin, is calling for an international humanitarian mission to be launched. Whereas Ukraine's envoy to UN Yuriy Sergeyev said the situation in eastern Ukraine is manageable by the government, adding that there is no humanitarian crisis.
On August 4, Russia's Foreign Minister Sergey Lavrov proposed humanitarian convoys, saying that Russia was ready to provide humanitarian assistance to its neighbor "on our own."
The International Committee of the Red Cross (ICRC) supported the proposal, saying that "the ICRC acknowledges receipt of the offer from the Russian Minister of Foreign Affairs, Sergey Lavrov, about organizing aid convoys to the affected areas in Ukraine."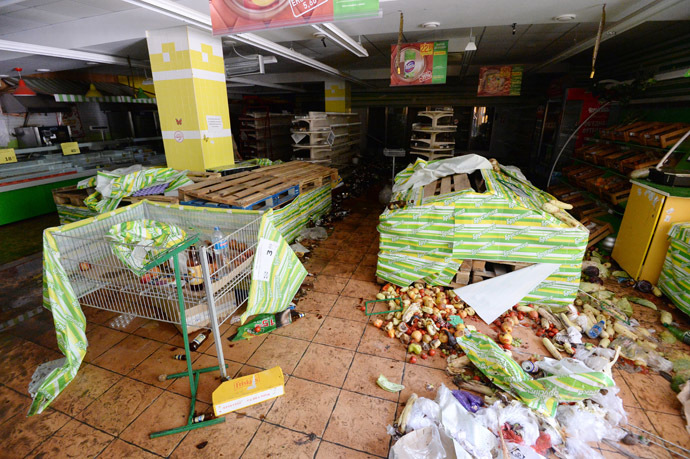 Kiev officials claimed a Russian "humanitarian convoy" was stopped from crossing the border on Friday over fears it was an attempt by Moscow to invade Ukraine.
"Supposedly in consultation with the International Committee of the Red Cross in Ukraine, the humanitarian convoy with 'peacekeepers' was meant to enter apparently in order to provoke a full-scale conflict," Valeriy Chaliy, deputy head of Ukrainian President Petro Poroshenko's office said.
Russia has denied Kiev's claims that Russian military attempted to infiltrate Ukrainian territory.
"We struggle to understand what the Ukrainian side means. There have been no attempts of infiltration by the Russian army," said President Vladimir Putin's spokesman, Dmitry Peskov.
The Red Cross, at the same time, also denied allegations the organization was involved in any such "humanitarian convoy."
ICRC spokeswoman Sitara Jabee told AFP that if all sides in the conflict were to agree, the ICRC could potentially receive aid from Russia.
But so far, "nothing has been done," she said.
Ukraine says stops Russian troops invading, Moscow calls statement 'fairy tale'
KIEV Sat Aug 9, 2014 11:50am EDT
(Reuters) -
Ukraine said on Saturday it had headed off an attempt by Russia to send troops into Ukraine under the guise of peacekeepers with the aim of provoking a large-scale military conflict, a statement Moscow dismissed as a "fairy tale".
Ukraine has made several similar statements about Russian aggression during months of conflict with separatists on its eastern border with Russia that it says are backed by Moscow none of which have been independently verifiable.
A senior aide to Ukrainian president Petro Poroshenko said a large Russian military convoy had been heading for the border on Friday under a supposed agreement with the Red Cross, but had stopped after an appeal by Kiev to Russia.
It was not immediately clear what convoy Poroshenko's aide was referring to.
Russia's Defence Ministry said on Friday it had finished military exercises in southern Russia, near the Ukrainian border, which the United States had criticized as provocative.
"A huge military convoy accompanied by Russian soldiers and equipment was moving towards the Ukrainian border, allegedly by agreement with the Red Cross," Valery Chaly, deputy head of Poroshenko's administration, said.
No one at the Red Cross was immediately available to comment.
"A humanitarian column with 'peacekeepers' was to enter the territory of Ukraine, clearly to provoke a full-scale conflict," he said, according to Ukraine's presidential press service.
Chaly said Poroshenko held urgent talks with his security chiefs and world leaders, though he did not specify which ones. Foreign Minister Pavlo Klimkin said separately he had called his Russian counterpart Sergei Lavrov who had assured him the convoy would be stopped.
"As of now, the danger of provocation has been removed, but operational staff continue to work," Chaly said.
Maria Zakharova, a spokeswoman for the Russian Foreign Ministry, dismissed the statement by Chaly as untrue.
"Each time Kiev is more and more inventive in creating fairy tales," she said, noting that special protocols had to be completed before Russian troops could be sent abroad.
"The (Ukrainian) National Guard probably have to report about their achievements in the field, so they pretended they have some," she said.
Dmitry Peskov, the spokesman for Russian President Vladimir Putin, said by phone: "We don't know what (the Ukrainians) are talking about because nothing like that happened."
However, Ukraine's Foreign Ministry warned the danger was not over.
"Against a background of numerous violations by Russia of the border regime with Ukraine and deliveries of weapons, equipment and mercenaries, Ukraine has enough grounds for believing that this convoy can be used again for further escalation of tension," the ministry said in a statement.
Ukraine and the West see a growing danger of a Russian invasion under the guise of a peacekeeping mission. Kiev says any such mission would be perceived as direct aggression.
The head of NATO Anders Fogh Rasmussen called this week on Russia to pull its troops back from the Ukrainian border and warned further intervention in Ukraine would mean greater isolation from the rest of the world.
The head of the U.S.-led alliance said Russia had massed about 20,000 troops near Ukrainian border, very close to the regions where Ukrainian government forces are fighting pro-Russian rebels.
Ukrainian officials say that frequent Russian military exercises near the border complicate the situation, and on Saturday a Ukrainian military spokesman said that the move was not a "stage in de-escalation of the situation near the border".
Ukraine and its Western allies accuse Russia of orchestrating the revolt and arming the rebels, who have declared independent "people's republics" in the two main industrial regions. Moscow denies involvement.
(Reporting by Pavel Polityuk in Kiev; Additional reporting by Gabriela Baczynska, Polina Devitt, Alexei Anishchuk and Jason Bush in Moscow and Richard Balmforth in Kiev; Editing by Louise Ireland)
This site contains copyrighted material the use of which has not always been specifically authorized by the copyright owner. We are making such material available in our efforts to advance understanding of environmental, political, human rights, economic, democracy, scientific, and social justice issues, etc. We believe this constitutes a 'fair use' of any such copyrighted material as provided for in section 107 of the US Copyright Law. In accordance with Title 17 U.S.C. Section 107, the material on this site is distributed without profit to those who have expressed a prior interest in receiving the included information for research and educational purposes. For more information go to: http://www.law.cornell.edu/uscode/17/107.shtml. If you wish to use copyrighted material from this site for purposes of your own that go beyond 'fair use', you must obtain permission from the copyright owner.