The Palestinians in Gaza Love Life but with Dignity
By Hasan Afif El-Hasan
PIC, [ 08/08/2014 - 03:29 PM ]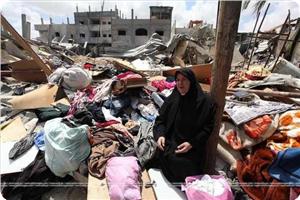 More than 1.7 million Palestinians of Gaza Strip including 1.3 million refugees have been living in overpopulated shanty towns and refugee camps under tight blockade by Israel and Egypt that restricted the imports, exports, people movements, and ocean fishing. To add insult to injury, they have been victims of daily attacks by Israel for years. These conditions have resulted in the impoverishment and de-development of the population in the Strip where most of them hardly survive on the UNRWA hand-outs. This has deepened and strengthened their feeling of being dispossessed of their homeland and deprived of their right to have normal life. The failure to resolve their suffering and the grave injustice inflected on them, which is the root of the ongoing conflict, was waiting for an incident to explode. Failure of the US Secretary of State John Kerry to stop even Israel's accelerated settlement construction in the occupied lands rendered the United States unable or unwilling to pressure Israel preserve even the facade of a negotiated peace that may meet the minimum legitimate needs of the Palestinians.
Israel's Prime Minister Netanyahu was furious when Fatah initiated a unity pact with Hamas and formed a unified Palestinian government. He suspended contacts with the Palestinian Authority (PA) government, and soon after that, three settler youths were found murdered in the West Bank. Israel arbitrarily accused Hamas for the killings, arrested hundreds of Hamas supporters in the West Bank, and killed three of their leaders even when Hamas denied the accusation. Ramzy Baroud calls the accusation that Hamas killed the teenagers to justify the barbaric attacks on Gaza "the WMD [false US excuse to invade Iraq] of Gaza onslaught."
Launching attacks on the Palestinians in Gaza Strip has been an Israeli ritual every time there is a pressure on its leaders. The residents of Gaza have nowhere to hide in their large concentration camp that is besieged from all directions. Gaza Palestinians are captive prisoners, Israel military intelligence knows where every Palestinian lives in Gaza, and it is easy for Israel to kill Palestinians at will and inflict pain and suffering among them. Israel has a long history of assassinating Palestinians everywhere, in Lebanon, Tunisia, Gaza, the West Bank, Jordan and Gulf States. The founders of Hamas, Sheikh Ahmed Yassin was assassinated in Gaza by an Israeli missile from a helicopter while in wheel-chair in March 2004, Abdel-Aziz al-Rantissi was assassinated also in Gaza by a hellfire missile from Israeli Apache helicopter at his car in April 2004.
Netanyahu does not seem to understand that Israel's own routine systematic violence and the subjugation of the Palestinians will inevitably lead to counter-violence. Palestinian resistance groups in Gaza including Hamas had to respond to the Israeli attacks by pounding Israel's cities with rockets that do not carry explosive loads. On July 8, Israel increased the targets of its savage military attacks on Gaza towns' civilian infrastructure and residential areas using its unlimited offensive resources, the big guns, the boat guns, and the air strikes. Israel's destruction of Gaza towns and the mounting civilian casualties including hundreds of children and even infants amounts to a war crime according to many observers. After eleven days of its indiscriminate bombing, the Israeli tanks crossed the Strip's border and the Palestinian paramilitary groups had to engage the invaders.
Hamas armed group which controls the besieged Gaza is no match to Israel's military power that ranks among the top eight in the world which has the reputation of "the invincible" following its performance in the wars against the Arab armies. Israel claims its Special Forces, superior intelligence apparatus, and air force fleet are second to none. But its reputation was tarnished when Hezbollah fighters repulsed its invasion of South Lebanon in 2006.
Israel invaded Gaza to inflict more suffering on the Palestinians and bring the conflict to a decisive conclusion on its own terms, but the resistance had unpleasant surprises for the invaders. Hamas and other groups responded with non-conventional guerrilla counter-attacks and despite the mismatch, they inflicted painful reality and reasserted themselves as the champions of Palestinian resistance, but this came at a terrible cost to the Palestinian civilian population. After three weeks of the fighting, fourteen hundred Palestinians died, more than eight thousand are injured and more than hundred thousands have been displaced.
When the temporary 12-hour ceasefire came into force in Gaza after eighteen days of bombing and uncounted number of massacres, thousands of Palestinian survivors who had lost love ones and friends took to the ruined streets to survey the damage to their homes as they try to salvage something from their shattered lives. "Nothing left" is the phrase heard throughout the day according to AP reporters. "Areas that were once inhabited have been reduced to a landscape of earth and dust and broken shapes." By mid-afternoon the Red Crescent had recovered more than 100 bodies including families, many of them partially decomposed, buried under the rubble of damaged neighborhoods. The town of Beit Hanoun in the north and Shujai'iya, an eastern neighborhood of Gaza had been largely destroyed after being shelled and bombed heavily for two weeks. Medical officials said that the death toll among Palestinians has passed 1,400 and growing. The indiscriminate violence unleashed by Israel's military in the civilian residential areas and the destruction is an act of genocide.
As for the Arab regimes, aside from Qatar, many are involved in sinister actions against the Palestinians in Gaza, away from their people's eyes; some are indifferent or disengaged while Israel carries out its genocide war against the Palestinians; others use their media to blame the victims for provoking the aggression; and Egypt is openly a co- participant with Israel in the tight blockade imposed on the Strip even while Israel is committing massacres against the Palestinians. Instead of being isolated as in earlier attacks on the Palestinians, this time, Israel feels its crimes in Gaza are effectively supported by a coalition of Arab states led by the military regime of Egypt and include Saudi Arabia and the United Arab Emirates. Arab leaders of the conservative order, who do not seem to differentiate between political Islam and the Palestinian struggle, are now practically allies with Israel. They are determined not to allow Hamas emerge as the most powerful Palestinian player even if the last Palestinian died of starvation due to the siege or murdered by an Israeli thousand-pound bomb. Aaron David Miller, a scholar at the Wilson Center in Washington, and previously worked in the US State Department on Arab-Israeli issues under many administrations said : "I have never seen a situation like it, where you have so many Arab states acquiescing in the death and destruction in Gaza and the pummeling of Hamas…The silence is deafening."
Hamas stated goal is to end the Israeli-Egyptian blockade, and the Palestinians believe it is worth fighting for it. To the disappointment of the Arab states that are banking on Israel to defeat the Palestinian resistance, the Israeli actions of no clear achievable strategic outcome suggest a sense of futility to break the will of the Palestinian people who suffered so much and fight to be free or die in dignity.
- Hasan Afif El-Hasan, Ph.D. is a political analyst. He contributed this article to PalestineChronicle.com.
This site contains copyrighted material the use of which has not always been specifically authorized by the copyright owner. We are making such material available in our efforts to advance understanding of environmental, political, human rights, economic, democracy, scientific, and social justice issues, etc. We believe this constitutes a 'fair use' of any such copyrighted material as provided for in section 107 of the US Copyright Law. In accordance with Title 17 U.S.C. Section 107, the material on this site is distributed without profit to those who have expressed a prior interest in receiving the included information for research and educational purposes. For more information go to: http://www.law.cornell.edu/uscode/17/107.shtml. If you wish to use copyrighted material from this site for purposes of your own that go beyond 'fair use', you must obtain permission from the copyright owner.