Palestinian Demands Focus on Stopping the Israeli Aggression, Lifting the Siege, Opening Border Crossings, Seaport, Airport demands, Says Azzam Al-Ahmed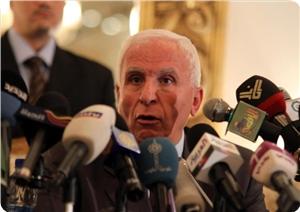 Al-Ahmad: Seaport and airport demands cannot be given up
[ 09/08/2014 - 11:20 AM ]
CAIRO, (PIC)--
Head of the Palestinian negotiation team in Cairo and member of Fat'h Central Committee, Azzam Al-Ahmad, confirmed on Friday that the Palestinian demands for a permanent truce cannot be given up, especially those related to the establishment of an airport and a seaport in Gaza.
He said in a press conference held yesterday evening that the Palestinian delegation has been in Cairo for a whole week and no clear Israeli response has been received over the Palestinian ceasefire conditions.
Palestinian demands are obvious and cannot be given up, he said in reference to the seaport and airport, saying that there was an airport in Gaza which was constructed under the Oslo accords with an Israeli concurrence.
We didn't demand anything new, because an airport and a seaport were previously agreed upon in the Oslo Accords, he clarified.
"As Palestinians, we are not for the escalation but we have the right to defend ourselves, and we are willing to continue negotiations through our Egyptian brothers to achieve a final agreement that achieves our rights."
Al-Ahmad strongly condemned the international community "unfair position", expressing hope that a complete ceasefire will be reached in the coming hours.
He pointed out that they did not receive any Israeli response on their demands, and they only heard some uncertain information from media outlets. This is a big negotiation mistake, he said.
Palestinian demands submitted to the Egyptian side are mainly concluded in an immediate stop to the Israeli aggression, lifting the siege, and opening the border crossings before people and goods.
For his part, member of the Hamas political bureau, Ezat Al-Reshq, confirmed that the Palestinian negotiation delegation in Cairo has received no Israeli response on the Palestinian demands yet.
Israel did not provide a clear response to the Palestinian people's demands, he said, holding Israel fully responsible for stalling and wasting time.
The Palestinian delegation traveled to Cairo a week ago to reach a ceasefire agreement with Israel under Egyptian mediation.
This site contains copyrighted material the use of which has not always been specifically authorized by the copyright owner. We are making such material available in our efforts to advance understanding of environmental, political, human rights, economic, democracy, scientific, and social justice issues, etc. We believe this constitutes a 'fair use' of any such copyrighted material as provided for in section 107 of the US Copyright Law. In accordance with Title 17 U.S.C. Section 107, the material on this site is distributed without profit to those who have expressed a prior interest in receiving the included information for research and educational purposes. For more information go to: http://www.law.cornell.edu/uscode/17/107.shtml. If you wish to use copyrighted material from this site for purposes of your own that go beyond 'fair use', you must obtain permission from the copyright owner.