Israeli Occupation Forces Crack Down on Palestinian Protesters in Pro Gaza Rallies in the West Bank, August 9, 2014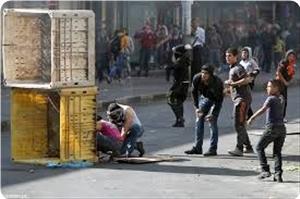 Clashes with IOF during West Bank pro-Gaza rallies
[ 09/08/2014 - 07:37 AM ]
OCCUPIED WEST BANK, (PIC)--
A renewed wave of clashes broke out on Friday between the Israeli occupation forces (IOF) and non-violent Palestinian marchers across different areas of the occupied West Bank during pro-Gaza rallies.
Thousands of Palestinian citizens took to al-Khalil streets in solidarity with the people of Gaza, voicing their support for the brave Palestinian resistance.
Violent clashes broke out in Bab Al-Zawiya where Israeli troops fired tear gas and rubber bullets at pro-Gaza protestors.
At least 12 injuries, mostly by live bullets, have been reported throughout the clashes. One of the protestors sustained severe chest wounds.
Pro-Gaza demonstrators clashed with the Israeli invading troops in Bethlehem during a solidarity demonstration that started from Omar Ibn Al-Khatab Mosque. Dozens of Palestinian citizens were treated for breathing problems as they inhaled tear gas fired by the IOF throughout the clashes. Two members of a rescue team were left wounded in an Israeli targeting of a Palestinian ambulance that rushed to the scene to treat the injured young men.
The marchers called on the Palestinian truce envoy in Cairo to stand firm and never yield to any pressures until all of their demands are met. The participants further urged the Arab and Muslim nations to side with the Palestinian resistance and support its ceasefire demands.
Thousands of Palestinian marchers, affiliated with Hamas, Fat'h, and Islamic Jihad, along with other Palestinian factions, partook in a series of pro-Gaza demonstrations staged in al-Khalil, calling on the truce envoy to turn down any potential calls for disarming Hamas and retaining the blockade on Gaza.
The protestors chanted pro-Gaza slogans, including lifting the Gaza siege, opening the border crossings, and rebuilding the Gaza airport.
A pro-Gaza donation campaign was also organized in Halhoul, where participants made donations for Gaza reconstruction projects.
Thousands of protestors joined a march called for by Hamas in Nablus, expressing their unyielding support for Al-Qassam Brigades and the truce delegation in Cairo.
The demonstrators marched through Nablus streets down to the Martyrs Square, reiterating the words released by Al-Qassam spokesman Abu Obayda, who vowed to stand firm and remain faithful to the blood of Gaza martyrs.
An anti-Israel rally drew thousands of Palestinians to Jenin streets, where the participants urged the Palestinian truce negotiators in Cairo to uphold the Palestinians' legitimate demands.
Hamas leader Sheikh Ahmad Abu 'Ara said during the march that what had happened in Gaza was a conspiracy committed by Israeli, Arab, and Western parties.
Israel has been preparing for such an offensive by cracking down on Hamas affiliates in the Occupied West Bank, he added.
In Tulkarem Hundreds of Palestinian citizens rallied outside the New Mosque, chanting pro-resistance slogans and denouncing the biased Egyptian-brokered cease-fire initiative.
This site contains copyrighted material the use of which has not always been specifically authorized by the copyright owner. We are making such material available in our efforts to advance understanding of environmental, political, human rights, economic, democracy, scientific, and social justice issues, etc. We believe this constitutes a 'fair use' of any such copyrighted material as provided for in section 107 of the US Copyright Law. In accordance with Title 17 U.S.C. Section 107, the material on this site is distributed without profit to those who have expressed a prior interest in receiving the included information for research and educational purposes. For more information go to: http://www.law.cornell.edu/uscode/17/107.shtml. If you wish to use copyrighted material from this site for purposes of your own that go beyond 'fair use', you must obtain permission from the copyright owner.