Palestinian and Israeli Delegations Arrive in Cairo for Truce and Ceasefire Talks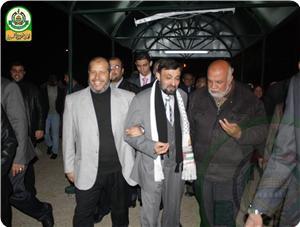 Israeli negotiators arrive in Cairo
August 5, 2014
CAIRO (Ma'an) --
An Israeli negotiations delegation arrived at Cairo airport on Tuesday evening and was greeted by Egyptian intelligence officials, high-ranking Egyptian sources said.

The 3-member delegation arrived at the airport under heavy protection in order to start indirect negotiations with Palestinians on the Egyptian ceasefire initiative and discuss Palestinian demands.
Palestinian delegation from Gaza arrives in Cairo for truce talks
[ 05/08/2014 - 05:29 PM ]
GAZA, (PIC)--
A delegation from Gaza Strip, grouping leaders of Palestinian factions, is expected in Cairo on Tuesday night to join the talks on a ceasefire in the beleaguered Strip.
The delegation includes Hamas political bureau members Khalil Al-Haya and Emad El-Alami in addition to Islamic Jihad leader Khalid Al-Batsh, and Fat'h leader Faisal Abu Shahla.
Egypt had brokered a 72-hour lull in the Gaza Strip that started at 8 in the morning Tuesday.
The departure of the delegation had been delayed due to the prevailing security conditions in the Strip.
Palestinian Negotiators Meet in Cairo, Al-Maliki Meets ICC Reps at the Hague
Tuesday August 05, 2014 22:07 by Chris Carlson - 1 of International Middle East Media Center Editorial Group
Three remaining members of a Palestinian delegation attempting to negotiate a longer truce between combatants in Gaza entered Egypt through Rafah crossing, on Tuesday, according to MENA state news.

A Palestinian man inspects the damage at a UN school at the Jabaliya refugee camp in the northern Gaza Strip after the area was hit by Israeli shelling on July 30, 2014 (AFP Mahmud Hams)

Ma'an News Agency has reported that a joint Palestinian negotiating team representing the Palestinian Authority, Hamas and Islamic Jihad has been in Cairo, for several days now. The delegates who left for Egypt today were Khalid Al-Batsh, Khalil Al-Haya and Emad El-'Alamy.

Israel had earlier refused to take part in the negotiations, but an official has said that a representative team was also on its way to Cairo. Israel has withdrawn troops from the Gaza Strip after a temporary truce, brokered by Cairo officials, went into effect at 8 am this morning.

The main demands being presented by the Palestinian delegation are a ceasefire, a withdrawal of Israeli troops from Gaza, the end of the ongoing siege in the region, and the opening of its border crossings.

Fishing rights of up to 12 nautical miles off the Gaza coast and the release of Palestinian prisoners are also key to Palestinian demands.

Meanwhile, Ma'an further reports that Palestinian Minister of Foreign Affairs, Riyad al-Maliki, met with officials of the International Criminal Court (ICC) in the Netherlands, on Tuesday, for the purpose of discussing the necessary legal procedures for joining the ICC and signing the Rome Statute, in order that action might be taken against Israeli war crimes in Gaza.

A 2009 attempt to join the ICC in 2009 failed because of Palestine's lack of statehood.

However, Al-Maliki said Tuesday that Palestine should now quality for membership, as it currently holds status as a UN nonmember observer state, according to AP.

Israel does not hold membership with the ICC, let alone recognize its authority.
Palestinian negotiators in Egypt for truce talks
Maan, 05/08/2014 23:08
CAIRO (AFP) --
Three remaining members of a Palestinian delegation negotiating a longer-term truce in Gaza were on their way to Cairo Tuesday after entering Egypt through the Rafah crossing, state media reported.

Israel and Hamas halted their fighting in Gaza from 8 a.m. Tuesday after a three-day temporary truce brokered by Cairo went into effect.

Israel also withdrew its troops from the Palestinian coastal enclave.

The three Palestinian leaders who entered Egypt were Islamic Jihad member, Khaled al-Batsh, and senior Hamas officials Khalil al-Haya and Emad El-Alamy, said the official MENA news agency.

A joint Palestinian delegation representing president Mahmoud Abbas's Palestinian Authority, Hamas and Islamic Jihad has been in Cairo for the past few days at Egypt's invitation.

Israel earlier refused to send its negotiators, but an official said Tuesday that a team representing it was on its way to Cairo.

The main demands proposed to Egyptian mediators by the Palestinian delegation are a ceasefire, the withdrawal of Israeli troops from Gaza, the end of the siege of the enclave, and opening its border crossings.

They have also demanded fishing rights up to 12 nautical miles off Gaza's coast and the release of Palestinian prisoners demanded by Hamas and Abbas.

Egyptian mediators are to forward these demands to the Israelis.

Israel's assault on Gaza has killed over 1,800 Palestinians and injured at least 9,000. Gaza's deputy economy minister Taysir Amro said Tuesday that the assault has caused at least $4-6 billion in damages.

Sixty-four Israeli soldiers have been killed and three Israeli civilians.

The majority of those killed in Gaza are civilians, according to UN agencies.
This site contains copyrighted material the use of which has not always been specifically authorized by the copyright owner. We are making such material available in our efforts to advance understanding of environmental, political, human rights, economic, democracy, scientific, and social justice issues, etc. We believe this constitutes a 'fair use' of any such copyrighted material as provided for in section 107 of the US Copyright Law. In accordance with Title 17 U.S.C. Section 107, the material on this site is distributed without profit to those who have expressed a prior interest in receiving the included information for research and educational purposes. For more information go to: http://www.law.cornell.edu/uscode/17/107.shtml. If you wish to use copyrighted material from this site for purposes of your own that go beyond 'fair use', you must obtain permission from the copyright owner.