Al-Mizan Accuses UN Secretary-General Ban Ki-Moon of Covering Up Israeli War Crimes
[ 05/08/2014 - 02:48 PM ]
GAZA, (PIC)--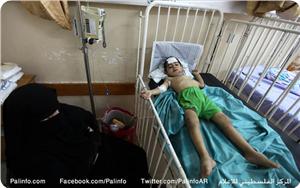 Head of al-Mizan human rights center Issam Younis accused UN Secretary-General Ban Ki-moon of providing a cover for Israeli war crimes in Gaza Strip, calling on the UN to abide by its founding principles.
He strongly condemned Ban Ki-moon's continued silence over Israeli crimes, which gives a green light to Israeli forces to step up their massacres as if they were above the law and immune from prosecution.
Quds Press quoted Younis as calling on the UN Secretary-General and UN humanitarian institutions to prosecute those responsible for the ongoing war crimes in Gaza Strip. "They have to admit that they can no longer provide protection to civilians and refugees in Gaza."
Palestinian people's demands are fair and humanitarian mainly lifting the siege and ending the aggression, he continued, calling on the Palestinian Authority to act urgently to prosecute Israeli leaders for committing war crimes.
He called on the UN to change its strategy in dealing with events in the occupied territories and to stop blaming the victim. An executioner should not be seen as a victim or vice-versa, he continued.
"UN institutions have to break their silence and to recognize Israeli massacres as war crimes."
Younis said that Ban Ki-moon's latest statement concerning the alleged capture of an Israeli soldier in Rafah provided a green light to Israel to escalate its airstrikes and shelling on civilians in Rafah and throughout the Strip.
Israel has launched on July 7 a bloody aggression on Gaza that was developed later into a ground offensive. More than 1800 Palestinians were killed while thousands were injured so far, mostly children and women.
This site contains copyrighted material the use of which has not always been specifically authorized by the copyright owner. We are making such material available in our efforts to advance understanding of environmental, political, human rights, economic, democracy, scientific, and social justice issues, etc. We believe this constitutes a 'fair use' of any such copyrighted material as provided for in section 107 of the US Copyright Law. In accordance with Title 17 U.S.C. Section 107, the material on this site is distributed without profit to those who have expressed a prior interest in receiving the included information for research and educational purposes. For more information go to: http://www.law.cornell.edu/uscode/17/107.shtml. If you wish to use copyrighted material from this site for purposes of your own that go beyond 'fair use', you must obtain permission from the copyright owner.