Gaza ceasefire announced in Cairo as Palestine says long-term truce reached with Israel


August 26, 2014


Abbas announces Israel-Gaza ceasefire

26/08/2014 19:08

BETHLEHEM (Ma'an) --

Palestinian President Mahmoud Abbas on Tuesday announced a long-term ceasefire agreement between Israel and Palestinian resistance organizations in the Gaza Strip.

In a short televised address, Abbas said the agreement would go into effect at 7 p.m.

"We convey complete appreciation to the Egyptian efforts which started long ago seeking to satisfy all sides. Qatar also played a role in that. We also would like to mention that (US Secretary of State John) Kerry was also in touch with us for the same purpose and so we thank all those who played roles," Abbas said.

"We discussed several necessary things with Hamas leaders in Qatar in order to enable the national consensus government to do its job," he continued."

"During these 50 days or more, we exerted every effort to provide our people with the supplies they needed. Some supplies were from us and others from our friends. But still this isn't enough. ... People in Gaza need a lot more. Quick support is needed to try and heal the wound which was inflicted on Gaza."

"The question is now 'What's next?' Gaza suffered three wars and are we expecting another one? We will consult friends and the international community, and we can't continue with 'cloudy negotiations,'" he said.

For his part, deputy chief of Hamas' politburo, Mousa Abu Marzouq, wrote on his Twitter account that "talks have ended. We have reached understandings crowning our people's steadfastness and our resistance's triumph. We are awaiting a statement setting the zero point and end to the aggression."

A well-placed Palestinian source confirmed that Gaza border crossings would be open in tandem with an extended ceasefire.

The source explained that Egypt would issue a statement calling for a comprehensive and mutual ceasefire together with opening Gaza's crossings for the entry of construction material.

The Gaza fishing zone will also be increased.

In addition, the source said, Israel has pledged to stop targeted assassinations against Palestinian resistance activists and leaders.

The source, who spoke on condition of anonymity, added that a round of negotiations between Israel and the Palestinians would start in Cairo a month later to discuss unresolved issues.

Palestinian resistance organizations, including Hamas and Islamic Jihad, have accepted the newly reached ceasefire agreement which Israel also accepted, the source highlighted.

Spokesman of the military wing of the Popular Resistance Committees, Abu Mujahid, also told Ma'an that a permanent ceasefire agreement would go into effect this evening.

He said the agreement would be based on the 2012 truce and would include opening Gaza crossing points permanently.

He said opening crossings would mean an end to the Gaza siege, reconstruction of the enclave, removing the "no-go zone" and enlarging the Gaza fishing zone.

Israel's Channel 10 TV quoted Israeli officials as saying they agreed to a ceasefire and that Prime Minister Netanyahu had notified all security cabinet members about the agreement.

***

Gaza ceasefire announced in Cairo as Palestine says long-term truce reached with Israel

Russia TV, August 26, 2014 16:29
A long-term truce in Gaza has been agreed with Israel, Palestine President Mahmoud Abbas said. The ceasefire announced by Egypt came into force at 16:00 GMT with almost immediate reports of warning sirens going off in southern Israel.
"We have responded to the Egyptian proposal for a complete and comprehensive cease-fire, which starts at 19:00 Cairo time," Palestinian President, Mahmoud Abbas, stated. "There will be a complete stop in fighting," Abbas told reporters.
A senior Israeli official confirmed to Reuters that Israel had accepted an Egyptian proposal for a Gaza ceasefire.
"Israel has accepted an Egyptian proposal for a complete and unlimited-in-time ceasefire. Israel accepted already the Egyptian proposal on July 15. Israel has always supported an unconditional, open-ended ceasefire," the anonymous official told the agency. Shortly after the ceasefire was scheduled to take effect, however, sirens indicating rocket attacks continued to be heard in southern Israel.
Egypt's Foreign Ministry issued a statement saying that indirect talks are set to continue within the space of a month.
An anonymous Palestinian official also told AFP that the contacts working on the issue in Egypt's capital "agreed a permanent cease-fire, a [deal to] end the blockade and a guarantee that Gaza's demands and needs will be met."
Tel Aviv has reportedly agreed to bring its blockade of Gaza to a halt in order to allow relief supplies and construction materials through. Discussions on more pressing issues the peace negotiations have been centered around, such as the potential establishment of a seaport and an airport in the Gaza strip, will begin in a month, a senior Hamas official told AP.
Earlier, Hamas' deputy leader in Cairo, Moussa Abu Marzoul, told Haaretz: "The negotiations have ended and we have reached understandings that underscore the steadfast stance of the Palestinian people with the victory of the resistance."
"We are waiting for an official announcement to set the final hour and announce a cease-fire and an end to Israeli aggression."
However, shortly after the announcement, rocket sirens were heard in southern Israel – Eshkol, Sdot Negev and Sha'ar Hanegev regional Council – near the border of Gaza, reported Haaretz. Three Israelis were wounded by mortar shell explosion in Eshkol regional Council.
Monday marked the 50th day since Israel started its campaign in Gaza on July 8 and the death toll has already reached 2,120 people, of which 577 are children, according to the Palestinian Health Ministry.
On Tuesday, 25 people were injured when Israel bombed two Gaza City high-rises containing dozens of homes and shops, according to health officials.
Hamas says Israel, Palestinians have agreed a truce
DW, August 26, 2014
The Islamist militant group Hamas has said that a deal has been reached between the Palestinians and Israel to end the fighting in the Gaza Strip. There was no immediate comment from Israel.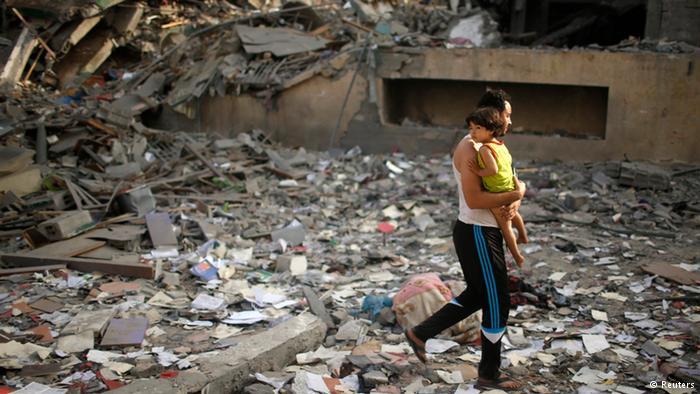 The Reuters news agency on Tuesday quoted Hamas spokesman Sami Abui Zuhri, who said the agreement, which came in negotiations mediated by Egypt, would be officially announced shortly. However, he said it wasn't clear when the truce was meant to come into force.
"An agreement has been reached between the two sides and we are awaiting the announcement from Cairo to determine the zero hour for implementation," he said.
A unnamed senior Palestinian official told AFP that a "permanent" truce for Gaza had been reached, and that Palestinian President Mahmoud Abbas would give further details in a speech from his headquarters in the West Bank town of Ramallah later in the day.
So far, there has been no comment from the Israeli side.
If confirmed, the ceasefire could end the Israeli offensive aimed at stopping militants in Gaza from firing rockets into the Jewish state.
The offensive has killed more than 2,000 Palestinians over the past seven weeks, the majority of whom were civilians. According to the United Nations, more than 17,000 residences were destroyed in Gaza, leaving 100,000 Palestinians homeless.
On the Israeli side, 68 people have been killed, all but four of whom were soldiers.
pfd/jr (AFP, AP, Reuters)
This site contains copyrighted material the use of which has not always been specifically authorized by the copyright owner. We are making such material available in our efforts to advance understanding of environmental, political, human rights, economic, democracy, scientific, and social justice issues, etc. We believe this constitutes a 'fair use' of any such copyrighted material as provided for in section 107 of the US Copyright Law. In accordance with Title 17 U.S.C. Section 107, the material on this site is distributed without profit to those who have expressed a prior interest in receiving the included information for research and educational purposes. For more information go to: http://www.law.cornell.edu/uscode/17/107.shtml. If you wish to use copyrighted material from this site for purposes of your own that go beyond 'fair use', you must obtain permission from the copyright owner.