Austrian President Heinz Fischer on Sunday launched a scathing attack on Israel for its genocidal war on the besieged Gaza Strip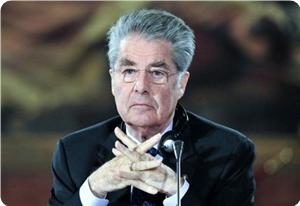 Editor's Note:
This news story is of special importance, as the Austrian President was the only head of state in Europe and North America who dared to criticize the savagery of the Israeli war criminals for their 51 days of air attacks on the Gaza Palestinian civilian population.
All others capitulated chanting the criminal Zionist song of "Israel has the right to defend itself" (AKA killing 2133 Palestinians and injuring 11100, the overwhelming majority of them were armless civilians, particularly children, women, and elderly, who have been forced to live in the largest open prison in the world).
Salute to President Fischer, who stood tall among the crowd of puppets of Zionism!
***
Austrian president slams Israel's actions in Gaza conflict
[ 25/08/2014 - 10:20 AM ]
VIENNA, (PIC)--
Austrian President Heinz Fischer on Sunday launched a scathing attack on Israel for its genocidal war on the besieged Gaza Strip.
In the European forum Alpbach, Fischer said that the number of Palestinian casualties is extremely large that it is difficult for anyone to justify Israel's actions in Gaza and claims about protecting its territory.
He also criticized Israel for accusing others of anti-Semitism whenever its wrong actions are censured, affirming that criticizing Israel for causing such a number of victims in Gaza can never be considered anti-sematic.
Alpbach is an annual event that takes place in August in the Tyrolean village of Alpbach, Austria.
Politicians, academics, students, and decision-makers from all areas come together to discuss and brainstorm new ideas and solutions to European and global problems.
Fischer criticizes Israel over Gaza
The Local, 25 Aug 2014 12:05 GMT+02:00
Austrian President Heinz Fischer has criticised Israel's course of action in the Gaza strip.
At the Alpbach political forum in Tyrol on Sunday, the Austrian president said that not all criticism of Israel should be "raised to the level of anti-Semitism", but he added that anti-Semitism in Europe in any form needed to be rejected.
The Austrian-Israeli Society (ÖIG) has expressed dismay over Fischer's comments - saying that he had shown a "biased attitude".
The president, who was usually so concerned about Austria's neutrality, did not attempt to be neutral at all, said an ÖIG statement.
ÖIG president Richard Schmitz said it was Israel's right to defend itself against air strikes from the Gaza Strip.
Fischer had no right to question this, said Schmitz, or compare it to the aggression of Hamas, the radical Islamist movement that dominates Gaza.
Fischer said that the current developments made the conflict between Israel and the Palestinians "even more difficult to solve". He added that violence only increased hatred, and posed the question of whether a policy of violence fuelled terrorism rather than fighting it. EU High Representative for Foreign Affairs Catherine Ashton was also present at the talks in Alpbach. She reminded listeners about the "enormous humanitarian challenges" in the Gaza strip.
A sustainable solution for peace needed to be found for the Middle Eastern conflict, said Ashton, and a two-state solution was necessary so that Israel and Palestinians could live peacefully together.
For more stories about Austria, join us on Facebook and Twitter
The Local (news.austria@thelocal.com)
This site contains copyrighted material the use of which has not always been specifically authorized by the copyright owner. We are making such material available in our efforts to advance understanding of environmental, political, human rights, economic, democracy, scientific, and social justice issues, etc. We believe this constitutes a 'fair use' of any such copyrighted material as provided for in section 107 of the US Copyright Law. In accordance with Title 17 U.S.C. Section 107, the material on this site is distributed without profit to those who have expressed a prior interest in receiving the included information for research and educational purposes. For more information go to: http://www.law.cornell.edu/uscode/17/107.shtml. If you wish to use copyrighted material from this site for purposes of your own that go beyond 'fair use', you must obtain permission from the copyright owner.