Sweeping Pro-Palestinian Rallies in Support of Gaza Spurt Across the World


August 2, 2014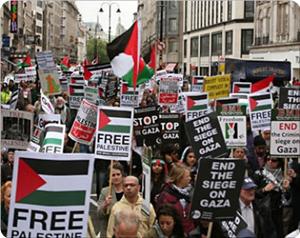 Sweeping pro-Gaza rallies spurt across the world
[ 02/08/2014 - 10:19 AM ]
ANKARA, (PIC)--
Thousands of protestors marched through the streets of the world's biggest cities in a swelling wave of protests reflecting widespread anger at Israeli terrorism in Gaza, which took away the lives of at least 1650 citizens since the launch of the military offensive on July 7.
A flurry of protests have burst out across Arab and European countries, including the ones held in Turkey, Latin America and Asia, which added to the growing unease over Israel's terrorism.
Hundreds took to the streets across the Belgian capital Brussels, denouncing the Israeli offensive on besieged Gaza and calling on the Belgian authorities and the EU to impose tough sanctions on the Israeli occupation for having murdered and wounded thousands of Gaza innocent children and civilians.
Marchers yelled anti-Israeli mottos, chanting slogans of the kind: "Israel is murdering children", "Israel is terrorist" and "Where have Belgians and the EU been?"
Hundreds of Protestors gathered throughout The Hague in Holland waving such slogans as "Freedom to Palestine" and "Damn Israel", while some 20 thousand demonstrators marched Athens streets, in Greece, amid tight security measures.
Sweeping demos spread out across Bremen, in Germany, in front of the central train station. The European Turkish-Islamic Union, the Union of the European Turkish Democrats, and the Bremen Peace Forum, along with other Palestinian and Lebanese organizations, joined the rally.
Meanwhile, thousands of Turkish Cypriots partook in mass pro-Gaza demos tagged in Nicosia.
Similar protests, supported by more than 40 civil organizations and left-wing parties, spurt across different Spanish cities including Madrid and Barcelona,
Thousands of protestors in Sarajevo, Paris, London, Stockholm, Sidney, Amsterdam, and Copenhagen took to the streets as a means to voice their disapproval over the Israeli military offensive on Gaza. Scores of marchers headed to the UN offices in Geneva and Hamilton (Canada) in a series of pro-Gaza demos.
Solidarity rallies were also documented across Latin American countries, namely Brazil, Chile, Ecuador, and El-Salvador, along with a number of Asian countries including India, China, Thailand and Malaysia.
Anti-Israeli marches swept the countries of the African continent most notably Nigeria, Kenya, Somalia, and South Africa.
This site contains copyrighted material the use of which has not always been specifically authorized by the copyright owner. We are making such material available in our efforts to advance understanding of environmental, political, human rights, economic, democracy, scientific, and social justice issues, etc. We believe this constitutes a 'fair use' of any such copyrighted material as provided for in section 107 of the US Copyright Law. In accordance with Title 17 U.S.C. Section 107, the material on this site is distributed without profit to those who have expressed a prior interest in receiving the included information for research and educational purposes. For more information go to: http://www.law.cornell.edu/uscode/17/107.shtml. If you wish to use copyrighted material from this site for purposes of your own that go beyond 'fair use', you must obtain permission from the copyright owner.